Energy balance and obesity: what are the main drivers?
Open Access
Original paper
Abstract
Purpose
The aim of this paper is to review the evidence of the association between energy balance and obesity.
Methods
In December 2015, the International Agency for Research on Cancer (IARC), Lyon, France convened a Working Group of international experts to review the evidence regarding energy balance and obesity, with a focus on Low and Middle Income Countries (LMIC).
Results
The global epidemic of obesity and the double burden, in LMICs, of malnutrition (coexistence of undernutrition and overnutrition) are both related to poor quality diet and unbalanced energy intake. Dietary patterns consistent with a traditional Mediterranean diet and other measures of diet quality can contribute to long-term weight control. Limiting consumption of sugar-sweetened beverages has a particularly important role in weight control. Genetic factors alone cannot explain the global epidemic of obesity. However, genetic, epigenetic factors and the microbiota could influence individual responses to diet and physical activity.
Conclusion
Energy intake that exceeds energy expenditure is the main driver of weight gain. The quality of the diet may exert its effect on energy balance through complex hormonal and neurological pathways that influence satiety and possibly through other mechanisms. The food environment, marketing of unhealthy foods and urbanization, and reduction in sedentary behaviors and physical activity play important roles. Most of the evidence comes from High Income Countries and more research is needed in LMICs.
Keywords
Energy intake 
Energy expenditure 
Energy balance 
Obesity 
Satiety 
Diet 
Introduction
Obesity is defined as a state of excess adiposity that presents a risk to health such as increased risk of chronic diseases including cancer [1, 2, 3] and is the consequence of sustained positive energy balance over time. Factors that influence energy balance can be considered as relating to the host (i.e., people), the environment (the set of external factors to which people are exposed) and the vector (food and drink). These factors interact in a complex way to influence eating and drinking patterns as well as activity behaviors. While experienced at the individual level, their roots lie in policies and actions that determine the environment, which may be local, national or international [4]. Therefore, understanding the relation between energy balance and obesity is a challenge and a necessity to develop effective prevention programs and policies. The International Agency for Research on Cancer (IARC) of the World Health Organization (WHO) convened a Working Group Meeting in December 2015 to review evidence regarding energy balance and obesity, with a focus on Low and Middle Income Countries (LMIC), and to tackle the following scientific questions:
1.

Are the drivers of the obesity epidemic related only to energy excess and/or do specific foods or nutrients play a major role in this epidemic?

 

2.

What are the factors that modulate these associations?

 

3.

Which types of data and/or studies will further improve our understanding?

 
Each expert summarized the evidence from the literature on a specific topic in a written document that was reviewed by the IARC secretariat before the meeting and shared with the other participants (see list of topics in Table 1). Each topic was then briefly presented during the meeting and extensively discussed in plenary session with the other participants. A full report will be soon available on the IARC website. In this paper, we present a summary of the different topics that we addressed during the workshop and its conclusions and recommendations.
Table 1
List of topics presented during the working group meeting
Background introduction on obesity worldwide
Double burden malnutrition/obesity in LMICs
Can energy intake and expenditure (energy balance) be measured accurately in epidemiologic studies? Is this important?
How are components of dietary intake/dietary composition / foods/nutrients / related to obesity and weight gain?
How are overall energy intake and expenditure related to obesity?
Physical activity, sedentary behavior, and obesity
What existing epidemiologic data could serve to better understand the relation of energy intake and expenditure to obesity and the obesity epidemic?
Cultural determinants of obesity in low- and middle-income Countries of the Eastern Mediterranean Region
Potential mechanisms in childhood obesity
The interplay of genes, lifestyle and obesity (Presenter unable to attend, only written document)
Gut microbiota and obesity
Molecular and metabolic mechanisms underlying the obesity-cancer link
What steps should be recommended and implemented to prevent and control the obesity epidemic?
Which new data are needed to explore the relations of diet and dietary patterns to obesity and weight gain?
Prevalence of overweight and obesity and double burden of malnutrition
Obesity is now well recognized as a disease in its own right and overweight accounts for about 37% of the global burden of disease (2013) [5]. Obesity rates have been constantly increasing in the last thirty years with a worldwide prevalence that nearly doubled between 1980 and 2014 [2]. In 2014, 39% of adults aged 18 years and older (38% of men and 40% of women) were overweight [2]. In most parts of the world, women are more likely to be obese than men [2]. The prevalence of overweight and obesity tends to increase generally with the income level of the countries with the obesity prevalence in high-income and upper-middle-income countries being more than double that of low- income countries [2] (Fig. 1). In 2014, there were 41 million overweight children under age 5 years in the world; about 10 million more than two decades ago [5, 6]. Recent data indicate that the prevalence of childhood obesity in some developed countries (e.g., some European countries and the US) has apparently reached a plateau [7, 8, 9]. However, the number of overweight children in Low and Middle Income Countries (LMICs) has more than doubled since 1990, from 7.5 to 15.5 million [10]. In 2014, almost half of all overweight children under 5 lived in Asia and one quarter lived in Africa [5, 6].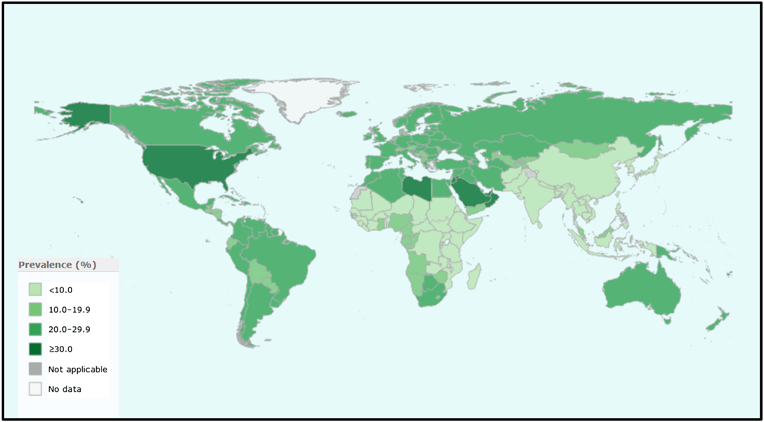 In many LMICs, obesity coexists with undernutrition (including energy, and macro and micronutrient deficiencies) leading to a "double burden of malnutrition" (DBMN) occurring across the life-course of individuals and coexisting in the same households and communities/countries [11]. There is a complex interplay between early undernutrition (in mothers before and during pregnancy, and in early childhood) and later overnutrition that exacerbates the risk of non-communicable diseases that are rising rapidly in LMICs [12, 13].
Rapid economic growth and urbanization in LMICs have resulted in changing traditional dietary patterns, with increasing consumption of highly processed foods and beverages containing less nutrient dense diets, replacing or supplementing traditional plant-based diets, and simultaneous increase in sedentary behaviors and reduction of physical activity across all ages [14, 15, 16, 17]. Soft drinks (sodas, sugar-sweetened beverages, SSB) consumption volumes have been increasing in almost all countries [18]. Between 1996 and 2002, sales of processed (packaged) foods grew by 28% in LMICS, compared with only 2.5% in HICs.
Determinants of energy balance: what the evidence tells us
With recognition that overweight and obesity are major risk factors for cancer, cardiovascular disease, diabetes, and many other health conditions, the difference between energy intake and expenditure, frequently referred to as energy balance, has become of great interest because of its direct relation to long-term gain or loss of adipose tissue and alterations in metabolic pathways.
Prevention of obesity
Numerous policy options to prevent obesity have been explored, and evidence is sufficient to conclude that many are cost effective. Given the multifactorial nature of obesity, as in other complex public health problems, a combination of interventions is more likely to generate better results than focusing only on a single measure [100]. Gortmaker et al. [101] estimated the cost-effectiveness of seven interventions that are generally considered to be most promising. They modeled the reach, costs and savings for the US population 2015-25. Some of these interventions (excise tax on sugar-sweetened beverages, elimination of tax deduction for advertising unhealthy food to children and nutrition standards for food and beverages sold in schools outside of meals) not only prevent many cases of childhood obesity, but also potentially cost less to implement than they would save for society.
The global childhood obesity epidemic demands a population-based multisector, multi-disciplinary, and culturally relevant approach. Children need protection from exploitative marketing and special efforts to support healthy eating, PA behaviors, and optimal body weight [102, 103, 104]. Adequate evidence has been accumulated that interventions, especially school-based programs, can be effective in preventing childhood obesity [105]. Preventing obesity will require sustained efforts across all levels of government and civil society.
Although there are individual differences in susceptibility, obesity is by large a societal problem resulting from health related behaviors that are largely driven by environmental upstream factors. Many options for policies to prevent obesity are available and many of these are effective and cost-effective. Integrated management of the epidemic of obesity requires top-down government policies and bottom-up community approaches and involvement of many sectors of society. Integrating evidence-based prevention and management of obesity is essential.
The obesity-cancer link: what are the underlying mechanisms?
There is convincing evidence for a role of obesity as a causal factor for many types of cancer including colorectum, endometrium, kidney, oesophagus, postmenopausal breast, gallbladder, pancreas, gastric cardia, liver, ovary, thyroid, meningioma, multiple myeloma, and advanced prostate cancers [19]. Recent progress on elucidating the mechanisms underlying the obesity-cancer connection suggests that obesity exerts pleomorphic effects on pathways related to tumor development and progression and, thus, there are potential opportunities for primary to tertiary prevention of obesity-related cancers. We now know that obesity can impact well-established hallmarks of cancer (such as genomic instability, angiogenesis, tumor invasion and metastasis and immune surveillance) [20]. However, obesity-associated perturbations in systemic metabolism and inflammation, and the interactions of these perturbations with cancer cell energetics, are emerging as the primary drivers of obesity-associated cancer development and progression. In both obesity and metabolic syndrome, alterations occur in circulating levels of insulin and insulin-like growth factors, sex hormones, adipokines, inflammatory factors, several chemokines, lipid mediators and vascular associated factors [21, 22, 23].
Which types of data and /or studies will further improve our understanding?
Most research on obesity and cancer has focused on Caucasians in HICs. While many of the identified risk factors in HICs will have the same physiologic effects in LMICs, the determinants may be different, in addition to other environmental and genetic differences across populations. Novel risk factors or traditional diets may be identified in newly studied populations and regions. Diet is shaped by many factors such as traditions, knowledge about diet, food availability, food prices, cultural acceptance, and health conditions. Likewise, a variety of factors will influence daily physical activity and sedentary behaviors, including dwellings, urbanization, opportunities for safe transportation by bicycle riding and walking, recreational facilities, employment constraints and health conditions. Surveillance of current diet and health conditions and assessment of trends over time is of major importance in LMICS. Further resources and research capacity are of highest priority.
In addition to surveillance efforts, prospective studies able to document lifestyle and change of lifestyle over time are an important area of research. Several cohort studies conducted in HICs have shown an impact of healthy dietary patterns on obesity [106] and similar studies could be conducted in LMICs to identify dietary patterns related to weight gain and obesity in a variety of settings to evaluate the major lifestyle, behavioral and policy influences in an effort to plan public health interventions appropriately. Intervention and implementation research in different countries/regions is needed to learn about social and physiological changes and the sustainability of the changes, in particular among children and adolescents in both school-based and non-school-based setting as well as research on the cost effectiveness of policies.
A major challenge is to capture life course exposures and identify windows of susceptibility. Early exposure to poor diet and sugar-sweetened beverages, sedentariness, tobacco smoke and other environmental exposures can alter infants' and children's growth patterns and may result in altered metabolism, obesity, and risk of chronic disease in adulthood [107]. Cohort studies covering the whole life course, focusing on critical windows of exposure and the time course of exposure to disease (birth cohorts, adolescent cohorts, and young adult cohorts), should be considered. Of particular interest are multi-centered cohorts and inter-generational cohorts that would create resources to enable research on the interplay between genetics, lifestyle and the environment. For example in the Avon longitudinal study of parents and children (ALSPAC), increasing intake of energy-dense nutrient-poor foods during childhood (mostly free sugar) was associated with obesity development. Diets with higher energy density were associated with increased fat mass [108]. Most relevant to LMICs is the observation that children who were stunted in infancy and are subsequently exposed to more calories, at puberty, are more likely to have higher fat mass at the same BMI compared with children who were not stunted [93, 94, 109]. Poor maternal prenatal dietary intakes of energy, protein and micronutrients have been associated with increased risk of adult obesity in offspring while a high protein diet during the first 2 years of life was also associated with increased obesity later in life [110]; conversely, exclusive breastfeeding was associated with lower risk of obesity later in childhood, although this may not persist into adulthood [111]. Similar results from a cohort study conducted in Mexico show that children exclusively or predominantly breastfed for 3 months or more had lower adiposity at 4 years [112]. Further work on birth cohorts or other prospective studies in LMICs is likely to provide insights into the developmental causes of obesity and NCDs. Input from local research communities, health ministries and policy makers and appropriate funding or resource assignment are critical for the success of new efforts in LMICs.
There is clearly a need for capacity building and resources devoted to nutritional research in LMICs. The first step would be a comprehensive assessment of resources already in place, and the identification of gaps and priorities for moving forward. Repeated surveillance surveys are essential in LMICs for evaluation of current and future status of the population and addressing undesirable trends with prevention and control programs. It is recognized that few prospective studies are currently underway in LMICs and resources will be needed to pursue this important area of research. Input from local research communities, health ministries and policy makers are critical for the success of new efforts in LMICs.
Conclusions and recommendations
The global epidemic of obesity and the double burden of malnutrition are both related to poor quality diet; therefore, improvement in diet quality can address both phenomena.
The benefits of a healthy diet on adiposity are likely mediated by effects of dietary quality on energy intake, which is the main driver of weight gain. Energy balance is best assessed by changes in weight or in fat mass. Measures of energy intake and expenditure are not precise enough to capture small differences that are of individual and public health importance. The quality of the diet may exert its effect on energy balance through complex hormonal and neurological pathways that influence satiety and possibly through other mechanisms.
Dietary patterns characterized by higher intakes of fruits and vegetables, legumes, whole grains, nuts and seeds and unsaturated fat, and lower intakes of refined starch, red meat, trans and saturated fat, and sugar-sweetened foods and beverages, consistent with a traditional Mediterranean diet and other measures of dietary quality, can contribute to long-term weight control. Limiting consumption of sugar-sweetened beverages has a particularly important role in weight control. In weight loss trials, existing evidence does not support the role of the reduction in the percentage of energy from fat on weight loss, though the reductions in fat may not have been low enough for the outcome and the effects of single macronutrients cannot be adequately captured without specifying replacement/comparison sources of energy.
Genetic factors cannot explain the global epidemic of obesity. It is possible that factors such as genetic, epigenetic and the microbiota can influence individual responses to diet and physical activity. Very few gene–diet interactions or diet-microbiota have been established in relation to obesity and effects on cancer risk.
Short-term studies have not provided clear benefit of physical activity for weight control, but meta-analysis of longer term trials indicates a modest benefit on body weight loss and maintenance. The combination of aerobic and resistance training seems to be optimal. Long-term epidemiologic studies also support modest benefits of physical activity on body weight. This includes benefits of walking and bicycle riding, which can be incorporated into daily life and be sustainable for the whole population. Physical activity also has important benefit on health outcomes independent of its effect on body weight. In addition, long-term epidemiologic studies show that sedentary behavior (in particular TV viewing) is related to increased risk of obesity, suggesting that limiting sedentary time has potential for prevention of weight gain.
The major drivers of the obesity epidemic are the food environment, marketing of unhealthy foods and beverages, urbanization, and probably reduction in physical activity. Existing evidence on the relations of diet, physical activity and socio-economic and cultural factors to body weight is largely from HICs. There is an important lack of data on diet, physical activity and adiposity in most parts of the world and this information should to be collected in a standardized manner when possible. In most environments, 24h recalls will be the more suitable method for dietary surveillance. Attention should be given to data in subgroups because mean values may obscure important disparities. In utero and early childhood, environment has important implications for lifetime adiposity. This offers important windows of opportunity for intervention. Observational data on determinants of body weight and intervention trials across the life course to improve body weight are also required. To accomplish these goals, there is a need for resources to build capacity and conduct translational research.
Gaining control of the obesity epidemic will require the engagement of many sectors including education, healthcare, the media, worksites, agriculture, the food industry, urban planning, transportation, parks and recreation, and governments from local to national. This provides the opportunity for all individuals to participate in this effort, whether at home or in establishing high-level policy. We now have evidence that intensive multi-sector efforts can arrest and partially reverse the rise of obesity in particular among children. In conclusion, we are gaining understanding on the determinants of energy balance and obesity and some of these findings are being translated into public health policy changes. However, further research and more action from policy makers are needed.
Copyright information
© The Author(s) 2017
Open AccessThis article is distributed under the terms of the Creative Commons Attribution 4.0 International License (http://creativecommons.org/licenses/by/4.0/), which permits unrestricted use, distribution, and reproduction in any medium, provided you give appropriate credit to the original author(s) and the source, provide a link to the Creative Commons license, and indicate if changes were made.