Abstract
Purpose
Disparities in solid tumors have been well studied. However, disparities in hematologic malignancies have been relatively unexplored on population-based levels. The purpose of this study is to examine the relationship between race/ethnicity and acute leukemia mortality.
Methods
All patients with acute leukemia [acute lymphoblastic leukemia (ALL) and acute myelogenous leukemia (AML)] were identified in the Surveillance Epidemiology and End Results database, 1999–2008. Kaplan–Meier curves were generated to reflect survival probabilities by race/ethnicity. Multivariable Cox proportional hazard models estimated hazard of mortality by race with adjustment for individual (age, gender, year of diagnosis) and select genetic factors.
Results
A total of 39,002 patients with acute leukemia were included in the study. Overall, there was a mortality disparity in acute leukemia for blacks (HR 1.17, p < 0.0001) and Hispanics (HR 1.13, p < 0.0001) compared with non-Hispanic whites. In stratified analysis, disparities in ALL were greater than AML; blacks (HR[ALL]1.45, p < 0.0001; HR[AML]1.12, p < 0.0011); Hispanics (HR[ALL]1.46, p < 0.0001; HR[AML]1.06, p < 0.0001). Adjustment for individual patient and select genetic factors did not explain disparities.
Conclusions
Blacks and Hispanics suffer decreased survival in acute leukemia as compared to others. Further investigation is needed to understand the drivers of poor cancer outcomes in these populations.
This is a preview of subscription content, log in to check access.
Access options
Buy single article
Instant unlimited access to the full article PDF.
US$ 39.95
Price includes VAT for USA
Subscribe to journal
Immediate online access to all issues from 2019. Subscription will auto renew annually.
US$ 199
This is the net price. Taxes to be calculated in checkout.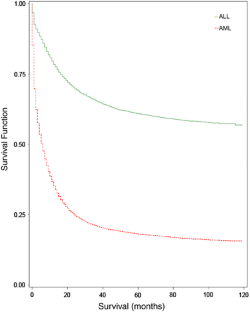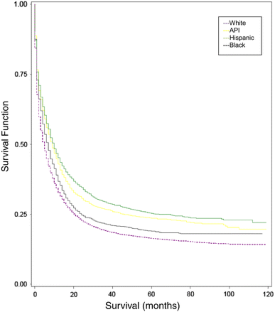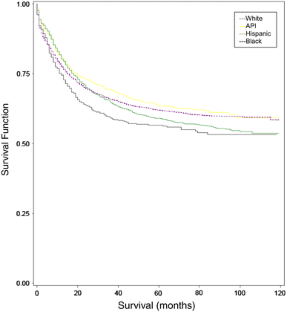 References
1.

The American Cancer Society www.acs.org. Accessed 18 Nov 2011

2.

The President's Cancer Panel www.deainfo.nci.nih.gov. Accessed 18 Nov 2011

3.

White A, Vernon SW, Franzini L et al (2011) Racial disparities in colorectal cancer survival: to what extent are racial disparities explained by differences in treatment, tumor characteristics, or hospital characteristics? Cancer 116:4622–4631

4.

Vainshtein J (2008) Disparities in breast cancer incidence across racial/ethnic strata and socioeconomic status: a systematic review. J Natl Med Assoc 100:833–839

5.

Underwood JM, Townsend JS, Tai E et al. (2011).Racial and regional disparities in lung cancer incidence. Cancer

6.

Rubnitz JE, Lensing S, Razzouk BI et al (2007) Effect of race on outcome of white and black children with acute myeloid leukemia: the St. Jude experience. Pediatr Blood Cancer 48:10–15

7.

Kadan-Lottick NS, Ness KK, Bhatia S et al (2003) Survival variability by race and ethnicity in childhood acute lymphoblastic leukemia. JAMA 290:2008–2014

8.

Foucar K, Duncan MH, Stidley CA et al (1991) Survival of children and adolescents with acute lymphoid leukemia. A study of American Indians and Hispanic and non-Hispanic whites treated in New Mexico (1969 to 1986). Cancer 67:2125–2130

9.

Bhatia S, Sather HN, Heerema NA et al (2002) Racial and ethnic differences in survival of children with acute lymphoblastic leukemia. Blood 100:1957–1964

10.

Kent EE, Sender LS, Largent JA et al (2009) Leukemia survival in children, adolescents, and young adults: influence of socioeconomic status and other demographic factors. Cancer Causes Control 20:1409–1420

11.

Aplenc R, Alonzo TA, Gerbing RB et al (2006) Ethnicity and survival in childhood acute myeloid leukemia: a report from the Children's Oncology Group. Blood 108:74–80

12.

Goggins WB, Lo FF (2012) Racial and ethnic disparities in survival of US children with acute lymphoblastic leukemia: evidence from the SEER database: 1988–2008. Cancer Causes Control 23:737–743

13.

Pullarkat ST, Danley K, Bernstein L et al (2009) High lifetime incidence of adult acute lymphoblastic leukemia among Hispanics in California. Cancer Epidemiol Biomarkers Prev 18:611–615

14.

Sekeres MA, Peterson B, Dodge RK et al (2004) Differences in prognostic factors and outcomes in African Americans and whites with acute myeloid leukemia. Blood 103:4036–4042

15.

Rodriguez CP, Baz R, Jawde RA et al (2008) Impact of socioeconomic status and distance from treatment center on survival in patients receiving remission induction therapy for newly diagnosed acute myeloid leukemia. Leuk Res 32:413–420

16.

Byrne MM, Halman LJ, Koniaris LG et al (2011) Effects of poverty and race on outcomes in acute myeloid leukemia. Am J Clin Oncol 34:297–304

17.

Bradley CJ, Dahman B, Jin Y, et al. (2011) Acute myeloid leukemia: How the Uninsured Fare. Cancer

18.

Brady AK, Fu AZ, Earl M et al (2011) Race and intensity of post-remission therapy in acute myeloid leukemia. Leuk Res 35:346–350

19.

Pulte D, Gondos A, Brenner H (2008) Improvements in survival of adults diagnosed with acute myeloblastic leukemia in the early 21st century. Haematologica 93:594–600

20.

Surveillance, Epidemiology, and End Results http://www.seer.gov. Accessed 11 Aug 2011

21.

Shoenfield Residuals. Available at http://biomet.oxfordjournals.org/content/69/1/239.short. Accessed 27 July 2012

22.

Gray GE, Henderson BE, Pike MC (1980) Changing ratio of breast cancer incidence rates with age of black females compared with white females in the United States. J Natl Cancer Inst 64:461–463

23.

Wilkinson JD, Fleming LE, MacKinnon J et al (2001) Lymphoma and lymphoid leukemia incidence in Florida children: ethnic and racial distribution. Cancer 91:1402–1408

24.

Zak Y, Rhoads KF, Visser BC (2011) Predictors of surgical intervention for hepatocellular carcinoma: race, socioeconomic status, and hospital type. Arch Surg 146:778–784

25.

Rhoads KF, Cullen J, Ngo JV et al. (2011) Racial and ethnic differences in lymph node examination after colon cancer resection do not completely explain disparities in mortality. Cancer

26.

Caligiuri MA, Stout MP, Gilliland DG (1997) Molecular biology of acute myeloid leukemia. Semin Oncol 24:32–44

27.

National Cancer Institute http://www.cancer.org. Accessed 11 Aug 2011

28.

Jaffe ES, Harris NL, Diebold J, Muller-Hermelink HK (1998) World Health Organization classification of lymphomas: a work in progress. Ann Oncol 9(Suppl 5):S25–S330
Acknowledgments
Our manuscript contains original data. There was full access to all the data in the study, and all authors take full responsibility for the integrity of the data and the accuracy of the data analysis. There are no conflicts of interest to disclose for any author listed in the manuscript.
About this article
Cite this article
Patel, M.I., Ma, Y., Mitchell, B.S. et al. Understanding disparities in leukemia: a national study. Cancer Causes Control 23, 1831–1837 (2012). https://doi.org/10.1007/s10552-012-0062-3
Received:

Accepted:

Published:

Issue Date:
Keywords
Acute leukemia

Disparities

Population-based

SEER