Abstract
Importance
Autologous fat grafting (AFG), or lipofilling, has been used for immediate reconstruction at the time of breast-conserving surgery in order to achieve a satisfactory cosmetic outcome in patients with breast cancer and an unfavorable tumor-to-breast volume ratio or unfavorable tumor location. However, the oncologic safety of this technique is still unclear.
Objective
To determine whether AFG performed simultaneously with breast-conserving surgery is associated with differences in local relapse rates and disease-free survival.
Design
Matched retrospective cohort study.
Setting
Tertiary referral center.
Participants
Patients undergoing breast-conserving surgery with or without AFG between 2004 and 2016 were retrospectively enrolled and matched for age, staging, grade, tumor histology, and tumor immunohistochemical profile.
Main outcome(s) and measure(s)
The cumulative incidence of locoregional recurrence (LRR) and disease-free survival were the primary end points, while distant recurrence and overall survival were the secondary end points.
Results
A total of 320 patients were followed. Cases were matched with controls at a 1:4 ratio. There was no difference in LRR or distant recurrence of breast cancer between the two groups. The annual LRR rate was 0.86% in patients who received immediate AFG vs. 0.7% in patients undergoing breast-conserving surgery alone (p ≥ 0.05). Number of lymph nodes was the sole independent risk factor for local recurrence (p = 0.045). No significant differences in disease-free survival rates were found between the groups.
Conclusions and relevance
At a mean follow-up of 5 years, no significant differences in locoregional recurrence rates were found between patients who received immediate AFG and those who underwent breast-conserving surgery alone. These findings corroborate previous research demonstrating the oncological safety of immediate AFG reconstruction, further suggesting that this technique as a safe, effective way to achieve optimal cosmetic outcomes in primary breast cancer surgery without jeopardizing oncologic outcomes.
This is a preview of subscription content, log in to check access.
Access options
Buy single article
Instant access to the full article PDF.
US$ 39.95
Price includes VAT for USA
Subscribe to journal
Immediate online access to all issues from 2019. Subscription will auto renew annually.
US$ 199
This is the net price. Taxes to be calculated in checkout.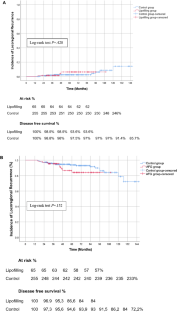 References
1.

American Cancer Society. How Common Is Breast Cancer? https://www.cancer.org/cancer/breast-cancer/about/how-common-is-breast-cancer.html. Accessed 13 May 2019

2.

World Health Organization (WHO). Internacional Agency for Research on Cancer. Cancer Fact Sheets. https://gco.iarc.fr/today/fact-sheets-cancers. Accessed 13 May 2019

3.

Instituto Nacional de Câncer (INCA). Estatísticas de cancer. https://www.inca.gov.br/numeros-de-cancer. Accessed 13 May 2019

4.

Veronesi U, Cascinelli N, Mariani L et al (2002) Twenty-year follow-up of a randomized study comparing breast-conserving surgery with radical mastectomy for early breast cancer. N Engl J Med 347(16):1227–1232

5.

Fisher B, Anderson S, Bryant J et al (2002) Twenty-year follow-up of a randomized trial comparing total mastectomy, lumpectomy, and lumpectomy plus irradiation for the treatment of invasive breast cancer. N Engl J Med 347(16):1233–1241

6.

Coleman SR (2006) Structural fat grafting: more than a permanent filler. Plast Reconstr Surg 118(3 Suppl):108s–120s

7.

Coleman SR (2007) Structural fat grafting. In: Grabb WC (ed) Grabb and Smith's plastic surgery. Wolters Kluwer Health/Lippincott Williams & Wilkins, New York.

8.

Coleman SR, Saboeiro AP (2007) Fat grafting to the breast revisited: safety and efficacy. Plast Reconstr Surg. 119(3):775–785; discussion 786–777

9.

Delay E, Gosset J, Toussoun G, Delaporte T, Delbaere M (2008) Efficacy of lipomodelling for the management of sequelae of breast cancer conservative treatment. Ann Chir Plast Esthet 53(2):153–168

10.

Krastev TK, Schop SJ, Hommes J, Piatkowski AA, Heuts EM, van der Hulst R (2018) Meta-analysis of the oncological safety of autologous fat transfer after breast cancer. Br J Surg 105(9):1082–1097

11.

Coleman SR (2001) Structural fat grafts: the ideal filler? Clin Plast Surg 28(1):111–119

12.

Missana MC, Laurent I, Barreau L, Balleyguier C (2007) Autologous fat transfer in reconstructive breast surgery: indications, technique and results. Eur J Surg Oncol 33(6):685–690

13.

Chan CW, McCulley SJ, Macmillan RD (2008) Autologous fat transfer–a review of the literature with a focus on breast cancer surgery. J Plast Reconstr Aesthet Surg 61(12):1438–1448

14.

Rigotti G, Marchi A, Sbarbati A (2009) Adipose-derived mesenchymal stem cells: past, present, and future. Aesthet Plast Surg 33(3):271–273

15.

Brenelli F, Rietjens M, De Lorenzi F et al (2014) Oncological safety of autologous fat grafting after breast conservative treatment: a prospective evaluation. Breast J 20(2):159–165

16.

Claro F Jr, Figueiredo JC, Zampar AG, Pinto-Neto AM (2012) Applicability and safety of autologous fat for reconstruction of the breast. Br J Surg 99(6):768–780

17.

Largo RD, Tchang LA, Mele V et al (2014) Efficacy, safety and complications of autologous fat grafting to healthy breast tissue: a systematic review. J Plast Reconstr Aesthet Surg 67(4):437–448

18.

Veber M, Tourasse C, Toussoun G, Moutran M, Mojallal A, Delay E (2011) Radiographic findings after breast augmentation by autologous fat transfer. Plast Reconstr Surg 127(3):1289–1299

19.

Petit JY, Lohsiriwat V, Clough KB et al (2011) The oncologic outcome and immediate surgical complications of lipofilling in breast cancer patients: a multicenter study–Milan-Paris-Lyon experience of 646 lipofilling procedures. Plast Reconstr Surg 128(2):341–346

20.

Pearl RA, Leedham SJ, Pacifico MD (2012) The safety of autologous fat transfer in breast cancer: lessons from stem cell biology. J Plast Reconstr Aesthet Surg 65(3):283–288

21.

Petit JY, Botteri E, Lohsiriwat V et al (2012) Locoregional recurrence risk after lipofilling in breast cancer patients. Ann Oncol 23(3):582–588

22.

Gale KL, Rakha EA, Ball G, Tan VK, McCulley SJ, Macmillan RD (2015) A case-controlled study of the oncologic safety of fat grafting. Plast Reconstr Surg 135(5):1263–1275

23.

Silva-Vergara C, Fontdevila J, Descarrega J, Burdio F, Yoon TS, Grande L (2016) Oncological outcomes of lipofilling breast reconstruction: 195 consecutive cases and literature review. J Plast Reconstr Aesthet Surg 69(4):475–481

24.

Kronowitz SJ, Mandujano CC, Liu J et al (2016) Lipofilling of the breast does not increase the risk of recurrence of breast cancer: a matched controlled study. Plast Reconstr Surg 137(2):385–393

25.

Silva-Vergara C, Fontdevila J, Weshahy O, Yuste M, Descarrega J, Grande L (2017) Breast cancer recurrence is not increased with lipofilling reconstruction: a case-controlled study. Ann Plast Surg 79(3):243–248

26.

Bajaj AK, Kon PS, Oberg KC, Miles DA (2004) Aesthetic outcomes in patients undergoing breast conservation therapy for the treatment of localized breast cancer. Plast Reconstr Surg 114(6):1442–1449

27.

Asgeirsson KS, Rasheed T, McCulley SJ, Macmillan RD (2005) Oncological and cosmetic outcomes of oncoplastic breast conserving surgery. Eur J Surg Oncol 31(8):817–823

28.

Kelly DA, Wood BC, Knoll GM et al (2012) Outcome analysis of 541 women undergoing breast conservation therapy. Ann Plast Surg 68(5):435–437

29.

Biazus JV, Falcao CC, Parizotto AC et al (2015) Immediate reconstruction with autologous fat transfer following breast-conserving surgery. Breast J 21(3):268–275

30.

Spear SL, Wilson HB, Lockwood MD (2005) Fat injection to correct contour deformities in the reconstructed breast. Plast Reconstr Surg 116(5):1300–1305

31.

Delay E, Garson S, Tousson G, Sinna R (2009) Fat injection to the breast: technique, results, and indications based on 880 procedures over 10 years. Aesthet Surg J 29(5):360–376

32.

Rietjens M, De Lorenzi F, Rossetto F et al (2011) Safety of fat grafting in secondary breast reconstruction after cancer. J Plast Reconstr Aesthet Surg 64(4):477–483

33.

Gutowski KA (2009) Current applications and safety of autologous fat grafts: a report of the ASPS fat graft task force. Plast Reconstr Surg 124(1):272–280

34.

Molto Garcia R, Gonzalez Alonso V, Villaverde Domenech ME (2016) Fat grafting in immediate breast reconstruction. Avoiding breast sequelae. Breast Cancer 23(1):134–140

35.

Stumpf CC, Biazús JV, Zucatto FSÂE et al (2017) Immediate reconstruction with autologous fat grafting: influence in loco regional recurrence in breast cancer. Rev Col Bras Cir 44(2):179–186

36.

Biazus JV, Stumpf CC, Melo MP et al (2018) Breast-conserving surgery with immediate autologous fat grafting reconstruction: oncologic outcomes. Aesthet Plast Surg 42(5):1195–1201

37.

Giordano SH, Temin S, Kirshner JJ et al (2014) Systemic therapy for patients with advanced human epidermal growth factor receptor 2-positive breast cancer: American Society of Clinical Oncology clinical practice guideline. J Clin Oncol 32(19):2078–2099

38.

Cardoso F, Costa A, Senkus E et al (2017) 3rd ESO-ESMO International Consensus Guidelines for Advanced Breast Cancer (ABC 3). Ann Oncol 28(12):3111

39.

Petit JY, Maisonneuve P, Rotmensz N, Bertolini F, Rietjens M (2017) Fat grafting after invasive breast cancer: a matched case-control study. Plast Reconstr Surg 139(6):1292–1296

40.

Petit JY, Gentilini O, Rotmensz N et al (2008) Oncological results of immediate breast reconstruction: long term follow-up of a large series at a single institution. Breast Cancer Res Treat 112(3):545–549

41.

Rietjens M, Urban CA, Rey PC et al (2007) Long-term oncological results of breast conservative treatment with oncoplastic surgery. Breast 16(4):387–395

42.

Fisher B, Bauer M, Margolese R et al (1985) Five-year results of a randomized clinical trial comparing total mastectomy and segmental mastectomy with or without radiation in the treatment of breast cancer. N Engl J Med 312(11):665–673

43.

Krastev T, van Turnhout A, Vriens E, Smits L, van der Hulst R (2019) Long-term follow-up of autologous fat transfer vs conventional breast reconstruction and association with cancer relapse in patients with breast cancer. JAMA Surg 154(1):56–63

44.

Yoshihara E, Smeets A, Laenen A et al (2013) Predictors of axillary lymph node metastases in early breast cancer and their applicability in clinical practice. Breast 22(3):357–361

45.

Viale G, Zurrida S, Maiorano E et al (2005) Predicting the status of axillary sentinel lymph nodes in 4351 patients with invasive breast carcinoma treated in a single institution. Cancer 103(3):492–500

46.

van der Sangen MJ, Scheepers SW, Poortmans PM, Luiten EJ, Nieuwenhuijzen GA, Voogd AC (2013) Detection of local recurrence following breast-conserving treatment in young women with early breast cancer: optimization of long-term follow-up strategies. Breast 22(3):351–356
Funding
The authors have no financial relationships relevant to this article to disclose.
Ethics declarations
Conflict of interest
The authors have no conflicts of interest to disclose. Camile Cesa Stumpf had full access to all the data in the study and takes responsibility for the integrity of the data and the accuracy of the data analysis.
Inform consent
All information is obtained from the electronic hospital record. Addicional informed consent was obtained from hospital where information and databases were collected. The researchers are committed to preserving the privacy of patients and they also agree that the information was used exclusively to study.
Research involving human participants and/or animals
For retrospective cohort study, individual formal consent is not required.
Additional information
Publisher's Note
Springer Nature remains neutral with regard to jurisdictional claims in published maps and institutional affiliations.
Electronic supplementary material
Below is the link to the electronic supplementary material.
About this article
Cite this article
Stumpf, C.C., Zucatto, Â.E., Cavalheiro, J.A.C. et al. Oncologic safety of immediate autologous fat grafting for reconstruction in breast-conserving surgery. Breast Cancer Res Treat (2020). https://doi.org/10.1007/s10549-020-05554-0
Received:

Accepted:

Published:
Keywords
Autologous fat grafting

Breast conservative surgery

Immediate breast reconstruction

Breast cancer

Recurrence