Abstract
Purpose
Randomized control trials exploring adjuvant supportive-expressive group therapy (SEGT) for breast cancer have yielded conflicting survival results. This retrospective cohort study was designed to explore the association of adjuvant SEGT performed at diagnosis with survival in real-world patients.
Methods
3327 patients with breast cancer were divided between those who received oncologic treatment combined with SEGT-based intervention (referred to as BRBC [n = 354]) and those who only received oncologic treatment (referred to as OT [n = 2973]). Primary outcome was overall survival (OS) at 1-year, 3-year, 5-year. Propensity score-matched analysis (at a ratio of 1:3) and instrumental variable analysis (IVA) were performed.
Results
The median overall survival was 7.3 years (95% CI 7.0–7.7 years) in BRBC and 7.1 years (95% CI 6.9–7.4 years) in OT. BRBC was not significantly associated with improved 1-year (HR 0.74, 95% CI 0.49–1.10, P = 0.1748; NNT = 44.8, 95% CI − 118.5 to 22.6), 3-year (HR 0.98, 95% CI 0.75–1.27, P = 0.8640; NNT = 273.7, 95% CI − 21.0 to 21.3), or 5-year survival (HR 0.79, 95% CI 0.61–1.02, P = 0.0908; NNT = 36.0, 95% CI − 384.5 to 19.1) compared with OT. IVA indicated that BRBC had a survival benefit over OT in the 1-year, 3-year, and 5-year of 1.5% (95% CI 1.2–1.9%), 0.7% (95% CI 0.6–0.8%), and 2.6% (95% CI 2.0–3.4%), respectively.
Conclusion
Adjuvant SEGT cannot significantly prolong 5-year survival in breast cancer, though a longer observation period is warranted according to the marginal survival benefit identified at the end of the follow-up.
This is a preview of subscription content, log in to check access.
Access options
Buy single article
Instant unlimited access to the full article PDF.
US$ 39.95
Price includes VAT for USA
Subscribe to journal
Immediate online access to all issues from 2019. Subscription will auto renew annually.
US$ 199
This is the net price. Taxes to be calculated in checkout.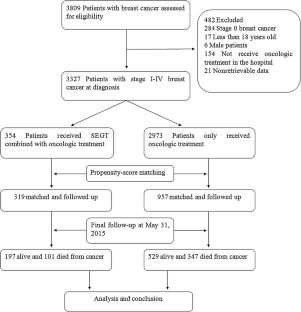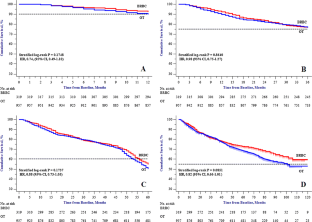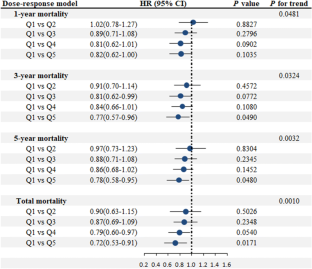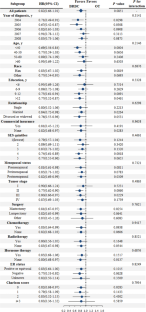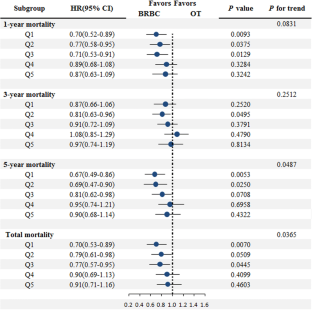 References
1.

Torre LA, Bray F, Siegel RL et al (2015) Global cancer statistics, 2012. CA Cancer J Clin 65:87–108

2.

Zhang ML, Huang ZZ, Zheng Y (2012) The Chinese breast cancer incidence and mortality rates in 2008 and predictions for the future. Chin J Epidemiol 33:1049–1051

3.

Chen WQ, Zheng RS, Baade PD et al (2016) Cancer statistics in China, 2015. CA-Cancer J Clin 66:115–132

4.

Stanton AL, Ganz PA, Kwan L et al (2005) Outcomes from the moving beyond cancer psychoeducational, randomized, controlled trial with breast cancer patients. J Clin Oncol 23:6009–6018

5.

Stanton AL (2006) Psychosocial concerns and interventions for cancer survivors. J Clin Oncol 24:5132–5137

6.

Spiegel D, Bloom JR, Kraemer HC et al (1989) Effect of psychosocial treatment on survival of patients with metastatic breast cancer. Lancet 2:888–891

7.

Goodwin PJ, Leszcz M, Ennis M et al (2001) The effect of group psychosocial support on survival in metastatic breast cancer. N Engl J Med 345:1719–1726

8.

Kissane DW, Grabsch B, Clarke DM et al (2007) Supportive-expressive group therapy for women with metastatic breast cancer: survival and psychosocial outcome from a randomized controlled trial. Psycho-Oncology 16:277–286

9.

Spiegel D, Butler LD, Giese-Davis J et al (2007) Effects of supportive-expressive group therapy on survival of patients with metastatic breast cancer: a randomized prospective trial. Cancer 110:1130–1138

10.

Edelman S, Lemon J, Bell DR et al (1999) Effects of group CBT on the survival time of patients with metastatic breast cancer. Psycho-Oncology 8:474–481

11.

Ye ZJ, Peng CH, Zhang HW et al (2018) A biopsychosocial model of resilience for breast cancer: a preliminary study in Mainland China. Eur J Oncol Nurs 36:95–102

12.

Ye ZJ, Liang MZ, Li PF et al (2018) New resilience instrument for patients with cancer. Qual Life Res 27(2):355–365

13.

Ye ZJ, Liang MZ, Zhang HW et al (2018) Psychometric properties of the chinese version of resilience scale specific to cancer: an item response theory analysis. Qual Life Res 27(6):1635–1645

14.

Ye ZJ, Zhang Z, Tang Y et al (2019) Development and psychometric analysis of the 10-item resilience scale specific to cancer: a multidimensional item response theory analysis. Eur J Oncol Nurs 41:64–71

15.

Ye ZJ, Qiu HZ, Liang MZ et al (2017) Effect of a mentor-based, supportive-expressive program, Be Resilient to Breast Cancer, on survival in metastatic breast cancer—A randomized, controlled intervention trial. Br J Cancer 117:1486–1494

16.

Ye ZJ, Liang MZ, Qiu HZ et al (2016) Effect of a multidiscipline mentor-based program, be resilient to breast cancer(BRBC), on female breast cancer survivors in Mainland China: a randomized, controlled, theoretically-derived intervention trial. Breast Cancer Res Tr 158:509–522

17.

Basu A, Heckman JJ, Navarro-Lozano S et al (2007) Use of instrumental variables in the presence of heterogeneity and self-selection: an application to treatments of breast cancer patients. Health Econ 16:1133–1157

18.

Ye ZJ, Qiu HZ, Li PF et al (2017) Predicting changes in quality of life and emotional distress in Chinese patients with lung, gastric, and colon-rectal cancer diagnoses: the role of psychological resilience. Psycho-Oncology 26:829–835

19.

Booth CM, Tannock IF (2014) Randomised controlled trials and population-based observational research: partners in the evolution of medical evidence. Br J Cancer 110:551–555

20.

Stukel TA, Fisher ES, Wennberg DE et al (2007) Analysis of observational studies in the presence of treatment selection bias: effects of invasive cardiac management on AMI survival using propensity score and instrumental variable methods. JAMA 297:278–285

21.

McClellan M, McNeil BJ, Newhouse JP (1994) Does more intensive treatment of acute myocardial infarction in the elderly reduce mortality? Analysis using instrumental variables. JAMA 272:859–866

22.

White IR, Royston P, Wood AM (2011) Multiple imputation using chained equations: issues and guidance for practice. Stat Med 30:377–399

23.

Ye ZJ, Cheng MH, Zhang XY, et al (2019) Treatment decision-making and regret in parents of children with incurable cancer. Cancer Nurs. https://doi.org/10.1097/NCC.0000000000000783.

24.

Ye ZJ, Guan HJ, Wu LH et al (2015) The resilience and psychosocial function among mainland Chinese parents of children with cancer: a cross-sectional survey. Cancer Nurs 38(6):466–474

25.

Ye ZJ, Qiu HZ, Li PF et al (2017) Resilience model for parents of children with cancer in mainland China: an exploratory study. Eur J Oncol Nurs 27:9–16

26.

Ye ZJ, Qiu HZ, Li PF, Chen P et al (2017) Validation and application of the Chinese version of the 10-item Connor–Davidson resilience scale (CD-RISC-10) among parents of children with cancer diagnosis. Eur J Oncol Nurs 27:36–44

27.

Deyo RA, Cherkin DC, Ciol MA (1992) Adapting a clinical comorbidity index for use with ICD-9-CM administrative databases. Clin Epidemiol 45:613–619

28.

Austin PC (2014) The use of propensity score methods with survival or time-to-event outcomes: reporting measures of effect similar to those used in randomized experiments. Stat Med 33:1242–1258

29.

Lakatos E (2002) Designing complex group sequential survival trials. Stat Med 21:1969–1989

30.

Terza JV, Basu A, Rathouz PJ (2008) Two-stage residual inclusion estimation: addressing endogeneity in health econometric modeling. J Health Econ 27:531–543

31.

Stock JH, Wright JH, Yogo M (2002) A survey of weak instruments and weak identification in generalized method of moments. J Bus Econ Stat 20:518–529

32.

Zohoori N, Savitz DA (1997) Econometric approaches to epidemiologic data: relating endogeneity and unobserved heterogeneity to confounding. Ann Epidemiol 7:251–257

33.

Mirosevic S, Jo B, Kraemer HC et al (2019) "Not just another meta-analysis": sources of heterogeneity in psychosocial treatment effect on cancer survival. Cancer Med 8(1):363–373

34.

Lazarus RS, Folkman S (1984) Stress, appraisal, and coping. Springer, New York, NY

35.

Dickerson SS, Kemeny ME (2004) Acute stressors and cortisol responses: a theoretical integration and synthesis of laboratory research. Psychol Bull 130:355–391

36.

Li X, Lund JL, Toh S (2018) Lower cancer incidence-warfarin effect or immortal time bias? JAMA Intern Med 178:584–585

37.

Greenland S (2000) An introduction to instrumental variables for epidemiologists. Int J Epidemiol 29:722–729

38.

Lutgendorf SK, Sood AK, Antoni MH (2010) Host factors and cancer progression: biobehavioral signaling pathways and interventions. J Clin Oncol 28:4094–4099
Ethics declarations
Conflict of interest
The authors have no conflicts of interest to disclose.
Ethical approval
All procedures performed in studies involving human participants were in accordance with the ethical standards of the institutional and/or national research committee and with the 1964 Helsinki declaration and its later amendments or comparable ethical standards.
Informed consent
Informed consent was obtained from all individual participants included in the study.
Additional information
Publisher's Note
Springer Nature remains neutral with regard to jurisdictional claims in published maps and institutional affiliations.
Electronic supplementary material
Below is the link to the electronic supplementary material.
About this article
Cite this article
Ye, Z.J., Zhang, Z., Zhang, X.Y. et al. Effectiveness of adjuvant supportive-expressive group therapy for breast cancer. Breast Cancer Res Treat (2020). https://doi.org/10.1007/s10549-020-05526-4
Received:

Accepted:

Published:
Keywords
Breast cancer

Supportive-expressive group therapy

Resilience

Survival

Instrumental variable

Propensity analysis