Symptom cluster of pain, fatigue, and psychological distress in breast cancer survivors: prevalence and characteristics
Abstract
Purpose
Breast cancer survivors may experience pain, fatigue, or psychological distress as a result of the treatment. These symptoms may co-occur and form a cluster. However little is known about symptom clusters (SCs) in long-term breast cancer survivors. This study aimed to identify subgroups of breast cancer survivors with the SC of pain, fatigue, and psychological distress, and to examine sociodemographic and clinical characteristics associated with this SC.
Methods
Data were obtained from a nationwide survey of breast cancer survivors (N = 834). Exhaustive enumeration of possible combination of the three binary variables (pain, fatigue, psychological distress) was conducted. They were identified using the recommended threshold for the Hospital Anxiety and Depression Scale, the Fatigue Questionnaire, and a score of one or more on a numeric rating scale for pain. The SC was defined to include all the three variables, all other combinations were defined as no SC. Logistic regression analyses were conducted to examine the association between sociodemographic and clinical variables and the SC.
Results
Of the 834 survivors, 13% had the SC. Younger age (OR 2.3, 95% CI 1.3–4.1, p = 0.003), lymphedema (OR 1.9, 95% CI 1.1–3.2, p = 0.02), working part-time (OR 2.9, 95% CI 1.6–5.3, p < 0.001), or being disabled (OR 4.1, 95% CI 2.2–7.8, p < 0.001) were all associated with the SC.
Conclusion
Thirteen percent of the survivors experienced the SC. It appears that premenstrual women are at greater risk, than postmenopausal women. Having this SC might have an impact on the survivors' ability to work.
Keywords
Breast cancer survivors 
Symptom cluster 
Pain 
Fatigue 
Psychological distress 
Introduction
Long-term survival after a diagnosis of breast cancer is steadily rising because of early detection and improved treatment modalities [1]. However, several years after cancer treatment has been completed, a significant proportion of breast cancer survivors suffer from multiple symptoms, of which pain, fatigue, and psychological distress are the most prevalent [2, 3, 4]. These three symptoms may co-occur and form a cluster. A symptom cluster (SC) is defined as a stable group of two or more concurrent symptoms that are related to one another, but independent of other symptoms or symptom clusters [5]. A SC may have shared underlying causes and outcomes. Most research focuses on single symptoms, even though the occurrence of a SC appears to worsen patient outcomes. When symptoms "cluster," they will hasten or potentiate one another through physiological, psychological, behavioral, or sociocultural factors [6]. This collective impact of a SC may have a negative synergistic effect and affect the daily life and function of the patient.
One approach in SC research is to identify subgroups of patients with similar symptom experience with a specific SC [5, 7, 8]. Several studies in both curative and palliative care patients with different types of cancer have found that pain, fatigue, and depressive symptoms constitute a consistent cluster that is often combined with sleep disturbances [7, 8, 9, 10, 11, 12, 13, 14, 15, 16, 17]. In addition, research has shown that anxiety and depression also occur in clusters [10, 14, 18]. In the literature, the term psychological distress is often used as a generic term for anxiety and/or depressive symptoms [4, 19]. Psychological distress extends along a continuum, ranging from a normal reaction to a difficult situation to problems that can become disabling [20].
The SC of pain, fatigue, and psychological distress may represent a high symptom burden and has a negative impact on the quality of life and functional performance [5, 15, 21, 22]. Limitations in function may also affect employability [21]. Getting patients back to work is one of the first and most important goals after treatment is completed. However, several studies have shown that breast cancer survivors have an increased risk of unemployment [21, 23, 24, 25].
Most cluster research on women with breast cancer has been conducted during the time of treatment or the 1st year posttreatment [7, 8, 9, 11, 13, 26]. Thus, little is known about SCs in long-term breast cancer survivors. A common definition of cancer survivors is from the moment of diagnosis and through the balance of his or her life, and long-time survivorship ≥ 5 years [1, 27]. Others define it as patients who have lived beyond 2–5 or 10 years from diagnosis, without recurrence [27]. The last definition is the chosen approach. Comprehensive care for breast cancer survivors includes identifying who has, or is at risk for, SCs. However, in order to identify who is at risk, we need to know which factors are associated with the SC of pain, fatigue, and psychological distress. Previous research has suggested a variety of sociodemographic and clinical factors that predict various SCs, but the findings are inconsistent [11, 12, 13, 14, 17, 18].
Research on the concept of SCs is evolving, but still lacks evidence [5, 14, 28]. The literature recommends further research, including research on factors that may predict co-occurring symptoms and the examination of various outcomes in homogeneous groups of cancer patients. To bridge this gap, the purpose of this study is to: (1) identify a subgroup of women who experience the pre-specified SC of pain, fatigue, and psychological distress in Norwegian female breast cancer survivors two to six years post-surgery. (2) Examine sociodemographic and clinical characteristics associated with this SC.
Methods
Patients and settings
A secondary analysis of data from a cross-sectional study investigating chronic pain in Norwegian breast cancer survivors was conducted [3]. The Cancer Registry of Norway (CRN) identified a random sample of 1650 survivors who had undergone breast cancer surgery two to six years before the onset of the study. Ten hospitals from different regions in Norway were contacted, and each hospital received a list of patients treated at their hospital from the CRN to evaluate whether they met the inclusion criteria. Exclusion criteria were death, metastatic disease, cognitive impairment, serious psychiatric disorder, or other malignant diseases. Of the 1650 survivors, 1364 were eligible for inclusion. To guarantee participant anonymity, an employee of the CRN sent the questionnaires by mail to the eligible women between October 2009 and April 2010. Thirty-two questionnaires were returned because the recipient was unknown at the address used. The questionnaires were answered anonymously, and the overall response rate was 63% (N = 834).
Patient-reported assessments
Information on sociodemographic and clinical data were obtained by self-reported questionnaires, as well as by multidimensional validated questionnaires to investigate the prevalence of pain, fatigue, and psychological distress.
Pain was first mapped with the question, "Do you or did you have pain after breast cancer surgery and/or during treatment?" If the responder answered "yes," they were asked to complete further questionnaires identifying various pain characteristics. Pain intensity was measured with the Brief Pain Inventory (BPI) method [29]. The single item "average pain intensity over the past week" was used in the present study. For the BPI, a numeric rating scale (NRS) from 0 (no pain) to 10 (worst imaginable pain) was used. A pain score of 1–3 was rated mild, 4–7 moderate, and ≥ 8 severe [3]. At a score of ≥ 4, it is recommended to conduct a detailed survey to identify clinically relevant symptom burden [30]. The BPI has been translated into Norwegian, validated, and applied on cancer patients (including breast cancer) [31]. In line with the main study [3], chronic pain is determined when a participant answers "yes" to the initial question, and reports a NRS pain score ≥ 1 over the past week.
The fatigue questionnaire (FQ) was used to measure the severity of fatigue [32]. The FQ asks about fatigue symptoms within the last month compared to the conditions when the person last felt well. It consists of seven items related to physical symptoms of fatigue and four items related to mental symptoms. In addition, the FQ has an item assessing duration of fatigue symptoms. Each item is scored by a four-point Likert scale (0–3) where total fatigue is the sum score of all 11 items (33 = maximum score). Each response was then dichotomized (0–1 = 0, 2–3 = 1). Chronic fatigue is defined as a total score of ≥ 4 combined with duration of ≥ 6 months [33]. The FQ has been validated in cancer patients (including breast cancer), and recommended as the preferred multidimensional questionnaire [34] The FQ has also been used to investigate fatigue among breast cancer survivors [4].
Psychological distress was assessed by the Hospital Anxiety and Depression Scale (HADS) [35]. The HADS consists of 14 items covering how the responder has felt over the past week. Seven of the items measure anxiety, and seven items measure depression. Each item has four response alternatives (0–3), resulting in sum scores from 0 to 21. A sum score ≥ 8 within either subscale defines a possible case. The HADS is widely used on cancer patients and has also been applied on breast cancer survivors [4, 36]. Recent studies indicate that HADS does not distinguish adequately between the symptoms of anxiety and depression, but that it is well suited to measure the level of psychological distress [19, 36]. To classify responders with high levels of psychological distress, we merged scores ≥ 8 on one or both subscales into one variable, HADS total [4].
Statistical analyses
The software IBM SPSS statistics version 22 (IBM Corp, Armonk, NY) was used for statistical analysis. In both the HADS and FQ analyses, missing answers were replaced by an individualized mean score when respondents had answered > 50% of the questions. In addition, failure to answer the question on duration of fatigue was given the value 0.
Age was dichotomized into pre- and postmenopausal age and set to ≤ or > 55 years, according to the National action guidelines for diagnosis, treatment, and monitoring of patients with breast cancer [37]. Body mass index (BMI) was calculated, and—BMI ≥ 30 was defined as obesity. Endocrine therapy was categorized as whether patients had received Tamoxifen or an aromatase inhibitor, or had switched from one to the other. Descriptive statistics with frequency analysis were used to identify sociodemographic and clinical variables, and the prevalence of pain, fatigue, and psychological distress. Bivariate correlation analysis with Pearson r was used to examine the strength of the correlations between the three symptoms.
The HADS and the FQ recommended threshold scores were used to estimate clinically significant psychological distress and fatigue. Women were classified as having pain if they scored ≥ 1 on the NRS and had answered yes on the initial question regarding pain. Exhaustive enumeration at the possible combination of the three binary variables was conducted. Three variables gave a maximum eight. We additionally provide a Venn diagram (Fig. 
1
) to give another perspective on joint and marginal probabilities/percentage of symptom distributions. The symptom cluster was defined to include all three binary variables: pain, fatigue, and psychological distress.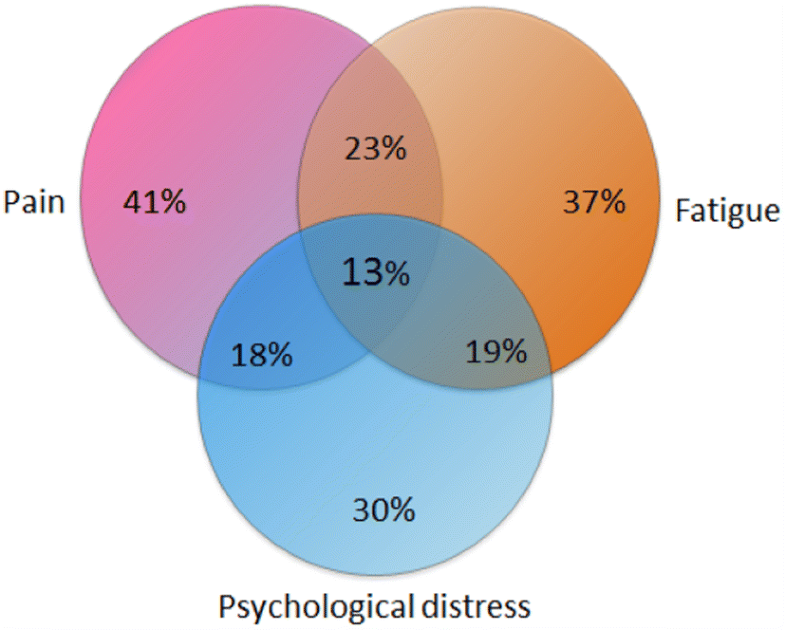 The Pearson χ2 test was used for categorical variables, and t-tests for continuous variables were conducted to compare survivors with the SC and those without the SC. Logistic regression analyses were conducted to evaluate each of the sociodemographic and clinical variables separately, regarding their association with the SC. Multiple logistic regression was performed to assess the association between the SC and all the variables identified in the univariate analysis using a liberal significance of p < 0.25 [38].The Hosmer–Lemeshow goodness-of-fit test was applied to the final model, in which p > 0.05 indicated support for the model. The significance level was set at 5%, with a two-sided confidence interval.
Conclusion
This study found that a substantial proportion of breast cancer survivors experience one or more symptoms of chronic pain, chronic fatigue, and high level of psychological distress 2–6 years post-surgery. Among 13% of the women, these symptoms co-occurred, forming a SC. It appears that premenopausal breast cancer survivors and/or survivors diagnosed with lymphedema have a greater risk for developing a cluster than postmenopausal survivors or survivors without lymphedema. Having the SC might have an impact on breast cancer survivors' ability to work. The results of the present study support the need for routine screening for multiple symptoms during follow-up care. Improving the identification of those at risk may help guide symptom management strategies and rehabilitation programs tailored to this subgroup of breast cancer survivors.
Notes
Acknowledgements
Open Access funding provided by Oslo University & Oslo University Hospital. The authors thank Siri Larønningen at the Cancer Registry of Norway for assisting with the identification of women treated for breast cancer, distributing the name lists to the 10 hospitals, and sending the questionnaire to all eligible patients. In addition we would like to thank David Swanson, the Statistician, for his help with the cluster analyses and interpretation of the analyses.
Compliance with ethical standards
Conflict of interest
The authors declare that they have no conflicts of interest.
Ethical approval
All procedures in the study was conducted in accordance with the 1964 Helsinki declaration and its later amendments or comparable ethical standards and approved by the Regional Committee for Medical and Health Research Ethics, Health Region South-East, Norway (Ref. S-081266).
Informed consent
Not applicable. This study is based on anonymized data, and permission to use the data was obtained from the project manager of the main study.
Copyright information
© The Author(s) 2020
Open AccessThis article is licensed under a Creative Commons Attribution 4.0 International License, which permits use, sharing, adaptation, distribution and reproduction in any medium or format, as long as you give appropriate credit to the original author(s) and the source, provide a link to the Creative Commons licence, and indicate if changes were made. The images or other third party material in this article are included in the article's Creative Commons licence, unless indicated otherwise in a credit line to the material. If material is not included in the article's Creative Commons licence and your intended use is not permitted by statutory regulation or exceeds the permitted use, you will need to obtain permission directly from the copyright holder. To view a copy of this licence, visit http://creativecommons.org/licenses/by/4.0/.