Abstract
Purpose
To examine whether depression, anxiety disorder, and their co-occurrence would increase the risk of mortality in patients with breast cancer, and whether antidepressant treatment would reduce the same.
Methods
Data were retrieved from the database of the Korean National Health Insurance Service. Of 145,251 patients diagnosed with breast cancer between 2007 and 2014, 20,870 patients diagnosed with depression or anxiety disorder one year before breast cancer diagnosis were excluded. Thus, data of 124,381 patients were included in this study.
Results
Depression and anxiety disorder were associated with an increased risk of mortality [Hazard Ratio (HR) 1.26, 95% CI 1.18–1.36; HR 1.14, 95% CI 1.08–1.22, respectively] and their co-occurrence further increased the risk (HR = 1.38, 95% CI 1.24–1.54). Antidepressant treatment was related to a reduced risk of mortality. Compared to patients without any psychiatric comorbidity with no antidepressant treatment, the mortality risk increased in patients with either psychiatric comorbidity or both, but the risk seemed to attenuate with antidepressant treatments.
Conclusion
The current findings suggest that psychiatric comorbidities are markers of increased mortality risk in patients with breast cancer, and antidepressant treatment may attenuate the risk. This underscores the need for screening and treating depression and anxiety disorders to improve survival in patients with breast cancer.
This is a preview of subscription content, log in to check access.
Access options
Buy single article
Instant access to the full article PDF.
US$ 39.95
Price includes VAT for USA
Subscribe to journal
Immediate online access to all issues from 2019. Subscription will auto renew annually.
US$ 199
This is the net price. Taxes to be calculated in checkout.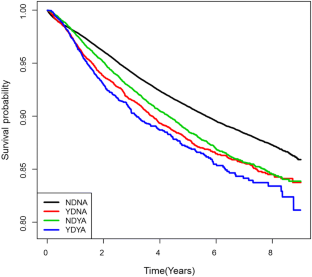 Data availability
The data that support the findings of this study are available from National Health Insurance Service in Korea but restrictions apply to the availability of these data, which were used under license for the current study, and so are not publicly available. Data can be however available from the National Health Insurance Service in Korea upon reasonable request and with permission of the National Health Insurance Service in Korea.
References
1.

Mehnert A, Brähler E, Faller H, Härter M, Keller M, Schulz H, Wegscheider K, Weis J, Boehncke A, Hund B (2014) Four-week prevalence of mental disorders in patients with cancer across major tumor entities. J Clin Oncol 32(31):3540–3546

2.

Pinquart M, Duberstein P (2010) Depression and cancer mortality: a meta-analysis. Psychol Med 40(11):1797–1810

3.

Satin JR, Linden W, Phillips MJ (2009) Depression as a predictor of disease progression and mortality in cancer patients. Cancer 115(22):5349–5361

4.

Hjerl K, Andersen EW, Keiding N, Mouridsen HT, Mortensen PB, Jørgensen T (2003) Depression as a prognostic factor for breast cancer mortality. Psychosomatics 44(1):24–30

5.

Watson M, Haviland J, Greer S, Davidson J, Bliss J (1999) Influence of psychological response on survival in breast cancer: a population-based cohort study. The Lancet 354(9187):1331–1336

6.

Watson M, Homewood J, Haviland J, Bliss JM (2005) Influence of psychological response on breast cancer survival: 10-year follow-up of a population-based cohort. Eur J Cancer 41(12):1710–1714

7.

Somerset W, Stout SC, Miller AH, Musselman D (2004) Breast cancer and depression. Oncology (Williston Park, NY) 18(8):1021–1034 (Discussion 1035–1026, 1047–1028)

8.

Giese-Davis J, Collie K, Rancourt KM, Neri E, Kraemer HC, Spiegel D (2011) Decrease in depression symptoms is associated with longer survival in patients with metastatic breast cancer: a secondary analysis. J Clin Oncol 29(4):413

9.

Andersen BL, Yang HC, Farrar WB, Golden-Kreutz DM, Emery CF, Thornton LM, Young DC, Carson WE (2008) Psychologic intervention improves survival for breast cancer patients. Cancer 113(12):3450–3458

10.

Spiegel D, Butler LD, Giese-Davis J, Koopman C, Miller E, DiMiceli S, Classen CC, Fobair P, Carlson RW, Kraemer HC (2007) Effects of supportive-expressive group therapy on survival of patients with metastatic breast cancer. Cancer 110(5):1130–1138

11.

Stark D, Kiely M, Smith A, Velikova G, House A, Selby P (2002) Anxiety disorders in cancer patients: their nature, associations, and relation to quality of life. J Clin Oncol 20(14):3137–3148

12.

Lee BO, Choi WJ, Sung NY, Lee SK, Lee CG, Kang JI (2015) Incidence and risk factors for psychiatric comorbidity among people newly diagnosed with cancer based on Korean national registry data. Psycho-Oncology 24(12):1808–1814

13.

Kang JI, Sung NY, Park SJ, Lee CG, Lee BO (2014) The epidemiology of psychiatric disorders among women with breast cancer in South Korea: analysis of national registry data. Psycho-Oncology 23(1):35–39. https://doi.org/10.1002/pon.3369

14.

Jehn C, Flath B, Strux A, Krebs M, Possinger K, Pezzutto A, Lüftner D (2012) Influence of age, performance status, cancer activity, and IL-6 on anxiety and depression in patients with metastatic breast cancer. Breast Cancer Res Treat 136(3):789–794

15.

Brintzenhofe-Szoc KM, Levin TT, Li Y, Kissane DW, Zabora JR (2009) Mixed anxiety/depression symptoms in a large cancer cohort: prevalence by cancer type. Psychosomatics 50(4):383–391

16.

Charlson ME, Pompei P, Ales KL, MacKenzie CR (1987) A new method of classifying prognostic comorbidity in longitudinal studies: development and validation. Journal of chronic diseases 40(5):373–383

17.

Cho MJ, Seong SJ, Park JE, Chung I-W, Lee YM, Bae A, Ahn JH, Lee D-W, Bae JN, Cho S-J (2015) Prevalence and correlates of DSM-IV mental disorders in South Korean adults: the Korean epidemiologic catchment area study 2011. Psychiatry investigation 12(2):164–170

18.

Härtl K, Schennach R, Müller M, Engel J, Reinecker H, Sommer H, Friese K (2010) Quality of life, anxiety, and oncological factors: a follow-up study of breast cancer patients. Psychosomatics 51(2):112–123

19.

Jeon HJ, Walker RS, Inamori A, Hong JP, Cho MJ, Baer L, Clain A, Fava M, Mischoulon D (2014) Differences in depressive symptoms between Korean and American outpatients with major depressive disorder. Int Clin Psychopharmacol 29(3):150–156

20.

Kissane DW (2014) Unrecognised and untreated depression in cancer care. Lancet Psychiatry 1(5):320–321. https://doi.org/10.1016/S2215-0366(14)70345-1

21.

Han M, Cha R, Lee HA, Lee SE (2017) Mental-illness stigma among Korean immigrants: role of culture and destigmatization strategies. Asian Am J Psychol 8(2):134

22.

Wasteson E, Brenne E, Higginson IJ, Hotopf M, Lloyd-Williams M, Kaasa S, Loge JH, Collaborative EPCR (2009) Depression assessment and classification in palliative cancer patients: a systematic literature review. Palliat Med 23(8):739–753

23.

Walker J, Holm Hansen C, Martin P, Sawhney A, Thekkumpurath P, Beale C, Symeonides S, Wall L, Murray G, Sharpe M (2012) Prevalence of depression in adults with cancer: a systematic review. Ann Oncol 24(4):895–900. https://doi.org/10.1093/annonc/mds575

24.

Vodermaier A, Linden W, Rnic K, Young SN, Ng A, Ditsch N, Olson R (2014) Prospective associations of depression with survival: a population-based cohort study in patients with newly diagnosed breast cancer. Breast Cancer Res Treat 143(2):373–384

25.

Goodwin JS, Zhang DD, Ostir GV (2004) Effect of depression on diagnosis, treatment, and survival of older women with breast cancer. J Am Geriatr Soc 52(1):106–111

26.

Tojal C, Costa R (2015) Depressive symptoms and mental adjustment in women with breast cancer. Psycho-Oncology 24(9):1060–1065

27.

Mausbach BT, Schwab RB, Irwin SA (2015) Depression as a predictor of adherence to adjuvant endocrine therapy (AET) in women with breast cancer: a systematic review and meta-analysis. Breast Cancer Res Treat 152(2):239–246

28.

Sephton S, Spiegel D (2003) Circadian disruption in cancer: a neuroendocrine-immune pathway from stress to disease? Brain Behav Immun 17(5):321–328

29.

Eismann EA, Lush E, Sephton SE (2010) Circadian effects in cancer-relevant psychoneuroendocrine and immune pathways. Psychoneuroendocrinology 35(7):963–976. https://doi.org/10.1016/j.psyneuen.2009.12.011

30.

Dedert E, Lush E, Chagpar A, Dhabhar FS, Segerstrom SC, Spiegel D, Dayyat E, Daup M, McMasters K, Sephton SE (2012) Stress, coping, and circadian disruption among women awaiting breast cancer surgery. Ann Behav Med 44(1):10–20

31.

Sephton SE, Sapolsky RM, Kraemer HC, Spiegel D (2000) Diurnal cortisol rhythm as a predictor of breast cancer survival. J Natl Cancer Inst 92(12):994–1000

32.

Cohen L, Cole SW, Sood AK, Prinsloo S, Kirschbaum C, Arevalo JM, Jennings NB, Scott S, Vence L, Wei Q (2012) Depressive symptoms and cortisol rhythmicity predict survival in patients with renal cell carcinoma: role of inflammatory signaling. PLoS ONE 7(8):e42324

33.

Groenvold M, Petersen MA, Idler E, Bjorner JB, Fayers PM, Mouridsen HT (2007) Psychological distress and fatigue predicted recurrence and survival in primary breast cancer patients. Breast Cancer Res Treat 105(2):209–219

34.

Karakoyun-Celik O, Gorken I, Sahin S, Orcin E, Alanyali H, Kinay M (2010) Depression and anxiety levels in woman under follow-up for breast cancer: relationship to coping with cancer and quality of life. Med Oncol 27(1):108–113

35.

Spencer R, Nilsson M, Wright A, Pirl W, Prigerson H (2010) Anxiety disorders in advanced cancer patients. Cancer 116(7):1810–1819

36.

Brown LF, Kroenke K, Theobald DE, Wu J, Tu W (2010) The association of depression and anxiety with health-related quality of life in cancer patients with depression and/or pain. Psycho-Oncology 19(7):734–741

37.

Shelby RA, Scipio CD, Somers TJ, Soo MS, Weinfurt KP, Keefe FJ (2012) Prospective study of factors predicting adherence to surveillance mammography in women treated for breast cancer. J Clin Oncol 30(8):813

38.

Roest AM, Martens EJ, de Jonge P, Denollet J (2010) Anxiety and risk of incident coronary heart disease: a meta-analysis. J Am Coll Cardiol 56(1):38–46

39.

Moslehi JJ (2016) Cardiovascular toxic effects of targeted cancer therapies. N Engl J Med 375(15):1457–1467

40.

Giese-Davis J, Sephton SE, Abercrombie HC, Durán RE, Spiegel D (2004) Repression and high anxiety are associated with aberrant diurnal cortisol rhythms in women with metastatic breast cancer. Health Psychol 23(6):645

41.

Kelly CM, Juurlink DN, Gomes T, Duong-Hua M, Pritchard KI, Austin PC, Paszat LF (2010) Selective serotonin reuptake inhibitors and breast cancer mortality in women receiving tamoxifen: a population based cohort study. BMJ 340:c693

42.

Chubak J, Buist DS, Boudreau DM, Rossing MA, Lumley T, Weiss NS (2008) Breast cancer recurrence risk in relation to antidepressant use after diagnosis. Breast Cancer Res Treat 112(1):123–132

43.

Haque R, Shi J, Schottinger JE, Ahmed SA, Cheetham TC, Chung J, Avila C, Kleinman K, Habel LA, Fletcher SW (2015) Tamoxifen and antidepressant drug interaction among a cohort of 16 887 breast cancer survivors. J Natl Cancer Inst 108(3):djv337

44.

Navari RM, Brenner MC, Wilson MN (2008) Treatment of depressive symptoms in patients with early stage breast cancer undergoing adjuvant therapy. Breast Cancer Res Treat 112(1):197–201

45.

Nakash O, Levav I, Aguilar-Gaxiola S, Alonso J, Andrade LH, Angermeyer MC, Bruffaerts R, Caldas-de-Almeida JM, Florescu S, Girolamo G (2014) Comorbidity of common mental disorders with cancer and their treatment gap: findings from the World Mental Health Surveys. Psycho-Oncology 23(1):40–51
Acknowledgements
This work was supported by the Korean Breast Cancer Society and the Study of Multi-disciplinary Teamwork for breast cancer survivorship (SMARTSHIP).
Ethics declarations
Conflict of interest
The authors declare that they have no conflict of interest.
Ethical approval
All procedures performed in studies involving human participants were in accordance with the ethical standards of the institutional and/or national research committee (the institutional review board of Chosun University Hospital; IRB N. CHOSUN 2016-11-001) and with the 1964 Helsinki declaration and its later amendments or comparable ethical standards.
Informed consent
Patient-informed consent is not required as this study used existing data of the National Health Insurance Service in Korea which are not individually identifiable.
Additional information
Publisher's Note
Springer Nature remains neutral with regard to jurisdictional claims in published maps and institutional affiliations.
Eun-Jung Shim and Jong Won Lee contributed equally to this work.
Electronic supplementary material
Below is the link to the electronic supplementary material.
About this article
Cite this article
Shim, E., Lee, J.W., Cho, J. et al. Association of depression and anxiety disorder with the risk of mortality in breast cancer: A National Health Insurance Service study in Korea. Breast Cancer Res Treat 179, 491–498 (2020). https://doi.org/10.1007/s10549-019-05479-3
Received:

Accepted:

Published:

Issue Date:
Keywords
Antidepressive agents

Anxiety

Breast cancer

Depression

Mortality