Homologous recombination deficiency and host anti-tumor immunity in triple-negative breast cancer
Abstract
Purpose
Triple-negative breast cancer (TNBC) is associated with worse outcomes relative to other breast cancer subtypes. Chemotherapy remains the standard-of-care systemic therapy for patients with localized or metastatic disease, with few biomarkers to guide benefit.
Methods
We will discuss recent advances in our understanding of two key biological processes in TNBC, homologous recombination (HR) DNA repair deficiency and host anti-tumor immunity, and their intersection.
Results
Recent advances in our understanding of homologous recombination (HR) deficiency, including FDA approval of PARP inhibitor olaparib for BRCA1 or BRCA2 mutation carriers, and host anti-tumor immunity in TNBC offer potential for new and biomarker-driven approaches to treat TNBC. Assays interrogating HR DNA repair capacity may guide treatment with agents inducing or targeting DNA damage repair. Tumor infiltrating lymphocytes (TILs) are associated with improved prognosis in TNBC and recent efforts to characterize infiltrating immune cell subsets and activate host anti-tumor immunity offer promise, yet challenges remain particularly in tumors lacking pre-existing immune infiltrates. Advances in these fields provide potential biomarkers to stratify patients with TNBC and guide therapy: induction of DNA damage in HR-deficient tumors and activation of existing or recruitment of host anti-tumor immune cells. Importantly, these advances provide an opportunity to guide use of existing therapies and development of novel therapies for TNBC. Efforts to combine therapies that exploit HR deficiency to enhance the activity of immune-directed therapies offer promise.
Conclusions
HR deficiency remains an important biomarker target and potentially effective adjunct to enhance immunogenicity of 'immune cold' TNBCs.
Keywords
Homologous recombination deficiency 
DNA damage 
Tumor immunity 
Triple-negative breast cancer 
Introduction
Triple-negative breast cancer (TNBC) accounts for approximately 10–15% of all breast cancers and is defined pathologically by the absence of the estrogen receptor (ER), progesterone receptor (PR), and absence of amplification or overexpression of the HER2/neu oncogene [1]. Relative to other subtypes of breast cancer, TNBC is associated with poorer prognosis and disproportionately larger proportion—over one-third—of breast cancer-specific deaths [2, 3]. Despite significant progress over the past decades in the management of breast cancer through development of anti-estrogen and anti-HER2 therapies, the standard-of-care for TNBC in the early and advanced disease settings remains cytotoxic chemotherapy. Recent advances in our understanding of two key biological processes in TNBC, homologous recombination (HR) DNA repair deficiency and host anti-tumor immunity, and the intersection of these processes, offer potential for new and biomarker-driven approaches to treat TNBC.
Homologous recombination DNA repair deficiency in TNBC
Breast cancer that arises in BRCA1 and BRCA2 mutation carriers is characterized by defects in homologous recombination (HR) DNA repair [4]. Loss of functional BRCA1 and BRCA2 in the tumor leads to an increase in genomic instability and increased copy number alterations [5]. HR deficiency has also been implicated in sporadic breast cancer, particularly TNBC, and suggested mechanisms include BRCA1 promoter methylation, mutation in HR-related genes including somatic mutations in BRCA1 and BRCA2, or other epigenetic mechanisms.
Numerous biomarkers of HR deficiency / proficiency have been evaluated with increasing frequency in the clinical setting (Fig. 1). Biomarkers with potential to distinguish HR deficient from HR proficient tumors include (1) germline BRCA1 and BRCA2 mutations, (2) germline mutations in HR pathway genes beyond BRCA1 and BRCA2, (3) somatic HR pathway mutations, (4) genomic instability or "scar" biomarkers and mutational signature-based approaches, (5) gene expression signatures of 'BRCAness,' and (6) functional HR assays. Other than germline mutations, none are yet validated.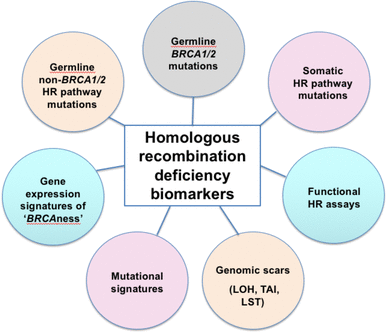 In the current clinical management of both early and advanced TNBC, important questions remain regarding the role of platinum chemotherapy and also if PARP inhibitors have a potential role beyond BRCA1 and BRCA2 mutation carriers. Alternative approaches to exploiting HR and other DNA repair deficiencies in TNBC are also being explored, including inhibition of enzymes involved in DNA repair cell cycle checkpoints such as CHEK2, WEE1 and ATR as well as stabilization of G-quadruplex structures in the genome [6, 7, 8, 9]. Given the heterogeneity of TNBC, biomarkers of HR deficiency may have important clinical implications in the future treatment of TNBC.
Host anti-tumor immunity in TNBC
In breast cancer, several studies of large cohorts over the past decade have demonstrated that infiltration of tumors with lymphocytes is associated with improved outcomes [42, 43, 44, 45]. Tumor infiltrating lymphocytes (TILs) in pretreatment tumor samples are associated with improved response to neoadjuvant chemotherapy in TNBC and survival among those patients with residual disease after neoadjuvant chemotherapy [46, 47, 48, 49]. Lymphocytes can intercalate between tumor cells (intratumoral TILs) or infiltrate the surrounding stromal tissue (stromal TILs). Stromal TIL assessment has been more reproducible and of greater predictive/prognostic value [50]. Only a subset of breast cancers demonstrate a significant number of stromal TILs, with median percent of stroma infiltrated with TILs of 10% for ER-positive/HER2-negative, 15% for HER2-positive, and 20% for TNBCs [42].
Evasion of host anti-tumor response and T-cell 'exhaustion' phenotype in breast cancer
Tumor cells evade host anti-tumor immune responses through a variety of mechanisms, including tumor cell-intrinsic avoidance of immune detection (loss of tumor antigens or MHC proteins), elaboration of immunosuppressive cytokines, immunosuppressive cell recruitment, and immunoediting—the process by which tumors evolve or are selected to escape host anti-tumor immunity [51, 52, 53]. Failure of TILs to kill adjacent tumor cells offers both a challenge and potential avenue for therapeutic intervention. TILs are primarily T-cells that express checkpoints such as PD-1 and CTLA-4, implying chronic antigen exposure but progressive loss of T-cell functions, elevated inhibitory receptors, and impaired cytokine production resulting in the inability to target tumor cells even in close proximity [46, 54, 55].
The 'exhausted' T-cell phenotype could reflect the end stage of immunoediting. Immunoediting is thought to begin early in cancer development as highly immunogenic tumor subclones are eliminated or adapt a less immunogenic profile in response to anti-tumor T-cells [55, 56]. (Fig. 2). As the tumor develops, induction of repressive molecules and decrease in co-stimulatory molecules in the infiltrating T-cells, among other processes, leads to the exhaustion phenotype [57]. Perturbations to this balance between host anti-tumor immunity and tumor immunosuppressive signals—such as surgery, chemotherapy, or radiation—may temporarily reinvigorate memory T-cells until immunogenic tumor cells are eliminated or another round of immunoediting occurs [55]. In this way, the subset of tumors with substantial numbers of TILs locked in this 'stalemate' may be primed for reactivation by immune checkpoint inhibitors.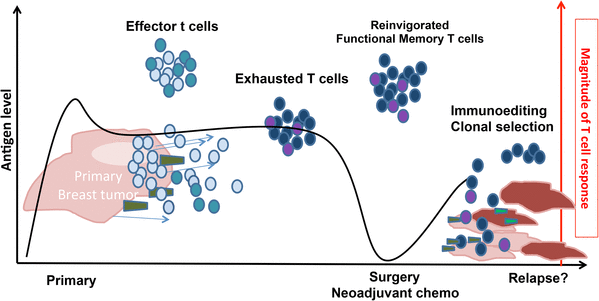 Targeting the PD-1/PD-L1 checkpoint in TNBC
Programmed death receptor 1 (PD-1) is an inhibitory immune checkpoint receptor expressed on activated T-cells and other immune cells and plays a key role in regulating the activity of effector T-cells. The PD-1 ligand, PD-L1, is expressed by multiple cancer types and upon binding to PD-1 exerts an immunosuppressive signal. The expression of PD-L1 has emerged as an important mechanism by which multiple cancer types are able to evade destruction by anti-tumor effector cells. Monoclonal antibodies targeting PD-1 (pembrolizumab, nivolumab) or PD-L1 (atezolizumab, avelumab, durvalumab) have garnered FDA approvals for the treatment of multiple malignancies. In TNBC, multiple studies are exploring the activity of these agents alone and in combination with cytotoxic chemotherapy, targeted therapy or radiation. As yet, none of these drugs have been FDA approved in breast cancer.
To date in metastatic TNBC, responses to single-agent anti-PD-1/anti-PD-L1 monoclonal antibodies have been modest and biomarkers of response have been actively pursued. Nanda and colleagues reported initial results from the KEYNOTE 0–12 Phase Ib study of pembrolizumab in patients with metastatic triple-negative breast cancer with PD-L1-positive tumor status (expression in stroma or in ≥ 1% tumor cells). Among 27 evaluable patients with a median of 2 prior therapies for metastatic disease, the objective response rate was 18.5% [58]. The subsequent KEYNOTE-086 Phase II trial evaluated pembrolizumab in metastatic TNBC patients that were previously treated with any level of PD-L1 expression (Cohort A) and as 1st line treatment in patients with PD-L1+ status (Cohort B) [59]. Among 170 patients enrolled in cohort A, 105 (61.8%) had PD-L1+ status and 43.5% had received 3 or more prior lines of therapy. Objective responses were seen in 4.7% with no significant difference in ORR based on PD-L1 expression status. Patients enrolled in Cohort B (n = 52) had an ORR of 23.1% suggesting greater benefit in patients with less heavily pretreated disease.
A Phase Ia study of atezolizumab enrolled 115 patients with metastatic TNBC. Patients had heavily pretreated disease with a median of 7 prior lines of therapy and 63% of patients were PD-L1+, 33% PD-L1- and 4% had unknown PD-L1 status [60]. The overall ORR was 10% with a 13% ORR in PD-L1+ patients and 5% ORR in PD-L1− patients. Among 1st line patients, the ORR was higher at 26%. Avelumab was evaluated in the Phase I JAVELIN study and among 58 patients with TNBC, an ORR of 8.6% was observed [61]. Patients with PD-L1+ status (n = 9) had an ORR of 44.4% and those with PD-L1− status had an ORR of 2.4%. Taken together, these early phase results in metastatic TNBC suggest higher activity in 1st line treatment and in those with PD-L1+ status. Multiple phase II and III trials of PD-1/PD-L1 checkpoint inhibitors in metastatic TNBC are ongoing and are evaluating monotherapy as well as combinations with chemotherapy, other immunotherapeutic agents and targeted therapies (Table 1).
Table 1
Select ongoing studies of anti-PD-1/ anti-PD-L1 inhibitors in metastatic TNBC
Compound

Target

Trial

Atezolizumab

PD-L1

Phase III nab-paclitaxel ± atezolizumab in 1st line mTNBC

Phase III paclitaxel ± atezolizumab in 1st line mTNBC

Avelumab

PD-L1

Phase II combinations with talazoparib, utomilumab (anti-CD-137)

Durvalumab

PD-L1

Phase II combinations with olaparib, cediranib, tremelimumab

pembrolizumab

PD-L1

Phase III study of chemotherapy ± pembrolizumab in 1st line mTNBC

Phase III study of pembrolizumab monotherapy versus chemotherapy of physician's choice in pretreated mTNBC

Phase II combinations with niraparib, imprime PGG, binimetinib
In addition, the role of PD-1/PD-L1 blockade in TNBC is also being actively assessed in the adjuvant and neoadjuvant settings. Recent data from the I-SPY 2 trial demonstrated that adding pembrolizumab to neoadjuvant anthracycline and taxane-based chemotherapy results in an estimated pCR rate of 60% versus 20% in TNBC patients [62]. Multiple phase II and II studies are currently ongoing in the curable setting assessing these agents in combination with standard chemotherapy and also as monotherapy following completion of standard combination chemotherapy in high-risk patients.
Enhancing breast cancer immunogenicity
Many TNBC tumors have relatively few infiltrating lymphocytes and, in the absence of T-cells to be activated, checkpoint blockade is unlikely to be effective. For the poor-prognosis basal-like, non-immune infiltrated tumors, inducing lymphocyte infiltration in immune 'quiet' tumors poses a greater challenge than activating lymphocytes in tumors with existing TILs. Although tumor immunogenicity is hypothesized to relate to the number of 'neoantigens,' or tumor-specific antigens recognized as foreign, and neoantigen load has been associated with response to immune checkpoint therapies [63, 64], breast cancers have relatively few somatic mutations and inferred neoantigen load [65]. Analyses to date do not show a positive correlation between mutational or neoantigen load and gene expression evidence of immune cell infiltration in TNBCs [66].
Common strategies to enhance tumor immunogenicity
Many of the strategies to enhance tumor immunogenicity focus broadly on the induction of DNA damage and neoantigens, for example through radiation or chemotherapy. However, certain—but not all—chemotherapeutics (taxanes, anthracyclines, cyclophosphamide) appear to induce 'immunogenic cell death' by activating type I IFN-receptor ligand systems resulting in recruitment of T-cells, among other mechanisms [67, 68]. Radiation enhances the diversity of the T-cell receptor repertoire of intratumoral T-cells but optimal dose, schedule, and immunotherapy combination is not known [69]. Monoclonal antibodies trigger antibody-dependent cellular cytotoxicity that subsequently activates antigen-presenting cells, a phenomenon observed with trastuzumab in HER2-positive breast cancers [70]. Certain oncogenic drivers, such as the Ras/MAPK pathway, may specifically downregulate MHC proteins and TILs, implying that inhibition may synergize with checkpoint inhibition [49]. A variety of other approaches to augment T-cell infiltration, including standard or personalized/neoantigen vaccines, chemotherapy or radiotherapy, immune agonists targeting a variety of molecules including STING, adoptive T-cell transfer, and others are under investigation.
Targeting homologous recombination deficiency to enhance breast cancer immunogenicity
Recent clinical trials demonstrate that adding PARP inhibitors may enhance activity of immunotherapy in breast cancer [71, 72]. Several recent pre-clinical studies suggest that PARP inhibition enhances immunogenicity in models of ovarian and breast cancer and that combining the two results in synergistic effects [73, 74, 75]. TOPACIO, a multicenter, open-label phase 1/2 study evaluated the PARP inhibitor niraparib plus pembrolizumab in metastatic TNBC and advanced ovarian cancer and during the dose-finding portion of the trial, none of the eight evaluable patients progressed: 4/8 had objective response and 4/8 had stable disease [71]. The MEDIOLA trial of olaparib plus durvalumab included a cohort of BRCA1/2 mutant metastatic TNBCs and showed an objective response rate of 52% [72]. Collectively, these pre-clinical and early phase clinical data suggest that targeting or enhancing HR defects may enhance tumor immunogenicity and potentially sensitize to immune checkpoint inhibitors.
Conclusions
In summary, HR deficiency remains an important biomarker target and potentially effective adjunct to enhance immunogenicity of 'immune cold' TNBCs. There is now an FDA-approved non-chemotherapeutic agent for patients with germline BRCA1/2 mutations and we are moving closer to integrating biomarkers of HR deficiency to individualize therapy in patients with TNBC beyond BRCA1/2. Genomic scar biomarkers may identify HR deficiency beyond BRCA1/2 in TNBC, but require prospective validation to determine clinical utility. Harnessing host anti-tumor immunity provides a promising approach for TNBC, including PD-1/PD-L1 checkpoint inhibitors and combinations of standard plus immune therapies. A greater understanding of the underlying biology of T-cells, T-cell exhaustion, and immunoediting may be crucial to understanding how to leverage anti-tumor immunity in TNBC.
Notes
Acknowledgements
On December 7, 2015, the Triple Negative Breast Cancer Foundation convened a meeting in San Antonio, Texas of advocates, clinical, translational and basic investigators to review the state of current research on triple-negative breast cancer and make recommendations regarding opportunities for research in this breast cancer subtype. This motivation for this review developed from that meeting led by organizing committee Lisa A. Carey, Susan M. Domchek, Lisa A. Newman, George W. Sledge, Jr., and Eric P. Winer. We acknowledge and sincerely thank the Triple Negative Breast Cancer Foundation for their support of this symposium. Members who attended this symposium include Melinda Telli, Sherene Loi, Sam Aparicio, Daniel Stover, Sunil Badve, Judith Balmaña, Powel Brown, Fergus J. Couch, Massimo Cristofanilli, Rebecca Dent, Hayley Dinerman, Leisha Ann Emens, Adres Forero, Elizabeth Frank, Shridar Ganesan, Judy E. Garber, Lyndsay N. Harris, Steven J. Isakoff, Steve Kandel, Ian E. Krop, Elgene Lim, Olufunmilayo I. Olopade, Ben Ho Park, Lajos Pusztai, Andrea Richardson, Hope Rugo, William Sikov, Daniel Silver, Sandra M. Swain, Tiffany Traina, Naoto Tada Ueno, Christine Wilson, and Antonio Wolff.
Research Support
Financial support provided by Susan G. Komen for the Cure CCR17480903 (D.G.S.).
Compliance with Ethical Standards
Conflict of interest
All the authors declare that they have no competing interests.
Copyright information
© The Author(s) 2018
Open AccessThis article is distributed under the terms of the Creative Commons Attribution 4.0 International License (http://creativecommons.org/licenses/by/4.0/), which permits unrestricted use, distribution, and reproduction in any medium, provided you give appropriate credit to the original author(s) and the source, provide a link to the Creative Commons license, and indicate if changes were made.