Abstract
Concerns about the potential for genomic advances to increase health disparities have been raised. Thus, it is important to assess referral and uptake of genetic counseling (GC) and testing in minority populations at high risk for hereditary breast and ovarian cancer (HBOC). Black women diagnosed with invasive breast cancer ≤age 50 in 2009–2012 were recruited through the Florida State Cancer Registry 6–18 months following diagnosis and completed a baseline questionnaire. Summary statistics, Chi-square tests, and path modeling were conducted to examine which demographic and clinical variables were associated with referral and access to genetic services. Of the 440 participants, all met national criteria for GC, yet only 224 (51 %) were referred for or received GC and/or HBOC testing. Variables most strongly associated with healthcare provider referral for GC included having a college education (OR 2.1), diagnosis at or below age 45 (OR 2.0), and triple negative tumor receptor status (OR 1.7). The strongest association with receipt of GC and/or HBOC testing was healthcare provider referral (OR 7.9), followed by private health insurance at diagnosis (OR 2.8), and household income greater than $35,000 in the year prior to diagnosis (OR 2.0). Study findings suggest efforts are needed to improve genetic services access among a population-based sample of high-risk Black women. These results indicate that socioeconomic factors and physician referral patterns contribute to disparities in access to genetic services within this underserved minority population.
This is a preview of subscription content, log in to check access.
Access options
Buy single article
Instant unlimited access to the full article PDF.
US$ 39.95
Price includes VAT for USA
Subscribe to journal
Immediate online access to all issues from 2019. Subscription will auto renew annually.
US$ 199
This is the net price. Taxes to be calculated in checkout.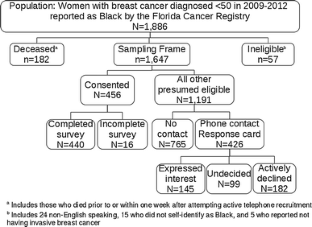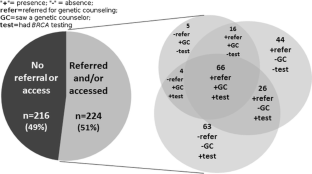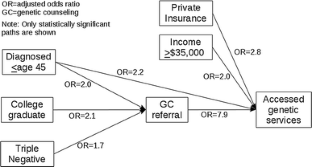 References
1.

Society AC (2014) Cancer facts & figures 2013 & 2014. American Cancer Society, Inc. http://www.cancer.org/acs/groups/content/@research/documents/document/acspc-042725.pdf. Accessed 10 Feb 2014

2.

Centers for Disease Control and Prevention (2013) Breast cancer statistics. http://www.cdc.gov/cancer/breast/statistics/. Accessed 10 Jan 2014

3.

Filippini SE, Vega A (2013) Breast cancer genes: beyond BRCA1 and BRCA2. Front Biosci (Landmark Ed) 18:1358–1372

4.

Beggs AD, Hodgson SV (2009) Genomics and breast cancer: the different levels of inherited susceptibility. Eur J Hum Genet 17(7):855–856. doi:10.1038/ejhg.2008.235

5.

Miki Y, Swensen J, Shattuck-Eidens D, Futreal PA, Harshman K, Tavtigian S, Liu Q, Cochran C, Bennett LM, Ding W et al (1994) A strong candidate for the breast and ovarian cancer susceptibility gene BRCA1. Science 266(5182):66–71

6.

Wooster R, Bignell G, Jea Lancaster (1995) Identification of the breast cancer susceptibility gene BRCA2. Nature 378(6559):789–792

7.

Mavaddat N, Peock S, Frost D, Ellis S, Platte R, Fineberg E, Evans DG, Izatt L, Eeles RA, Adlard J, Davidson R, Eccles D, Cole T, Cook J, Brewer C, Tischkowitz M, Douglas F, Hodgson S, Walker L, Porteous ME, Morrison PJ, Side LE, Kennedy MJ, Houghton C, Donaldson A, Rogers MT, Dorkins H, Miedzybrodzka Z, Gregory H, Eason J, Barwell J, McCann E, Murray A, Antoniou AC, Easton DF (2013) Cancer risks for BRCA1 and BRCA2 mutation carriers: results from prospective analysis of EMBRACE. J Natl Cancer Inst 105(11):812–822. doi:10.1093/jnci/djt095

8.

Antoniou A, Pharoah PD, Narod S, Risch HA, Eyfjord JE, Hopper JL, Loman N, Olsson H, Johannsson O, Borg A, Pasini B, Radice P, Manoukian S, Eccles DM, Tang N, Olah E, Anton-Culver H, Warner E, Lubinski J, Gronwald J, Gorski B, Tulinius H, Thorlacius S, Eerola H, Nevanlinna H, Syrjakoski K, Kallioniemi OP, Thompson D, Evans C, Peto J, Lalloo F, Evans DG, Easton DF (2003) Average risks of breast and ovarian cancer associated with BRCA1 or BRCA2 mutations detected in case series unselected for family history: a combined analysis of 22 studies. Am J Hum Genet 72(5):1117–1130. doi:10.1086/375033

9.

Metcalfe K, Gershman S, Lynch HT, Ghadirian P, Tung N, Kim-Sing C, Olopade OI, Domchek S, McLennan J, Eisen A, Foulkes WD, Rosen B, Sun P, Narod SA (2011) Predictors of contralateral breast cancer in BRCA1 and BRCA2 mutation carriers. Br J Cancer 104(9):1384–1392. doi:10.1038/bjc.2011.120

10.

Roukos DH, Briasoulis E (2007) Individualized preventive and therapeutic management of hereditary breast ovarian cancer syndrome. Nat Clin Pract Oncol 4(10):578–590

11.

Narod SA, Offit K (2005) Prevention and management of hereditary breast cancer. J Clin Oncol 23(8):1656–1663

12.

American College of O, Gynecologists, Bulletins–Gynecology ACoP, Genetics ACo, Society of Gynecologic O (2009) ACOG Practice Bulletin No. 103: hereditary breast and ovarian cancer syndrome. Obstet Gynecol 113(4):957–966. doi:10.1097/AOG.0b013e3181a106d4

13.

Riley BD, Culver JO, Skrzynia C, Senter LA, Peters JA, Costalas JW, Callif-Daley F, Grumet SC, Hunt KS, Nagy RS, McKinnon WC, Petrucelli NM, Bennett RL, Trepanier AM (2012) Essential elements of genetic cancer risk assessment, counseling, and testing: updated recommendations of the National Society of Genetic Counselors. J Genet Couns 21(2):151–161. doi:10.1007/s10897-011-9462-x

14.

National Comprehensive Cancer Network (2014) Genetic/familial high-risk assessment: breast and ovarian. http://www.nccn.org/professionals/physician_gls/PDF/genetics_screening.pdf. Accessed 10 July 2014

15.

Robson ME, Storm CD, Weitzel J, Wollins DS, Offit K (2010) American society of clinical oncology policy statement update: genetic and genomic testing for cancer susceptibility. J Clin Oncol 28(5):893–901

16.

Wood ME, Kadlubek P, Pham TH, Wollins DS, Lu KH, Weitzel JN, Neuss MN, Hughes KS (2014) Quality of cancer family history and referral for genetic counseling and testing among oncology practices: a pilot test of quality measures as part of the American society of clinical oncology quality oncology practice initiative. J Clin Oncol 32(8):824–829. doi:10.1200/jco.2013.51.4661

17.

Levy DE, Byfield SD, Comstock CB, Garber JE, Syngal S, Crown WH, Shields AE (2011) Underutilization of BRCA1/2 testing to guide breast cancer treatment: black and Hispanic women particularly at risk. Genet Med 13(4):349–355. doi:10.1097/GIM.0b013e3182091ba4

18.

Armstrong K, Micco E, Carney A, Stopfer J, Putt M (2005) Racial differences in the use of BRCA1/2 testing among women with a family history of breast or ovarian cancer. JAMA 293(14):1729–1736

19.

Mai PL, Vadaparampil ST, Breen N, McNeel TS, Wideroff L, Graubard BI (2014) Awareness of cancer susceptibility genetic testing: the 2000, 2005, and 2010 National Health Interview Surveys. Am J Prev Med 46(5):440–448. doi:10.1016/j.amepre.2014.01.002

20.

Pagan JA, Su D, Li L, Armstrong K, Asch DA (2009) Racial and ethnic disparities in awareness of genetic testing for cancer risk. Am J Prev Med 37(6):524–530. doi:10.1016/j.amepre.2009.07.021

21.

Moyer VA (2013) Risk assessment, genetic counseling, and genetic testing for BRCA-related cancer in women: U.S. preventive services task force recommendation statement. Ann Intern Med. doi:10.7326/m13-2747

22.

Pal T, Rocchio E, Garcia A, Rivers D, Vadaparampil S (2011) Recruitment of black women for a study of inherited breast cancer using a cancer registry-based approach. Genet Test Mol Biomark 15(1–2):69–77. doi:10.1089/gtmb.2010.0098

23.

Anderson B, McLosky J, Wasilevich E, Lyon-Callo S, Duquette D, Copeland G (2012) Barriers and facilitators for utilization of genetic counseling and risk assessment services in young female breast cancer survivors. J Cancer Epidemiol 2012:298745. doi:10.1155/2012/298745

24.

McCarthy AM, Bristol M, Fredricks T, Wilkins L, Roelfsema I, Liao K, Shea JA, Groeneveld P, Domchek SM, Armstrong K (2013) Are physician recommendations for BRCA1/2 testing in patients with breast cancer appropriate? A population-based study. Cancer. doi:10.1002/cncr.28268

25.

Shields AE, Burke W, Levy DE (2008) Differential use of available genetic tests among primary care physicians in the United States: results of a national survey. Genet Med 10(6):404–414. doi:10.1097/GIM.0b013e3181770184

26.

Matloff E, Caplan A (2008) Direct to confusion: lessons learned from marketing BRCA testing. Am J Bioeth 8(6):5–8

27.

Hull SC, Prasad K (2001) Reading between the lines: direct-to-consumer advertising of genetic testing in the USA. Reprod Health Matters 9(18):44–48

28.

Radford C, Prince A, Lewis K, Pal T (2013) Factors which impact the delivery of genetic risk assessment services focused on inherited cancer genomics: expanding the role and reach of certified genetics professionals. J Genet Couns. doi:10.1007/s10897-013-9668-1

29.

Bowen DJ, Battuello KM, Raats M (2005) Marketing genetic tests: empowerment or snake oil? Health Educ Behav 32(5):676–685

30.

Hogarth S, Javitt G, Melzer D (2008) The current landscape for direct-to-consumer genetic testing: legal, ethical, and policy issues. Annu Rev Genomics Hum Genet 9:161–182

31.

Stuckey A, Febbraro T, Laprise J, Wilbur JS, Lopes V, Robison K (2014) Adherence patterns to national comprehensive cancer network guidelines for referral of women with breast cancer to genetics professionals. Am J Clin Oncol. doi:10.1097/COC.0000000000000073

32.

Murff HJ, Greevy RA, Syngal S (2007) The comprehensiveness of family cancer history assessments in primary care. Community Genet 10(3):174–180. doi:10.1159/000101759

33.

Butel-Simoes GI, Spigelman AD (2014) Analysis of patient reports on the referral process to two NSW cancer genetic services. Fam Cancer 13(3):333–343. doi:10.1007/s10689-014-9710-y

34.

Bellcross CA, Leadbetter S, Alford SH, Peipins LA (2013) Prevalence and healthcare actions of women in a large health system with a family history meeting the 2005 USPSTF recommendation for BRCA genetic counseling referral. Cancer Epidemiol Biomark Prev 22(4):728–735. doi:10.1158/1055-9965.EPI-12-1280

35.

Thompson HS, Sussner K, Schwartz MD, Edwards T, Forman A, Jandorf L, Brown K, Bovbjerg DH, Valdimarsdottir HB (2012) Receipt of genetic counseling recommendations among black women at high risk for BRCA mutations. Genet Test Mol Biomark 16(11):1257–1262. doi:10.1089/gtmb.2012.0114

36.

Wang G, Beattie MS, Ponce NA, Phillips KA (2011) Eligibility criteria in private and public coverage policies for BRCA genetic testing and genetic counseling. Genet Med 13(12):1045–1050. doi:10.1097/GIM.0b013e31822a8113
Acknowledgments
This work was supported by grants through the Bankhead Coley Granting agency (IBG10-34199) and the American Cancer Society (RSG-11-268-01-CPPB). Support for Deborah Cragun's time was provided by a NCI R25T training grant awarded to Moffitt Cancer Center (5R25CA147832-04). This work has been supported in part by the Biostatistics Core (5P30CA076292-16) and Survey Core at the Moffitt Cancer Center, a National Cancer Institute Comprehensive Cancer Center (P30-CA076292). Cancer data for this study (analysis) were provided by the Florida Department of Health, Florida Cancer Data System (FCDS). Cancer data are made available to aid public health surveillance and research to advance cancer control and prevention activities to better serve the population at risk for developing cancer and improve treatment for cancer patients. The contents of this study are solely the responsibility of the authors and do not necessarily reflect the official view of the Florida Department of Health, Florida Cancer Data System. We thank the following members of our Community Advisory Panel for their valuable input: Joyce Austin, Sue Friedman, Benita Hayes, Evora Pimento, Peggie Sherry, Cheryl Clinton, Gwendolyn Dawson, Gloria Wood, Linda Paige, Deneen Wyman, Khaliah Fleming, and Valerie Poindexter.
Conflict of interest
The authors report no conflicts of interest.
About this article
Cite this article
Cragun, D., Bonner, D., Kim, J. et al. Factors associated with genetic counseling and BRCA testing in a population-based sample of young Black women with breast cancer. Breast Cancer Res Treat 151, 169–176 (2015) doi:10.1007/s10549-015-3374-7
Received:

Accepted:

Published:

Issue Date:
Keywords
BRCA testing

Genetic counseling

Hereditary breast cancer

Cancer registry

Disparities