Abstract
Obese breast cancer survivors have increased risk of recurrence and death compared to their normal weight counterparts. Rural women have significantly higher obesity rates, thus weight control intervention may be a key strategy for prevention of breast cancer recurrence in this population. This one-arm treatment study examined the impact of a group-based weight control intervention delivered through conference call technology to obese breast cancer survivors living in remote rural locations. The intervention included a reduced calorie diet incorporating prepackaged entrees and shakes, physical activity gradually increased to 225 min/week of moderate intensity exercise, and weekly group phone sessions. Outcomes included anthropomorphic, diet, physical activity, serum biomarker, and quality of life changes. Ninety-one percent of participants (31 of 34) attended >75% of intervention sessions and completed post-treatment data collection visits. At 6 months, significant changes were observed for weight (−12.5 ± 5.8 kg, 13.9% of baseline weight), waist circumference (−9.4 ± 6.3 cm), daily energy intake (−349 ± 550 kcal/day), fruits, and vegetables (+3.7 ± 4.3 servings/day), percent kcal from fat (−12.6 ± 8.6%), physical activity (+1235 ± 832 kcal/week; all P values <0.001), as well as significant reductions in fasting insulin (16.7% reduction, P = 0.006), and leptin (37.1% reduction, P < 0.001). Significant improvements were also seen for quality of life domains including mood, body image, and sexuality. In conclusion, the intervention produced >10% weight loss as well as significant improvements across multiple endpoints. The group phone-based treatment delivery approach may help disseminate effective weight control intervention to hard-to-reach breast cancer survivors.
This is a preview of subscription content, log in to check access.
Access options
Buy single article
Instant unlimited access to the full article PDF.
US$ 39.95
Price includes VAT for USA
Subscribe to journal
Immediate online access to all issues from 2019. Subscription will auto renew annually.
US$ 199
This is the net price. Taxes to be calculated in checkout.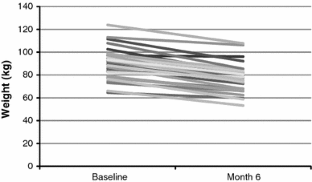 References
1.

Chlebowski RT, Aiello E, McTiernan A (2002) Weight loss in breast cancer patient management. J Clin Oncol 20(4):1128–1143

2.

Kroenke CH, Chen WY, Rosner B, Holmes MD (2005) Weight, weight gain, and survival after breast cancer diagnosis. J Clin Oncol 23(7):1370–1378

3.

Cleveland RJ, Eng SM, Abrahamson PE, Britton JA, Teitelbaum SL, Neugut AI, Gammon MD (2007) Weight gain prior to diagnosis and survival from breast cancer. Cancer Epidemiol Biomarkers Prev 16(9):1803–1811

4.

Hursting SD, Lashinger LM, Wheatley KW, Rogers CJ, Colbert LH, Nunez NP, Perkins SN (2008) Reducing the weight of cancer: mechanistic targets for breaking the obesity-carcinogenesis link. Best Pract Res Clin Endocrinol Metab 22(4):659–669

5.

Renehan AG, Roberts DL, Dive C (2008) Obesity and cancer: pathophysiological and biological mechanisms. Arch Physiol Biochem 114(1):71–83

6.

Knowler WC, Barrett-Connor E, Fowler SE, Hamman RF, Lachin JM, Walker EA, Nathan DM (2002) Reduction in the incidence of type 2 diabetes with lifestyle intervention or metformin. N Engl J Med 346(6):393–403

7.

Goodwin PJ, Ennis M, Pritchard KI, Trudeau ME, Koo J, Madarnas Y, Hartwick W, Hoffman B, Hood N (2002) Fasting insulin and outcome in early-stage breast cancer: results of a prospective cohort study. J Clin Oncol 20(1):42–51

8.

Tian YF, Chu CH, Wu MH, Chang CL, Yang T, Chou YC, Hsu GC, Yu CP, Yu JC, Sun CA (2007) Anthropometric measures, plasma adiponectin, and breast cancer risk. Endocr Relat Cancer 14(3):669–677

9.

Rose DP, Gilhooly EM, Nixon DW (2002) Adverse effects of obesity on breast cancer prognosis, and the biological actions of leptin. Int J Oncol 21(6):1285–1292

10.

Campbell KL, McTiernan A (2007) Exercise and biomarkers for cancer prevention studies. J Nutr 137(1 Suppl):161S–169S

11.

Eliassen AH, Colditz GA, Rosner B, Willett WC, Hankinson SE (2006) Adult weight change and risk of postmenopausal breast cancer. JAMA 296(2):193–201

12.

Teras LR, Goodman M, Patel AV, Diver WR, Flanders WD, Feigelson HS (2011) Weight loss and postmenopausal breast cancer in a prospective cohort of overweight and obese US women. Cancer Causes Control 22(4):573–579

13.

Jackson JE, Doescher MP, Jerant AF, Hart LG (2005) A national study of obesity prevalence and trends by type of rural county. J Rural Health 21(2):140–148

14.

Patterson PD, Moore CG, Probst JC, Shinogle JA (2004) Obesity and physical inactivity in rural America. J Rural Health 20(2):151–159

15.

Bettencourt BA, Schlegel RJ, Talley AE, Molix LA (2007) The breast cancer experience of rural women: a literature review. Psychooncology 16(10):875–887

16.

Befort CA, Donnelly JE, Sullivan DK, Ellerbeck EF, Perri MG (2010) Group versus individual phone-based obesity treatment for rural women. Eat Behav 11(1):11–17

17.

Befort CA, Austin H, Klemp JK (2011) Weight control needs and experiences among rural breast cancer survivors. Psychooncology 20:1069–1075

18.

US Department of Agriculture, Economic Research Service. 2000 Rural-Urban Commuting Area Codes. http://www.ers.usda.gov/Data/RuralUrbanCommutingAreaCodes/2000/. Accessed 21 October 2009

19.

NHLBI expert panel on the identification, evaluation, and treatment of overweight in adults (1998) Clinical guidelines on the identification, evaluation, and treatment of overweight and obesity in adults: executive summary. Am J Clin Nutr 68(4):899–917

20.

Heymsfield SB, van Mierlo CA, van der Knaap HC, Heo M, Frier HI (2003) Weight management using a meal replacement strategy: meta and pooling analysis from six studies. Int J Obes Relat Metab Disord 27(5):537–549

21.

Ashley JM, St Jeor ST, Perumean-Chaney S, Schrage J, Bovee V (2001) Meal replacements in weight intervention. Obes Res 9(Suppl 4):312S–320S

22.

Wing RR, Jeffery RW, Burton LR, Thorson C, Nissinoff KS, Baxter JE (1996) Food provision vs structured meal plans in the behavioral treatment of obesity. Int J Obes Relat Metab Disord 20(1):56–62

23.

LeCheminant JD, Jacobsen DJ, Hall MA, Donnelly JE (2005) A comparison of meal replacements and medication in weight maintenance after weight loss. J Am Coll Nutr 24(5):347–353

24.

Jeffery RW, Wing RR, Thorson C, Burton LR, Raether C, Harvey J, Mullen M (1993) Strengthening behavioral interventions for weight loss: a randomized trial of food provision and monetary incentives. J Consult Clin Psychol 61(6):1038–1045

25.

Pi-Sunyer FX, Maggio CA, McCarron DA, Reusser ME, Stern JS, Haynes RB, Oparil S, Kris-Etherton P, Resnick LM, Chait A et al (1999) Multicenter randomized trial of a comprehensive prepared meal program in type 2 diabetes. Diabetes Care 22(2):191–197

26.

Metz JA, Stern JS, Kris-Etherton P, Reusser ME, Morris CD, Hatton DC, Oparil S, Haynes RB, Resnick LM, Pi-Sunyer FX et al (2000) A randomized trial of improved weight loss with a prepared meal plan in overweight and obese patients: impact on cardiovascular risk reduction. Arch Intern Med 160(14):2150–2158

27.

Frankenfield DC, Rowe WA, Smith JS, Cooney RN (2003) Validation of several established equations for resting metabolic rate in obese and nonobese people. J Am Diet Assoc 103(9):1152–1159

28.

Haskell WL, Lee IM, Pate RR, Powell KE, Blair SN, Franklin BA, Macera CA, Heath GW, Thompson PD, Bauman A (2007) Physical activity and public health: updated recommendation for adults from the American College of Sports Medicine and the American Heart Association. Med Sci Sports Exerc 39(8):1423–1434

29.

Conway JM, Ingwersen LA, Vinyard BT, Moshfegh AJ (2003) Effectiveness of the US Department of Agriculture 5-step multiple-pass method in assessing food intake in obese and nonobese women. Am J Clin Nutr 77(5):1171–1178

30.

Richardson MT, Leon AS, Jacobs DR Jr, Ainsworth BE, Serfass R (1994) Comprehensive evaluation of the Minnesota leisure time physical activity questionnaire. J Clin Epidemiol 47(3):271–281

31.

Montoye HJ, Kemper H, Saras W, Washburn RA (1996) Measuring physical activity and energy expenditure. Human Kinetics, Champaign

32.

Cella D, Land SR, Chang CH, Day R, Costantino JP, Wolmark N, Ganz PA (2008) Symptom measurement in the breast cancer prevention trial: psychometric properties of a new measure of symptoms for midlife women. Breast Cancer Res Treat 109(3):515–526

33.

Mendoza TR, Wang XS, Cleeland CS, Morrissey M, Johnson BA, Wendt JK, Huber SL (1999) The rapid assessment of fatigue severity in cancer patients: use of the brief fatigue inventory. Cancer 85(5):1186–1196

34.

Kroenke K, Spitzer RL, Williams JB (2001) The PHQ-9: validity of a brief depression severity measure. J Gen Intern Med 16(9):606–613

35.

Hormes JM, Lytle LA, Gross CR, Ahmed RL, Troxel AB, Schmitz KH (2008) The body image and relationships scale: development and validation of a measure of body image in female breast cancer survivors. J Clin Oncol 26(8):1269–1274

36.

Speck RM, Gross CR, Hormes JM, Ahmed RL, Lytle LA, Hwang WT, Schmitz KH (2010) Changes in the body image and relationship scale following a one-year strength training trial for breast cancer survivors with or at risk for lymphedema. Breast Cancer Res Treat 121(2):421–430

37.

Perri MG, Limacher MC, Durning PE, Janicke DM, Lutes LD, Bobroff LB, Dale MS, Daniels MJ, Radcliff TA, Martin AD (2008) Extended-care programs for weight management in rural communities: the treatment of obesity in underserved rural settings (TOURS) randomized trial. Arch Intern Med 168(21):2347–2354

38.

de Waard F, Ramlau R, Mulders Y, de Vries T, van Waveren S (1993) A feasibility study on weight reduction in obese postmenopausal breast cancer patients. Eur J Cancer Prev 2(3):233–238

39.

Jen KL, Djuric Z, DiLaura NM, Buison A, Redd JN, Maranci V, Hryniuk WM (2004) Improvement of metabolism among obese breast cancer survivors in differing weight loss regimens. Obes Res 12(2):306–312

40.

Klemp JK, Cox S, Befort C, Papsek S, Khan QJ, Sharma P, Yeh HY, Fabian CJ (2009) Feasibility of a diet, exercise, and behavior modification intervention for post-menopausal breast cancer survivors. Cancer Res 69(24):557S

41.

Madsen EL, Rissanen A, Bruun JM, Skogstrand K, Tonstad S, Hougaard DM, Richelsen B (2008) Weight loss larger than 10% is needed for general improvement of levels of circulating adiponectin and markers of inflammation in obese subjects: a 3-year weight loss study. Eur J Endocrinol 158(2):179–187

42.

Prentice RL, Caan B, Chlebowski RT, Patterson R, Kuller LH, Ockene JK, Margolis KL, Limacher MC, Manson JE, Parker LM et al (2006) Low-fat dietary pattern and risk of invasive breast cancer: the women's health initiative randomized controlled dietary modification trial. JAMA 295(6):629–642

43.

Chlebowski RT, Blackburn GL, Thomson CA, Nixon DW, Shapiro A, Hoy MK, Goodman MT, Giuliano AE, Karanja N, McAndrew P et al (2006) Dietary fat reduction and breast cancer outcome: interim efficacy results from the women's intervention nutrition study. J Natl Cancer Inst 98(24):1767–1776

43.

Irwin ML, Varma K, Alvarez-Reeves M, Cadmus L, Wiley A, Chung GG, Dipietro L, Mayne ST, Yu H (2009) Randomized controlled trial of aerobic exercise on insulin and insulin-like growth factors in breast cancer survivors: the yale exercise and survivorship study. Cancer Epidemiol Biomarkers Prev 18(1):306–313

45.

Sternfeld B, Weltzien E, Quesenberry CP Jr, Castillo AL, Kwan M, Slattery ML, Caan BJ (2009) Physical activity and risk of recurrence and mortality in breast cancer survivors: findings from the LACE study. Cancer Epidemiol Biomarkers Prev 18(1):87–95

46.

Holick CN, Newcomb PA, Trentham-Dietz A, Titus-Ernstoff L, Bersch AJ, Stampfer MJ, Baron JA, Egan KM, Willett WC (2008) Physical activity and survival after diagnosis of invasive breast cancer. Cancer Epidemiol Biomarkers Prev 17(2):379–386

47.

Irwin ML, Smith AW, McTiernan A, Ballard-Barbash R, Cronin K, Gilliland FD, Baumgartner RN, Baumgartner KB, Bernstein L (2008) Influence of pre- and postdiagnosis physical activity on mortality in breast cancer survivors: the health, eating, activity, and lifestyle study. J Clin Oncol 26(24):3958–3964

48.

Fobair P, Stewart SL, Chang S, D'Onofrio C, Banks PJ, Bloom JR (2006) Body image and sexual problems in young women with breast cancer. Psychooncology 15(7):579–594

49.

Ganz PA (2005) Breast cancer, menopause, and long-term survivorship: critical issues for the 21st century. Am J Med 118(Suppl 12B):136–141

50.

Carver CS, Pozo-Kaderman C, Price AA, Noriega V, Harris SD, Derhagopian RP, Robinson DS, Moffat FL Jr (1998) Concern about aspects of body image and adjustment to early stage breast cancer. Psychosom Med 60(2):168–174

51.

Yalom ID (1995) The theory and practice of group psychotherapy. Basic Books, New York
Acknowledgments
The authors thank gratefully acknowledge the help provided by the rural cancer center partners in this project, including staff at the Tammy Walker Cancer Center at Salina Regional Medical Center located in Salina, KS; Dreiling/Schmidt Cancer Institute at Hays Medical Center located in Hays, KS; and Via Christi Health located in Pittsburg, KS. The authors also gratefully acknowledge the support provided by the National Institutes of Health (K12 HD052027), American Cancer Society, Susan G. Komen for the Cure Foundation.
Conflict of interest
None.
About this article
Cite this article
Befort, C.A., Klemp, J.R., Austin, H.L. et al. Outcomes of a weight loss intervention among rural breast cancer survivors. Breast Cancer Res Treat 132, 631–639 (2012) doi:10.1007/s10549-011-1922-3
Received:

Accepted:

Published:

Issue Date:
Keywords
Breast cancer

Survivors

Rural

Weight control

Physical activity