Abstract
The rearranged during transfection/papillary thyroid carcinoma (RET/PTC) tyrosine kinase is an oncogene implicated in the tumorigenesis of thyroid cancer. Recent studies by us and others have shown that RET/PTC kinase expression is induced by estrogen in breast cancer cells. Due to the critical involvement of estrogen-regulated genes in the pathogenesis of breast cancer, we investigated the expression, regulation, and function of RET/PTC kinase in breast cancer cells. We found that RET/PTC kinase expression correlates with estrogen receptor (ER) expression in breast cancer cells and tumor specimens, and that RET/PTC kinase expression is associated with a poor prognosis in ER-positive breast cancer patients. We found that estrogen rapidly induces RET/PTC kinase expression in an ER-dependent manner in breast cancer cells and that this induction is through a transcriptional regulatory mechanism. Using reporter assays, small interfering RNA (siRNA) assays, and chromatin immunoprecipitation (ChIP) assays, we demonstrated the necessity of crosstalk between ER and the forkhead box A1 (FOXA1) transcription factor in regulating RET/PTC kinase expression. In functional studies, increased expression of RET/PTC kinase induced by estrogen stimulation resulted in elevated phosphorylation of multiple downstream kinase signaling pathways. Conversely, knockdown of RET/PTC expression was associated with the inhibition of these same kinase signaling pathways, and, in fact, decreased the stimulatory effect of estrogen on the proliferation of ER-positive breast cancer cells. These results demonstrate a novel pathway of ER and FOXA1 transcription factor crosstalk in regulating RET/PTC kinase expression, and demonstrate that RET/PTC kinase is a critical regulator for the proliferation of ER-positive breast cancer cells. Taken together, our study suggests that RET/PTC kinase may serve as a novel prognostic biomarker and therapeutic target for prevention and treatment of ER-positive breast cancer.
This is a preview of subscription content, log in to check access.
Access options
Buy single article
Instant access to the full article PDF.
US$ 39.95
Price includes VAT for USA
Subscribe to journal
Immediate online access to all issues from 2019. Subscription will auto renew annually.
US$ 199
This is the net price. Taxes to be calculated in checkout.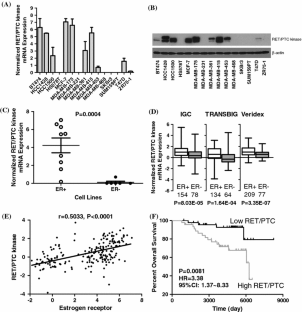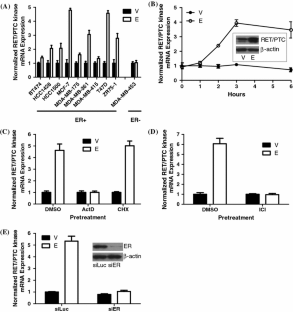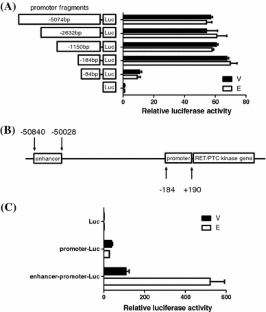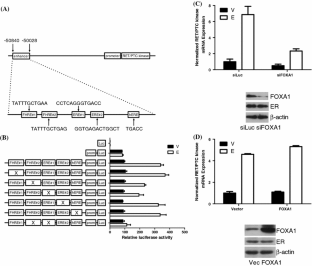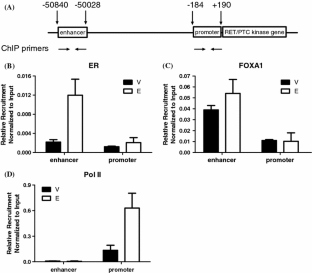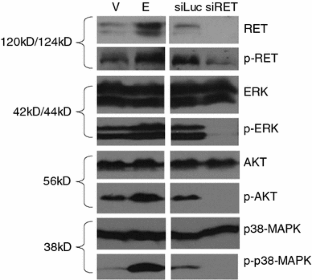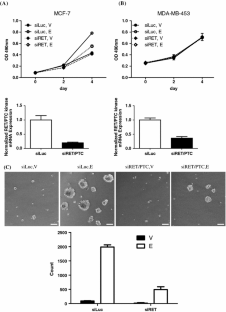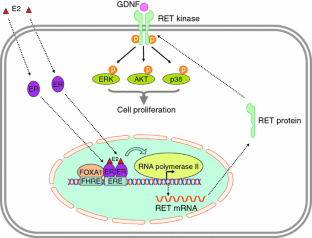 Abbreviations
ER:

Estrogen receptor

ERE:

Estrogen-response element

FHRE:

Forkhead responsive element

RET/PTC kinase gene:

Rearranged during transfection/papillary thyroid carcinoma

MEN2A:

Multiple endocrine neoplasia type 2A

ActD:

Actinomycin D

CHX:

Cycloheximide

ChIP:

Chromatin immunoprecipitation

siRNA:

Small interfering RNA
References
1.

Russo J, Russo IH (2006) The role of estrogen in the initiation of breast cancer. J Steroid Biochem Mol Biol 102(1–5):89–96

2.

Sommer S, Fuqua SA (2001) Estrogen receptor and breast cancer. Semin Cancer Biol 11(5):339–352

3.

Carroll JS, Brown M (2006) Estrogen receptor target gene: an evolving concept. Mol Endocrinol 20(8):1707–1714

4.

Hall JM, Couse JF, Korach KS (2001) The multifaceted mechanisms of estradiol and estrogen receptor signaling. J Biol Chem 276(40):36869–36872

5.

Heldring N, Pike A, Andersson S, Matthews J, Cheng G, Hartman J, Tujague M, Strom A, Treuter E, Warner M, Gustafsson JA (2007) Estrogen receptors: how do they signal and what are their targets. Physiol Rev 87(3):905–931

6.

Klinge CM (2001) Estrogen receptor interaction with estrogen response elements. Nucleic Acids Res 29(14):2905–2919

7.

Wang C, Mayer JA, Mazumdar A, Fertuck K, Kim H, Brown M, Brown PH (2011) Estrogen induces c-myc gene expression via an upstream enhancer activated by estrogen receptor and activating protein-1 transcription factor. Mol Endocrinol: doi:10.1210/me.2011-1037

8.

Safe S, Kim K (2008) Non-classical genomic estrogen receptor (ER)/specificity protein and ER/activating protein-1 signaling pathways. J Mol Endocrinol 41(5):263–275

9.

De Bosscher K, Vanden Berghe W, Haegeman G (2006) Cross-talk between nuclear receptors and nuclear factor kappaB. Oncogene 25(51):6868–6886

10.

DeNardo DG, Kim HT, Hilsenbeck S, Cuba V, Tsimelzon A, Brown PH (2005) Global gene expression analysis of estrogen receptor transcription factor cross talk in breast cancer: identification of estrogen-induced/activator protein-1-dependent genes. Mol Endocrinol 19(2):362–378

11.

Frasor J, Danes JM, Komm B, Chang KC, Lyttle CR, Katzenellenbogen BS (2003) Profiling of estrogen up- and down-regulated gene expression in human breast cancer cells: insights into gene networks and pathways underlying estrogenic control of proliferation and cell phenotype. Endocrinology 144(10):4562–4574

12.

Tahira T, Ishizaka Y, Itoh F, Sugimura T, Nagao M (1990) Characterization of ret proto-oncogene mRNAs encoding two isoforms of the protein product in a human neuroblastoma cell line. Oncogene 5(1):97–102

13.

Jhiang SM, Chiu IM, Mazzaferri EL (1991) An STS in the human PTC oncogene located at 10q11.2. Nucleic Acids Res 19(15):4303

14.

Donghi R, Sozzi G, Pierotti MA, Biunno I, Miozzo M, Fusco A, Grieco M, Santoro M, Vecchio G, Spurr NK et al (1989) The oncogene associated with human papillary thyroid carcinoma (PTC) is assigned to chromosome 10 q11-q12 in the same region as multiple endocrine neoplasia type 2A (MEN2A). Oncogene 4(4):521–523

15.

Nikiforova MN, Nikiforov YE (2009) Molecular diagnostics and predictors in thyroid cancer. Thyroid 19(12):1351–1361

16.

Suh I, Kebebew E (2010) The biology of thyroid oncogenesis. Cancer Treat Res 153:3–21

17.

Boulay A, Breuleux M, Stephan C, Fux C, Brisken C, Fiche M, Wartmann M, Stumm M, Lane HA, Hynes NE (2008) The Ret receptor tyrosine kinase pathway functionally interacts with the ERalpha pathway in breast cancer. Cancer Res 68(10):3743–3751

18.

Plaza-Menacho I, Morandi A, Robertson D, Pancholi S, Drury S, Dowsett M, Martin LA, Isacke CM (2010) Targeting the receptor tyrosine kinase RET sensitizes breast cancer cells to tamoxifen treatment and reveals a role for RET in endocrine resistance. Oncogene 29(33):4648–4657

19.

Bachetti T, Borghini S, Ravazzolo R, Ceccherini I (2005) An in vitro approach to test the possible role of candidate factors in the transcriptional regulation of the RET proto-oncogene. Gene Expr 12(3):137–149

20.

Leon TY, Ngan ES, Poon HC, So MT, Lui VC, Tam PK, Garcia-Barcelo MM (2009) Transcriptional regulation of RET by Nkx2-1, Phox2b, Sox10, and Pax3. J Pediatr Surg 44(10):1904–1912

21.

Strecker TE, Shen Q, Zhang Y, Hill JL, Li Y, Wang C, Kim HT, Gilmer TM, Sexton KR, Hilsenbeck SG, Osborne CK, Brown PH (2009) Effect of lapatinib on the development of estrogen receptor-negative mammary tumors in mice. J Natl Cancer Inst 101(2):107–113

22.

Shang Y, Hu X, DiRenzo J, Lazar MA, Brown M (2000) Cofactor dynamics and sufficiency in estrogen receptor-regulated transcription. Cell 103(6):843–852

23.

Shang Y, Brown M (2002) Molecular determinants for the tissue specificity of SERMs. Science 295(5564):2465–2468

24.

Neve RM, Chin K, Fridlyand J, Yeh J, Baehner FL, Fevr T, Clark L, Bayani N, Coppe JP, Tong F, Speed T, Spellman PT, De Vries S, Lapuk A, Wang NJ, Kuo WL, Stilwell JL, Pinkel D, Albertson DG, Waldman FM, McCormick F, Dickson RB, Johnson MD, Lippman M, Ethier S, Gazdar A, Gray JW (2006) A collection of breast cancer cell lines for the study of functionally distinct cancer subtypes. Cancer Cell 10(6):515–527

25.

Desmedt C, Piette F, Loi S, Wang Y, Lallemand F, Haibe-Kains B, Viale G, Delorenzi M, Zhang Y, d'Assignies MS, Bergh J, Lidereau R, Ellis P, Harris AL, Klijn JG, Foekens JA, Cardoso F, Piccart MJ, Buyse M, Sotiriou C (2007) Strong time dependence of the 76-gene prognostic signature for node-negative breast cancer patients in the TRANSBIG multicenter independent validation series. Clin Cancer Res 13(11):3207–3214

26.

Wang Y, Klijn JG, Zhang Y, Sieuwerts AM, Look MP, Yang F, Talantov D, Timmermans M, Meijer-van Gelder ME, Yu J, Jatkoe T, Berns EM, Atkins D, Foekens JA (2005) Gene-expression profiles to predict distant metastasis of lymph-node-negative primary breast cancer. Lancet 365(9460):671–679

27.

Andrew SD, Delhanty PJ, Mulligan LM, Robinson BG (2000) Sp1 and Sp3 transactivate the RET proto-oncogene promoter. Gene 256(1–2):283–291

28.

Carroll JS, Meyer CA, Song J, Li W, Geistlinger TR, Eeckhoute J, Brodsky AS, Keeton EK, Fertuck KC, Hall GF, Wang Q, Bekiranov S, Sementchenko V, Fox EA, Silver PA, Gingeras TR, Liu XS, Brown M (2006) Genome-wide analysis of estrogen receptor binding sites. Nat Genet 38(11):1289–1297

29.

Lin CY, Vega VB, Thomsen JS, Zhang T, Kong SL, Xie M, Chiu KP, Lipovich L, Barnett DH, Stossi F, Yeo A, George J, Kuznetsov VA, Lee YK, Charn TH, Palanisamy N, Miller LD, Cheung E, Katzenellenbogen BS, Ruan Y, Bourque G, Wei CL, Liu ET (2007) Whole-genome cartography of estrogen receptor alpha binding sites. PLoS Genet 3(6):e87

30.

Bhat-Nakshatri P, Wang G, Appaiah H, Luktuke N, Carroll JS, Geistlinger TR, Brown M, Badve S, Liu Y, Nakshatri H (2008) AKT alters genome-wide estrogen receptor alpha binding and impacts estrogen signaling in breast cancer. Mol Cell Biol 28(24):7487–7503

31.

Lupien M, Eeckhoute J, Meyer CA, Wang Q, Zhang Y, Li W, Carroll JS, Liu XS, Brown M (2008) FoxA1 translates epigenetic signatures into enhancer-driven lineage-specific transcription. Cell 132(6):958–970

32.

Hurtado A, Holmes KA, Geistlinger TR, Hutcheson IR, Nicholson RI, Brown M, Jiang J, Howat WJ, Ali S, Carroll JS (2008) Regulation of ERBB2 by oestrogen receptor-PAX2 determines response to tamoxifen. Nature 456(7222):663–666

33.

Welboren WJ, van Driel MA, Janssen-Megens EM, van Heeringen SJ, Sweep FC, Span PN, Stunnenberg HG (2009) ChIP-Seq of ERalpha and RNA polymerase II defines genes differentially responding to ligands. EMBO J 28(10):1418–1428

34.

Ross-Innes CS, Stark R, Holmes KA, Schmidt D, Spyrou C, Russell R, Massie CE, Vowler SL, Eldridge M, Carroll JS (2010) Cooperative interaction between retinoic acid receptor-alpha and estrogen receptor in breast cancer. Genes Dev 24(2):171–182

35.

Joseph R, Orlov YL, Huss M, Sun W, Kong SL, Ukil L, Pan YF, Li G, Lim M, Thomsen JS, Ruan Y, Clarke ND, Prabhakar S, Cheung E, Liu ET (2010) Integrative model of genomic factors for determining binding site selection by estrogen receptor-alpha. Mol Syst Biol 6:456

36.

Lupien M, Brown M (2009) Cistromics of hormone-dependent cancer. Endocr Relat Cancer 16(2):381–389

37.

Hurtado A, Holmes KA, Ross-Innes CS, Schmidt D, Carroll JS (2011) FOXA1 is a key determinant of estrogen receptor function and endocrine response. Nat Genet 43(1):27–33

38.

Lee AV, Jackson JG, Gooch JL, Hilsenbeck SG, Coronado-Heinsohn E, Osborne CK, Yee D (1999) Enhancement of insulin-like growth factor signaling in human breast cancer: estrogen regulation of insulin receptor substrate-1 expression in vitro and in vivo. Mol Endocrinol 13(5):787–796

39.

Fagan DH, Yee D (2008) Crosstalk between IGF1R and estrogen receptor signaling in breast cancer. J Mammary Gland Biol Neoplasia 13(4):423–429

40.

Shou J, Massarweh S, Osborne CK, Wakeling AE, Ali S, Weiss H, Schiff R (2004) Mechanisms of tamoxifen resistance: increased estrogen receptor-HER2/neu cross-talk in ER/HER2-positive breast cancer. J Natl Cancer Inst 96(12):926–935

41.

Arpino G, Wiechmann L, Osborne CK, Schiff R (2008) Crosstalk between the estrogen receptor and the HER tyrosine kinase receptor family: molecular mechanism and clinical implications for endocrine therapy resistance. Endocr Rev 29(2):217–233

42.

Osborne CK, Schiff R (2011) Mechanisms of endocrine resistance in breast cancer. Annu Rev Med 62:233–247

43.

Lisztwan J, Pornon A, Chen B, Chen S, Evans DB (2008) The aromatase inhibitor letrozole and inhibitors of insulin-like growth factor I receptor synergistically induce apoptosis in in vitro models of estrogen-dependent breast cancer. Breast Cancer Res 10(4):R56

44.

de Groot JW, Plaza Menacho I, Schepers H, Drenth-Diephuis LJ, Osinga J, Plukker JT, Links TP, Eggen BJ, Hofstra RM (2006) Cellular effects of imatinib on medullary thyroid cancer cells harboring multiple endocrine neoplasia Type 2A and 2B associated RET mutations. Surgery 139(6):806–814

45.

Plaza-Menacho I, Mologni L, Sala E, Gambacorti-Passerini C, Magee AI, Links TP, Hofstra RM, Barford D, Isacke CM (2007) Sorafenib functions to potently suppress RET tyrosine kinase activity by direct enzymatic inhibition and promoting RET lysosomal degradation independent of proteasomal targeting. J Biol Chem 282(40):29230–29240

46.

Kim DW, Jo YS, Jung HS, Chung HK, Song JH, Park KC, Park SH, Hwang JH, Rha SY, Kweon GR, Lee SJ, Jo KW, Shong M (2006) An orally administered multitarget tyrosine kinase inhibitor, SU11248, is a novel potent inhibitor of thyroid oncogenic RET/papillary thyroid cancer kinases. J Clin Endocrinol Metab 91(10):4070–4076
Acknowledgments
This study was supported by the NIH grant R01-CA123246 (PB). The authors thank Michelle Savage for proofreading and editing the manuscript.
Conflict of interest
None declared.
Electronic supplementary material
Below is the link to the electronic supplementary material.
About this article
Cite this article
Wang, C., Mayer, J.A., Mazumdar, A. et al. The rearranged during transfection/papillary thyroid carcinoma tyrosine kinase is an estrogen-dependent gene required for the growth of estrogen receptor positive breast cancer cells. Breast Cancer Res Treat 133, 487–500 (2012). https://doi.org/10.1007/s10549-011-1775-9
Received:

Accepted:

Published:

Issue Date:
Keywords
Estrogen

Breast cancer

Rearranged during transfection

Papillary thyroid carcinoma

Kinase

Transcription factor crosstalk