Abstract
Pre-menopausal women given adjuvant chemotherapy for breast cancer experience both premature ovarian failure and loss of bone mineral density (BMD), and this study was designed to see if these observations are causally linked. Chemotherapy was administered to 41 pre-menopausal women with early breast cancer enrolled prospectively in a study of ovarian function and BMD in such women given systemic therapy. After giving written informed consent, all patients underwent baseline and regular on-treatment measurements of BMD by dual-energy X-ray absorptiometry (DXA) scan, bone turnover and ovarian function by analysis of serum hormone levels and self-reported menstrual diaries. Baseline lumbar spine BMD in the 41 women given chemotherapy was higher than the normal population (Z score 0.28 ± 0.14 (mean ± SEM), P = 0.047), and fell significantly over the first 6 months from a mean of 1.05–1.01 g/m2, P < 0.0001, and similar but smaller changes were demonstrated in hip BMD. This fall was independent of age at diagnosis, type of chemotherapy, development of amenorrhoea or either baseline or on-treatment estradiol concentration. During the 6 months after completion of adjuvant chemotherapy, BMD fell further only in those women with low estradiol or experiencing amenorrhoea during the first 6 months, although all groups showed evidence of increased bone turnover. This study demonstrates loss of both spine and hip BMD in pre-menopausal women during 6 months' adjuvant systemic chemotherapy to be independent of changes in ovarian function. Ovarian function was, however, related to BMD changes after chemotherapy ceased.
This is a preview of subscription content, log in to check access.
Access options
Buy single article
Instant unlimited access to the full article PDF.
US$ 39.95
Price includes VAT for USA
Subscribe to journal
Immediate online access to all issues from 2019. Subscription will auto renew annually.
US$ 199
This is the net price. Taxes to be calculated in checkout.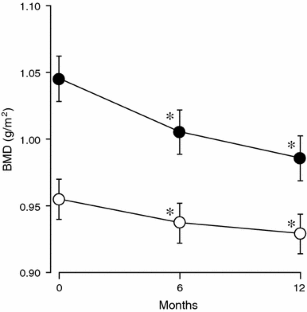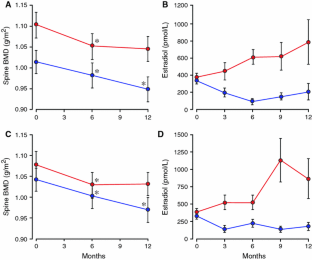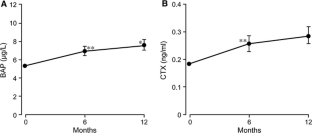 References
1.

Saarto T, Blomqvist C, Valimaki M, Makela P, Sarna S, Elomaa I (1997) Chemical castration induced by adjuvant cyclophosphamide, methotrexate, and fluorouracil chemotherapy causes rapid bone loss that is reduced by clodronate: a randomized study in premenopausal breast cancer patients. J Clin Oncol 15:1341–1347

2.

Vehmanen L, Saarto T, Elomaa I, Makela P, Valimaki M, Blomqvist C (2001) Long-term impact of chemotherapy-induced ovarian failure on bone mineral density (BMD) in premenopausal breast cancer patients. The effect of adjuvant clodronate treatment. Eur J Cancer 37:2373–2378

3.

Powles TJ, Hickish T, Kanis J (1996) Effect of tamoxifen on bone mineral density measured by dual-energy X-ray absorptiometry in healthy premenopausal and postmenopausal women. J Clin Oncol 14:78–84

4.

Vehmanen L, Elomaa I, Blomqvist C, Saarto T (2006) Tamoxifen treatment after adjuvant chemotherapy has opposite effects on bone mineral density in premenopausal patients depending on menstrual status. J Clin Oncol 24:675–680

5.

Petrek JA, Naughton MJ, Case LD et al (2006) Incidence, time course, and determinants of menstrual bleeding after breast cancer treatment: a prospective study. J Clin Oncol 24:1045–1051

6.

Shapiro CL, Phillips G, van Poznak CH et al (2005) Baseline bone mineral density of the total lumbar spine may predict for chemotherapy-induced ovarian failure. Breast Cancer Res Treat 90:41–46

7.

Anderson RA, Themmen AP, Al-Qahtani A, Groome NP, Cameron DA (2006) The effects of chemotherapy and long-term gonadotrophin suppression on the ovarian reserve in premenopausal women with breast cancer. Hum Reprod 21:2583–2592

8.

Tothill P, Hannan WJ (2007) Precision and accuracy of measuring changes in bone mineral density by dual-energy X-ray absorptiometry. Osteoporos Int 18:1515–1523

9.

Hines SL, Mincey BA, Sloan JA et al (2009) Phase III randomised, placebo-controlled, double-blind trial of risedronate for the prevention of bone loss in premenopausal women undergoing chemotherapy for primary breast cancer. J Clin Oncol 27:1047–1053

10.

Shapiro CL, Manola J, Leboff M (2001) Ovarian failure after adjuvant chemotherapy is associated with rapid bone loss in women with early-stage breast cancer. [see comments]. J Clin Oncol 19:3306–3311

11.

Hershman DM, McMahon DJ, Crew KD et al (2008) Zoledronic acid prevents bone loss in premenopausal women undergoing adjuvant chemotherapy for early-stage breast cancer. J Clin Oncol 26:4739–4745

12.

Rosenbrock H, Seifert-Klauss V, Kaspar S et al (2002) Changes of biochemical bone markers during the menopausal transition. Clin Chem Lab Med 40:143–151

13.

Hadji P, Ziller M, Maskow C et al (2009) The influence of chemotherapy on bone mineral density, quantitative ultrasonometry and bone turnover in pre-menopausal women with breast cancer. Eur J Cancer 45:3205–3212

14.

Peris P, Alvarez L, Monegal A et al (2002) Effect of surgical menopause and Paget's disease of bone on the isomerization of type I collagen carboxyterminal telopeptide: evolution after antiresorptive therapy. J Bone Miner Metab 20:116–120

15.

Peris P, Alvarez L, Monegal A et al (1999) Biochemical markers of bone turnover after surgical menopause and hormone replacement therapy. Bone 25:349–353

16.

Zekri JM, Brown JE, Gutcher S, Ellis S, Coleman R (2007) Effects of high dose chemotherapy and autologous peripheral stem cells transplantation on skeletal health. Clinical Oncology (Royal College of Radiologists) 16, S27, Abstract P2.01

17.

Sun L, Peng Y, Sharrow AC et al (2006) FSH directly regulates bone mass [see comment]. Cell 125:247–260

18.

Seibel MJ, Dunstan CR, Zhou H, Allan CM, Handelsman DJ (2006) Sex steroids, not FSH, influence bone mass. Cell 127:1079

19.

Banfi A, Podesta M, Fazzuoli L et al (2001) High-dose chemotherapy shows a dose-dependent toxicity to bone marrow osteoprogenitors: a mechanism for post-bone marrow transplantation osteopenia. Cancer 92:2419–2428

20.

Van Leeuwen BL, Verkerke GJ, Hartel RM et al (2003) Chemotherapy decreases epiphyseal strength and increases bone fracture risk. Clin Orthop Relat Res 4:243–254

21.

Van Leeuwen BL, Kamps WA, Jansen HW, Hoekstra HJ (2000) The effect of chemotherapy on the growing skeleton. Cancer Treat Rev 26:363–376

22.

Bjarnason NH, Hitz M, Jorgensen NR (2008) Adverse bone effects during pharmacological breast cancer therapy. Acta Oncol 47:747–754

23.

Wheeler DL, Vander Griend RA, Wronski TJ, Miller GJ, Keith EE, Graves JE (1995) The short- and long-term effects of methotrexate on the rat skeleton. Bone 16:215–221

24.

Gram J, Junker P, Nielsen HK, Bollerslev J (1998) Effects of short-term treatment with prednisolone and calcitriol on bone and mineral metabolism in normal men. Bone 23:297–302

25.

Geusens P, Vanderschueren D, Verstraeten A et al (1991) Short-term course of 1, 25(OH)2D3 stimulates osteoblasts but not osteoclasts in osteoporosis and osteoarthritis. Calcif Tissue Int 49:168–173

26.

Prummel MF, Wiersinga WM, Lips P et al (1991) The course of biochemical parameters of bone turnover during treatment with corticosteroids. J Clin Endocrin Metab 72:382–386

27.

Fuleihan GE-J, Salamoun M, Mourad YA et al (2005) Pamidronate in the prevention of chemotherapy-induced bone loss in premenopausal women with breast cancer: a randomized controlled trial. J Clin Endocrinol Metab 90:3209–3214

28.

Gnant MF, Mlineritsch B, Luschin-Ebengreuth G et al (2007) Zoledronic acid prevents cancer treatment-induced bone loss in premenopausal women receiving adjuvant endocrine therapy for hormone-responsive breast cancer: a report from the Austrian Breast and Colorectal Cancer Study Group. J Clin Oncol 25:820–828

29.

Black DM, Delmas PD, Eastell R et al (2007) Once-yearly zoledronic acid for treatment of postmenopausal osteoporosis. N Engl J Med 356:1809–1822
Acknowledgements
We are grateful to Joan Creiger for her expert help with patient management and support in this study, and to Ian Swanston of the MRC Human Reproductive Sciences Unit for performing the hormone assays. This study was supported by funding to RAA from the UK Medical Research Council (U.1276.00.002.00001.01). JEB is supported by a Cancer Research UK Clinician Scientist Fellowship
Additional information
This study was conducted on behalf of the Edinburgh Breast unit.
An invited commentary to this article can be found at doi:10.1007/s10549-010-1099-1.
About this article
Cite this article
Cameron, D.A., Douglas, S., Brown, J.E. et al. Bone mineral density loss during adjuvant chemotherapy in pre-menopausal women with early breast cancer: is it dependent on oestrogen deficiency?. Breast Cancer Res Treat 123, 805–814 (2010) doi:10.1007/s10549-010-0899-7
Received:

Accepted:

Published:

Issue Date:
Keywords
Breast cancer

Bone mineral density

Adjuvant chemotherapy

Bone turnover biomarkers

Bone health