Abstract
Nicastrin is an essential component of the gamma secretase (GS) enzyme complex, required for its synthesis and recognition of substrates for proteolytic cleavage. The purpose of this study was to investigate whether nicastrin has prognostic value or potential as a therapeutic target in breast cancer (BC). The suitability of nicastrin as a target in BC was assessed using BC tissue microarrays (TMAs) (n = 1050), and its biological role in vitro was evaluated in BC cell lines following gene silencing. Nicastrin blocking antibodies were developed and evaluated for their suitability as potential clinical therapeutics. TMA and cell line analysis confirmed that nicastrin expression was upregulated in BC compared to normal breast cells. In TMA patient samples, high nicastrin expression was observed in 47.5% of cases and correlated with ERα expression, patient age, and tumor grade. In pre-defined subset analysis, high nicastrin expression predicted for worse BC specific survival in the ERα −ve cohort. In vitro gene silencing of nicastrin resulted in disruption of the GS complex and a decrease in notch1 cleavage. This was sufficient to increase E-cadherin expression and its co-localization with p120 catenin at cell–cell junctions in MCF7 cells. Nicastrin silencing in invasive MDA-MB-231 cells resulted in loss of vimentin expression and a marked reduction in both cell motility and invasion; which was concomitant with the de novo formation of cell–cell junctions characterized by the colocalization of p120 catenin and F-actin. These data indicate that nicastrin can function to maintain epithelial to mesenchymal transition during BC progression. Anti-nicastrin polyclonal and monoclonal antibodies were able to decrease notch1 and vimentin expression and reduced the invasive capacity of BC cells in vitro. This supports our hypothesis that a nicastrin blocking antibody could be used to limit metastatic dissemination in invasive BC.
This is a preview of subscription content, log in to check access.
Access options
Buy single article
Instant unlimited access to the full article PDF.
US$ 39.95
Price includes VAT for USA
Subscribe to journal
Immediate online access to all issues from 2019. Subscription will auto renew annually.
US$ 199
This is the net price. Taxes to be calculated in checkout.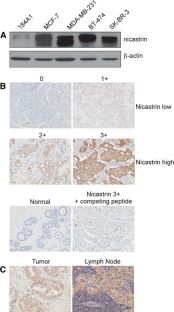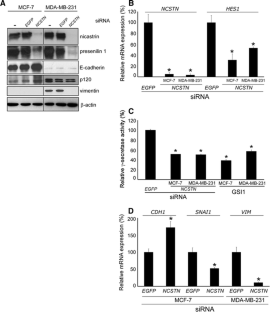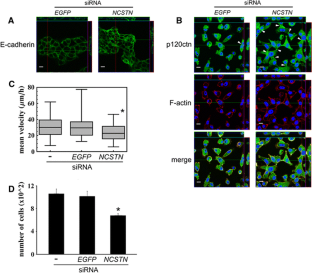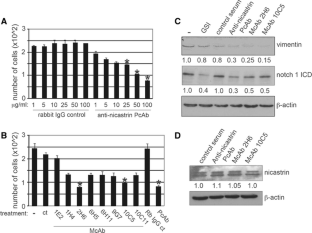 References
1.

Yang J, Weinberg RA (2008) Epithelial-mesenchymal transition: at the crossroads of development and tumor metastasis. Dev Cell 14(6):818–829

2.

De Strooper B (2003) Aph-1, Pen-2, and nicastrin with presenilin generate an active gamma-secretase complex. Neuron 38(1):9–12

3.

De Strooper B, Annaert W (2000) Proteolytic processing and cell biological functions of the amyloid precursor protein. J Cell Sci 113(Pt 11):1857–1870

4.

Maetzel D, Denzel S, Mack B, Canis M, Went P, Benk M, Kieu C, Papior P, Baeuerle PA, Munz M et al (2009) Nuclear signalling by tumour-associated antigen EpCAM. Nat Cell Biol 11(2):162–171

5.

Kopan R, Ilagan MX (2004) Gamma-secretase: proteasome of the membrane? Nat Rev Mol Cell Biol 5(6):499–504

6.

Rizzo P, Osipo C, Pannuti A, Golde T, Osborne B, Miele L (2009) Targeting Notch signaling cross-talk with estrogen receptor and ErbB-2 in breast cancer. Adv Enzyme Regul 49(1):134–141

7.

Sahlgren C, Gustafsson MV, Jin S, Poellinger L, Lendahl U (2008) Notch signaling mediates hypoxia-induced tumor cell migration and invasion. Proc Natl Acad Sci USA 105(17):6392–6397

8.

Polyak K, Weinberg RA (2009) Transitions between epithelial and mesenchymal states: acquisition of malignant and stem cell traits. Nat Rev Cancer 9(4):265–273

9.

Onder TT, Gupta PB, Mani SA, Yang J, Lander ES, Weinberg RA (2008) Loss of E-cadherin promotes metastasis via multiple downstream transcriptional pathways. Cancer Res 68(10):3645–3654

10.

Farnie G, Clarke RB (2007) Mammary stem cells and breast cancer—role of Notch signalling. Stem Cell Rev 3(2):169–175

11.

Kiss A, Troyanovsky RB, Troyanovsky SM (2008) p120-catenin is a key component of the cadherin–gamma-secretase supercomplex. Mol Biol Cell 19(10):4042–4050

12.

Marambaud P, Shioi J, Serban G, Georgakopoulos A, Sarner S, Nagy V, Baki L, Wen P, Efthimiopoulos S, Shao Z et al (2002) A presenilin-1/gamma-secretase cleavage releases the E-cadherin intracellular domain and regulates disassembly of adherens junctions. EMBO J 21(8):1948–1956

13.

Murphy MP, Das P, Nyborg AC, Rochette MJ, Dodson MW, Loosbrock NM, Souder TM, McLendon C, Merit SL, Piper SC et al (2003) Overexpression of nicastrin increases Abeta production. FASEB J 17(9):1138–1140

14.

De Strooper B (2005) Nicastrin: gatekeeper of the gamma-secretase complex. Cell 122(3):318–320

15.

Tassev DV, Cheung NK (2009) Monoclonal antibody therapies for solid tumors. Expert Opin Biol Ther 9(3):341–353

16.

McShane LM, Altman DG, Sauerbrei W, Taube SE, Gion M, Clark GM (2006) REporting recommendations for tumor MARKer prognostic studies (REMARK). Breast Cancer Res Treat 100(2):229–235

17.

Giamas G, Castellano L, Feng Q, Knippschild U, Jacob J, Thomas RS, Coombes RC, Smith CL, Jiao LR, Stebbing J (2009) CK1delta modulates the transcriptional activity of ERalpha via AIB1 in an estrogen-dependent manner and regulates ERalpha–AIB1 interactions. Nucleic Acids Res 37(9):3110–3123

18.

Sturge J, Wienke D, Isacke CM (2006) Endosomes generate localized Rho-ROCK-MLC2-based contractile signals via Endo180 to promote adhesion disassembly. J Cell Biol 175(2):337–347

19.

Sturge J, Wienke D, East L, Jones GE, Isacke CM (2003) GPI-anchored uPAR requires Endo180 for rapid directional sensing during chemotaxis. J Cell Biol 162(5):789–794

20.

Sotiriou C, Neo SY, McShane LM, Korn EL, Long PM, Jazaeri A, Martiat P, Fox SB, Harris AL, Liu ET (2003) Breast cancer classification and prognosis based on gene expression profiles from a population-based study. Proc Natl Acad Sci USA 100(18):10393–10398

21.

Li T, Wen H, Brayton C, Das P, Smithson LA, Fauq A, Fan X, Crain BJ, Price DL, Golde TE et al (2007) Epidermal growth factor receptor and notch pathways participate in the tumor suppressor function of gamma-secretase. J Biol Chem 282(44):32264–32273

22.

Davis MA, Ireton RC, Reynolds AB (2003) A core function for p120-catenin in cadherin turnover. J Cell Biol 163(3):525–534

23.

Baki L, Marambaud P, Efthimiopoulos S, Georgakopoulos A, Wen P, Cui W, Shioi J, Koo E, Ozawa M, Friedrich VL Jr et al (2001) Presenilin-1 binds cytoplasmic epithelial cadherin, inhibits cadherin/p120 association, and regulates stability and function of the cadherin/catenin adhesion complex. Proc Natl Acad Sci USA 98(5):2381–2386

24.

McInroy L, Maatta A (2007) Down-regulation of vimentin expression inhibits carcinoma cell migration and adhesion. Biochem Biophys Res Commun 360(1):109–114

25.

Stylianou S, Clarke RB, Brennan K (2006) Aberrant activation of notch signaling in human breast cancer. Cancer Res 66(3):1517–1525

26.

Auvinen P, Tammi R, Tammi M, Johansson R, Kosma VM (2005) Expression of CD 44 s, CD 44 v 3 and CD 44 v 6 in benign and malignant breast lesions: correlation and colocalization with hyaluronan. Histopathology 47(4):420–428

27.

Jeschke U, Mylonas I, Kuhn C, Shabani N, Kunert-Keil C, Schindlbeck C, Gerber B, Friese K (2007) Expression of E-cadherin in human ductal breast cancer carcinoma in situ, invasive carcinomas, their lymph node metastases, their distant metastases, carcinomas with recurrence and in recurrence. Anticancer Res 27(4A):1969–1974

28.

Meng RD, Shelton CC, Li YM, Qin LX, Notterman D, Paty PB, Schwartz GK (2009) Gamma-secretase inhibitors abrogate oxaliplatin-induced activation of the notch-1 signaling pathway in colon cancer cells resulting in enhanced chemosensitivity. Cancer Res 69(2):573–582

29.

Ilaya NT, Evin G, Masters CL, Culvenor JG (2004) Nicastrin expression in mouse peripheral tissues is not co-ordinated with presenilin and is high in muscle. J Neurochem 91(1):230–237

30.

Pardossi-Piquard R, Dunys J, Giaime E, Guillot-Sestier MV, St George-Hyslop P, Checler F, Alves da Costa C (2009) p53-dependent control of cell death by nicastrin: lack of requirement for presenilin-dependent gamma-secretase complex. J Neurochem 109(1):225–237

31.

Rakha EA, Lee AH, Evans AJ, Menon S, Assad NY, Hodi Z, Macmillan D, Blamey RW, Ellis IO (2010) Tubular carcinoma of the breast: further evidence to support its excellent prognosis. J Clin Oncol 28(1):99–104

32.

Grosveld GC (2009) Gamma-secretase inhibitors: notch so bad. Nat Med 15(1):20–21

33.

Wolfe MS (2009) Gamma-secretase in biology and medicine. Semin Cell Dev Biol 20(2):219–224

34.

Osipo C, Patel P, Rizzo P, Clementz AG, Hao L, Golde TE, Miele L (2008) ErbB-2 inhibition activates notch-1 and sensitizes breast cancer cells to a gamma-secretase inhibitor. Oncogene 27(37):5019–5032

35.

Rizzo P, Miao H, D'Souza G, Osipo C, Song LL, Yun J, Zhao H, Mascarenhas J, Wyatt D, Antico G et al (2008) Cross-talk between notch and the estrogen receptor in breast cancer suggests novel therapeutic approaches. Cancer Res 68(13):5226–5235

36.

Lo Russo PM, Heath E, Malburg L, Pilat M, Kesari S, Russak J, Knowles JC, Beckman RA, Fang L, Stone JA, Krop IE Phase I study of the Gamma Secretase Inhibitor MK-0752 in patients with metastatic breast and other advanced solid tumors. In: 100th Annual meeting of the American Society of Cancer Research; 2009 Apr 18–22; Denver, CO: Philadelphia (PA): AACR; 2009 (Abstract nr 3605)
Acknowledgments
This work was partially funded by Cancer Research UK (AF, CC), The Prostate Cancer Charity (JS, JHG) and the Experimental Cancer Medicine Centre (SR). We thank Professor Ian Hart for his expert advice and guidance in performing the cell invasion assays and use of the facilities in his laboratory at St Bart's School of Medicine and Dentistry. We thank Prof. P Wong for providing NCSTN +/+ and NCSTN −/− MEFs, Maria Afentakis for performing the nicastrin staining of normal breast tissue and paired tumor/lymph node samples, and Marhokh Nohadani for TMA IHC.
Electronic supplementary material
Below is the link to the electronic supplementary material.
NCSTN+/+ MEFs. Video represents 10 h time-lapse microscopy with image collected 1 frame/10 min (MPG 3238 kb)
NCSTN−/− MEFs. Video represents 10 h time-lapse microscopy with image collected 1 frame/10 min. Display rate is 10 frames per second (MPG 2942 kb)
NCSTN+/+ MEFs. Video represents 10 h time-lapse microscopy with image collected 1 frame/10 min (MPG 3238 kb)
NCSTN−/− MEFs. Video represents 10 h time-lapse microscopy with image collected 1 frame/10 min. Display rate is 10 frames per second (MPG 2942 kb)
About this article
Cite this article
Filipović, A., Gronau, J.H., Green, A.R. et al. Biological and clinical implications of nicastrin expression in invasive breast cancer. Breast Cancer Res Treat 125, 43–53 (2011). https://doi.org/10.1007/s10549-010-0823-1
Received:

Accepted:

Published:

Issue Date:
Keywords
Breast cancer

Nicastrin

Gamma secretase

Invasion

Monoclonal antibody