Abstract
Purpose Lymphedema of the arm is a potential complication of breast cancer therapy. This study examines pre-disposing factors that may operate in conjunction with treatment-related factors in the development of arm lymphedema in a large cohort of White and Black breast cancer survivors. Methods 494 women (271 White and 223 Black) with in situ to Stage III-A primary breast cancer completed a baseline interview within 18 months of diagnosis. Information on lymphedema was collected during a follow-up interview, conducted on average 50 months after diagnosis. Self-reported data were used to classify women with or without lymphedema. Multivariable logistic regression models were developed to identify risk factors for arm lymphedema. Results Arm lymphedema was associated with younger age at diagnosis (odds ratio, OR per year of age = 0.96; 95% confidence interval, CI = 0.93–0.99), positive history of hypertension (OR = 2.31; 95% CI = 1.38–3.88), obesity (OR for body mass index, BMI≥30 = 2.48; 95% CI = 1.05–5.84) and having had surgery where 10 or more lymph nodes were excised (OR = 2.16; 95% CI = 1.12–4.17). While Black women had higher prevalence of arm lymphedema than White women (28% vs. 21%), race was not associated with lymphedema risk in models adjusted for multiple factors (adjusted OR = 1.01; 95% CI = 0.63–1.63). Conclusion Risk of arm lymphedema did not differ significantly for Black and White women. Risk factors identified in this study offer opportunities for interventions (weight loss, control of blood pressure, use of sentinel node biopsy where possible) for reducing incidence of lymphedema or controlling the symptoms associated with this condition.
This is a preview of subscription content, log in to check access.
Access options
Buy single article
Instant access to the full article PDF.
US$ 39.95
Price includes VAT for USA
Subscribe to journal
Immediate online access to all issues from 2019. Subscription will auto renew annually.
US$ 199
This is the net price. Taxes to be calculated in checkout.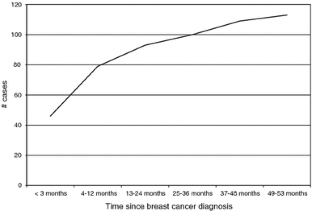 References
1.

Brennan MJ, DePompolo RW, Garden FH (1996) Focused review: postmastectomy lymphedema. Arch Phys Med Rehab 77(3 suppl):S74–S80

2.

Velanovich V, Szymanski W (1999) Quality of life of breast cancer patients with lymphedema. Am J Surg 177:184–188

3.

Sneeuw KC, Aaronson NK, Yarnold JR et al (1992) Cosmetic and functional outcomes of breast conserving treatment for early stage breast cancer. 2. Relationship with psychosocial functioning. Radiother Oncol 25:160–166

4.

Johansson K, Holmstrom H, Nilsson I et al (2002) Breast cancer patients' experiences of lymphoedema. Scand J Caring Sci 17:35–42

5.

Weiss JM, Spray BJ (2002) The effect of complete decongestive therapy on the quality of life of patients with peripheral lymphedema. Lymphology 35:46–58

6.

Majeski J, Austin RM, Fitzgerald RH (2000) Cutaneous angiosarcoma in an irradiated breast after breast conservation therapy for cancer: association with chronic breast lymphedema. J Surg Oncol 74:208–213

7.

Tobin MB, Lacey HJ, Meyer L et al (1993) The psychological morbidity of breast cancer-related arm swelling. Psychological morbidity of lymphoedema. Cancer 72:3248–3252

8.

Passik SD, McDonald MV (1998) Psychosocial aspect of upper extremity lymphedema in women treated for breast carcinoma. Cancer 83(12 suppl American):2817–2820

9.

Woods M, Tobin M, Mortimer P (1995) The psychosocial morbidity of breast cancer patients with lymphoedema. Cancer Nurs 18:467–471

10.

Carter BJ (1997) Women's experiences of lymphoedema. Oncol Nurs Forum 24:875–882

11.

Beaulac SM, McNair LA, Scott TE et al (2002) Lymphedma and quality of life in survivors of early-stage breast cancer. Arch Surg 137:1253–1257

12.

Kwan W, Jackson J, Weir LM et al (2002) Chronic arm morbidity after curative breast cancer treatment: prevalence and impact on quality of life. J Clin Oncol 20:4242–4248

13.

Larson D, Weinstein M, Goldberg I et al (1986) Edema of the arm as a function of the extent of axillary surgery in patients with stage I-II carcinoma of the breast treated with primary radiotherapy. Int J Radiat Oncol Biol Phys 12:1575–1582

14.

Edwards TL (2000) Prevalence and aetiology of lymphoedema after breast cancer treatment in southern Tasmania. Aust. NZ J Surg 70:412–418

15.

Erickson VS, Pearson ML, Ganz PA et al (2001) Arm edema in breast cancer patients. J Natl Cancer Inst 93:96–111

16.

Siegel BM, Mayzel KA, Love SM (1990) Level I and II axillary dissection in the treatment of early-stage breast cancer. Arch Surg 125:1144–1147

17.

Schrenk P, Rieger R, Shamiyeh A et al (2000) Morbidity following sentinel lymph node biopsy versus axillary lymph node dissection for patients with breast carcinoma. Cancer 88:608–614

18.

Geller BM, Vacek PM, O'Brien P et al (2003) Factors associated with arm swelling after breast cancer surgery. J Womens Health 12:921–930

19.

Petrek JA, Senie RT, Peters M et al (2001) Lymphedema in a cohort of breast carcinoma survivors 20 years after diagnosis. Cancer 92:1368–1377

20.

Schijven MP, Vingerhoets AJ, Rutten HJ et al (2003) Comparison of morbidity between axillary lymph node dissection and sentinel node biopsy. Eur J Surg Oncol 29:341–350

21.

Coen JJ, Taghian AG, Kachnic LA et al (2003) Risk of lymphedema after regional nodal irradiation with breast conservation therapy. Int J Rad Oncol Bio Phys 55:1209–1215

22.

Paskett ED, Naughton MJ, McCoy TP et al (2007) The epidemiology of arm and hand swelling in premenopausal breast cancer survivors. Cancer Epidemiol Biomarkers Prev 16:775–782

23.

Ozaslan C, Kuru B (2004) Lymphedema after treatment of breast cancer. Am J Surg 187:69–72

24.

Kocak Z, Overgaard J (2000) Risk factors of arm lymphedema in breast cancer patients. Acta Oncol 39:389–392

25.

Pezner RD, Patterson MP, Hill LR et al (1986) Arm lymphedema in patients treated conservatively for breast cancer: relationship to patient age and axillary node dissection technique. Int J Rad Oncol Biol Phys 12:2079–2083

26.

Segerstrom K, Bjerle P, Graffman S et al (1992) Factors that influence the incidence of brachial oedema after treatment of breast cancer. Scand J Plast Reconstr Surg Hand Surg 26:223–227

27.

Werner RS, McCormick B, Petrek J et al (1991) Arm edema in conservatively managed breast cancer: obesity is a major predictive factor. Radiology 180:177–184

28.

Bohler FK, Rhomberg W, Doringer W (1992) Hypertension as risk factor for increased rate of side effects in the framework of breast carcinoma irradiation. Strahlenther Onkol 168:344–349

29.

Deo SV, Ray S, Rath GK et al (2004) Prevalence and risk factors for development of lymphedema following breast cancer treatment. Indian J Cancer 41:8–12

30.

Ahmed RL, Thomas W, Yee D et al (2006) Randomized controlled trial of weight training and lymphedema in breast cancer survivor. J Clin Oncol 24:2765–2772

31.

Courneya KS, Segal RJ, Mackey JR et al (2007) Effects of aerobic and resistance exercise in breast cancer patients receiving adjuvant chemotherapy: a multicenter randomized controlled trial. J Clin Oncol 25:4396–4404

32.

Marchbanks PA, Mcdonald JA, Wilson HG et al (2002) The NICHD Women's Contraceptive and Reproductive Experiences Study: methods and operational results. Ann Epidemiol 12:213–221

33.

Meeske K, Press M, Patel A et al (2004) Impact of reproductive factors and lactation on breast carcinoma in situ risk. Int J Cancer 110:102–109

34.

Irwin ML, Aiello EJ, McTiernan A et al (2007) Physical activity, body mass index and mammographic density in postmenopausal breast cancer survivors. J Clin Oncol 25:1061–1066

35.

Ainsworth BE, Haskell WL, Leon AS et al (1993) Compendium of physical activities: classification of energy costs of human physical activities. Med Sci Sports Med 25:71–80

36.

Eversley R, Estrin D, Dibble S et al (2005) Post-treatment symptoms among ethnic minority breast cancer survivors. Oncol Nurs Forum 32:250–256

37.

Johansson K, Ohlsson K, Ingvar C et al (2002) Factors associated with the development of arm lymphedema following breast cancer treatment: a match pair case–control study. Lymphology 35:59–71

38.

Soran A, D'Angelo G, Begovic M et al (2006) Breast cancer-related lymphedema – What are the significant predictors and how do they affect the severity of lymphedema? Breast J 12:536–543

39.

Shaw C, Mortimer P, Judd PA (2007) A randomized controlled trial of weight reduction as a treatment for breast cancer-related lymphedema. Cancer 110:1868–1874

40.

Garrison RJ, Kannel WB, Stokes J III et al (1987) Incidence and precursors of hypertension in young adults: the Framingham Offspring Study. Prev Med 16:235–251

41.

Gillum RF (1979) Pathophysiology of hypertension in blacks and whites. A review of the basis of racial blood pressure differences. Hypertension 1:468–475

42.

Kiel KD, Rademacker AW (1996) Early-stage breast cancer: arm edema after wide excision and breast irradiation. Radiology 198:279–283

43.

Engel J, Kerr J, Schlesinger-Raab A et al (2003) Axilla surgery severely affects quality of life: results of a 5-year prospective study in breast cancer patient. Breast Cancer Res Treat 79:47–57

44.

Armer J, Fu MR (2005) Age differences in post-breast cancer lymphedema signs and symptoms. Cancer Nurs 28:200–207

45.

Armer JM, Radina ME, Porock D et al (2003) Predicting breast cancer-related lymphedema using self-reported symptoms. Nurs Res 52:370–379
Acknowledgements
This project has been supported with funds from the National Institutes of Health: National Cancer Institute Contract No. N01-PC-35139 for the Los Angeles HEAL Study, National Cancer Institute grant CA 116848 for the USC Center for Transdisciplinary Research on Energetics and Cancer and National Institute of Child Health and Human Development Contract N01 HD 3-3175 for the Women's CARE Study. A STOP CANCER Career Development Award also supports Dr. Meeske. The collection of California cancer incidence data providing the patient base for this publication was supported by the California Department of Health Services as part of the statewide cancer reporting program mandated by California Health and Safety Code Section 103885. The ideas and opinions expressed herein are those of the authors, and no endorsement by the State of California, Department of Health Services is intended or should be inferred.
About this article
Cite this article
Meeske, K.A., Sullivan-Halley, J., Smith, A.W. et al. Risk factors for arm lymphedema following breast cancer diagnosis in Black women and White women. Breast Cancer Res Treat 113, 383–391 (2009). https://doi.org/10.1007/s10549-008-9940-5
Received:

Accepted:

Published:

Issue Date:
Keywords
Breast cancer survivors

Black breast cancer survivors

Arm lymphedema

Risk factors for arm lymphedema

Hypertension

Body mass index

Race