Abstract
Spindle cell lesions of the breast represent an interesting diagnostic problem, as the differential diagnoses are wide. Diagnosing this is particularly problematic but important when encountered in a needle core biopsy, as treatments of different entities are different. In the histologic assessment of spindle cell lesions, the simplified approach is to evaluate the spindle cells and the accompanying epithelial cells. In the biphasic lesions with predominance of spindle cells with benign epithelial component, fibroepithelial lesions including fibroadenomas and phyllodes tumors are the most common, followed by pseudoangiomatous stromal hyperplasia, hamartoma and adenomyoepithelioma. For biphasic lesions with predominance of spindle cells with malignant epithelial component, the biphasic metaplastic carcinoma is likely. For monophasic lesions with pure pleomorphic spindle cell only, the monophasic metaplastic carcinoma is more common than the rare primary sarcomas like malignant fibrous histiocytoma, angiosarcoma, and other high grade sarcomas. In monophasic lesions with pure bland spindle cells only, the possible lesions include fibromatosis, fibromatosis like metaplastic carcinoma and other unusual conditions like dermatofibrosarcoma protuberance. By careful searching for the accompanying epithelial element, and with the aid of appropriate clinical input and judicious use of immunohistochemistry, many of these lesions can be confidently diagnosed in the needle core biopsy, thus facilitating appropriate treatments.
This is a preview of subscription content, log in to check access.
Access options
Buy single article
Instant unlimited access to the full article PDF.
US$ 39.95
Price includes VAT for USA
Subscribe to journal
Immediate online access to all issues from 2019. Subscription will auto renew annually.
US$ 199
This is the net price. Taxes to be calculated in checkout.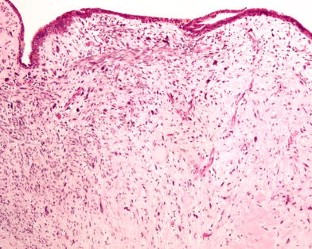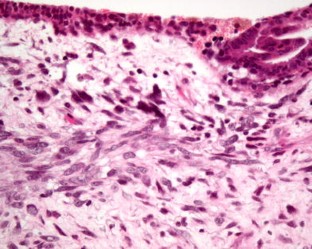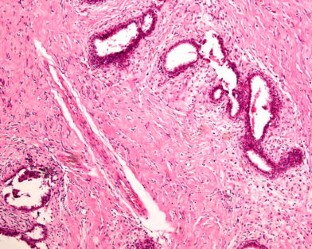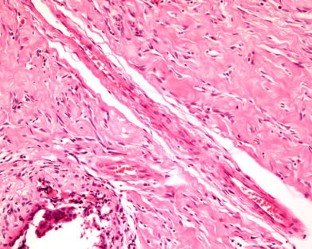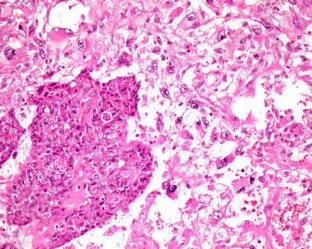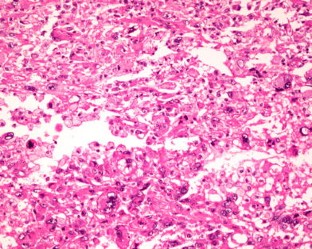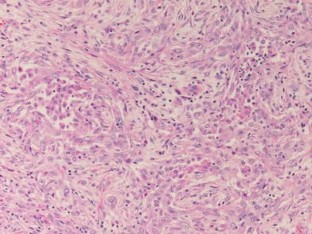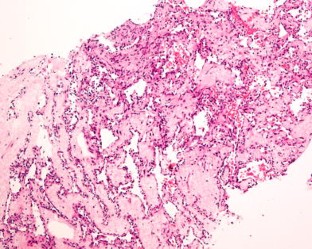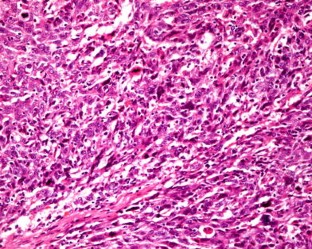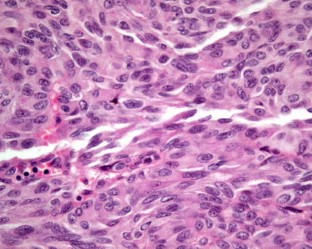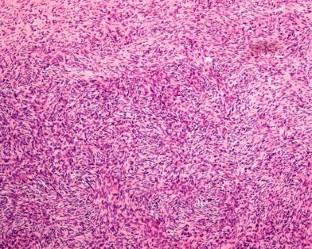 References
1.

Al-Nafussi A (1999) Spindle cell tumours of the breast: practical approach to diagnosis. Histopathology 35(1):1–13

2.

Lerwill MF (2004) Biphasic lesions of the breast. Sem Diagn Pathol 21(1):48–56

3.

Tse GMK, Tan PH (2005) Recent advances in the pathology of fibroepithelial tumours of the breast. Curr Diagn Pathol 11:426–434

4.

Kuijper A, Mommers E, van der Wall E, van Diest PJ (2001) Histopathology of fibroadenoma of the breat. Am J Clin Pathol 115(5):736–742

5.

Dupont WD, Page DL, Parl FF, Vnencak-Jones CL, Plummer WD Jr, Rados MS, Schuyler PA (1994) Long-term risk of breast cancer in women with fibroadenoma. N Eng J Med 331(1):10–15

6.

Sangthawan P, Fox J, Atkins RC, Kerr PG (2002) Increased incidence of benign breast disease in female renal transplant patient receiving cyclosporine. ANZ J Surg 72(3):222–225

7.

Elston CW, Ellis IO (1998) The breast. In: Systemic pathology, vol. 13, 3rd edn. Churchhill Livingstone, Edinburgh

8.

Tan PH, Jayabaskar T, Chuah KL, Lee HY, Tan Y, Hilmy M, Hung H, Selvarajan S, Bay BH (2005) Phyllodes tumours of the breast. The role of pathologic parameters. Am J Clin Pathol 123(4):529–540

9.

Tse GM, Putti TC, Kung FY, Scolyer RA, Law BK, Lau TS, Lee CS (2002) Increased p53 protein expression in malignant mammary phyllodes tumours. Mod Pathol 15(7):734–740

10.

Moffat CJ, Pinders SE, Dixon AR, Elston CW, Blamey RW, Ellis IO (1995) Phyllodes tumours of the breast: a clinicopathological review of thirty-two cases. Histopathology 27(3):205–228

11.

Parkers SJ, Harries SA (2001) Phyllodes tumours. Postgrad Med J 77(909):428–435

12.

Grimes MM (1992) Cytosarcoma phyllodes of the breast: histological features, flow cytometric analysis, and clinical correlation. Mod Pathol 5(3):232–239

13.

Tse GM, Law BK, Chan KF, Ma TK (2001) Multinucleated stromal giant cells in mammary phyllodes tumours. Pathology 33(2):153–156

14.

Powell CM, Cranor ML, Rosen PP (1994) Multinucleated stromal giant cells in mammary fibroepithelial neoplasms. A study of 11 patients. Arch Pathol Lab Med 118(9):912–916

15.

Vuitch MF, Rosen PP, Erlandson RA (1986) Pseudoangiomatous hyperplasia of mammary stroma. Hum Pathol 17:185–191

16.

Ibrahim RE, Sciotto CG, Weidner N (1989) Pseudoangiomatous hyperplasia of mammary stroma. Some observations regarding its clinicopathologic spectrum. Cancer 63(6):1154–1160

17.

Tse GM, Law BK, Ma TK, Chan AB, Pang LM, Chu WC, Cheng HS (2002) Hamartoma of the breast: a clinicopatholgical review. J Clin Pathol 55(12):951–954

18.

Lui PC, Law BK, Chu WC, Pang LM, Tse GM (2004) Fine-needle aspiration cytology of pseudoangiomatous stromal hyperplasia of the breast. Diagn Cytopathol 30(5):353–355

19.

Charpin C, Mathonlin MP, Andrac L, Barberis J, Boulat J, Sarradour B, Bonnier P, Piana L (1994) Reappraisal of breast hamartomas. A morphological study of 41 cases. Pathol Res Pract 190(4):362–371

20.

Linell F, Ostberg G, Soderstrom J, Andersson I, Hildell J, Ljungqvist U (1979) Breast hamartomas. An important entity in mammary pathology. Virchows Arch A Pathol Anat Histol 383(3):253–264

21.

Fisher CJ, Hanby AM, Robinson L, Millis RR (1992) Mammary hamartoma–a review of 35 cases. Histopathology 20(2):99–106

22.

Daya D, Trus T, D'Souza TJ, Minuk T, Yemen B (1995) Hamartoma of the breast, an underrecognized breast lesion. Am J Clin Pathol 103(6):685–689

23.

Jones MW, Norris HJ, Wargotz ES (1991) Hamartomas of the breast. Surg Gynecol Obstet 173(1):54–56

24.

Kiaer H, Nielsen B, Paulsen S, Sorensen IM, Dyreborg U, Blichert-Toft M (1984). Adenomyoepithelial adenosis and low-grade malignant adenomyoepithelioma of the breast. Virchows Arch A Pathol Anat Histopathol 405(1):55–67

25.

Eusebi V, Casadei GP, Bussolati G, Azzopardi JG (1987) Adenomyoepithelioma of the breast with a distinctive type of apocrine adenosis. Histopathology 11(3):305–315

26.

Loose JH, Patchefsky AS, Hollander IJ, Lavin LS, Cooper HS, Katz SM (1992) Adenomyoepithelioma of the breast. A spectrum of biologic behavior. Am J Surg Pathol 16(9):868–876

27.

Wargotz ES, Norris HJ (1989) Metaplastic carcinomas of the breast. I. Matrix-producing carcinoma. Hum Pathol 20(7):628–635

28.

Wargotz ES, Deos PH, Norris HJ (1989) Metaplastic carcinomas of the breast. II. Spindle cell carcinoma. Hum Pathol 20(8):732–740

29.

Wargotz ES, Norris HJ (1989) Metaplastic carcinomas of the breast. III. Carcinosarcoma. Cancer 64(7):1490–1499

30.

Wargotz ES, Norris HJ (1990) Metaplastic carcinomas of the breast. IV. Squamous cell carcinoma of ductal origin. Cancer 65(2):272–276

31.

Wargotz ES, Norris HJ (1990) Metaplastic carcinomas of the breast. V. Metaplastic carcinoma with osterolastic giant cells. Hum Pathol 21(11):1142–1150

32.

Tse GM, Tan PH, Putti TC, Lui PC, Chaiwun B, Law BK (2006) Metaplastic carcinoma of the breast: a clinicopathological review. J Clin Pathol 59(10):1079–1083

33.

Christensen L, Schiodt T, Blichert-Toft M (1993) Sarcomatoid tumours of the breast in Denmark from 1977 to 1987. A clinicopathological and immunohistochemical study of 100 cases. Eur J Cancer 29A(13):1824–1831

34.

Kurian KM, Al-Nafussi A (2002) Sarcomatoid/metaplastic carcinoma of the breast: a clinocopathological study of 12 cases. Histopathology 40(1):58–64

35.

Gobbi H, Simpson JF, Borowsky A, Jensen RA, Page DL. (1999) Metaplastic breast tumours with a dominant fibromatosis-like phenotype have a gihg risk of local recurrence. Cancer 85(10):2170–2182

36.

Sneige N, Yaziji H, Mandavilli SR, Perez ER, Ordonez NG, Gown AM, Ayala A (2001) Low-grade (fibromatosis-like) spindle cell carcinoma of the breast. Am J Surg Pathol 25(8):1009–1016

37.

Khan HN, Wyld L, Dunne B, Lee AH, Pinder SE, Evans AJ, Robertson JF (2003) Spindle cell carcinoma of the breast: a case series of a rare histological subtype. Eur J Surg Oncol 29(7):600–603

38.

Koker MM, Kleer CG (2004) p63 expression in breast cancer: a highly sensitive and specific marker of metaplastic carcinoma. Am J Surg Pathol 28(11):1506–1512

39.

Tse GM, Tan PH, Chaiwun B, Putti TC, Lui PC, Tsang AK, Wong FC, Lo AW (2006) p63 is useful in the diagnosis of mammary metaplastic carcinomas. Pathology 38(1):16–20

40.

Adem C, Reynolds C, Ingle JN, Nascimento AG (2006) Primary breast sarcoma: clinicopatholgic series from the Mayo Clinic and review of the literature. Br J Cancer 91(2):237–241

41.

Reis-Filho JS, Milanezi F, Carvalho S, Simpson PT, Steele D, Savage K, Lambros MB, Pereira EM, Nesland JM, Lakhani SR, Schmitt FC (2005) Metaplastic breast carcinoma exhibit EGFR, but not HER-2, gene amplification and overexpression: immunohistochemical and chromogenic in situ hybridization analysis. Breast Cancer Res 7(6):R1023–1035

42.

Blanchard DK, Reynolds CA, Grant CS, Donohue JH (2003) Primary nonphylloides breast sarcomas. Am J Surg 186(4):359–361

43.

McGowan TS, Cummings BJ, O'Sullian B, Catton CN, Miller N, Panzarellar T (2000) An analysis of 78 breast sarcoma patient without distant metastases at presentation. Int J Radiat Oncol Biol Phys 46(2):383–390

44.

Pollard SG, Marks PV, Temple LN, Thompson HH (1990) Breast sarcoma. A clinicopatholgic review of 25 cases. Cancer 66(1):941–944

45.

Billings SD, McKenney JK, Folpe AL, Hardacre MC, Weiss SW (2004) Cutaneous angiosarcoma following breast-conserving surgery and radiation: an analysis of 27 cases. Am J Clin Pathol 28(6):781–788

46.

Strobbe LJ, Peterse HL, van Tinteren H, Wijnmaalen A, Rutger TJ (1998) Angiosarcoma of the breast after conservation therapy of invasive cancer, the incidence and outcome. An unforeseen sequela. Breast Cancer Res Treat 47(2):101–109

47.

Clements WD, Kirk SJ, Spence RA (1993) A rare late complication of breast cancer treatment. Br J Clin Pract 47(4):219–220

48.

Rosen PP, Kimmel M, Ernsberger D (1988) Mammary angiosarcoma. The prognostic significance of tumor differentiation. Cancer 62(21):2145–2151

49.

Barrow BJ, Janjan NA, Gutman H, Benjamin RS, Allen P, Romsdahl MM, Ross MI, Pollock RE (1999) Role of readiotherapy in sarcoma of the breast—a retrospective review of the M.D. Anderson experience. Radiother Oncol 52:173–178

50.

Powell CM, Rosen PP (1994) Adipose differentiation in cystosarcoma phyllodes. A study of 14 cases. Am J Surg Pathol 18:720–727

51.

Christensen L, Schiodt T, Blichert-Toft M, Hansen JP, Hansen OH (1988) Sarcomas of the breast: a clinico-pathological study of 67 patients with long term follow-up. Eur J Surg Oncol 14:241–247

52.

Tsang WY, Chan JK (1996) Endocrine ductal Carcinoma in situ (E-DCIS) of the breast: A form of low grade DCIS with distinctive clinicopatholgic and biologic characteristics. Am J Surg Pathol 20(8):921–943

53.

Tan PH, Lui GG, Chiang G, Yap WM, Poh WT, Bay BH (2004) Ductal carcinoma in situ with spindle cells: a potential diagnostic pitfall in the evaluation of breast lesions. Histopathology 45(4):343–351

54.

Tsang AK, Wong FC, Ng PW, Loke SL, Tse GM (2005) Fine needle aspiration cytology of dermatofibrosarcoma protuberans in the breast: a case report. Pathology 37(1):84–86

55.

Sandberg AA, Anderson WD, Fredenberg C, Hashimoto H (2003) Dermatofibrosarcoma protuberans of breast. Cancer Genet Cytogenet 142(1):56–59

56.

Goldberg DJ, Maso M (1990) Dermatofibrosarcoma protuberans in a 9-year-old child: treatment by MOHS micrographic surgery. Pediatr Dermatol 7(1):57–59

57.

Okoshi K, Ogawa H, Suwa H, Saiga T, Kobayashi H (2006) A case of Nodular Pseudoangiomatous Stromal Hyperplasia (PASH). Breast Cancer 13(4):349–353
About this article
Cite this article
Tse, G.M.K., Tan, P.H., Lui, P.C.W. et al. Spindle cell lesions of the breast—the pathologic differential diagnosis. Breast Cancer Res Treat 109, 199–207 (2008) doi:10.1007/s10549-007-9652-2
Received:

Accepted:

Published:

Issue Date:
Keywords
Breast

Spindle cell

Carcinoma

Phyllodes