Abstract
The simplified Chinese version of the FACT-B was evaluated by QOL data measured from 376 patients with breast cancer. The results showed that test–retest reliability for five domains: physical well-being, social/family well-being, emotional well-being, functional well-being, additional concerns, and the overall scales and trial outcome index were 0.82, 0.85, 0.91, 0.86, 0.90, 0.84 and 0.91, 0.89 respectively. The internal consistency α for the five domains mentioned above were 0.85, 0.82, 0.84, 0.84 and 0.59 respectively. Correlation analysis, factor analysis and structural equation model showed good construct validity. Criterion-related validity was also confirmed using QLICP-BR as a criterion. The instrument can find the change of QOL for cancer patients after treatment. It's concluded that the simplified Chinese version of FACT-B can be used to measure QOL for Chinese patients with breast cancer with good validity, reliability and responsiveness.
This is a preview of subscription content, log in to check access.
Access options
Buy single article
Instant access to the full article PDF.
US$ 39.95
Price includes VAT for USA
Subscribe to journal
Immediate online access to all issues from 2019. Subscription will auto renew annually.
US$ 199
This is the net price. Taxes to be calculated in checkout.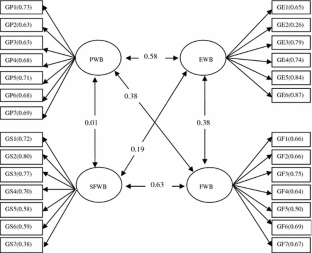 References
1.

Overmoyer BA (1995) Chemotherapeutic palliative approaches in the treatment of breast cancer. Semi Oncol 22 (2 Suppl 3):2–9

2.

Ferrell Br, Grant M, Funk B et al. (1996) Quality of life in breast cancer. Cancer Pract 4(6):331–340

3.

Selby PJ, Champon JA, Etazadi-Amoli J et al. (1984) The development of a method for assessing the quality of life of cancer patients. Br J Cancer 50(1):13–22

4.

Brade MJ, Cella DF, Mo F et al. (1997) Reliability and validity of the functional assessment of cancer therapy-Breast quality-of- life instrument. J Clinic Oncol 15(3):974–986

5.

Cella DF, Tulsky DS, Gray G et al. (1993) The functional assessment of cancer therapy scale: development and validation of the general measure. J Clinic Oncol 11(3):570–579

6.

Aaronson NK, Cull A, Kaasa S et al. (1994) The European organization for research and treatment of cancer (EORTC) modular approach to quality of life assessment in oncology. Int J Ment Health 23(2):75–96

7.

Sprangers MA (1996) The european organization for research and treatment of cancer breast cancer-specific quality-of-life questionnaire module: first results from a three-country field study. J Clin Oncol 14(10):2756–2768

8.

Hu LT, Bentler P (1999) Cutoff criteria for fit indexes in covariance structure analysis: conventional criteria versus new alternatives. Struct Equ Modeling 6:1–55

9.

Browne MW, Cudeck R (1992) Alternative ways of assessing model fit. In: Bollen KA, Long JS (eds), Testing structural equation models. Sage, Beverly Hills, CA pp 136–162

10.

Van der Steeg AFW, De Vries J, Roukema JA (2004) Quality of life and health status in breast carcinoma. EJSO 30:1051–1057

11.

Yoo HJ, Ahn SH, Eremenco S et al. (2005) Korean translation and validation of the functional assessment of cancer therapy-breast (FACT-B) scale version 4. Quality Life Res 14(6):1627–1632

12.

Pandey M, Thomas BC, Ramdas K et al. (2002). Quality of life in breast cancer patients: validation of a FACT-B Malayalam version. Quality Life Res 11(2):87–90
Acknowledgements
In carrying out this research project, we really appreciate the help from the staff at the Oncological Hospital of Yunnan Province. The help from David Cella, Sonya Eremenco, Benjamin J. Arnold and Hiramatsu Toshiko of the Center on Outcomes, Research, and Education (CORE), Evanston- Northwestern Healthcare is also acknowledged.
Additional information
This research is sponsored by the Natural Sciences Funds of Yunnan Province (99C0016G).
About this article
Cite this article
Wan, C., Zhang, D., Yang, Z. et al. Validation of the simplified Chinese version of the FACT-B for measuring quality of life for patients with breast cancer. Breast Cancer Res Treat 106, 413 (2007). https://doi.org/10.1007/s10549-007-9511-1
Received:

Accepted:

Published:
Keywords
Breast cancer

FACT-B

QLICP-BR

Quality of life

Instrument

Structural equation model