The role of the clinician in the multi-omics era: are you ready?
Abstract
Since Garrod's first description of alkaptonuria in 1902, and newborn screening for phenylketonuria introduced in the 1960s, P4 medicine (preventive, predictive, personalized, and participatory) has been a reality for the clinician serving patients with inherited metabolic diseases. The era of high-throughput technologies promises to accelerate its scale dramatically. Genomics, transcriptomics, epigenomics, proteomics, glycomics, metabolomics, and lipidomics offer an amazing opportunity for holistic investigation and contextual pathophysiologic understanding of inherited metabolic diseases for precise diagnosis and tailored treatment. While each of the -omics technologies is important to systems biology, some are more mature than others. Exome sequencing is emerging as a reimbursed test in clinics around the world, and untargeted metabolomics has the potential to serve as a single biochemical testing platform. The challenge lies in the integration and cautious interpretation of these big data, with translation into clinically meaningful information and/or action for our patients. A daunting but exciting task for the clinician; we provide clinical cases to illustrate the importance of his/her role as the connector between physicians, laboratory experts and researchers in the basic, computer, and clinical sciences. Open collaborations, data sharing, functional assays, and model organisms play a key role in the validation of -omics discoveries. Having all the right expertise at the table when discussing the diagnostic approach and individualized management plan according to the information yielded by -omics investigations (e.g., actionable mutations, novel therapeutic interventions), is the stepping stone of P4 medicine. Patient participation and the adjustment of the medical team's plan to his/her and the family's wishes most certainly is the capstone. Are you ready?
Keywords
Inherited metabolic disease 
Genomics 
Metabolomics 
Diagnosis 
Treatment 
Precision medicine 
Introduction
For the clinician in the multi-omics era, the responsibilities defined by Hippocrates remain the same—that is to characterize, diagnose, manage and, where possible, treat his or her patients to the best of his/her capabilities and that of available modern technology (Karagiannis
2014
). Revolutionary advances in the latter, catalyzed by the Human Genome Project in the beginning of the twenty-first century and fueled since by academia and biotechnology companies, now enable a holistic characterization of our patients using multi-omic approaches (Goodwin et al
2016
). Inherited metabolic diseases (IMDs)—characterized by defects in a metabolic pathway or process resulting in a deficiency of energy and building blocks and often an accumulation of (toxic) metabolites—is an exciting field within the -omics era. It also represents a promising model for precision medicine, given the amenability of the underlying enzymatic defects to functional characterization and therapeutic interventions. In fact, Sir Archibald Garrod, with his first description of Alkaptonuria 115 years ago, demonstrated well before the advent of whole exome sequencing (WES) that biochemical profiling in body fluids along with detailed clinical phenotyping enables the discovery of IMDs (Garrod
1902
; Perlman and Govindaraju
2016
). In turn, increased knowledge of metabolic pathways enables individualized treatment and prevention. Exemplary is phenylketonuria, described by Følling in 1934 after the meticulous characterization of two intellectually disabled children with a particular urinary odor, which turned out to be caused by excessive amounts of phenylpyruvic acid resulting from phenylalanine hydroxylase deficiency (Følling
1934
; Centerwall and Centerwall
2000
). Based on this pathophysiological insight, it was Bickel who in 1954 first treated PKU with a diet low in the accumulating phenylalanine, and Guthrie who in 1962 introduced newborn screening (NBS) to prevent the untreated sequelae of this devastating neurodegenerative disease (Mitchell et al
2011
). Thus, for IMDs, "P4 medicine"—preventive, predictive, personalized, and participatory—was already practiced in the pre-omics era (Fig. 
1
)
(Hood et al
2012
).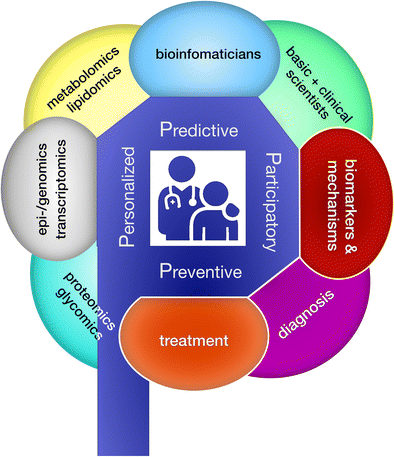 Over the past century more than 700 other such conditions have been identified (Illsinger and Das 2010). Although each disorder on its own is rare, as a group, IMDs are relatively common, with a prevalence of one in 784–2555 (Sanderson et al 2006; Applegarth et al 2000; Dionisi-Vici et al 2002). These numbers obviously depend on the definition of an IMD, and in the -omics era, this is changing quickly. In 2015, Morava et al published Quo Vadis, stating that the "classification of a disorder as an IMD requires only that impairment of specific enzymes or biochemical pathways is intrinsic to the pathomechanism. If these cellular and biological processes are blocked or insufficient, they are suspected to underlie the disease phenotype" (Morava et al 2015). Thus, a genetic condition can be termed an IMD even in the absence of a biochemical phenotype or identification by metabolic lab based test. Exemplary is polyglucosan body myopathy (RBCK1), which is an ubiquitination defect without detectable biomarkers in blood or urine (Nilsson et al 2013). Also, some but not all congenital disorders of glycosylation are detectable by metabolic tests. These vary in number depending on the definition used maximum if the Quo Vadis definition is applied. Furthermore, IMDs are not organelle bound as illustrated by intracellular trafficking defects, such as those disrupting copper metabolism or endocytosis (Martinelli et al 2013; Stockler et al 2014), which have been shown to affect biochemical processes and intermediary metabolism. Therefore, the number of IMDs is likely significantly higher than is currently documented.
Increasingly, in selected groups of patients with symptoms such as intellectual disability, IMDs are recognized as an important etiological group. For example, in a study by van Karnebeek et al, IMDs were identified through a systematic screening algorithm using targeted mass-spectrometry as a 1st tier screening test in up to 8% of 518 patients or approximately 1/12 (Van Karnebeek et al 2014a). Importantly, the majority of these IMDs were amenable to therapy, making their identification essential and emphasizing the importance of early diagnosis in the prevention of irreversible damage to the central nervous (CNS) and other organ systems. Even in the absence of treatment, a diagnosis is important for the patient and family, as it provides closure, information and prognostication, enables more accurate genetic counseling, identification of other family members at risk, and access to community services. Still, many IMDs may go unrecognized, either because targeted laboratory diagnostics fail to identify these rare conditions, or because the genetic basis and/or phenotypic spectrum have yet to be discovered.
The era of big data promises to accelerate the diagnostic process dramatically. Given the molecular diversity of biomarkers available, the high-throughput -omics technologies (e.g., genomics, transcriptomics, epigenomics, proteomics, glycomics, metabolomics, lipidomics), offer an amazing opportunity for holistic investigation, (Benson
2016
) and contextual pathophysiologic understanding of the disease for better diagnosis and treatment (Fig. 
2
) (Alyas et al.
2015
; Ahn et al.
2006
; Tebani et al.
2016
). While each of the -omics technologies is important to systems medicine, some are clearly more mature than others. WES is slowly emerging as a reimbursed test in clinics around the world, while epigenomics and "exposomics" (the environmental effects ranging from exposures to toxic substances or drugs to diet) are applied mainly in research settings. Of the MS-based technologies, metabolomics is much closer to being introduced into clinical practice than proteomics, because targeted metabolite analyses using MS have already been adopted in clinical chemistry laboratories. Whether in the research or clinical setting, all these multi-omics datasets can be generated relatively easily at low costs; the challenge, however, lies in the integration and interpretation of these systems biology data and translation of the results into something clinically meaningful for our patients. A daunting task, and this challenge can only be overcome through partnership with the patients and families and close collaboration between clinicians and researchers in the basic, computer, and clinical sciences (Julkowska et al
2017
). Here we provide examples of the successful application and interpretation of high-throughput technologies, so called 'smart-omics', as well as the opportunities and challenges that lie ahead for precision medicine in the field of IMDs.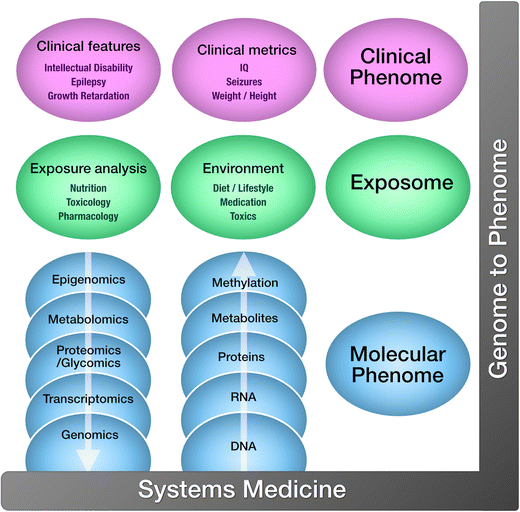 Multi-omics in the clinical care for IMDs
-Omics in concert for IMD discovery
The discovery of the genetic basis of IMD and other rare diseases has accelerated over the past decade with the advent of WES. Between 2012 and 2015, international databases such as OMIM (Amberger et al 2015) and Orphanet (Rath et al. 2017) documented an average of 160 new disease-gene discoveries and 120 disease-gene relations per year (Boycott et al. 2017). It is here that the research application of genome-wide sequencing approaches and targeted and untargeted metabolic approaches are providing insight into new IMDs. For example, in a family with unexplained hyperammonemia, hyperlactatemia and hypoglycemia, a defect in intermediary metabolism close to the urea cycle was suspected but all diagnostic tests were negative. When WES data were generated, an obvious candidate gene emerged as a good fit from among the long lists of genetic variants, with the following hypothesis: it was the novel gene CA5A encoding carbonic anhydrase VA that had been well characterized in mice as an important enzyme involved in the production and donation of bicarbonate to four mitochondrial enzymes (carboxylases), three of which are biotin-responsive (van Karnebeek et al. 2014b). Looking back, there was also evidence of this enzymatic deficiency in the patients' amino acids and organic acids profiles showing a multiple carboxylase deficiency phenotype, albeit subtle. The mutant enzyme was thermolabile with decreased activity at body temperature. Furthermore, the acute presentation of this IMD is amenable to carglumic acid, a synthetic N-acetyl glutamate analogue, and thus CA-VA deficiency expanded the differential diagnosis of treatable hyperammonemia in the neonate and young child (Diez-Fernandez et al 2016). In this case, elaborate pre-WES metabolic testing provided clues regarding the underlying etiology, facilitating a hypothesis driven prioritization of long variant lists generated by WES and subsequently validated by a functional analysis of the CA-VA enzyme. Another such example is the discovery of mitochondrial NADP(H) deficiency (recessive NADK2 mutations) presenting as a fatty acid oxidation defect with hyperlysinemia and mitochondrial dysfunction due to dienoyl-CoA reductase deficiency (Houten et al 2014).
A second elegant example of this approach is the discovery of NANS deficiency in patients with intellectual disability, dysmorphisms, and skeletal dysplasia (van Karnebeek et al. 2016). WES in one of the patients, a 3-year-old boy, yielded variants in 19 different genes, whereas untargeted metabolomics performed at the same time led to the discovery of elevated levels of the metabolite N-acetylmannosamine, which could only be caused by two enzymatic deficiencies in the de novo sialic acid synthesis pathway. Putting the data sets together facilitated the disease gene (NANS) identification, validation of the deleterious impact of the recessive variants through accumulation of the substrate of the enzyme (N-acetylmannosamine), which also serves as a new biomarker with which multiple patients around the world have been subsequently diagnosed. Importantly, knockdown zebrafish recapitulated the human phenotype which was rescued with early sialic acid supplementation, opening up avenues for treatments similar to what is in trial for GNE myopathy, a rare muscle disease resulting from the upstream enzymatic defect (Arghov et al 2016).
Further acceleration of IMD discovery
Despite the successes using WES approaches and functional assays to discover IMDs, at least half of patient cases remain unsolved even after detailed analysis. Reasons are myriad and likely include technical limitations (e.g., missed coding variation in WES, structural rearrangements, regulatory mutations), more complex genetic mechanisms (e.g., tissue-specific somatic mosaicism requiring biopsy of the affected organ system; two or more monogenic disorders reported in 4-9% of patients), and insufficient evidence for or against the causality of a certain candidate variant (n-of-1 challenge) (Gajecka 2016; Posey et al 2017). Next, we provide a brief overview of the possible approaches to solve the unsolved, with a focus on IMD phenotypes.
Harnessing emerging technologies
Identification of complex genetic mechanisms
When a possible genetic diagnosis is identified by genome-wide sequencing approaches, the clinician must critically assess whether the patient's phenotype fits previous patient descriptions. In the case of atypical symptoms and signs, the data should be re-interrogated for the presence of other variants causing other unrelated condition(s). Such blended phenotypes have been reported in 5-9% of rare disease cohorts investigated by exomes, including those with neurometabolic phenotypes (Reid et al 2016; Tarailo-Graovac et al 2016; Posey et al 2017). In addition, somatic mosaicism can cause an atypical presentation of a disease; deep sequencing is necessary for detection, ideally using DNA extracted from the affected tissue.
Approaches to the n-of-1 challenge
The establishment of a novel gene as disease-causing requires identification of multiple unrelated patients with the same phenotype and mutations in the same gene. Multiple projects have addressed this need by developing platforms that use genotype and phenotype matching algorithms to identify cases with overlapping phenotypes and candidate genes (reviewed in Philippakis et al 2015), but were initially isolated from each other. In 2015, the international Matchmaker Exchange (MME; www.matchmakerexchange.org) was founded: a federated platform that facilitates the identification of cases with similar phenotypic and genotypic profiles (called matchmaking) through a standardized application programming interface (API) (Buske et al 2015). Seven matchmakers are currently linked via the MME connecting data from ~10,000 patients with unsolved RD. Discoveries will only grow as we connect more datasets to obtain the 50,000-250,000 unsolved cases necessary to identify the remaining RD genes as modeled using the 'birthday paradox' (Krawitz et al 2015). Critical to the success of such efforts are computer-readable patient descriptions; the Human Phenotype Ontology (HPO; www.human-phenotype-ontology.org) project has been developed to meet this need. Its main components are phenotype vocabulary, disease-phenotype annotations and the algorithms that operate on these. For IMDs, HPO remains underdeveloped; in this same -Omics issue Lee et al. (2018) demonstrate that a computational vocabulary comparison between IEMbase (a digital knowledge base for inherited metabolic diseases, www.iembase.org, Lee et al. 2017) and HPO revealed that only 25% of the biochemical terms in IEMbase could be mapped to HPO. The authors emphasize that contributions by the IEM clinical and research community to the curation of biochemical data are urgently needed to fully enable the application of text-based phenomics, in order to facilitate data-sharing for IMD patients.
Personalized treatments for IMD
Precision medicine also holds the promise of individualized treatment, and challenges clinician to translate diagnosis into better management. With IMDs, ample opportunities exist for intervention once the metabolic pathways are known (Tarailo-Graovac et al 2016, Tarailo-Graovac et al 2017b). One example is pyridoxine-dependent epilepsy, which in 2005 was unraveled as a neurometabolic disease due to a lysine catabolism defect (ALDH7A1 deficiency) with accumulation of potentially toxic metabolites (e.g., α-aminoadipic semialdehyde, α-AASA) (Mills et al 2006). Given that more than 75% of patients suffer ID despite adequate seizure control on pyridoxine (Bok et al 2012), better treatment was needed and the obvious strategy is analogous to glutaric aciduria type I, i.e., dietary lysine restriction to reduce α-AASA production and arginine supplementation to inhibit lysine transport over the blood-brain-barrier. Observational studies in small patient numbers show developmental and behavioral improvement in PDE patients on this triple therapy, especially if started early (Coughlin et al 2015). However, the evidence level to support effect of the adjunct therapy remains limited (IV), and trials are difficult to perform for reasons inherent to rare diseases such as PDE, including small patient numbers, genetic and phenotypic heterogeneity, and long-term outcomes, which are difficult to measure, and the need for standardized long term follow up to document outcome (van Karnebeek and Stockler 2012). This is a challenge for clinicians, as it requires the establishment of international collaborations and development and execution of clinical trials, often with limited time and resources available. However, it is typically the clinician who must overcome these challenges, and—especially in the absence of big pharma—drive the efforts to increase evidence and ensure optimal practice parameters and health outcomes.
Natural history studies are central to gathering evidence, while digital technologies enable us to establish patient registries that can be globally populated. With the high rate of gene discovery and treatment development in the -omics era, it is not easy for the clinician to keep track of all developments. OrphaNet sends around regular e-newsletters summarizing novel disease genes and phenotypes. In the near future the electronic patient record should theoretically enable the clinician to easily identify patients with specific unexplained symptoms seen in his/her center, so that once a disease gene is reported with a specific phenotype, individuals fitting that description can be recalled and the gene tested or the exome (re-)analyzed in a targeted fashion, which has been shown to establish diagnoses in an additional 36% of patients (Eldomery et al 2017): This endeavour is specifically relevant for and those symptoms and conditions that can be treated and symptoms, as in the two examples given here. Recessive mutations in DNAJC12 were reported recently as a novel treatable cause of hyperphenylalaninemia, with ID and dystonia (Anikster et al 2017). Such hyperphenylalaninemia cases must have been picked up on NBS, but had remained unexplained as negative for PKU and known congenital neurotransmitter deficiencies. Given the amenability to treatment with BH4 and/or neurotransmitter precursors, these missed patients should be retro-actively identified using metabolic and genetic (re)-testing. The same holds for a recently described de novo pyrimidine synthesis disorder caused by CAD mutations with global developmental delay, anemia, and epileptic encephalopathy responsive to uridine supplementation (Koch et al 2017).
Secondary treatment targets can be identified by deep phenotyping combined with exome sequencing, as illustrated in an 18-year old man in whom a maternally inherited PAK3 mutation was identified as the cause of his severe, debilitating automutilation with epilepsy, intellectual disability, and neurologic impairment. CSF neurotransmitter analysis revealed low homovanillic acid and although the pathogenesis of the dopamine deficiency was not completely understood, the mother agreed to a test of targeted intervention with Levo-Carbidopamine supplementation. Unexpectedly, the effect was sizeable; she tells the story of their diagnostic odyssey and experience with the treatment in a peer reviewed medical journal, an excerpt of which reads: "There is no cure for PAK3 mutation or for brain damage, and Jake will continue to be at risk of a shortened life span. However, his quality of life did improve significantly once he began the medication. He is happier, less irritable. His rates of self-injury dropped dramatically. He still hits his head several times each day, but the numbers decreased quickly by 80%—from the 100 or so daily occurrences of that time. His rates have remained stable since he began the medication in August, 2015" (Bartel 2017).
Jake's story motivates us to measure neurotransmitter metabolites in other neuropsychiatric presentations, e.g., in other epileptic patients (SCN2A and SCN8A mutations), deficiencies in CSF, and treatment with neurotransmitter precursors with clinical and biochemical improvement (Horvath et al 2016). As clinicians working closely with families, we need creativity and shared courage to tailor treatment options in the hope of alleviating symptoms. A cure it is not, but by utilizing well-designed n-of-1 trials with clearly defined outcome measures, we can certainly perform targeted interventions tailored to the individual in a safe and responsible way. Further, such cases inform us about biology and requirements for normal brain function, knowledge that might applicable not only to rare but also more common disease states.
The future is now, actualizing the 4Ps of precision medicine for IMD
Unlike no other rare disease, IMDs are poised to actualize the 4Ps of precision medicine on a broad scale, as has been done on a smaller scale over the past century. The three major challenges we face for preventive, predictive, personalized, and participatory care for patients with IMDs are big data interpretation, translation of knowledge into clinical care, and education for application and understanding in the wider community. Inherent to big data, and its associated repositories, are the ethical and legal frameworks to utilize these datasets for discoveries that will impact patient care. The rapid advancements in data networks, storage, computation at a lower cost, and clear-cut advantages of data sharing for accurate interpretation and understanding make this seem like the critical path forward (Salerno et al 2017). However, it is challenged by data integrity, informed consent, protection of individual privacy, confidentiality, harm, data re-identification, the prevention of reporting faulty inferences and the financial investment required to maintain such infrastructure. For the busy clinician, these challenges can be overwhelming, resulting in lost opportunities: we must keep the patient at the center when it comes to data-sharing being optimally placed within day-to-day clinical workflows.
The new -omics technologies described here will all progress and at some stage be ready for clinical translation. The application of genomics in NBS programs is an active area of discussion. Theoretically, the majority of monogenic diseases, including IMD without reliable metabolic biomarker, could be identified early in life. Aside from the technical and financial challenges requiring solutions, the ethical, legal, and social implications are immense (Friedman et al 2017). Similarly, the identification of a particular genetic diagnosis may not always be predictive regarding severity of disease. Much remains to be understood regarding modifiers of disease presentation, exemplified by X-linked adrenoleukodystrophy where boys within the same family—even monozygotic twins—may develop the fatal cerebral childhood form or be largely asymptomatic. Recently included in NBS panels, this lack of geno-phenotype correlation for the 700+ reported ABCD1 mutations poses an impediment to standardized follow-up and accurate timing of hematopoietic stem cell transplantation (Kemp et al 2016). Great care should be taken not to burden individuals that will remain asymptomatic most or all or their lives, with lifelong unnecessary medical investigations. Multi-omics should be harnessed to identify environmental and/or epi−/genomic modifiers to help prognosticate. Those accelerating or attenuating the phenotype might serve as useful treatment targets. All in all, the design of a genomic NBS roadmap weighing the interests of the different stakeholders is required.
How can we make smart -omics accessible to clinicians? Education and dissemination of knowledge on the real-life deliverables and challenges of -omics technologies for health professionals are essential to solving the current inequity. Training the next generation of clinicians to take on the role as connectors in multi-disciplinary teams is a sine qua non essential, and the latter could be structured analogous to molecular tumor boards shown effective for cancer patients. We encourage traditional metabolic laboratories to gradually shift gears, moving toward a functional genomics laboratory and begin implementing the more holistic techniques like untargeted metabolomics, lipidomics and glycomics, with the bio-informatician central to the translation of big data into personalized patient care. Open collaborations and data sharing will prevent reinvention of the wheel. Having all the right expertise at the table when discussing the diagnostic approach and individualized management plan according to the information yielded by -omics investigations (e.g., actionable mutations, novel therapeutic interventions), is the stepping stone of P4 medicine. Patient participation and the adjustment of the medical team's plan to his/her and the family's wishes most certainly is the capstone.
In conclusion, there is never a dull moment for the clinician in the -omics era. P4 medicine for IMDs can be achieved if we choose wisely, continuously adjust as we learn by doing, and consider the patient and family as partners central to the success of our endeavors.
Notes
Acknowledgements
We are grateful to our patients and their loving families, inspiring us with their resilience and bravery, teaching us with their unique perspective, and motivating us with their hope and passion for a healthier future Knowledge is power.
Details of funding
CvK is the recipient of a Michael Smith Foundation for Health Research Award.
Compliance with ethical standards
Conflict of interest
Clara van Karnebeek, Saskia Wortmann, Maja Tarailo-Graovac, Mirjam Langeveld, Carlos Ferreira, Jiddeke van de Kamp, Carla Hollak, Wyeth Wasserman, Hans Waterham, Ron Wevers, Tobias Haack, Ronald Wanders, and Kym Boycott declare that they have no conflict of interest in relation to the current work.
Copyright information
© The Author(s) 2018
Open Access This article is distributed under the terms of the Creative Commons Attribution 4.0 International License (http://creativecommons.org/licenses/by/4.0/), which permits unrestricted use, distribution, and reproduction in any medium, provided you give appropriate credit to the original author(s) and the source, provide a link to the Creative Commons license, and indicate if changes were made.