Guidelines for diagnosis and management of the cobalamin-related remethylation disorders cblC, cblD, cblE, cblF, cblG, cblJ and MTHFR deficiency
Abstract
Background
Remethylation defects are rare inherited disorders in which impaired remethylation of homocysteine to methionine leads to accumulation of homocysteine and perturbation of numerous methylation reactions.
Objective
To summarise clinical and biochemical characteristics of these severe disorders and to provide guidelines on diagnosis and management.
Data sources
Review, evaluation and discussion of the medical literature (Medline, Cochrane databases) by a panel of experts on these rare diseases following the GRADE approach.
Key recommendations
We strongly recommend measuring plasma total homocysteine in any patient presenting with the combination of neurological and/or visual and/or haematological symptoms, subacute spinal cord degeneration, atypical haemolytic uraemic syndrome or unexplained vascular thrombosis. We strongly recommend to initiate treatment with parenteral hydroxocobalamin without delay in any suspected remethylation disorder; it significantly improves survival and incidence of severe complications. We strongly recommend betaine treatment in individuals with MTHFR deficiency; it improves the outcome and prevents disease when given early.
Keywords
Folinic Acid 
Cobalamin 
Haemolytic Uraemic Syndrome 
Late Onset Patient 
Subacute Combine Degeneration 
These keywords were added by machine and not by the authors. This process is experimental and the keywords may be updated as the learning algorithm improves.
Introduction
This guideline development process was initiated within the frame of the "European network and registry for homocystinurias and methylation defects" (E-HOD) project, which was started in February 2013. The main aims of the project are the formation of a sustainable international collaboration of experts and clinically active centres, development of guidelines and establishment of a disease registry for homocystinurias and methylation defects. Given the often significant delays in diagnosis and the absence of standardised treatment protocols, the evaluation of the published knowledge and delineation of guidelines for diagnosis and treatment of these rare diseases are urgently needed. Most of the existing studies and reports are non-systematic, observational studies, case series or case reports, which are generally considered to be low quality evidence. However, following collation of the available evidence some very consistent patterns evolved. Confirmation and validation of our observations by insights gained from other fields of research (e.g. vitamin B12 deficiency in the elderly) additionally informed our interpretation of the evidence.
Homocysteine (Hcy) is an amino acid formed from methionine (Met). Under normal circumstances Hcy is converted into cysteine (transulfuration pathway) or remethylated (remethylation pathway) forming Met.
All genetic remethylation defects share deficient activity of methionine synthase due to various reasons: decreased function of the methionine synthase enzyme protein itself or of the associated enzyme methionine synthase reductase; deficient production of the cofactor, methyl-cobalamin; or disturbed supply of the substrate methyl-tetrahydrofolate (MTHF). Some genetic disorders of intracellular cobalamin (cbl) transport and processing (cblC, cblD-MMA/Hcy, cblF and cblJ) cause deficient synthesis not only of methylcobalamin but also of adenosylcobalamin, the cofactor for methylmalonyl-CoA mutase. Those combined remethylation disorders are associated with increased Hcy and methylmalonic acid (MMA). 5,10-methylenetetrahydrofolate reductase (MTHFR) deficiency leads to impaired provision of 5-MTHF resulting in decreased function of methionine synthase (Fowler
2005
) (Fig.
1
)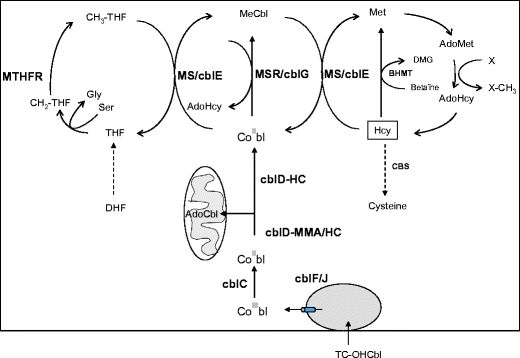 .
Our understanding of the pathophysiology of the remethylation disorders and MTHFR deficiency is incomplete. At present, there are five main hypotheses: (A) direct toxicity of metabolites, (B) missing products, (C) impaired methylation capacity, (D) oxidative stress, (E) impaired non-enzymatic protein functions.
Methods
Panelists involved in the guideline process were invited by the EHOD project leaders according to their expertise regarding the diseases in terms of biochemistry; genetics; clinical, psychosocial and laboratory diagnosis and patient management and/or research activities.
The PubMed and Cochrane databases were searched using the following terms: remethylation defects OR severe mthfr OR severe methylenetetrahydrofolate reductase OR cblc OR cbld OR cblf OR cblj OR cble OR cblg OR methylmalonic aciduria homocystinuria OR methylmalonic aciduria homocystinuria OR methylmalonic acidemia homocysteinemia OR methylmalonic aciduria homocysteinemia OR "Cobalamin C OR Cobalamin D OR Cobalamin E OR Cobalamin F OR Cobalamin G OR Cobalamin J" (last update February 2016: 834 publications).
The resulting list of publications was disposed of all articles predominantly or only addressing other diseases (e.g. classical homocystinuria) or MTHFR polymorphisms (e.g. C677T) or without information relevant to the outcomes of interest (e.g. mutation reports only) by screening of abstracts. In total, 174 publications were included in the qualitative data analysis. The clinical characterisation of the diseases (Table
1
) was based on 117 publications.
Table 1
Signs and symptoms reported in 396 individuals. ++++ Very frequently (>50 % of cases); +++ frequently (25–50 % of cases); ++ infrequently (10–25 % of cases); + occasionally seen (<10 % of cases). (+) Single case reports, probably disease-related conditions
 

cblC

cblD-MMA/HC

cblF

cblD-HC

cblE

cblG

MTHFR deficiency

Number of reported cases

169

16

13

5

20

25

148

Eating disorders/failure to gain weight

 Small for gestational age

+

 

++

 
 
 

(+)

 Feeding difficulties, failure to thrive

+++

++++

+++

 

+++

++++

++

Nervous system

 Decreased consciousness +/− apnoea

++

(+)

 
 

+++

+++

+++

 Seizures

+++

++++

++

(++)

+++

+++

+++

 Ataxia

+

 
 

(++)

(+)

++

++

 Movement disorder and/or abnormal muscle tone

+++

+++

+++

++++

+++

++++

+++

 Peripheral neuropathy/subacute degeneration of spinal cord

++

(+)

 

(++)

++

++

++

 Hydrocephalus

++

 
 
 

++

++

++

 Visual impairment (retinopathy, optic atrophy)

+++

++

 

+++

++

++

+

 Developmental disorder/ cognitive impairment

+++

+++

++++

++++

++++

++++

++++

 Behavioural/mental disorders

++

++

 

++++

 

(+)

++

 Microcephaly

++

 
 

++++

++

+

++

Blood and bone marrow

 Megaloblastic anaemia

++

++

+++

+++

++++

++++

+

 Pancytopenia/neutropenia

++

 

+++

 

++

+

 

 Recurrent severe infections

(+)

 

++

 
 
 
 

Kidneys

 Haemolytic uraemic syndrome

++

++

 
 

++

(+)

 

 Glomerulopathy

+

 
 
 

(+)

 
 

 Tubulointerstitial nephropathy

+

 
 
 
 
 
 

Cardiopulmonary

 Cardiac malformation

+

 

+++

 
 
 
 

 Cardiomyopathy

++

 
 
 
 
 
 

 Interstitial pneumonia

+

 
 
 
 
 
 

 Pulmonary hypertension

+

 
 
 
 
 
 

Vascular

 Stroke

(+)

 
 
 

(+)

 

+

 Venous thrombosis/ embolism

+

 
 
 
 

(+)

+

Malformations

 Facial dysmorphism

+

 
 
 
 

(+)

 

 Skeletal deformity

(+)

 
 
 
 
 

+

Gastrointestinal

 Cheilitis/gastritis

 
 

+++

 
 
 
 

 Liver steatosis

+

 

++

 
 
 
 

 Skin

 
 
 
 
 
 
 

 Dermatitis/rash/hyperpigmentation

+

 

++

 
 
 

+

Other

 Hydrops fetalis

+

 
 
 
 
 
 

 Metabolic acidosis and/or hyperammonaemia

+

 
 
 
 
 
 

 Temperature instability/hypothermia

+

 
 
 
 
 

(+)
The following main questions and outcomes of interest in males and females with any type of onset (early or late) of one of the diseases of interest were addressed (outcomes in parentheses).
Which clinical signs are characteristic and allow timely diagnosis (Outcome: timely clinical diagnosis; this outcome is considered important)

Which biochemical parameters allow timely and valid diagnosis? (Outcome: valid, timely laboratory diagnosis; this outcome is considered important)

How can we prevent death and avoid/treat severe organ damage (Outcome: survival, severe organ complications; this outcome is considered critical)

How can we prevent or treat eye disease and neurocognitive impairment? (Outcome: visual and neurocognitive function; this outcome is considered critical)
In a first step, all reports made available to the panelists were graded according to the Scottish Intercollegiate Guidelines Network (SIGN) criteria by the authors who had assigned themselves according to their expertise to five major working groups focusing on the topics "clinical signs and symptoms"; "differential diagnosis"; "laboratory/biochemical parameters"; "disease course and outcome"; "treatment". Due to the rarity of the diseases, studies and reports of all types of designs (from case reports and case series to metaanalyses) were included; randomised controlled trials were not available.
The working groups prepared drafts on their topics, which were carefully evaluated in moderated discussion groups. Elaboration and grading of recommendations was accomplished by moderated, consensus-oriented discussions according to the "Grading of Recommendations Assessment, Development and Evaluation (GRADE) working group" approach (
http://www.gradeworkinggroup.org/
; Guyatt et al
2011a
,
b
,
c
,
2012
); a patient representative was present at these meetings. Finally, for each outcome the quality of the evidence was rated in one of three categories (low, moderate, high) as defined by the GRADE working group. The strength of a recommendation (strong recommendation, recommendation and suggestion; for more information see
Supplementary material
) was summarised from written assessments from the panelist using the following set of questions:
Are you confident that the benefits outweigh the harms/burden or vice versa?

Is there high, moderate or low quality evidence? Please consider:

Risk of bias

Study design

Directness and consistency of results

Magnitude of effect

Dose–response gradient

Publication bias

Are you confident that the recommendation meets typical values and preferences of the target population (e.g. patients, parents)?

Are the resources worth the expected net benefit following the recommendation?

Overall strength of recommendation: weak or strong?
Data derived from case reports, case series or any other type of observational studies were by principle rated as low quality evidence. However, evidence for some outcomes was considered moderate on the basis of high consistency of results. High quality of evidence was only available for betaine treatment in MTHFR deficiency. This evidence was based on a metaanalysis, which revealed direct and consistent results as well as a relationship between time of onset of treatment and outcome.
Which clinical signs are characteristic for remethylation defects and allow for timely diagnosis?
Which parameters allow valid and timely laboratory diagnosis?
Patients with a suspected remethylation disorder require immediate and urgent biochemical investigation (Fig.
2
). The diagnosis of remethylation disorders can be confirmed by investigations at the levels of metabolites, enzymatic studies and/or molecular genetic analysis.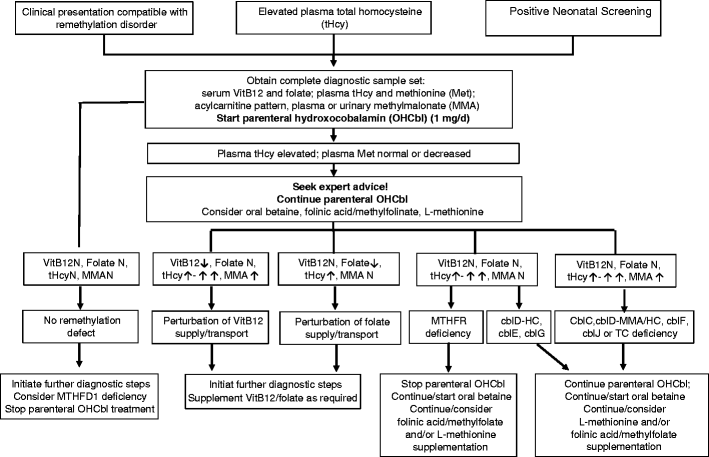 Disease course and outcome in isolated remethylation disorders (cblD-HC, cblE, cblG)
Disease course and outcome in isolated remethylation disorders generally share many features with the combined disorders.
Disease course and outcome in MTHFR deficiency
Mortality
Recent experience suggests that betaine treatment if initiated early reduces mortality in patients with MTHFR deficiency (Diekman et al 2014)
Vascular problems
Arterial and venous thrombosis are generally rare and predominantly encountered in adolescent or adult patients (Visy et al 1991; Tonetti et al 2002).
Neurocognitive problems
Severe neurological signs with some age-related variations characterise MTHFR deficiency. Neurological symptoms in MTHFR range from seizures, lethargy, apnoea and coma in early infancy to gait disturbances with lower limb spasticity, weakness, psychiatric behaviour such as schizophrenia-like psychosis (Mudd and Freeman 1974; Regland et al 1994; Pasquier et al 1994), and visual problems in adolescence/adulthood (Haworth et al 1993; Birnbaum et al 2008). Neonates and young infants exhibit acute neurological deterioration, which may be fatal or leave severe neurological deficits. Older individuals typically exhibit progressive triphasic deterioration: an initial period of normal development, then a second phase with acquired microcephaly and psychomotor delay, followed by abrupt deterioration associated with respiratory failure that may be fatal.
In early onset severe forms clinical sequelae associated with MTHFR deficiency include microcephaly, hydrocephalus, seizures, hypotonia and global development delay, whereas in the adolescence onset form mental retardation and progressive encephalopathy are present (Arn et al 1998; Bishop et al 2008; Schiff et al 2011).
Some patients develop leukoencephalopathy and lower limb-dominant demyelinating polyneuropathy (Walk et al 1994) and may have subacute degeneration of the spinal cord (Hyland et al 1988). The peripheral neuropathy has been related to the low level of serum folic acid (Nishimura et al 1985). Seizures are variable in type and include myoclonic, clonic and/or tonic episodes. Infantile spasms have been described (Prasad et al 2011). Cerebral atrophy and white matter changes are common (Arn et al 1998; Birnbaum et al 2008).
Early treated patients exhibit a more favourable outcome (Schiff et al 2011; Diekman et al 2014).
In MTHFR deficiency, early diagnosis and treatment are usually associated with better neurological outcome.
The effects of treatment on clinical outcome
Closing remarks
These guidelines are the result of the evaluation of available information from the literature based on the GRADE methodology and are aimed at delivering recommendations based on the best available data. The rarity of cobalamin-related remethylation disorders and MTHFR deficiency, the absence of larger data samples from international registries until recently and data mainly derived from case reports, case series or expert opinion results in a low quality of the evidence for several of the recommendations made. The working group responsible for this guideline commits itself to revise this work in the future.
Notes
Acknowledgments
We gratefully acknowledge the support from Prof. Brian Fowler who critically revised the manuscript. We thank Marike Gronendijk for her ongoing support of our work.
Compliance with Ethical Standards
Conflict of interest
The authors of this guideline declare no competing interests but disclose the following: MRB has received financial support for attending E-HOD steering committee meetings from Orphan Europe. MRB and MH have received support from Milupa Metabolics for travel grants to develop a quality of life assessment tool for patients with intoxication type metabolic diseases. Charles University in Prague-First Faculty of Medicine received support from the Recordati Rare Disease Foundation for organizing an educational course on homocystinurias and methylation defects. MH, MRB, CDV, HB received speakers honoraria for their contribution to this educational course. The development of this guideline was part of the "European network and registry for homocystinurias and methylation defects (EHOD) project" (No.2012_12_02) which has received funding from the European Union in the framework of the Health Program. This article does not contain any studies with human or animal subjects performed by any of the authors.
Copyright information
© The Author(s) 2016
Open Access This article is distributed under the terms of the Creative Commons Attribution 4.0 International License (http://creativecommons.org/licenses/by/4.0/), which permits unrestricted use, distribution, and reproduction in any medium, provided you give appropriate credit to the original author(s) and the source, provide a link to the Creative Commons license, and indicate if changes were made.