Abstract
An interdigitated electrode array embedded within a micro-channel with forced flow is shown to enable dielectrophoretic (DEP) characterization of particles and/or cells based on measurements of their trapping percentage over a continuous frequency range. A simplified model of the trapping percentage, using spatial averaging of the convective and DEP force, linearly correlated it to the effective DEP force (in its positive mode). Thus, the Clausius–Mossotti factor was fitted to the experimental data, yielding effective electrical characteristics of the particles and/or cells. Also, the generated trapping percentage curve response over a continuous range of frequencies facilitates sorting and detection based on differences other than just the cross-over frequencies.
This is a preview of subscription content, log in to check access.
Access options
Buy single article
Instant unlimited access to the full article PDF.
US$ 39.95
Price includes VAT for USA
Subscribe to journal
Immediate online access to all issues from 2019. Subscription will auto renew annually.
US$ 99
This is the net price. Taxes to be calculated in checkout.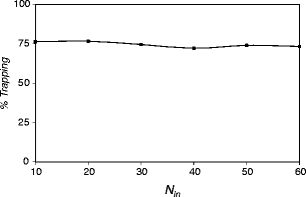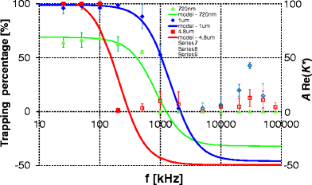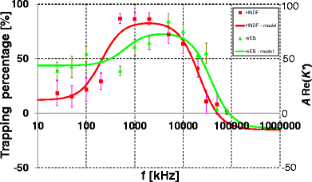 References
F. Aldaeus, Y. Lin, J. Roeraade, G. Amberg, Electrophoresis 26, 4252 (2005)

A. Castellanos, A. Ramos, A. González, N.G. Green, H. Morgan, J. Phys. Appl. Phys. 36, 2584 (2003)

I.-F. Cheng, H.-C. Chang, D. Hou, H.-C. Chang, Biomicrofluidics 1, 021503 (2007)

D.S. Clague, E.K. Wheeler, Phys. Rev. E 64, 026605 (2001)

L.A. Flanagan, J. Lu, L. Wang, S.A. Marchenko, N.L. Jeon, A.P. Lee, E.S. Monuki, Stem Cells 26, 656 (2008)

Z.R. Gagnon, Electrophoresis 32, 2466 (2011)

P. García-Sánchez, Y. Ren, J.J. Arcenegui, H. Morgan, A. Ramos, Langmuir 28, 13861 (2012)

N.G. Green, A. Ramos, H. Morgan, J. Electrost. 56, 235 (2002)

K.F. Hoettges, Y. Hubner, L.M. Broche, S.L. Ogin, G.E.N. Kass, M.P. Hughes, Anal. Chem. 80, 2063 (2008)

T. Honegger, K. Berton, E. Picard, D. Peyrade, Appl. Phys. Lett. 98, 181906 (2011)

M.P. Hughes, Electrophoresis 23, 2569 (2002)

T.B. Jones, Electromechanics of Particles (Cambridge University Press, 2005).

M. Khoury, A. Bransky, N. Korin, L.C. Konak, G. Enikolopov, I. Tzchori, S. Levenberg, Biomed. Microdevices 12, 1001 (2010)

F.H. Labeed, J. Lu, H.J. Mulhall, S.A. Marchenko, K.F. Hoettges, L.C. Estrada, A.P. Lee, M.P. Hughes, L.A. Flanagan, PLoS One 6, e25458 (2011)

H. Li, R. Bashir, Biomed. Microdevices 6, 289 (2004)

W.H. Li, H. Du, D.F. Chen, C. Shu, Comput. Mater. Sci. 30, 320 (2004)

H. Li, Y. Zheng, D. Akin, R. Bashir, J. Microelectromech. Syst. 14, 103 (2005)

H. Morgan, A.G. Izquierdo, D. Bakewell, N.G. Green, A. Ramos, J. Phys. Appl. Phys. 34, 1553 (2001)

T. Müller, G. Gradl, S. Howitz, S. Shirley, T. Schnelle, G. Fuhr, Biosens. Bioelectron. 14, 247 (1999)

C.T. O'Konski, J. Phys. Chem. 64, 605 (1960)

S. Park, Y. Zhang, T.-H. Wang, S. Yang, Lab Chip 11, 2893 (2011)

B.D. Uhal, C. Ramos, I. Joshi, A. Bifero, A. Pardo, M. Selman, Am. J. Physiol. Lung Cell. Mol. Physiol. 275(L998) (1998)

X. Wang, X.-B. Wang, F.F. Becker, P.R.C. Gascoyne, J. Phys. Appl. Phys. 29, 1649 (1996)

X.-B. Wang, J. Vykoukal, F.F. Becker, P.R.C. Gascoyne, Biophys. J. 74, 2689 (1998)

T.P. Zwaka, J.A. Thomson, Nat. Biotechnol. 21, 319 (2003)
Acknowledgments
The research was supported by MOST – Tashtiyot grant #880011. The fabrication of the chip was possible through the financial and technical support of the Technion RBNI (Russell Berrie Nanotechnology Institute) and MNFU (Micro Nano Fabrication Unit). We wish to acknowledge Yoni Shemesh, Vitali Plaei, Alicia Boymelgreen and Yoav Green for their valuable input.
About this article
Cite this article
Rozitsky, L., Fine, A., Dado, D. et al. Quantifying continuous-flow dielectrophoretic trapping of cells and micro-particles on micro-electrode array. Biomed Microdevices 15, 859–865 (2013). https://doi.org/10.1007/s10544-013-9773-9
Keywords
Dielectrophoresis

Microfluidics

Microelectrodes