Abstract
Insect dorsal vessel (DV) tissue seems well suited for microactuators due to its environmental robustness and low maintenance. We describe an insect muscle-powered autonomous microrobot (iPAM) and its acceleration with a neuroactive chemical, crustacean cardioactive peptide (CCAP). The iPAM, consisting of a DV tissue and a frame, was designed on the basis of a finite element method simulation and fabricated. The iPAM moved autonomously by spontaneous contraction of the DV tissue at a significantly improved velocity compared to our previous model. The best-case iPAM moved faster than other reported microrobots powered by mammalian cardiomycytes. It moved forward with a small declination of 0.54 ° during one contraction since the DV tissue not only shortened but also twisted. The iPAM frame should be designed by taking into account the innate contractile characteristic of DV tissue. The acceleration effect of CCAP on contracting frequency was evaluated using a micropillar array and was a maximum at 10-6 M. The effect peaked 1 min after addition and remained for 2 min. CCAP addition at 10-6 M accelerated the iPAM temporally and the velocity increased 8.1-fold. We view the DV tissue as one of the most promising materials for chemically regulatable microactuators.
This is a preview of subscription content, log in to check access.
Access options
Buy single article
Instant unlimited access to the full article PDF.
US$ 39.95
Price includes VAT for USA
Subscribe to journal
Immediate online access to all issues from 2019. Subscription will auto renew annually.
US$ 99
This is the net price. Taxes to be calculated in checkout.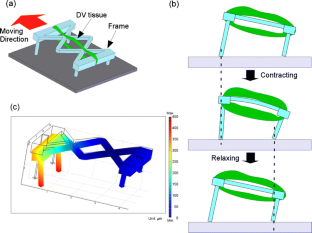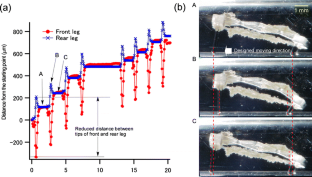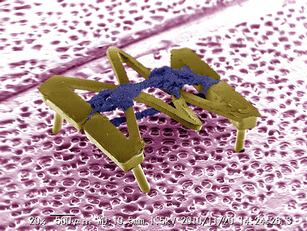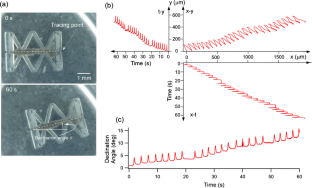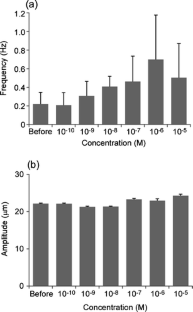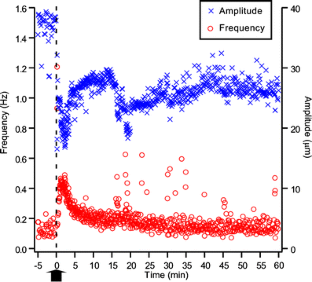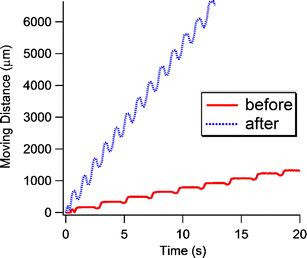 References
Y. Akiyama, K. Iwabuchi, Y. Furukawa, K. Morishima, J. Biotech. 133, 261 (2008a)

Y. Akiyama, K. Iwabuchi, Y. Furukawa, K. Morishima, Fabrication and evaluation of temperature-tolerant bioactuator driven by insect heart cells. in Int. Conf. Proc. Miniaturized Systems in Chemistry and Life Science (2008b) pp. 1669–1671

Y. Akiyama, K. Iwabuchi, Y. Furukawa, K. Morishima, Lab Chip 9, 140 (2009)

Y. Akiyama, K. Iwabuchi, Y. Furukawa, K. Morishima, In Vitro Cell. Dev. Biol.-Animal 46, 411 (2010)

Y. Akiyama, T. Hoshino, K. Iwabuchi, K. Morishima, PLoS ONE 7(7), e38274 (2012). doi:10.1371/journal.pone.0038274

R. Bodmer, R.J. Wessells, E.C. Johnson, H. Dowse, in Comprehensive molecular insect science, ed. by L.I. Gilbert, K. Iatrou, S.S. Gill, vol. 2 (Elsevier, Oxford, 2005), p. 199

T. Bruegmann, D. Malan, M. Hesse, T. Beiert, C.J. Fuegemann, B.K. Fleischmann, P. Sasse, Nat. Meth. 7, 897 (2010)

K. Choi, J. Rogers, J. Am. Chem. Soc. 125, 4060 (2003)

K. Deisseroth, G. Feng, A.K. Majewska, G. Miesenböck, A. Ting, M.J. Schnitzer, J. Neurosci. 26, 10380 (2006)

A. Ejaz, A.B. Lange, Peptides 29, 214 (2008)

A. Eppler, G. Adam, E. Sander, in Invertebrate systems in vitro, ed. by E. Kurstak, K. Maramorosch, A. Dubendorfer (Elsevier Biomedical, New York, 1980), p. 59

A.W. Feinberg, A. Feigel, S.S. Shevkoplyas, S. Sheehy, G.M. Whitesides, K.K. Parker, Science 317, 1366 (2007)

G. Gäde, K.H. Hoffmann, J.H. Spring, Physiol. Rev. 77, 963 (1997)

K. Kawasaki, M. Ikeuchi, T. Hidaka, Jpn J. Appl. Ent. Zool. 31, 78 (1987)

J. Kim, J. Park, S. Yang, J. Baek, B. Kim, S.H. Lee, E.S. Yoon, K. Chun, S. Park, Lab Chip 7, 1504 (2007)

B.J. Krijgsman, N.E. Krijgsman-Berger, Bull. Ent. Res. 42, 143 (1951)

T.J. Kurtti, M.A. Brooks, in Insect and mite nutrition, ed. by J.G. Rodriguez (North-Holland Pub. Co, Amsterdam, 1972), p. 387

T.J. Kurtti, S.P. Chaudhary, M.A. Brooks, In Vitro 11, 274 (1975)

H. Lehman, C. Murgiuc, T. Miller, T. Lee, J. Hildebrand, Peptides 14, 735 (1993)

K. Morishima, Y. Tanaka, M. Ebara, T. Shimizu, A. Kikuchi, M. Yamato, T. Okano, T. Kitamori, Sens. Act. B 119, 345 (2006)

J. Park, I.C. Kim, J. Baek, M. Cha, J. Kim, S. Park, J. Lee, B. Kim, Lab Chip 7, 1367 (2007)

K. Shimizu, T. Hoshino, Y. Akiyama, K. Iwabuchi, Y. Akiyama, M. Yamato, T. Okano, K. Morishima, Multi-scale reconstruction and performance of insect muscle powered bioactuator from tissue to cell sheet. in Proc. of IEEE RAS & EMBS Biomedical Robotics and Biomechatronics (IEEE, 2010), pp. 425–430

J. Stangier, C. Hilbich, H. Dircksen, R. Keller, Peptides 9, 795 (1988)

Y. Tanaka, K. Morishima, T. Shimizu, A. Kikuchi, M. Yamato, T. Okano, T. Kitamori, Lab Chip 6, 230 (2006a)

Y. Tanaka, K. Morishima, T. Shimizu, A. Kikuchi, M. Yamato, T. Okano, T. Kitamori, Lab Chip 6, 362 (2006b)

Y. Tanaka, K. Sato, T. Shimizu, M. Yamato, T. Okano, T. Kitamori, Biosens. Bioelectro. 23, 449 (2007)

J. Xi, J.J. Schmidt, C.D. Montemagno, Nat. Mater. 4, 180 (2005)
Acknowledgements
The present work was supported in part by Grants-in-Aid for Scientific Research from the Ministry of Education, Culture, Sports, Science and Technology in Japan Nos. 21676002, 21111503, 22860020 and 23111705, the MEXT project, "Creating Hybrid Organs of the future" at Osaka University, and the Industrial Technology Research Grant Program from the New Energy and Industrial Technology Development Organization (NEDO) of Japan and CASIO Science Promotion Foundation. We are also truly grateful to Ms. Shimakura for her technical assistance.
Electronic supplementary materials
Below is the link to the electronic supplementary material.
About this article
Cite this article
Akiyama, Y., Odaira, K., Sakiyama, K. et al. Rapidly-moving insect muscle-powered microrobot and its chemical acceleration. Biomed Microdevices 14, 979–986 (2012). https://doi.org/10.1007/s10544-012-9700-5
Keywords
Microrobot

Bio-actuator

Chemical stimulation

Insect

Dorsal vessel

Neuroactive chemical