Abstract
With the aim of designing a mechanical drug delivery system involving a bio-actuator, we fabricated a Micro Electro Mechanical Systems (MEMS) device that can be driven through contraction of skeletal muscle cells. The device is composed of a Si-MEMS with springs and ratchets, UV-crosslinked collagen film for cell attachment, and C2C12 muscle cells. The Si-MEMS device is 600 μm × 1000 μm in size and the width of the collagen film is 250 ~ 350 μm, which may allow the device to go through small blood vessels. To position the collagen film on the MEMS device, a thermo-sensitive polymer was used as the sacrifice-layer which was selectively removed with O2 plasma at the positions where the collagen film was glued. The C2C12 myoblasts were seeded on the collagen film, where they proliferated and formed myotubes after induction of differentiation. When C2C12 myotubes were stimulated with electric pulses, contraction of the collagen film-C2C12 myotube complex was observed. When the edge of the Si-MEMS device was observed, displacement of ~8 μm was observed, demonstrating the possibility of locomotive movement when the device is placed on a track of adequate width. Here, we propose that the C2C12-collagen film complex is a new generation actuator for MEMS devices that utilize glucose as fuel, which will be useful in environments in which glucose is abundant such as inside a blood vessel.
This is a preview of subscription content, log in to check access.
Access options
Buy single article
Instant unlimited access to the full article PDF.
US$ 39.95
Price includes VAT for USA
Subscribe to journal
Immediate online access to all issues from 2019. Subscription will auto renew annually.
US$ 99
This is the net price. Taxes to be calculated in checkout.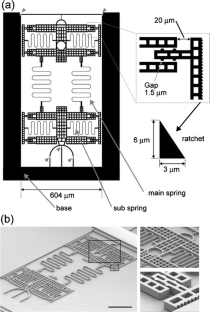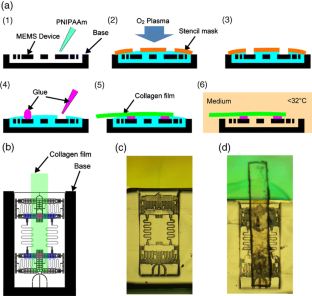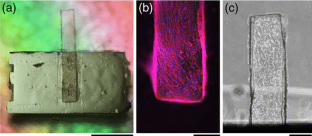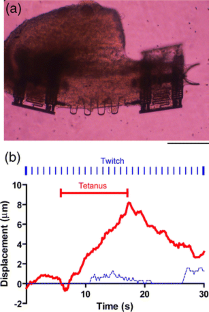 References
C.M. Alves, Y. Yang, D. Marton, D.L. Carnes, J.L. Ong, V.L. Sylvia, D.D. Dean, R.L. Reis, C.M. Agrawal, J Biomed Mater Res B Appl Biomater 87(1), 59–66 (2008)

R.G. Dennis, P.E. Kosnik 2nd, M.E. Gilbert, J.A. Faulkner, Am J Physiol Cell Physiol 280(2), C288–295 (2001)

A. Desai, S.W. Lee, Y.C. Tai, Sens Actuators, A, Phys 73(1–2), 37–44 (1999)

H. Fujita, T. Nedachi, M. Kanzaki, Exp Cell Res 313(9), 1853–1865 (2007)

H. Fujita, K. Shimizu, E. Nagamori, Biotechnol Bioeng 103(2), 370–377 (2009a)

H. Fujita, K. Shimizu, E. Nagamori, Biotechnol Bioeng 103(5), 1034–1041 (2009b)

H. Fujita, K. Shimizu, E. Nagamori, Biotechnol Bioeng 106(3), 482–489 (2010)

M.G. Garcia-Webb, A.J. Taberner, N.C. Hogan, I.W. Hunter, Am J Physiol Heart Circ Physiol 293(1), H866–874 (2007)

Y. Hiratsuka, T. Tada, K. Oiwa, T. Kanayama, T.Q. Uyeda, Biophys J 81(3), 1555–1561 (2001)

N.F. Huang, S. Patel, R.G. Thakar, J. Wu, B.S. Hsiao, B. Chu, R.J. Lee, S. Li, Nano Lett 6(3), 537–542 (2006)

G. Iribe, M. Helmes, P. Kohl, Am J Physiol Heart Circ Physiol 292(3), H1487–1497 (2007)

R.S. Kane, S. Takayama, E. Ostuni, D.E. Ingber, G.M. Whitesides, Biomaterials 20(23–24), 2363–2376 (1999)

M.T. Lam, S. Sim, X. Zhu, S. Takayama, Biomaterials 27(24), 4340–4347 (2006)

L. Limberis , R.J, Stewart. Nanotechnology (2), 47 (2000)

D.K. McMahon, P.A. Anderson, R. Nassar, J.B. Bunting, Z. Saba, A.E. Oakeley, N.N. Malouf, Am J Physiol 266(6 Pt 1), C1795–1802 (1994)

D. Montarras, C. Pinset, J. Chelly, A. Kahn, F. Gros, EMBO J 8(8), 2203–2207 (1989)

C. Ozcan, N. Hasirci, J Biomater Sci Polym Ed 18(6), 759–773 (2007)

P.H. Pham, D.V. Dao, S. Amaya, R. Kitada, S. Sugiyama, J Micromech Microeng 16(12), 2532–2538 (2006)

K. Shen, J.Qi, L.C. Kam, J. Vis. Exp. (22), (2008)

N. Shepherd, M. Vornanen, G. Isenberg, Am J Physiol 258(2 Pt 2), H452–459 (1990)

K. Shimizu, H. Fujita, E. Nagamori, Biotechnol Bioeng 106(2), 303–310 (2010a)

K. Shimizu, H. Sasaki, H. Hida, H. Fujita, K. Obinata, M. Shikida, E. Nagamori, Biomed Microdevices 12(2), 247–252 (2010b)

R.K. Soong, G.D. Bachand, H.P. Neves, A.G. Olkhovets, H.G. Craighead, C.D. Montemagno, Science 290(5496), 1555–1558 (2000)

H. Suzuki, A. Yamada, K. Oiwa, H. Nakayama, S. Mashiko, Biophys J 72(5), 1997–2001 (1997)

T. Takezawa, Y. Mori, K. Yoshizato, Biotechnology (N Y) 8(9), 854–856 (1990)

R.B. Vernon, M.D. Gooden, S.L. Lara, T.N. Wight, Biomaterials 26(16), 3131–3140 (2005)

J. Xi, J.J. Schmidt, C.D. Montemagno, Nat Mater 4(2), 180–184 (2005)

D. Yaffe, O. Saxel, Nature 270(5639), 725–727 (1977)

S.I. Yasuda, S. Sugiura, N. Kobayakawa, H. Fujita, H. Yamashita, K. Katoh, Y. Saeki, H. Kaneko, Y. Suda, R. Nagai, H. Sugi, Am J Physiol Heart Circ Physiol 281(3), H1442–1446 (2001)
Acknowledgements
The authors would like to thank Yuki Morioka for the excellent technical assistance.
Electronic supplementary material
Below is the link to the electronic supplementary material.
Bio-MEMS device on the base was electrically stimulated at 1 Hz. Myotube contraction can be seen by phase contrast microscopy. (WMV 3538 kb)
Movement of the Bio-MEMS device by tetanus stimulation. Edge of the device before (blue) and at the end of tetanus stimulation (red) is shown in arrowheads. (WMV 762 kb)
Bio-MEMS device on the base was electrically stimulated at 1 Hz. Myotube contraction can be seen by phase contrast microscopy. (WMV 3538 kb)
Movement of the Bio-MEMS device by tetanus stimulation. Edge of the device before (blue) and at the end of tetanus stimulation (red) is shown in arrowheads. (WMV 762 kb)
About this article
Cite this article
Fujita, H., Dau, V.T., Shimizu, K. et al. Designing of a Si-MEMS device with an integrated skeletal muscle cell-based bio-actuator. Biomed Microdevices 13, 123–129 (2011). https://doi.org/10.1007/s10544-010-9477-3
Keywords
Collagen-sheet

C2C12

Muscle

MEMS