Abstract
The soil seed bank plays an important role in determining what plant species emerge following the removal of monodominant invasive species. A depleted seed bank may provide a substantial barrier to site restoration, however, little is known about what changes occur in the seed bank during invasion and following clearance. This study used greenhouse germination trials to quantify and compare the seed bank present in 30 Scottish Atlantic oak woodland sites under three treatments: (1) sites featuring dense stands of the non-native invasive shrub Rhododendron ponticum; (2) sites that had been previously subject to dense R. ponticum stands but which had been cleared; and (3) uninvaded control sites. Seed banks of densely invaded and cleared sites had significantly lower species richness than those of uninvaded control sites with a lower abundance of graminoid, and to a lesser extent forb seeds than the uninvaded controls. The seed bank community composition differed significantly between the three site types. Uninvaded sites featured a wide array of species, densely invaded sites were dominated by R. ponticum seeds and cleared sites were dominated by birch (Betula sp.) seeds. Cleared sites contained very few R. ponticum seeds indicating that once effective clearance had been achieved, re-invasion would be unlikely to occur from the soil seed bank. Our findings revealed that the soil seed bank present in cleared sites was very different from the seed bank of uninvaded control sites, with clear implications for site restoration.
This is a preview of subscription content, log in to check access.
We're sorry, something doesn't seem to be working properly.
Please try refreshing the page. If that doesn't work, please contact support so we can address the problem.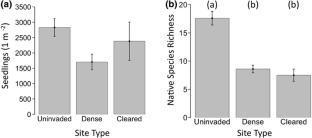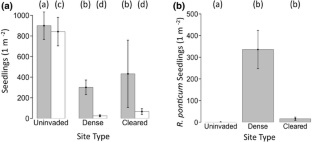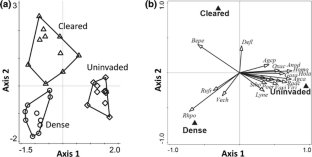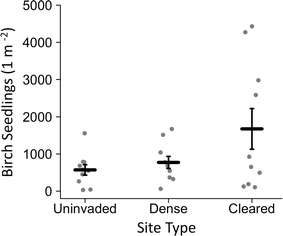 References
Cross JR (1975) Rhododendron ponticum L. J Ecol 63:345–364

D'Antonio CM, Chambers JC (2006) Using ecological theory to manage or restore ecosystems affected by invasive plant species. In: Palmer MA, Zedler JB (eds) DA Falk. Island Press, London, Foundations of restoration ecology

Diamond J (1983) Laboratory, field and natural experiments. Nature 304:586–587

Edwards C (2006) Managing and controlling invasive rhododendron. Forestry commission practice guide. Forestry Commission, Edinburgh

Ehrenfeld JG (2010) Ecosystem consequences of biological invasions. Annu Rev Ecol Evol Syst 41:59–80

Ferreras AE, Giogris MA, Tecco PA, Cabido MR, Funes G (2015) Impact of Ligustrum lucidum on the soil seed bank in invaded subtropical seasonally dry woodlands (Córdoba, Argentina). Biol Invasions 17:3547–3561

Gaertner M, Holmes PM, Richardson DM (2012) Biological invasions, resilience and restoration. In: Andel J, Aronson J (eds) Restoration ecology: the new frontier. Wiley-Blackwell, Oxford

Genovesi P (2005) Eradications of invasive alien species in Europe: a review. Biol Invasions 7:127–133

Gilbert B, Levine JM (2013) Plant invasions and extinction debts. Proc Natl Acad Sci USA 110:1744–1749

Gioria M, Pyšek P (2016) The legacy of plant invasions: changes in the soil seed bank of invaded plant communities. Bioscience 66:40–53

Gioria M, Jarošik V, Pyšek P (2014) Impact of invasions by alien plants on soil seed bank communities: emerging patterns. Perspect Plant Ecol Syst 16:132–142

Guido A, Pillar VD (2015) Are removal experiments effective tools for assessing plant community resistance and recovery from invasive species? J Veg Sci 26:608–613

Henderson S, Dawson TP, Whittaker RJ (2006) Progress in invasive plants research. Prog Phys Geogr 30:25–46

Long D, Williams J (2007) Rhododendron ponticum: impact on lower plants and fungi communities on the west coast of Scotland. Scottish Natural Heritage project no. 19412

Maclean JE (2016) The effect of clearing invasive Rhododendron ponticum on the native plant community of Scottish Atlantic oak woodlands: implication for restoration. Ph.D. dissertation, University of Aberdeen

Marchante H, Freitas H, Hoffman JH (2011) The potential role of seed banks in the recovery of dune ecosystems after removal of invasive plant species. Appl J Veg Sci 14:107–119

Måren IF, Vandvik V (2009) Fire and regeneration: the role of seed banks in the dynamics of northern heathlands. J Veg Sci 20:871–888

Miller GR, Cummins RP, Hester AJ (1998) Red deer and woodland regeneration in the Cairngorms. Scott For 52:14–20

Morgan P, Neuenschwander LF (1988) Seed bank contributions to regeneration of shrub species after clear-cutting and burning. Can J Bot 66:169–172

Olson LJ (2006) The economics of terrestrial invasive species: a review of the literature. Agric Resour Econ Rev 35:178–194

Parrott J, Mackenzie N (2013) A critical review of work undertaken to control invasive rhododendron in Scotland: a report commissioned by Forestry Commission Scotland and Scottish Natural Heritage. Coille Alba, Inverness

Perala DA, Alm AA (1990) Reproductive ecology of birch: a review. For Ecol Manag 32:1–38

Plue J, De Frenne P, Acharya K, Brunet J, Chabrerie O, Decocq G, Diekmann M, Graae BJ, Heinken T, Hermy M, Kolb A, Lemke I, Liira J, Naaf T, Verheyen K, Wulf M, Cousins SAO (2017) Where does the community start, and where does it end? Including the seed bank to reassess forest herb layer responses to the environment. J Veg Sci 28:424–435

R Core Team (2015) R: A language and environment for statistical computing. R Foundation for Statistical Computing, Vienna, Austria. http://www.R-project.org/

Reid AM, Morin L, Downey PO, French K, Virtue JG (2009) Does invasive plant management aid the restoration of natural ecosystems? Biol Conserv 142:2342–2349

Rogers DL (2004) Genetic erosion: no longer just an agricultural issue. Native Plants J 5:112–122

Scalera, R., P. Genovesi, F. Essl, and Rabitsch, W. (2012) The impacts of invasive alien species in Europe. EEA technical report 16/2012

Simberloff D, Von Holle B (1999) Positive interactions of nonindigenous species: invasional meltdown? Biol Invasions 5:179–192

SNH (1994) Red deer and the natural heritage. Scottish Natural Heritage, Perth

Stephenson CM, Kohn DD, Park KJ, Atkinson R, Edwards C, Travis JM (2007) Testing mechanistic models of seed dispersal for the invasive Rhododendron ponticum (L.). Perspect Plant Ecol Evol Syst 9:15–28

Ter Braak CJF, Smilauer P (2012) CANOCO reference manual and user's guide: softwared for ordination (verion 5.0). Microcomputer Power, Ithaca

Thompson K, Grime JP (1979) Seasonal variation in the seed banks of herbaceous species in ten contrasting habitats. J Ecol 67:893–921

Thompson K, Bakker J, Bekker R (1997) The soil seed banks of North West Europe: methodology, density and longevity. Cambridge University Press, Cambridge

Yildiz O, Esen D, Karaoz OM, Sarginci M, Toprak B, Soysal Y (2010) Effects of different site preparation methods on soil carbon and nutrient removal from Eastern beech regeneration sites in Turkey's Black Sea region. Appl Soil Ecol 45:49–55
Electronic supplementary material
Below is the link to the electronic supplementary material.
About this article
Cite this article
Maclean, J.E., Mitchell, R.J., Burslem, D.F.R.P. et al. Invasion by Rhododendron ponticum depletes the native seed bank with long-term impacts after its removal. Biol Invasions 20, 375–384 (2018). https://doi.org/10.1007/s10530-017-1538-6
Received:

Accepted:

Published:

Issue Date:
Keywords
Atlantic oak woodland

Germination trial

Invasive species

Restoration

Rhododendron ponticum

Seed bank