Abstract
Human umbilical cord mesenchymal stem cell-derived exosomes (HucMSC-Ex) are a promising tool for the repair of acute kidney injury (AKI) caused by cisplatin and ischemia/reperfusion. However, the roles of hucMSC-Ex in sepsis-associated AKI repair and its mechanism are largely unknown. Hence, we constructed a sepsis model through cecal ligation and puncture (CLP), testing the benefits of hucMSC-Ex in the sepsis in terms of survival rate, serum renal markers levels, morphological changes and apoptosis. Immunohistochemistry staining and immunofluorescence assay were used to investigate the role of NF-κB activity in the repair of sepsis-associated AKI with hucMSC-Ex. HK-2 cells were transfected with microRNA-146b (miR-146b) mimics and inhibitors, respectively, and the regulatory effect of miR-146b on NF-κB activity was studied. We found that hucMSC-Ex treatment significantly decreased the serum creatinine (Cr) and blood urea nitrogen (BUN) levels, ameliorated the morphological damage and inhibited renal tubular cells apoptosis. More importantly, the survival rate at 72 h was 28% in CLP group and 45% in hucMSC-Ex group, respectively. Treatment with hucMSC-Ex improved survival in mice with sepsis. These effects of hucMSC-Ex were mediated by the inhibition of NF-κB activity and the lessening of pro-inflammatory response. Furthermore, hucMSC-Ex significantly increased miR-146b expression in kidney tissues. Conversely, interleukin (IL)-1 receptor-associated kinase (IRAK1) level, which is the target gene of miR-146b, clearly decreased in hucMSC-Ex group. In brief, this study showed that treatment with hucMSC-Ex decreased IRAK1 expression through the up-regulation of miR-146b level, led to the inhibition of NF-κB activity, and eventually alleviated sepsis-associated AKI and improved survival in mice with sepsis. HucMSC-Ex may be a novel therapeutic agent for the reduction of sepsis-associated AKI.
This is a preview of subscription content, log in to check access.
Access options
Buy single article
Instant access to the full article PDF.
US$ 39.95
Price includes VAT for USA
Subscribe to journal
Immediate online access to all issues from 2019. Subscription will auto renew annually.
US$ 199
This is the net price. Taxes to be calculated in checkout.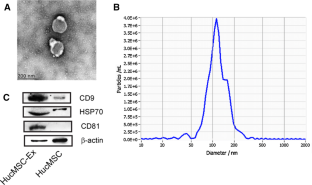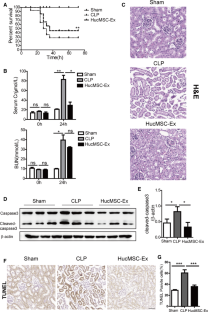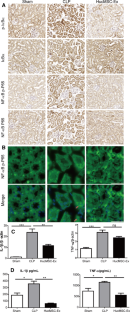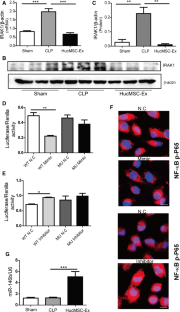 References
Abraham E (2003) Nuclear factor-kappaB and its role in sepsis-associated organ failure. J Infect Dis 187(Suppl 2):S364–369

Bellomo R, Kellum JA, Ronco C et al (2017) Acute kidney injury in sepsis. Intensive Care Med 43(6):816–828

Bhaumik D, Scott GK, Schokrpur S et al (2008) Expression of microRNA-146 suppresses NF-kappaB activity with reduction of metastatic potential in breast cancer cells. Oncogene 27(42):5643–5647

Bonizzi G, Bebien M, Otero DC et al (2004) Activation of IKKalpha target genes depends on recognition of specific kappaB binding sites by RelB:p52 dimers. EMBO J 23(21):4202–4210

Cao Z, Henzel WJ, Gao X (1996) IRAK: a kinase associated with the interleukin-1 receptor. Science 271(5252):1128–1131

Cheng HS, Sivachandran N, Lau A et al (2013) MicroRNA-146 represses endothelial activation by inhibiting pro-inflammatory pathways. EMBO Mol Med 5(7):1017–1034

Condor JM, Rodrigues CE, Sousa Moreira R et al (2016) Treatment with human wharton's jelly-derived mesenchymal stem cells attenuates sepsis-induced kidney injury, liver injury, and endothelial dysfunction. Stem Cells Transl Med 5(8):1048–1057

Fleischmann C, Scherag A, Adhikari NK et al (2016) Assessment of global incidence and mortality of hospital-treated sepsis-current estimates and limitations. Am J Respir Crit Care Med 193(3):259–272

Griesing S, Kajino T, Tai MC et al (2017) Thyroid transcription factor-1-regulated microRNA-532-5p targets KRAS and MKL2 oncogenes and induces apoptosis in lung adenocarcinoma cells. Cancer Sci 108(7):1394–1404

Hayden MS, Ghosh S (2004) Signaling to NF-kappaB. Genes Dev 18(18):2195–2224

He G, Zhang X, Chen Y et al (2017) Isoalantolactone inhibits LPS- induced inflammation via NF-kB inactivation in peritoneal macrophages and improves survival in sepsis. Biomed Pharmacother 90:598–607

Horak J, Nalos L, Martinkova V et al (2017) Mesenchymal stem cells in sepsis and associated organ dysfunction: a promising future or blind alley? Stem Cells Int 2017:7304121

Liu SF, Malik AB (2006) NF-kappa B activation as a pathological mechanism of septic shock and inflammation. Am J Physiol Lung Cell Mol Physiol 290(4):L622–L645

Li T, Yan Y, Wang B et al (2013) Exosomes derived from human umbilical cord mesenchymal stem cells alleviate liver fibrosis. Stem Cells Dev 22(6):845–854

Poston JT, Koyner JL (2019) Sepsis associated acute kidney injury. BMJ 364:K4891

Qiao C, Xu W, Zhu W et al (2008) Human mesenchymal stem cells isolated from the umbilical cord. Cell Biol Int 32(1):8–15

Qiu R, Yao W, Ji H et al (2018) Dexmedetomidine restores septic renal function via promoting inflammation resolution in a rat sepsis model. Life Sci 204:1–8

Sagy M, Al-Qaqaa Y, Kim P (2013) Definitions and pathophysiology of sepsis. Curr Probl Pediatr Adolesc Health Care 43(10):260–263

Shi H, Xu X, Zhang B et al (2017) 3,3'-Diindolylmethane stimulates exosomal Wnt11 autocrine signaling in human umbilical cord mesenchymal stem cells to enhance wound healing. Theranostics 7(6):1674–1688

Song IH, Jung KJ, Lee TJ et al (2018) Mesenchymal stem cells attenuate adrismycin-induced nephropathy by diminishing oxidative stress and inflammation via downregulation of NF-kB. Nephrology 23(5):483–492

Sun L, Xu R, Sun X et al (2016) Safety evaluation of exosomes derived from human umbilical cord mesenchymal stromal cell. Cytotherapy 18(3):413–422

Wang B, Jia H, Zhang B et al (2017) Pre-incubation with hucMSC-exosomes prevents cisplatin-induced nephrotoxicity by activating autophagy. Stem Cell Res Ther 8(1):75

Yan Y, Jiang W, Tan Y et al (2017) HucMSC exosome-derived GPX1 is required for the recovery of hepatic oxidant injury. Mol Ther 25(2):465–479

Zhu G, Pei L, Lin F et al (2019) Exosomes from human-bone-marrow-derived mesenchymal stem cells protect against renal ischemia/reperfusion injury via transferring miR-199a-3p. J Cell Physiol 234(12):23736–23749
Acknowledgements
This work was supported by the National Natural Science Foundation of China (Grant 81871496), Zhenjiang Key Laboratory of High Technology Research on Exosomes Foundation and Transformation Application (Grant SS2018003), the Major Research Plan of Jiangsu Higher Education (Grant 15KJA320001), Jiangsu Province's Major Project in Research and Development (Grant BE2016717), and Priority Academic Program Development of Jiangsu Higher Education Institutions (PAPD).
Ethics declarations
Conflict of interest
The authors indicated no potential conflicts of interest.
Additional information
Publisher's Note
Springer Nature remains neutral with regard to jurisdictional claims in published maps and institutional affiliations.
About this article
Cite this article
Zhang, R., Zhu, Y., Li, Y. et al. Human umbilical cord mesenchymal stem cell exosomes alleviate sepsis-associated acute kidney injury via regulating microRNA-146b expression. Biotechnol Lett (2020). https://doi.org/10.1007/s10529-020-02831-2
Received:

Accepted:

Published:
Keywords
AKI

Exosomes

microRNA-146b

NF-kappaB

Sepsis