Abstract
Objectives
To investigate the effect of zero-valent iron and copper (Fe/Cu) micro-electrolysis on dark fermentative hydrogen production from glucose by a mixed bacterial consortium and the possible mechanisms of increasing hydrogen yield.
Results
Compared to zero-valent iron and activated carbon (Fe/C) micro-electrolysis, Fe/Cu micro-electrolysis could increase hydrogen yield by 32.2%, hydrogen production potential by 27.1%, and the maximum hydrogen production rate by 62.0%. Meanwhile, the number of ferrous ions released into the liquid phase with Fe/Cu micro-electrolysis was about 27.0% greater than that released by Fe/C micro-electrolysis, because the dispersion of copper on the surface of iron could markedly improve electrochemical corrosion activity. Metabolic analysis revealed that Fe/C micro-electrolysis promoted acetate formation, which may have been responsible for the observed improvement in fermentative hydrogen production. Further investigation indicated that Fe/Cu micro-electrolysis increased the activity of hydrogenases and stimulated the expression of the [FeFe]-hydrogenase gene.
Conclusion
Fe/Cu micro-electrolysis is better than Fe/C micro-electrolysis or Fe corrosion alone for dark fermentative hydrogen production.
This is a preview of subscription content, log in to check access.
We're sorry, something doesn't seem to be working properly.
Please try refreshing the page. If that doesn't work, please contact support so we can address the problem.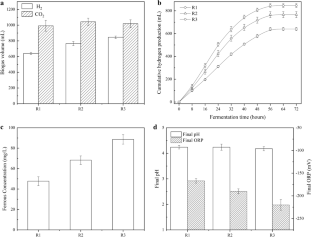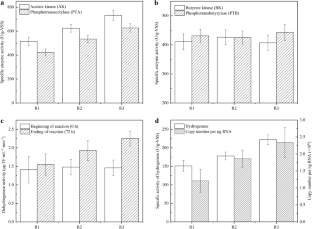 Ethics declarations
Conflict of interest
There is no conflict of interest.
Ethical approval
This article does not contain any studies with human participants or animals performed by any of the authors.
Additional information
Publisher's Note
Springer Nature remains neutral with regard to jurisdictional claims in published maps and institutional affiliations.
About this article
Cite this article
Zhang, L., Xu, D., Kong, D. et al. Improving dark fermentative hydrogen production through zero-valent iron/copper (Fe/Cu) micro-electrolysis. Biotechnol Lett 42, 445–451 (2020). https://doi.org/10.1007/s10529-020-02793-5
Received:

Accepted:

Published:

Issue Date:
Keywords
Dark fermentation

Fe/Cu micro-electrolysis

Hydrogen production

Zero-valent iron