Abstract
Human hemangioblasts exist only during the early embryonic developmental stage thereby limiting the adult cellular source from which to obtain such cells for study. To overcome this, hemangioblast studies have focused on utilizing human embryonic stem cell (hESC) derivatives but current methods are cell-line dependent. Single cell dissociation of a hESC colony quickly led to cell death in most hESC lines due to enzyme treatment which, in turn, reduced induction potential and hemangioblast differentiation efficiency. Therefore, we sought to effectively improve the process of cell dissociation that is adaptable to various hESC lines and increase the initial induction potential of embryoid body (hEB). As a result, we determined an effective cell dissociation method through a comparison study involving various reagents which demonstrated successful dissociation regardless of cell line and enhanced hemangioblast differentiation efficiency.
This is a preview of subscription content, log in to check access.
Access options
Buy single article
Instant unlimited access to the full article PDF.
US$ 39.95
Price includes VAT for USA
Subscribe to journal
Immediate online access to all issues from 2019. Subscription will auto renew annually.
US$ 199
This is the net price. Taxes to be calculated in checkout.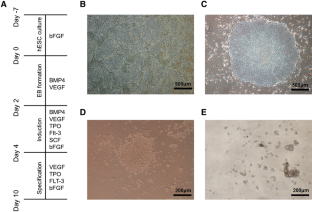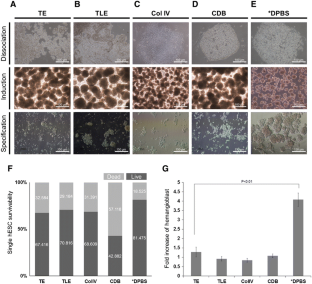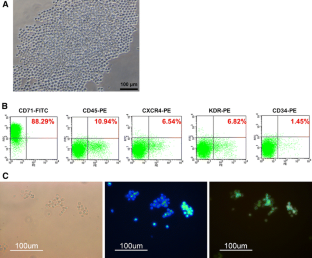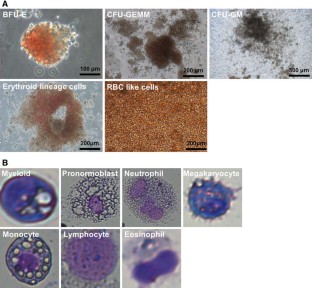 References
Bollerot K, Pouget C, Jaffredo T (2005) The embryonic origins of hematopoietic stem cells: a tale of hemangioblast and hemogenic endothelium. Acta Path Microbiol Immun Scand 113:790–803

Choi K (1998) Hemangioblast development and regulation. Biochem Cell Biol 76:947–956

Choi K (2002) The hemangioblast: a common progenitor of hematopoietic and endothelial cells. J Hematother Stem Cell Res 11:91–101

Cogle CR, Scott EW (2004) The hemangioblast: cradle to clinic. Exp Hematol 32:885–890

Forrai A, Robb L (2003) The hemangioblast–between blood and vessels. Cell Cycle 2:86–90

Forte L, Berardi AC (2013) Stem cell technologies based on hemangioblast technology focusing on human blood cells. Recent Pat Drug Deliv Formul 7:4–8

Huang HL, Hsing HW, Lai TC, Chen YW, Lee TR, Chan HT, Lyu PC, Wu CL, Lu YC, Lin ST, Lin CW, Lai CH, Chang HT, Chou HC, Chan HL (2010) Trypsin-induced proteome alteration during cell subculture in mammalian cells. J Biomed Sci 17:36

Jaffredo T, Bollerot K, Sugiyama D, Gautier R, Drevon C (2005a) Tracing the hemangioblast during embryogenesis: developmental relationships between endothelial and hematopoietic cells. Int J Dev Biol 49(2–3):269–277

Jaffredo T, Nottingham W, Liddiard K, Bollerot K, Pouget C, de Bruijn M (2005b) From hemangioblast to hematopoietic stem cell: an endothelial connection? Exp Hematol 33:1029–1040

Kennedy M, D'Souza SL, Lynch-Kattman M, Schwantz S, Keller G (2007) Development of the hemangioblast defines the onset of hematopoiesis in human ES cell differentiation cultures. Blood 109:2679–2687

Kim JM, Moon SH, Lee SG, Cho YJ, Hong KS, Lee JH, Lee HJ, Chung HM (2011) Assessment of differentiation aspects by the morphological classification of embryoid bodies derived from human embryonic stem cells. Stem Cells Dev 20:1925–1935

Liao W, Ho CY, Yan YL, Postlethwait J, Stainier DY (2000) Hhex and scl function in parallel to regulate early endothelial and blood differentiation in zebrafish. Development 127:4303–4313

Lu SJ, Feng Q, Caballero S, Chen Y, Moore MA, Grant MB, Lanza R (2007) Generation of functional hemangioblasts from human embryonic stem cells. Nat Methods 4:501–509

Lu SJ, Feng Q, Park JS, Vida L, Lee BS, Strausbauch M, Wettstein PJ, Honig GR, Lanza R (2008) Biologic properties and enucleation of red blood cells from human embryonic stem cells. Blood 112:4475–4484

Lu SJ, Lee RJ, Napoli C, Oh S, Kimbrel EA, Feng Q (2011) The promise and therapeutic potential of human ES and iPS cells. Stem Cells Int 2011:959275

Moon SH, Ju J, Park SJ, Bae D, Chung HM, Lee SH (2014) Optimizing human embryonic stem cells differentiation efficiency by screening size-tunable homogenous embryoid bodies. Biomaterials 35:5987–5997

Murray PDF (1932) The development in vitro of the blood of the early chick embryo. Proc Roy Soc London, Series B 111:497–521

Patterson LJ, Gering M, Eckfeldt CE, Green AR, Verfaillie CM, Ekker SC, Patient R (2007) The transcription factors Scl and Lmo2 act together during development of the hemangioblast in zebrafish. Blood 109:2389–2398

Thomson JA, Itskovitz-Eldor J, Shapiro SS, Waknitz MA, Swiergiel JJ, Marshall VS, Jones JM (1998) Embryonic stem cell lines derived from human blastocysts. Science 282:1145–1147

Zambidis ET, Peault B, Park TS, Bunz F, Civin CI (2005) Hematopoietic differentiation of human embryonic stem cells progresses through sequential hematoendothelial, primitive, and definitive stages resembling human yolk sac development. Blood 106:860–870
Acknowledgments
This study was supported by grant (2011–0019487) from the Bio & Medical Technology Development Program of the National Research Foundation (NRF), and supported by a grant (PJ.00995602) (PJ.00933303) from the Next-Generation BioGreen 21 Program of Rural Development Administration funded by the Korean government.
Supporting information
Supplementary Fig. 1—(A) Captured live image of the cell dissociation process with DPBS which begins at the outer edge of the colony and (B) suriving single cells.
Supplementary Fig. 2—Hemangioblast derivation from CHA15-hESCs using DPBS method. (A) Colonized CHA15-hESCs (B) EB formation (C) derived hemangioblasts and (D) commitment to blood-lineage.
Supplementary Live Image 1—Live image exhibiting the DPBS dissociation process (×4) and captured images at 0, 5, and 10 min.
Additional information
Sung-Hwan Moon, Hoon-Taek Lee and Hyung-Min Chung authors have contributed equally to this paper as corresponding authors.
Electronic supplementary material
Below is the link to the electronic supplementary material.
Supplementary material 3. Live image exhibiting the DPBS dissociation process (x4) and captured images at 0, 5, and 10 min. (WMV 5025 kb)
About this article
Cite this article
Gil, C., Lee, J., Seo, J. et al. Well-defined differentiation of hesc-derived hemangioblasts by embryoid body formation without enzymatic treatment. Biotechnol Lett 37, 1315–1322 (2015). https://doi.org/10.1007/s10529-015-1786-4
Received:

Accepted:

Published:

Issue Date:
Keywords
Cell dissociation

Differentiation

Embryonic development

Hemangioblast

Human pluripotent stem cells