Latitudinal Gradient in 2D:4D
The potential dependence of second-to-fourth digit ratio (2D:4D) on latitude has been discussed in recent papers in this journal (Hurd & van Anders,
2007
; Loehlin, McFadden, Medland, & Martin,
2006
,
2007
). Such an association was first suggested by Manning (
2002
), who proposed that 2D:4D was highest at intermediate latitudes and lowest at the equator and at high latitudes. In their Fig.
1
, Hurd and van Anders (
2007
) plotted the combined data of Loehlin et al. (
2006
) and Manning (
2002
). This figure shows a clear positive latitudinal trend in 2D:4D, except that data from Finland seem an outlier from this otherwise rather linear trend. Thus, the suggestion of low 2D:4D at high latitudes depends critically on these data from Finns.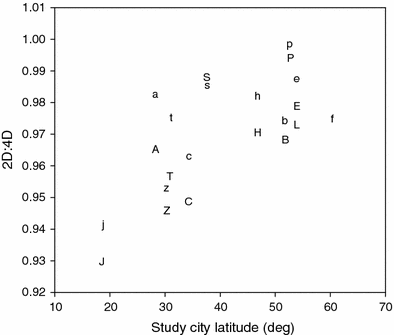 Keywords
Cervical Cancer 
High Latitude 
Northern Latitude 
Sami 
Latitudinal Variation 
These keywords were added by machine and not by the authors. This process is experimental and the keywords may be updated as the learning algorithm improves.
Copyright information
© Springer Science+Business Media, LLC 2008