Abstract
Egypt is the largest producer of farmed mullets worldwide. The mullet seeds are collected from natural waters at the north and northern east of Egypt. Thus, the occurrence of parasitic diseases is relatively high even after being stocked in aquaculture facilities. The current study was conducted on a fish farm located at the coastal area of the Suez Canal region, Egypt. Farmed flathead grey mullet (Mugil cephalus L.) and thin-lipped grey mullet (Liza ramada) showed pinkish-white granular cysts on their body surfaces that measured approximately 5 mm (4–6 mm) in width and 7 mm (5–9 mm) in length and contained a milky coloured exudate. The proximal portion of the fins and apical part of the scales were the only sites of infection. These cysts are randomly scattered throughout the fish body surface. No mortalities were detected among moribund mullets, but these cysts make the fish unsightly, causing commercial rejection. The overall prevalence of infection was 40%. Giemsa-stained wet smears initially indicated that the spores were of Myxobolus species. Subsequently, the phylogenetic analysis of the 18S rRNA gene confirmed the identification of spores as being those of Myxobolus episquamalis. Furthermore, amprolium-salinomycin mixture, which has an established track record for treating myxozoan infections in multiple fish species, was successfully tested in a large-scale field trial. Moribund mullets displayed significant reduction in myxosporean infection following treatment with amprolium-salinomycin mixture. To the best of our knowledge, this is the first report describing the detection of M. episquamalis in farmed flathead grey mullet (Mugil cephalus L.) and thin-lipped grey mullet (Liza ramada) collected from fish farms in the Suez Canal, Egypt.
This is a preview of subscription content, log in to check access.
Access options
Buy single article
Instant unlimited access to the full article PDF.
US$ 39.95
Price includes VAT for USA
Subscribe to journal
Immediate online access to all issues from 2019. Subscription will auto renew annually.
US$ 99
This is the net price. Taxes to be calculated in checkout.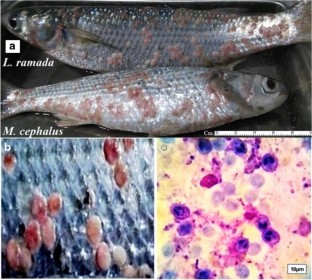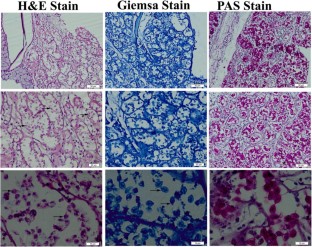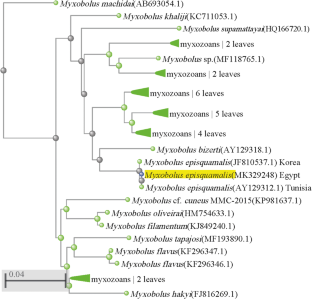 References
Abdelsalam M, Abdel-Gaber R, Mahmoud MA, Mahdy OA, Khafaga NI, Warda M (2016) Morphological, molecular and pathological appraisal of Callitetrarhynchus gracilis plerocerci (Lacistorhynchidae) infecting Atlantic little tunny (Euthynnus alletteratus) in Southeastern Mediterranean. J Adv Res 7:317–326. https://doi.org/10.1016/j.jare.2015.07.004

Asejeva NL (1994) Detection on Myxosoma acutum in pilengas from Japan Sea Izvestiya TINRO 117:157–158

Athanassopoulou F, Karagouni E, Dotsika E, Ragias V, Tavla J, Christofilloyanis P, Vatsos I (2004) Efficacy and toxicity of orally administrated anti-coccidial drugs for innovative treatments of Myxobolus sp. infection in Puntazzo puntazzo. Dis Aquat Org 62:217–226. https://doi.org/10.3354/dao062217

Bahri S, Marques A (1996) Myxosporean parasites of the genus Myxobolus from Mugil cephalus in Ichkeul lagoon, Tunisia: description of two new species. Dis Aquat Org 27:115–122. https://doi.org/10.3354/dao027115

Bahri S, Andree KB, Hedrick RP (2003) Morphological and phylogenetic studies of marine Myxobolus spp. from mullet in Ichkeul Lake, Tunisia. J Eukaryot Microbiol 50:463–470

Bardach JE, Ryther JH, McLarney WO (1974) Aquaculture: the farming and husbandry of freshwater and marine organisms. Wiley

Cho J, Bum, Kwon SR, Lee MK, Huh MD, Kim KH (2006) Myxobolus episquamalis (Myxosporea: Myxobolidae) on the scales of wild mullet, Mugil cephalus L, in Korea. J Fish Pathol 19:1–6

Crosetti D, Blaber SJM (2015) Biology, ecology and culture of grey mullets (Mugilidae). CRC Press

Diamanka A, Fall M, Diebakate C, Faye N, Toguebaye BS (2008) Identification of Myxobolus episquamalis (Myxozoa, Myxobolidae) in flathead mullet Mugil cephalus (Pisces, Teleostei, Mugilidae) from the coast of Senegal (eastern tropical Atlantic Ocean). Acta Adriat 49:19–23

Egusa S, Maeno Y, Sorimachi M (1990) A new species of Myxozoa, Myxobolus episquamalis sp. nov. infecting the scales of the mullet, Mugil cephalus L. Fish Pathol 25:87–91. https://doi.org/10.3147/jsfp.25.87

Eiras JC, D'Souza J (2004) Myxobolus goensis n. sp. (Myxozoa, Myxosporea, Myxobolidae), a parasite of the gills of Mugil cephalus (Osteichthyes, Mugilidae) from Goa, India. Parasite 11:243–248. https://doi.org/10.1051/parasite/2004113243

Eissa AE et al (2015) First record of Vibrio vulnificus/Anisakis pegreffi concurrent infection in black scorpionfish (Scorpaena porcus) from the South Mediterranean Basin. Res J Pharm Biol Chem Sci 6:1537–1548

El-Matbouli M, Hoffmann R (1989) Experimental transmission of twoMyxobolus spp. developing bisporogeny via tubificid worms. Parasitol Res 75:461–464. https://doi.org/10.1007/bf00930973

GAFRD (2016) Fish Statistics Year Book, 26th edn. General Authority for Fish Resources Development, Ministry for Agriculture and Land Reclamation, Cairo

Iskov MP (1989) Myxosporidia (Myxosporea). In: Markevitch AP, Schulman SS (eds) Fauna Ukrainy, vol 37, vol 4. Naukova Dumka, Kiev, p 212

Karagouni E, Athanassopoulou F, Lytra A, Komis C, Dotsika E (2005) Antiparasitic and immunomodulatory effect of innovative treatments against Myxobolus sp. infection in Diplodus puntazzo. Vet Parasitol 134:215–228. https://doi.org/10.1016/j.vetpar.2005.07.020

Kazarnikova AV, Strizhakova TV, Bortnikov ES, Beraldo P, Byadgi OV, Galeotti M (2018) Morphologic characteristic and PCR-identification of Myxobolus episquamalis egusa, Maeno & Sorimachi, 1990, In Grey Mullet Mugil cephalus (Linnaeus, 1758) from Kerch Pre-Strait Area of The Black Sea. Sci South Russ 14:88–97. https://doi.org/10.23885/2500-0640-2018-14-2-88-97

Kim WS, Kim JH, Jang MS, Jung SJ, Oh MJ (2013a) Infection of wild mullet (Mugil cephalus) with Myxobolus episquamalis in Korea. Parasitol Res 112:447–451. https://doi.org/10.1007/s00436-012-3075-7

Kim WS, Kim JH, Oh MJ (2013b) Morphologic and genetic evidence for mixed infection with two Myxobolus species (Myxozoa: Myxobolidae) in gray mullets, Mugil cephalus, from Korean waters. Kor J Parasitol 51:369–373. https://doi.org/10.3347/kjp.2013.51.3.369

Kumar S, Stecher G, Tamura K (2016) MEGA7: Molecular evolutionary genetics analysis version 7.0 for bigger datasets. Mol Biol Evol 33:1870–1874. https://doi.org/10.1093/molbev/msw054

Lane HS, Booth K, Pande A, Jones JB (2015) First report of the myxozoan parasite Myxobolus episquamalis infecting grey mullet (Mugil cephalus) from New Zealand. N Z J Mar Freshw Res 49:173–177. https://doi.org/10.1080/00288330.2014.984729

Lin C, Ho J (1997) Myxobolus episquamalis (Myxosporea) occurring on the scales of the mullet; Liza macrolepis, cultured in Taiwan. J Fish Soc Taiwan 24:193–200. https://doi.org/10.29822/jfst.199709.0002

Liu Y, Whipps CM, Gu ZM, Zeng LB (2010) Myxobolus turpisrotundus (Myxosporea: Bivalvulida) spores with caudal appendages: investigating the validity of the genus Henneguya with morphological and molecular evidence. Parasitol Res 107:699–706. https://doi.org/10.1007/s00436-010-1924-9

Lom J, Arthur JR (1989) A guideline for the preparation of species descriptions in Myxosporea. J Fish Dis 12:151–156. https://doi.org/10.1111/j.1365-2761.1989.tb00287.x

Menezes J (1984) A case of massive cutaneous myxobolosis in wild mullet Bol lnst Nac lnvest Pescas (Lisboa) 12

Negm-Eldin MM, Govedich FR, Davies RW (1999) Gill myxosporeans on some Egyptian freshwater fish. Dtsch Tierarztl Wochenschr 106:459–465

Okonechnikov K, Golosova O, Fursov M, the Ut (2012) Unipro UGENE: a unified bioinformatics toolkit. Bioinformatics 28:1166–1167. https://doi.org/10.1093/bioinformatics/bts091

Ovcharenko M (2015) Microparasites of worldwide mullets. Ann Parasitol 61:229–239. https://doi.org/10.17420/ap6104.12

Overstreet RM, Howse HD (1978) Some parasites and diseases of estuarine fishes in polluted habitats of Mississippi. Ann N Y Acad Sci 298:427–462

Özak AA, Demİrkale İ, Cengİzler İ (2012) Two new records of Myxobolus Bütschli, 1882 (Myxozoa, Myxosporea, Myxobolidae) species from Turkey Turkish. J Zool 36:191–199

Pulsford A, Matthews RA (1982) An ultrastructural study of Myxobolus exlguus Thelohan, 1895 (Myxosporea) from grey mullet, Crenimugil labrosus (Risso). J Fish Dis 5:509–526. https://doi.org/10.1111/j.1365-2761.1982.tb00510.x

Rothwell JT, Virgona JL, Callinan RB, Nicholls PJ, Langdon JS (1997) Occurrence of cutaneous infections of Myxobolus episquamalis (Myxozoa:Myxobolidae) in sea mullet, Mugil cephalus L, in Australia. Aust Vet J 75:349–352

Sadek S (2015) Culture of Mugilidae in Egypt. In: Crosetti D, Blaber SJM (eds) Biology, Ecology and Culture of Grey Mullets (Mugilidae). CRC Press, Boca Raton, pp 501–513

Sadek S, Mires D (2000) Capture of wild finfish fry in Mediterranean coastal areas and possible impact on aquaculture development and marine genetic resources The Israeli. J Aquac 52:77–88

Saleh M (2008) Capture-based aquaculture of mullets in Egypt. In: Lovatelli A, Holthus PF (eds) Capture-based Aquaculture: Global Overview. Food and Agriculture Organization of the United Nations, FAO Fisheries Technical Paper. No. 508. FAO, Rome, pp 109–126

Shvedko MB, Aseev NL (2008) Parasites on mullets from southern far east Russia. In: The Scientific Conference on the Current Status of Aquatic Bio Resources, Vladivostok, pp 316–320

Sogin ML (1990) Amplification of ribosomal RNA genes for molecular evolution studies. In: Innis MA, Gelfand DH, Sninsky JJ, White TJ (eds) PCR Protocols: A Guide to Methods and Applications. Academic Press, Inc, San Diego, pp 307–314

Suvarna KS, Layton C, Bancroft JD (2018) Bancroft's theory and practice of histological techniques e-book. Elsevier Health Sciences

U-Taynapun K, Penprapai N, Bangrak P, Mekata T, Itami T, Tantikitti C (2011) Myxobolus supamattayai n. sp. (Myxosporea: Myxobolidae) from Thailand parasitizing the scale pellicle of wild mullet (Valamugil seheli). Parasitol Res 109:81–91. https://doi.org/10.1007/s00436-010-2223-1

Yambot AV, Lopez EA (1997) Gill parasite, Lamproglena monody, Capart, infecting the Nile tilapia, Oreochromis niloticus L., cultured in Philippines. In: Flegel TW, IH MR (eds) Diseases in Asian Aquaculture III Proceedings of the Third Symposium on Diseases in Asian Aquaculture, Manila. Fish Health Section, Asian Fisheries Society

Yasuda H, Ooyama T, Iwata K, Tun T, Yokoyama H, Ogawa K (2002) Fish-to-fish transmission of Myxidium spp. (Myxozoa) in cultured tiger puffer suffering from emaciation disease. Fish Pathology 37:29–33. https://doi.org/10.3147/jsfp.37.29
Acknowledgements
The authors are grateful to the field veterinarians Mohamed Idrees, Mohamed Elzoghby, Mohamed Shawqy and Moustafa Fathallah for their valuable support during sample collection and processing. Many thanks are also expressed to Dr. NohaElbanna, an assistant lecturer of Fish Diseases at the Suez Canal Fish Farming Technology Institute, for her kind assistance during the initial stages of the clinical and laboratory examinations.
Ethics declarations
Conflict of interest
The authors declare that they have no conflict of interest.
Ethical approval
All applicable international, national and/or institutional guidelines for the care and use of animals were followed by the authors.
Additional information
Publisher's note
Springer Nature remains neutral with regard to jurisdictional claims in published maps and institutional affiliations.
Highlights
• This is the first report documenting the infection of farmed flathead grey mullet (Mugil cephalus L.) and thin-lipped grey mullet (Liza ramada) by M. episquamalis in the Suez Canal, Egypt.
• The infected fish showed numerous masses of cystic-like plasmodia attached to the outer surface of the apical regions of scales.
• These cysts make the fish unsightly, causing commercial rejection
• This finding indicates that ecosystem changes in the Suez Canal region have possibly resulted in the appearance of such parasites in mullets.
• Moreover, the study assures the presence of an efficient/responsive treatment strategy for emergent cases of M. episquamalis infections.
About this article
Cite this article
Eissa, A.E., Abolghait, S.K., Younis, N.A. et al. Myxobolus episquamalis infection in farmed flathead grey mullet Mugil cephalus L. and thin-lipped mullet Liza ramada. Aquacult Int 28, 363–376 (2020). https://doi.org/10.1007/s10499-019-00467-2
Received:

Accepted:

Published:

Issue Date:
Keywords
Flathead grey mullet

Mugil cephalus

Thin-lipped grey mulle

Liza ramada
Myxobolus episquamalis

Scales

Granular cyst–like plasmodia

Suez Canal