Negative regulators of cell death pathways in cancer: perspective on biomarkers and targeted therapies
Abstract
Cancer is a primary cause of human fatality and conventional cancer therapies, e.g., chemotherapy, are often associated with adverse side-effects, tumor drug-resistance, and recurrence. Molecularly targeted therapy, composed of small-molecule inhibitors and immunotherapy (e.g., monoclonal antibody and cancer vaccines), is a less harmful alternative being more effective against cancer cells whilst preserving healthy tissues. Drug-resistance, however, caused by negative regulation of cell death signaling pathways, is still a challenge. Circumvention of negative regulators of cell death pathways or development of predictive and response biomarkers is, therefore, quintessential. This review critically discusses the current state of knowledge on targeting negative regulators of cell death signaling pathways including apoptosis, ferroptosis, necroptosis, autophagy, and anoikis and evaluates the recent advances in clinical and preclinical research on biomarkers of negative regulators. It aims to provide a comprehensive platform for designing efficacious polytherapies including novel agents for restoring cell death signaling pathways or targeting alternative resistance pathways to improve the chances for antitumor responses. Overall, it is concluded that nonapoptotic cell death pathways are a potential research arena for drug discovery, development of novel biomarkers and targeted therapies.
Keywords
Cancer targeted therapy 
Drug resistance 
Cell death pathway 
Negative regulator 
Biomarker 
Immunotherapy 
Introduction
Cancer is a primary cause of human fatality with a global economic toll of approximately US$1.4 trillion per annum. It is estimated that ~ 12 million people will annually die of cancer by 2030 [1]. Conventional cancer therapies, e.g., chemotherapy or radiotherapy, usually interrupt vital cellular events such as DNA replication and microtubule assembly in all living cells and are often associated with adverse side-effects, tumor drug-resistance, and recurrence [2]. The prime challenge in conventional therapies is that malignant tissues acquire adaptive phenotypes rapidly and consequently evolve drug-resistance through somatic evolution [3]. Amongst other mechanisms, a dominant path for development of drug-resistance is inhibition of cell death signaling pathways [4], e.g., apoptosis, ferroptosis, necroptosis, autophagy, and anoikis, which are initially crucial for tissue development and homeostasis. De-regulation of cell death principally leads to pathological disorders like cancer where inhibition of cell death promotes carcinogenesis, and tumor progression [5], i.e., the induction of negative regulators suppresses cell death mechanisms during oncogenesis. For example, resistance to apoptosis has been known as the hallmark of cancer which is important during tumorigenesis as well as in the development of drug-resistance [6]. Thus, to overcome cancer drug-resistance, it is critical to deactivate the negative regulators of cell death pathways, to obtain predictive response biomarkers, and to develop "companion diagnostics" [2, 7].
Unlike conventional therapies, "molecularly targeted therapy" [2] is the application of substances that mechanistically block or interfere with specific molecules which are involved in cancer-related signaling pathways, thus, causing less harm to healthy cells. Targeted therapies are composed of small-molecule inhibitors (SMIs) and immunotherapy (e.g., monoclonal antibody) (Supplementary Video 1) [2].
The objectives of this review are: (i) to critically evaluate knowledge on the mechanism of targeting the negative regulators of cell death signaling pathways; (ii) to discuss recent advances in clinical and preclinical research on biomarkers of negative regulators to improve clinical outcomes for precise diagnosis and effective cancer therapy. This may help develop a better combination of therapeutics including novel agents restoring cell death signaling pathways or targeting alternative resistance pathways to improve the chances for antitumor responses in clinical trials. In addition, potential negative regulators for targeted therapy and biomarkers have been enlisted in this review but, as research is currently nascent, rigorous discussion would be premature at present.
Apoptosis
Apoptosis is the most investigated mechanism of cell death [8], which plays a crucial role in intrinsic tumor suppression. Defective apoptosis, therefore, represents a primary contributing factor in the development and progression of cancer and plays a remarkable part in resistance of tumor cells to conventional therapies [6, 9].
Typical morphological features of apoptosis include shrinkage of the cell, chromatin condensation, DNA fragmentation, mitochondrial membrane potential (ΔΨm) dissipation and blebbing of the plasma membrane [9]. Cysteine aspartate-specific proteases (caspases) are a distinctive characteristic of apoptosis, as they serve as initiators and executioners of the apoptotic signaling cascade [8, 10].
Central signaling pathways of apoptosis
To date, two principal mechanisms for apoptosis have been proposed, i.e., intrinsic and extrinsic.
The intrinsic pathway is mediated by changes in mitochondrial permeability which subsequently leads to dissipation of Δψm, mitochondrial swelling, rupture of the outer mitochondrial membrane and the release of cytochrome-c, "apoptosis-inducing factor" (AIF), "second mitochondria-derived activator of caspase" (Smac), also known as "direct IAP-binding protein with low isoelectric point (pI)" (DIABLO), into the cytosol. The cytoplasmic release of cytochrome-c activates caspase-3 via the formation of a complex known as apoptosome. Alternatively, Smac/DIABLO promotes caspase activation by binding to "inhibitor of apoptosis proteins" (IAPs). The intrinsic pathway is tightly regulated by the B-cell lymphoma 2 (Bcl-2) family proteins (Fig. 1) [8, 9].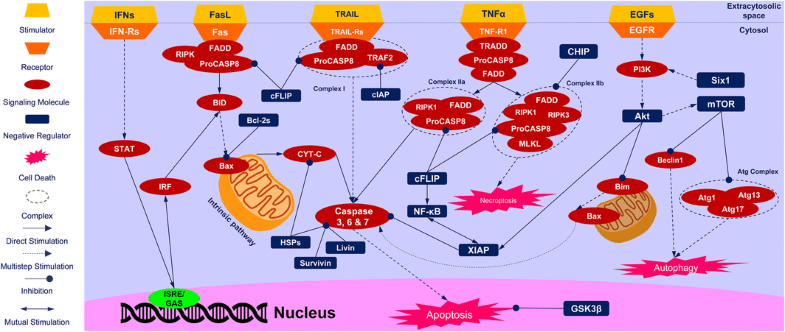 Additionally, intrinsic apoptosis is stimulated by cytokines like interferons (IFNs) through activation of interferon receptors (IFN-Rs) [11]; however, induction of Fas-mediated apoptosis by interferons also has repeatedly been reported [12]. Subsequently, a group of genes, called "IFN stimulated genes" (ISGs) are activated, leading to upregulation of "IFN regulatory factors" (IRFs) (Fig. 1). Interferon induced-apoptosis is the cause of cell death in many cancers, e.g., ovarian, colorectal, and bladder cancers [11, 13].
The extrinsic pathway involves direct activation of caspase cascades through "death receptors" (DRs) on the cell surface [4]. The DRs are a subset of receptors of the "tumor necrosis factor" (TNF) superfamily, characterized by a cytoplasmic region also known as the "death domain," which is essential for cell death induction. The best-known DRs include "TNF-receptor-1" (TNF-R1/p55/CD120a), "TNF-related apoptosis-inducing ligand-receptor-1" (TRAIL-R1/DR4), "TNF-related apoptosis-inducing ligand-receptor-2" (TRAIL-R2/DR5/APO-2/KILLER), and Fas (CD95/APO-1) [14]. The most common death ligands are TNF, Fas ligand (FasL) and TRAIL (syn. Apo2L) [4].
In Fas and TRAIL-Rs, upon binding of the ligand to the receptor, receptor aggregation occurs, facilitating the recruitment of adapter proteins like "Fas-associated death domain" (FADD), and procaspase-8 (Fig. 1), leading to the formation of the "death-inducing signaling complex" (DISC). Subsequently, procaspase-8 is converted to activated caspase-8 which initiates apoptosis by cleaving other downstream or executioner caspases, e.g., caspase-3, -7 (Fig. 1) [15].
In contrast, "TNF receptor-associated death domain" (TRADD) plays a key role in the formation of the TNF-R1 signaling complex [16]. Subsequently, complex IIa or IIb are formed to execute either apoptosis or necroptosis, respectively (Fig. 1).
Likewise, DRs have pleiotropic signaling properties and engage in nonapoptotic activities such as regulation of cell proliferation and differentiation, inflammatory responses, chemokine production, and tumor-promoting activities which potentially cause a hurdle in targeted therapy. For example, while TRAIL can selectively induce death in tumorous cells [17], it also activates nonapoptotic signaling pathways, such as "nuclear factor-κB" (NF-κB), "mitogen-activated kinases" (MAPKs), in cancer cells [18]. Nevertheless, TRAIL and agonistic TRAIL-R-specific antibodies are currently in clinical development for cancer-targeted therapy [18]; likewise, a first-in-class small molecule TRAIL inducer, imipridone ONC201 was well-tolerated in phase II clinical trial for advanced refractory solid tumors [17].
In contrast to the canonical role of apoptosis against cancer cells, accumulating evidence shows that some factors in the process of apoptosis can also promote carcinogenesis and tumor progression. For example, Fas promotes tumorigenesis [19], and TRAIL-R can exacerbate metastasis through accumulating tumor-supportive immune cells in the cancer microenvironment [20].
Negative regulators of apoptosis
Tumor cells evolved to escape apoptotic cell death [21]. Negative regulation of apoptosis inhibits cell death signaling pathways. Several families of proteins act as negative regulators categorized into either antiapoptotic factors, e.g., IAPs and Bcl-2 proteins or prosurvival factors like "cellular FLICE-like inhibitory protein" (cFLIP) and NF-κB (Fig. 1) (Table 1) [8, 9, 22, 23].
Table 1
Negative regulators of cell death signaling pathways, their targets, inhibitors and biomarkers in cancer therapy
Cell death

Negative regulator

Biological action

Inhibitor/therapeutic

Biomarker

Apoptosis

Akt

Inhibition of proapoptotic Bcl-2 family members

ATP-competitive inhibitors and Akt inhibitors, e.g., MK2206, perifosine. RX-0201, and PBI-05204

Overexpressed in colon, ovarian and breast cancers

Bcl-2s

Proapoptotic factors, e.g., Bak and Bax, are restrained by antiapoptotic factors like Bcl-2, Bcl-xL, and Mcl-1

Navitoclax, venetoclax, and obatoclax

Prognosis of breast cancer. BH3 profiling for the sensitivity of lymphomas

IAPs

Inhibiting the activity of caspases 3,7–9 and regulating cell survival signaling pathways, e.g., NF-κB through ubiquitination

siRNA, survivin-based vaccine (SurVaxM™)

High expression in breast, lung and bladder cancers

Smac-mimetic, SM-164, cytarabine, and staurosporine (only for XIAP)

Diagnosis of urinary bladder and prognosis of breast invasive ductal and prostate cancers

NF-κB

Inducing expression and, regulation of IAPs

Thalidomide, bortezomib, arsenic trioxide, IT-901, PBS-1086, DHMEQ and curcumin

Overexpressed in HCC, colorectal, breast, prostate cancers, leukemia, lymphomas, and multiple myeloma

Six1

Interacting with the Eya family members

Allosteric inhibitors, e.g., N-arylidenebenzohydrazide compounds

Progression of prostate, poor prognosis in ovarian and cervical cancers

Autophagy

mTOR

Repressing the Atg complex

Rapalogs, e.g., everolimus and temsirolimus, and dual PI3K/mTOR inhibitors

Potential predictive protein and genetic biomarkers for companion diagnostic

Necroptosis

CHIP

Inhibiting the formation of RIPK1–RIPK3 necrosome

N/A

Prognosis of postmenopausal breast cancer and poor prognosticator of gallbladder carcinoma

Ferroptosis

GPX4

Converting reduced GSH to GSSG

In vitro gene-therapy by knockdown of GPX4 gene

Diagnosis and prognosis of HCC

System Xc−

Importing cystine into the cell

Sulfasalazine, erastin, sorafenib and artesunate

N/A

NFE2L2

Regulation of antioxidant proteins

Erastin, sorafenib, and gene therapy

N/A

Iron transport

Deregulation of ferroportin and transferrin

Lapatinib and siramesine

N/A

Multi-functional*

cFLIP

Anti-necroptosis: cFLIPL interferes with complexIIb

Proteasome inhibitor PS-341, oxaliplatin, cycloheximide, anisomycin, actinomycin D, bortezomib (only cFLIPL), ITF2357 and valproic acid

Diagnosis of Hodgkin's lymphoma colorectal, urothelial and bladder cancers

Antiapoptosis: binding with FADD and regulation of DISC (cFLIPS and cFLIPR)

Anti-autophagy: inhibition of Atg3 (only cFLIPR)

EGFR

Activation of PI3K/Akt/mTOR pathway

CIMAvax-EGF™, EGFR-inhibitors, cetuximab, panitumumab and trastuzumab, TKIs, e.g., erlotinib and gefitinib

Predictor of drug-resistance in NSCLC patients

FADD

Overexpression of FADD is related to antiapoptosis resistance. Induction of necroptosis

Prodigiosin compound, kinase inhibitor NSC47147

Prognosis of early-stage glottic cancer

HSPs

Antiapoptosis: Inhibition of caspase activation. Antiferroptosis: phosphorylation of HSP27 regulates iron uptake

HSP70-inhibitors, HSP90-inhibitors (e.g. geldanamycin and radicicol derivatives), erastin and HSP1-CTL vaccine

Indicating drug-resistance in breast cancer and leukemia. Overexpressed HSP70 is a poor prognosticator of colorectal cancer. Overexpressed HSP27 is a poor prognosticator of gastric liver cancers
Anoikis
Upon cell detachment from an extracellular matrix, cells undergo a particular type of apoptosis, which is termed "anoikis," limiting attachment to inappropriate matrices and anchorage-independent cell growth [72]. Anoikis inactivation plays a key role in cancer metastasis. Anoikis-resistance develops through biochemical mechanisms such as oncogene activation, eliciting antiapoptotic/prosurvival signals (e.g., MAPK and the PI3K/Akt/mTOR pathway), overexpression of growth factor receptors and a change in the repertoire of integrins (α5β1,αvβ3, α1β1 and α6β1), allowing detached cells to grow in different tissues [72].
Overall, knowledge on anoikis is still in its infancy, and identifying promising pharmacological targets for antimetastatic cancer therapy in future will require a bettered understanding of all signaling pathways [72].
Necroptosis
Necroptosis is a caspase-independent type of cell death induced by the TNF-receptor superfamily and executed by the "receptor-interacting protein kinase-1" (RIPK1), RIPK3, and "mixed lineage kinase domain-like protein" (MLKL) [73], resulting in reduced ATP levels and "poly (ADP-ribose) polymerase-1" (PARP1) hyperactivation [10]. Morphologically necroptotic cells demonstrate some common features like moderate chromatin condensation, cytoplasmic swelling, and rupture of the plasma membrane [10].
Recently, necroptosis-based cancer therapy, exploiting a distinctive molecular pathway for regulation of necroptosis, has been proposed as an alternative approach to overcome apoptosis-resistance, [73]. For example, necroptotic cells release highly immunogenic "damage-associated molecular patterns" (DAMPs), initiating adaptive immunity. These dying cells can also activate NF-κB to express cytokines, recruiting macrophages [74]. Thus, the unique capability of necroptosis to evoke immune cells at the tumor site may improve the efficacy of checkpoint-blockade during immunotherapy administration [74]. Furthermore, combining checkpoint-blockade and vaccination with necroptotic cells can enhance clinical outcomes [74]. However, in cancers with necroptosis-resistance, this therapy might be less effective [73, 74]. More detailed information can be found in the following review articles [73, 74]. To date, although little is known about negative regulators of necroptosis, the "carboxyl terminus of HSC-70 interacting protein" (CHIP), cFLIP and FADD appear to be potential targets.
CHIP is an E3 ligase with tetratricopeptide as a chaperone-binding motif, which regulates several tumor suppressor proteins, e.g., p53, and "phosphatase and tensin homolog" (PTEN), protecting cells from apoptosis. However, the role of CHIP in nonapoptotic cell death signaling is controversial [75]. It has been reported that CHIP negatively regulates necroptosis through ubiquitylation- and lysosome-dependent degradation of RIPK1–RIPK3 necrosome (Table 1) [76].
cFLIP splice variants regulate necroptosis through preventing caspase-8 activation at the DISC. cFLIPS can promote RIPK1/3-dependent necroptosis induction. In contrast, cFLIPL inhibits necroptosis jointly with caspase-8; formation of cFLIPL/caspase-8 heterodimers resulting in localized caspase-8 activity and consequent inactivation of RIPK1 and RIPK3 (complex IIb) [23]. Accordingly, cFLIPL might be considered as a potential target to restore necroptotic cell death.
FADD is also implicated in several DR-induced nonapoptotic activities including embryogenesis, cell-cycle progression, cell proliferation, tumorigenesis [50], and supposedly negatively regulates necroptosis. Most of these nonapoptotic activities are regulated by the levels of pFADD forming the complex IIb (Fig. 1) [77].
Autophagy
Starvation and hypoxic conditions or high temperature activate "autophagy" as an essential mechanism of cell survival, via recycling of intracellular components [59, 78]. Overactivated autophagy can promote cell death, termed "autophagic cell death." Autophagy is, however, simultaneously a double-edged sword contributing to either tumor cell death or survival [59, 78]. For example, EGFR is a regulator that determines the fate of autophagy (see sections "Apoptosis" and "EGFR") [59]. Overall, the role of autophagy in development of cancer is controversial and appears to be prosurvival which promotes tumorigenesis/metastasis and allows tumors to escape immunosurveillance [59]. Furthermore, autophagic cell death attenuates apoptosis [78].
The context of autophagy induction is critical to using drugs to inhibit or activate autophagy with the aim of ensuring cancer cells die. Autophagy activators and inhibitors have been broadly used to study autophagy; however, discovering potential therapeutics to modulate autophagy is still a significant challenge and drugs should be selected based on the type and stage of cancer progression [78]. For instance, chloroquine compounds are assumed to diminish autophagy-dependent resistance to chemotherapy [4]; particularly, hydroxychloroquine inhibits autophagy in cancer cells and restores sensitivity to endoplasmic reticulum pathway inhibitors, such as tamoxifen [4]. In contrast, mTOR inhibitors activate autophagy leading to cell death in cancer [4, 79].
Negative regulators of autophagy, e.g., mTOR, cFLIP, and EGFR are orchestrated to function at multilevel within the autophagy cascade (Figs. 1, 2). Incidentally, even the end-products of autophagic digestion may serve as a negative-feedback regulatory mechanism to preclude prolonged activity [78, 80].
mTOR is a phosphoinositide-3-kinase-related kinase at the crossroads of multiple survival, oncogenic and metabolic pathways which also plays a role as a negative regulator of autophagic signaling pathways. mTOR represses the Atg complex which is essential for the initiation of autophagosome formation [79, 80], leading to tumorigenesis and angiogenesis via the PI3K/Akt/mTOR signaling pathway [58] (Figs. 1, 2).
mTOR inhibitors have been in use since the 1980s; for instance, rapamycin showed a broad anticancer activity. However, its clinical development was impeded by significant inter- and intrapatient variability [58]. Subsequently, rapamycin analogs, namely rapalogs, e.g., temsirolimus, everolimus, and ridaforolimus, were developed with more favorable pharmacokinetic properties (Table 1) [58]. In 2007, temsirolimus (Torisel™) was approved by the FDA for the treatment of advanced RCC; later, in 2009, it was authorized by the European Union for treatment of patients with mantle cell lymphoma [58, 79]. Everolimus, despite metabolic and immune-related side-effects, was also approved by the FDA for some malignancies, e.g., advanced RCC and kidney cancer [58, 81]. Subsequently, third generation compounds, so-called "dual PI3K/mTOR inhibitors" are being preclinically tested due to the potential advantage of simultaneous inhibition of both PI3K and mTOR leading to the strongest inhibition of the whole PI3K/Akt/mTOR pathway and induction of autophagy (Fig. 1) [58].
It is noteworthy that induction of autophagy may represent a mechanism of resistance, protecting cancer cells from mTOR inhibitors [58]. Research suggests triple knockdown of Atg7, Atg5 and Atg3 genes and treatment with hydroxychloroquine overcome the resistance to mTOR inhibitors, leading to induction of apoptosis in mantle cell lymphoma. Thus, these results suggest that counteracting autophagy might represent a potential strategy for sensitizing lymphoma cells to everolimus-based therapy (Table 1) [58].
Recently, it has been shown that activators of "AMP-activated protein kinase" (AMPK) can induce autophagy and apoptosis through inhibition of the mTOR complex. It has also been proposed that activators of the AMPK pathway may be administrated in combination with mTOR-specific inhibitors like rapalogs, to enhance antitumor efficacy [82]. It is noteworthy that activating the AMPK pathway may influence the Warburg effect in cancer cells [83]. For example, activated AMPK negatively regulates the Warburg effect suppressing tumor growth [84]. Therefore, care must be exercised before employing such therapies [82].
EGFR and its downstream targets of the PI3K/Akt/mTOR pathway negatively regulate autophagy. Mechanistically, mTOR binds to Beclin-1 leading to decreased Beclin-1 associated kinase activity and reduced autophagy (Fig. 1) [60].
Anticancer therapeutics that target EGFR include (i) anti-EGFR antibodies, such as trastuzumab that, inhibit ligand binding (see section "Immunotherapy") [59], and (ii) "tyrosine kinase inhibitors" (TKIs), particularly erlotinib and gefitinib, which block EGFR intracellular tyrosine kinase activity [59]. TKI therapy, however, restores autophagy and improves the survival of breast and lung cancer patients (Table 1) [59, 60]. To date, several EGFR-TKIs have been approved by FDA for treatment of NSCLC, e.g., afatinib, erlotinib, gefitinib, and osimertinib. More detailed information can be found in the recently published review article [85]. However, small-molecule TKIs have shown a limited clinical advantage in the most of the solid tumors [60], as the application of EGFR-TKIs play a protective role in some cancer cells [59].
cFLIP inhibits Atg3-mediated autophagy through inhibition of autophagosomal membrane elongation (Fig. 2) [80].

Ferroptosis
Ferroptosis has been recently described as an iron-dependent, oxidative type of cell death [67], which is morphologically characterized by the presence of smaller than normal condensed mitochondria, reduction or vanishing of mitochondrial cristae, and outer mitochondrial membrane rupture [10, 86].
Central mediators of ferroptosis are iron metabolism and lipid peroxidation signaling including iron and reactive oxygen species (ROS) accumulation, activation of MAPKs, the release of arachidonic acid mediators, Δψm dissipation, inhibition of system Χc− with decreased cysteine uptake, glutathione (GSH) depletion and increased NADPH oxidation [10, 67].
FDA-approved anticancer therapeutics like sulfasalazine, sorafenib and artesunate can inhibit the growth of cancer cells by induction of ferroptosis in both a Ras-dependent and -independent manner, representing a promising prospect for cancer therapy [10]. Overall, there is the potential of using iron- and ROS-dependent death for the treatment of cancer. Preclinical studies show that SMIs can be valuable anticancer agents to control cancer stem cell populations [87]. SMIs can target nodes in the cellular glutathione antioxidant network; for example, parthenolide and phenylethyl isothiocyanate target the catalytic subunit of glutamate cysteine ligase, glutathione peroxidase, and glutathione; sulfasalazine and erastin target system Xc− [87].
Ferroptosis research, however, is in its infancy and further investigation of the mechanisms involved will be necessary to manage ferroptosis-based therapeutic intervention and challenges. For example, following erastin treatment in HeLa cells the phosphorylation of HSP27 induces ferroptotic resistance through blocking cytoskeleton-mediated iron absorption [10].
The following section will discuss the potential application of negative regulators of ferroptosis for targeted therapy (Table 1):
Glutathione peroxidase-4 (GPX4) converts reduced GSH to "oxidized glutathione" (GSSG) while reducing lipid hydroperoxides to alcohols or free hydrogen peroxide to water. Knockdown of GPX4 restores ferroptosis in an iron-, MAPK-, and ROS-dependent manner, whereas overexpression of GPX4 leads to ferroptosis resistance (Table 1) [10, 86].
System Xc− is an amino acid antiporter, which imports cystine into the cell in exchange with glutamate, where cystine is reduced to cysteine to then synthesize the antioxidant GSH. Inhibition of system Xc− with sulfasalazine or erastin can trigger ferroptotic cell death in cancer cells [10, 87].
Nuclear factor erythroid-derived 2-like 2 (NFE2L2) is a transcription factor that regulates the expression of antioxidant proteins. NFE2L2 has an anti-ferroptosis role and knockdown of NFE2L2 gene in HCC enhanced erastin- or sorafenib-induced ferroptotic cell death [10].
Iron transport can induce ferroptosis in breast cancer cells following treatment with siramesine or lapatinib [88] by downregulating and upregulating expression of ferroportin and transferrin, respectively, leading to increased cellular iron (ferroportin releases Fe2+ from cells, and the "transferrin receptor-1" (TfR1) mediates the cellular iron uptake by endocytosing transferrin). Iron catalyzes Fenton reactions and enhances ROS generation resulting in cell death [88].
Immunotherapy
Typically, any mutated tumor cell is detected and destroyed by the "immunosurveillance" network, consisting of innate (e.g., phagocytes) and adaptive immune systems (e.g., lymphocyte, T and B-cells). In a malignancy state, however, tumors establish an "immunosuppressive" microenvironment to escape immunosurveillance [89]. Modulating the immune system to lessen immunosuppression, and to enhance antitumor immunity is called "immunotherapy" which is being developed to overcome the limitations of conventional cancer therapies such as poor survival rates and recurrence in patients [89]. Hence, understanding immunosuppressive network in tumors is essential for developing effective cancer immunotherapy strategies [89]. To date, among different strategies, antibody-based therapy and vaccination have been administrated for targeting negative regulators of cancer cell deaths.
Antibody-based therapy Monoclonal antibodies target tumor-associated antigens, for example, trastuzumab and cetuximab target EGFR2 and EGFR, respectively; evoking cell death by blocking growth and survival pathways. Additionally, the innate immune response can also be triggered through mechanisms such as antibody-dependent cell-mediated cytotoxicity [59, 89, 90].
Vaccination Therapeutic cancer vaccines are administrated to patients in order to eradicate cancer cells while not harming healthy cells by evoking immune responses [89, 91]. Cancer vaccines, which have been thus far developed to target negative regulators of cell death, can be categorized into dendritic cell (DC)-based vaccines (e.g., survivin DC-based vaccine), peptide-based vaccines (e.g., SurVaxM™), and protein-based vaccines (e.g., CIMAvax-EGF™).
Biomarkers
Biomarkers include proteins (e.g., enzymes or receptors), nucleic acids (e.g., microRNA), antibodies, and peptides, used in oncology for risk assessment, screening, diagnosis, prognosis, prediction of response to treatment, and monitoring of tumor progression [104]. Biomarkers are detected in the circulation (whole blood, serum, and plasma), excretions/secretions (e.g., urine, sputum), or tissue-derived by biopsy [104].
Biomarker profiling, as a core technic for "personalized medicine," also can categorize the patients based on individuals' genomes, thus, enabling predicting cancer risk, prescribing a unique and precise treatment strategy, and customizing medical care for individual patients [7].
Overexpression, downregulation or mutation as well as alterations in the expression pattern of proteins, indicating drug-resistance like Bax, Bcl-2, NF-κB, and survivin, can be detected in tissues using immunohistochemistry, ELISA, and cytometric bead-based assays [105]. For instance, expression levels of survivin, which is critical for apoptosis resistance in NSCLC, is assessed using ELISA [106].
Moreover, in oncology drug research programs, companion diagnostic assay measures a specific biomarker or combination of biomarkers to predict whether a patient is likely to benefit from the drug in question [107]. For example, the expression profile of prosurvival Bcl-2 members (e.g., Bcl-2, Bcl-xL, and Mcl-1) can predict pharmacological response to venetoclax in multiple myeloma models [108].
To date, several negative regulators of cell death signaling pathways have been clinically used as biomarkers (Table 1).
HSPs Given the strong correlation between HSPs expression profiles and tumor progression, there was an interest in using HSPs as diagnostic biomarkers [109]. Lack of specificity and broad expression of HSPs in several diseases has hampered progress. Nonetheless, their potential application as biomarkers in conjunction with other specific tumor markers can be considered to improve therapeutic strategies, including using HSP inhibitors [109].
HSP70 Mitochondrial HSP70 (mortalin), is involved in cell cycle regulation, cellular senescence, and immortalization pathways [109]. Overexpression of mortalin in colorectal adenocarcinoma is correlated with a poor prognosis. To date, the correlation between HSP70 overexpression with therapeutic resistance, differentiation level and aggressiveness of various types of cancer has been confirmed. For example, HSP70 overexpression was reported in different tumors such as gastric adenocarcinoma, hepatocarcinoma, and oesophageal cancer [109].
HSP27 The expression is associated with poor prognosis in gastric, liver, prostate carcinomas, and osteosarcoma. It is also implicated in drug-resistance in breast cancer and predicts poor response to chemotherapy in leukemia patients [110].
The Bcl-2 family Given the fundamental role of the Bcl-2 family proteins in mediating the apoptotic response to anticancer drugs, there has been an increasing interest in considering them as potential biomarkers to predict treatment response. For instance, "BH3 profiling" technic has been developed for measuring the aggregate state of antiapoptotic Bcl-2 proteins at the mitochondrion thus predicting cellular responses to stimuli [111]. Thus far, BH3 profiling has been successfully used to predict chemotherapeutic sensitivity of lymphoma cell lines and clinical response of acute lymphoblastic leukemia, acute myelogenous leukemia, multiple myeloma and ovarian cancer [5].
Additionally, the Bcl-2 family proteins are a prognostic biomarker [112], and their overexpression is associated with many cancers, e.g., breast and prostate cancers, enabling use as a predictive biomarker in patients (Table 1) [113].
Survivin Overexpression of survivin is consistently associated with poor clinical outcome, high tumor grade cancers, and recurrence, as expression levels are low in healthy tissues [114]. Survivin gene polymorphism influences tumor aggressiveness and survival of cancer patients thus emerging as a powerful tool to be used in cancer prognosis, diagnosis, and development of anticancer therapies [114]. Detection of survivin in serum and urine is considered for the diagnosis of many cancers such as breast, bladder and lung cancers [114].
XIAP Upregulation of XIAP in tumor cells [8] has been proposed as an independent prognostic biomarker of breast invasive ductal, urinary and bladder carcinomas [25]. High XIAP expression is also associated with a reduced risk of tumor recurrence and has been suggested as a prognosticator of prostate cancer recurrence [115].
cFLIP Elevated expression of cFLIP is frequently identified in malignant tumors correlating with a poor prognosis [21] and diagnosis of various malignancies (Table 1) [116, 117].
FADD Overexpression of pFADD has been suggested as a clinical prognostic biomarker (Table 1) [118], and typically infers poor clinical outcome which is due to the ability of pFADD to stimulate the antiapoptotic actions of NF-κB [50].
CHIP Overexpression of CHIP is a prognosticator in postmenopausal breast cancer patients [119]. It, however, indicates poor prognosis in gallbladder carcinoma [120].
PI3K/Akt/mTOR pathway Predictive protein biomarkers (phosphorylated S6, Akt) and genetic biomarkers (e.g., "phosphoinositide-3-kinase catalytic subunit alpha" (PIK3CA) mutation and PTEN loss of function) are investigated in preclinical studies to identify patients most likely to benefit from inhibitors of the PI3K/Akt/mTOR pathway (see section "mTOR") [121].
Six1 Overexpression of Six1 is associated with a poor prognosis in several types of cancer, e.g., HCC, ovarian and cervical cancers [64]. Furthermore, it has been suggested to be used as a prognostic biomarker for prostate cancer patients at risk of tumor progression [122].
GPX4 Overexpression of GPX4 has been proposed as a potential biomarker for HCC diagnosis and prognosis [123].
Circulating nucleic acids
The current methods of cancer diagnosis are based on the histological examinations, obtained by surgical excision, tissue or liquid biopsy. Biomolecules circulating in biological fluids like blood and urine, hold tremendous clinical promises, due to easy access, allowing for rapid, economical and dynamic treatment management [124].
To date, the majority of liquid biopsy research has focused on circulating tumor cells, which are not easy to collect. However, circulating nucleic acids (cell-tumor DNA (ctDNA) and microRNA) attracted more attention recently, as being easier to collect and analyze [124].
Circulating microRNAs, are endogenous, non-coding RNA molecules with 18–24 nucleotide length that post-transcriptionally regulate eukaryotic gene expression. microRNAs also play critical regulatory roles in the pathogenesis of cancer [124]. A list of circulating microRNAs, affecting negative regulators of cancer cell deaths that have potential as biomarkers for targeted therapies is presented in (Table 3).
| Circulating nucleic acid | Mechanism of action | Affected negative regulator | Type of cancers |
| --- | --- | --- | --- |
| miR-16 | microRNA, regulating apoptosis and autophagy | Bcl-2, mTOR | Differentially expressed in various cancers, e.g., lung, breast, liver, glioblastoma |
| miR-21 | microRNA, acting mainly as an oncogene, targeting apoptosis | Bcl-2 | Diagnostic, predictive, and prognosis biomarker in cancers, e.g., hematological, breast, gastric, ovarian cancers |
| miR-29 s (miR-29a, -29b, and -29c) | microRNA, tumor suppressors, directly targeting genes involved in apoptosis | Mcl-1, Bcl-2 | Downregulation is associated with cancers, e.g., leukemia, melanoma, liver, colon, cervical, lung cancer, and prostate cancers |
| miR-34 s (miR-34a, -34b, and -34c) | microRNA, regulating apoptosis. targeting TP53 inhibitor genes, which encode factors required for anti-apoptotic proteins | Bcl-2 | Breast, ovarian, lung, prostate cancers and NSCLC |
| miR-125 | microRNA, targeting genes associated with carcinogenesis | Bcl-2 | Tumor-suppressor in cancers, e.g., ovarian, bladder cancer, breast cancers |
| miR-210 | microRNA, acting upon apoptotic signaling pathways | Bcl-2 | levels of miR-210 have diagnostic value in pancreatic, bladder cancers, glioma, liver, and renal carcinomas |
| miR-375 | microRNA, a tumor suppressor, targeting genes related to proliferation, apoptosis, and metastasis. Plus, inhibiting autophagy in liver cancer | Survivin, EGFR2, Bcl-2, and Atg7 | Diagnostic biomarker in esophageal carcinoma, liver, colorectal, and lung cancers |
| ctDNA of mutated EGFR | Mutated EGFR results in enhanced tumor sensitivity to TKIs | EGFR | FDA approved test of EGFR mutations for NSCLC |
| ctDNA of EGFR2 | EGFR2 (HER2) is overexpressed because of gene amplification in breast cancers | EGFR2 | Pharmacogenomic biomarker proposed to be used with associate drugs, e.g., lapatinib, trastuzumab in breast cancer |
Circulating cell-tumor DNAs are mutated DNA fragments derived from tumors, which can be detected in the cell-free component of whole blood [125]. Investigation of ctDNA has recently increased in oncology because genomic analysis is essential for personalized pharmacotherapy in cancer patients. Tumor-specific genomic alterations can be detected in ctDNA from blood samples. Thus ctDNA analysis can complement biopsies for real-time companion diagnostics [125, 126].
In 2016, FDA approved the first "liquid biopsy" test of EGFR mutations for NSCLC, allowing to identify drug-resistance in patients treated with gefitinib (Table 3) [126]. EGFR immunohistochemistry may also predict the benefit of anti-EGFR monoclonal antibodies (e.g., trastuzumab), sensitivity to chemotherapy, radiotherapy, and molecularly targeted therapies [127].
In addition, detection of EGFR2 gene amplification is a potential biomarker which has been proposed to be used with associate drugs like lapatinib and trastuzumab for treatment of breast cancer [126, 128].
Discussion
New biomarkers and ultrasensitive diagnosis
It is crucial that targeted therapies and their associated companion diagnostic biomarkers coevolve. New biomarkers are, therefore, required to determine prognosis, detect metastases, predict response and monitor toxicity to treatment [105]. For example, the assessment of circulating tumor cells has a great potential for novel readily-accessed cheaper biomarkers which help evaluate therapeutic response and provide novel anticancer drugs [105].
The early detection of cancer is essential for effective treatment. To date, conventional immunoassays like ELISA are still the most common immuno-diagnostic technics in practice for detecting biomarkers in serum/urine samples [129]. However, sometimes levels of biomarkers are below the detection limit for ELISA [129]. Therefore, the development of ultrasensitive diagnostic assays is practical to improve patient outcomes. Immuno-PCR technics which combine nucleic acid amplification with an antibody-based assay have been evaluated for the detection of many biomarkers as they significantly improve the detection sensitivity by up to109-fold compared to standard ELISA [130]. Further improvements in multiplex real-time immuno-PCR methods would be of relevance to polytherapies facilitating monitoring patients and occurrences of drug-resistance [130]. Applications of multiplex ultrasensitive diagnostic assay could be applied to simultaneously and rapidly detect biomarkers of apoptotic, necroptotic, ferroptotic and autophagic cell death, such as RIPK1 [131] and Beclin-1 [131] to improve patient outcome. For example, a multiplex immunoassay biochip was developed to determine EGFR, nuclear area, and nuclear-to-cytoplasmic ratio in saliva for detection of malignant/premalignant oral lesions [132]. Furthermore, one new immuno-PCR platform based on the Tus–Ter complex [129, 133, 134] could be instrumental in the development of such multiplex immuno-PCR assays.
Recently, the use of target molecules attracted attention in immunotherapy as well so that the immunosuppressive tumor microenvironment can be more effectively targeted. However, the greatest obstacle to developing new immunotherapeutics is the lack of relevant biomarkers [89]. Many patients do not respond to immunotherapy, and severe side-effects exist. There is a growing demand to find new biomarkers to improve the selection of treatment-responsive patients, to help tailor therapy regimens. However, the search for biomarkers is hampered by incomplete knowledge of how immunotherapies modify the immune response to cancer, and how immunoediting contributes to tumor microenvironments and immune systems [135].
Negative regulation of cell death in cancer stem cells
Cancer stem cells (CSCs) are a sub-population of cancer cells, responsible for tumorigenesis, drug-resistance, and recurrence of cancers. CSCs share core signaling pathways with normal stem cells; however, CSCs depend on distinct reprogrammed pathways to maintain self-renewal in order to drive tumor growth. Therefore, understanding of the negative regulation of CSCs will provide effective diagnostic, and therapeutic targets for clinical applications [136]. This review did not discuss the negative regulators of CSCs due to the extensiveness of this topic; however, more detailed information can be found in the following review articles [38, 137].
Challenges and prospect: targeting negative regulators
Most of the therapeutic agents, currently available in the market, evoke apoptosis. However, other cell death mechanisms are less explored due to impediments in measuring contributing molecules, but evidence is accumulating that caspase-independent cell death mechanisms like necroptosis also play a significant role in inducing resistance against conventional therapies, supporting a rationale for engaging other modes of cell deaths in targeted therapies [138]. For example, it has been shown that Smac-mimetics can circumvent resistance to apoptosis by triggering necroptotic cell death in pancreatic carcinoma cells [139].
Moreover, the full potential of molecularly targeted therapy has been hindered by the occurrence of drug-resistance, primarily resulting from negative regulators of cell death signaling pathways [140]; i.e., targeting a single pathway is improbable to be effective in producing durable remissions because of plasticity, redundancy and feedback mechanisms within molecular signaling pathways in tumor cells [105], e.g., cross-talk between different cell death signaling pathways is a major point to be noted [141]. To overcome drug-resistance in cancer and avoid side-effects caused by high dose single-agent therapy, cell death signaling can be restored more effectively by targeted polytherapies [4, 7, 78]. For instance, following treatment of melanoma cells with bortezomib, antiapoptotic Bcl-2 family proteins (esp. Mcl-1) are upregulated, leading to drug-resistance. Accordingly, the combination of bortezomib with ABT-737 (a Bcl-2 inhibitor) synergistically reduced the activity of Mcl-1, reduced cell viability and induced apoptosis through activation of Bak/Bax in vitro and in vivo [142].
Furthermore, intermittent scheduling is required to avoid treatment-induced toxicity. Serial tumor profiling and the use of parallel co-clinical trials can also help explore mechanisms of resistance and will direct the development of adaptive clinical trial designs to accommodate hypothesis testing for polytherapies [140]. Overall, a deeper understanding of how a given therapeutic modulates cell death signaling pathways is required to design successful novel polytherapies (Table 2) [141]. The progress in personalized medicine may also guide researchers to generate the next wave of innovative targeted therapy; helping to design polytherapies using biomarkers for selected patient populations [7].
Conclusion
Understanding negative regulators of signaling pathways that lead to escape from cell death will help identify potential therapeutic targets, and design prognostic and diagnostic biomarkers. Strategically molecularly targeted therapies are emerging through investigation of apoptotic signaling pathways. However, other modes of cell death (e.g., autophagy, ferroptosis and necroptosis) are less explored, but evidence is accumulating that nonapoptotic modes of cell death also play a significant role in inducing resistance against conventional therapies, necessitating further attention for drug discovery.
Notes
Compliance with ethical standards
Conflict of interest
The authors declare no conflict of interest.
Copyright information
© Springer Science+Business Media, LLC, part of Springer Nature 2018