Abstract
Withaferin A (WA) is present abundantly in Withania somnifera, a well-known Indian medicinal plant. Here we demonstrate how WA exhibits a strong growth-inhibitory effect on several human leukemic cell lines and on primary cells from patients with lymphoblastic and myeloid leukemia in a dose-dependent manner, showing no toxicity on normal human lymphocytes and primitive hematopoietic progenitor cells. WA-mediated decrease in cell viability was observed through apoptosis as demonstrated by externalization of phosphatidylserine, a time-dependent increase in Bax/Bcl-2 ratio; loss of mitochondrial transmembrane potential, cytochrome c release, caspases 9 and 3 activation; and accumulation of cells in sub-G0 region based on DNA fragmentation. A search for the downstream pathway further reveals that WA-induced apoptosis was mediated by an increase in phosphorylated p38MAPK expression, which further activated downstream signaling by phosphorylating ATF-2 and HSP27 in leukemic cells. The RNA interference of p38MAPK protected these cells from WA-induced apoptosis. The RNAi knockdown of p38MAPK inhibited active phosphorylation of p38MAPK, Bax expression, activation of caspase 3 and increase in Annexin V positivity. Altogether, these findings suggest that p38MAPK in leukemic cells promotes WA-induced apoptosis. WA caused increased levels of Bax in response to MAPK signaling, which resulted in the initiation of mitochondrial death cascade, and therefore it holds promise as a new, alternative, inexpensive chemotherapeutic agent for the treatment of patients with leukemia of both lymphoid and myeloid origin.
This is a preview of subscription content, log in to check access.
Access options
Buy single article
Instant access to the full article PDF.
US$ 39.95
Price includes VAT for USA
Subscribe to journal
Immediate online access to all issues from 2019. Subscription will auto renew annually.
US$ 99
This is the net price. Taxes to be calculated in checkout.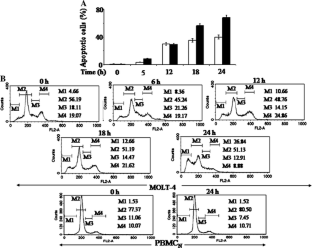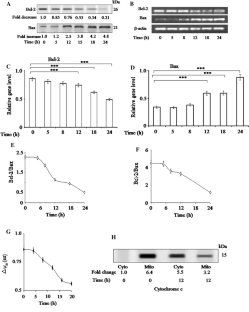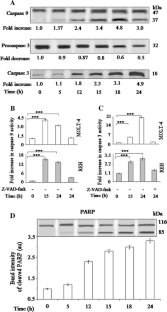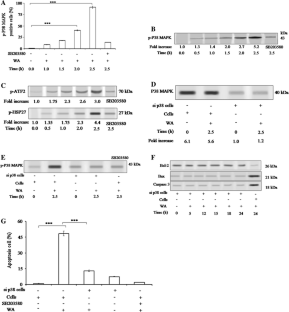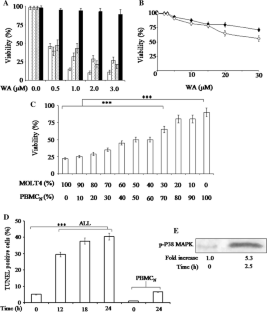 Abbreviations
ALL:

Acute lymphoblastic leukemia

DMSO:

Dimethyl sulphoxide

DTT:

Dithiothreitol

dUTP:

2′-Deoxyuridine 5′-triphosphate

TUNEL:

Terminal deoxyneuleotidyltransferase enzyme-mediated dUTP end labeling

FITC:

Fluorescein isothiocyanate

JC-1:

5,5′,6,6′-Tetrachloro-1,1′,3,3′-tetraethylbenzimidazolylcarbocyanine iodide

Δψm :

Mitochondrial trans-membrane potential

MS:

Mass spectroscopy

MTT:

3-(4,5-Dimethylthiazol-2-yl)-2,5-diphenyl tetrazolium bromide

2D NMR:

Two-dimensional nuclear magnetic resonance

1HNMR:

1H (proton) Nuclear magnetic resonance

PBMC:

Peripheral blood mononuclear cells

PI:

Propidium iodide

WA:

Withaferrin A

Z-VAD-fmk:

Benzyloxycarbonyl-Val-Ala-Asp(OMe)-fluoromethyl keton
References
1.

Conter V, Valsecchi MG, Silvestri D et al (2007) A multi-centre randomized trial reported that pulses of vincristine and dexamethasone in addition to intensive chemotherapy for children with intermediate-risk acute lymphoblastic leukaemia. Lancet 369:123–131. doi:10.1016/S0140-6736(07)60073-7

2.

Newman DJ, Cragg GM, Snader KM (2000) The influence of natural products upon drug discovery. Nat Prod Rep 17:215–234. doi:10.1039/a902202c

3.

Mishra LC, Singh BB, Dagenais S (2000) Scientific basis for the therapeutic use of Withania somnifera (Ashwagandha): a review. Altern Med Rev 5:334–346

4.

Matsuda H, Murakami T, Kishi A et al (2001) Structures of withanosides I, II, III, IV, V, VI, and VII, new withanolide glycosides, from the roots of Indian Withania somnifera DUNAL and inhibitory activity for tachyphylaxis to clonidine in isolated guinea-pig ileum. Bioorg Med Chem 9:1499–1507. doi:10.1016/S0968-0896(01)00024-4

5.

Ziauddin M, Phansalkar N, Patki P et al (1996) Studies on the immunomodulatory effects of Ashwagandha. J Ethnopharmacol 50:69–76. doi:10.1016/0378-8741(95)01318-0

6.

Agarwal R, Diwanay S, Patki P et al (1999) Studies on immunomodulatory activity of Withania somnifera (Ashwagandha) extracts in experimental immune inflammation. J Ethnopharmacol 67:27–35. doi:10.1016/S0378-8741(99)00065-3

7.

Rasool M, Varalakshmi P (2007) Protective effect of Withania somnifera root powder in relation to lipid peroxidation, antioxidant status, glycoproteins and bone collagen on adjuvant-induced arthritis in rats. Fundam Clin Pharmacol 21:157–164. doi:10.1111/j.1472-8206.2006.00461.x

8.

Iuvone T, Esposito G, Capasso F (2003) Induction of nitric oxide synthase expression by Withania somnifera in macrophages. Life Sci 72:1617–1625. doi:10.1016/S0024-3205(02)02472-4

9.

Jayaprakasam B, Zhang Y, Seeram NP (2003) Growth inhibition of human tumor cell lines by withanolides from Withania somnifera leaves. Life Sci 74:125–132. doi:10.1016/j.lfs.2003.07.007

10.

Shohat B, Gitter S, Abraham A (1967) Antitumor activity of withaferin A (NSC-101088). Cancer Chemother Rep 51:271–276

11.

Bargagna-Mohan P, Hamza A, Kim Y et al (2007) The tumor inhibitor and antiangiogenic agent withaferin A targets the intermediate filament protein vimentin. Chem Biol 14:623–634. doi:10.1016/j.chembiol.2007.04.010

12.

Srinivasan S, Ranga RS, Burikhanov R (2007) Par-4-dependent apoptosis by the dietary compound withaferin A in prostate cancer cells. Cancer Res 67:246–253. doi:10.1158/0008-5472.CAN-06-2430

13.

Malik F, Kumar A, Bhushan S et al (2007) Reactive oxygen species generation and mitochondrial dysfunction in the apoptotic cell death of human myeloid leukemia HL-60 cells by a dietary compound withaferin A with concomitant protection by N-acetyl cysteine. Apoptosis 12:2115–2133. doi:10.1007/s10495-007-0129-x

14.

Falsey RR, Marron MT, Gunaherath GM et al (2006) Actin microfilament aggregation induced by withaferin A is mediated by annexin II. Nat Chem Biol 2:33–38. doi:10.1038/nchembio755

15.

Kaileh M, Berghe WV, Heyerick A et al (2007) Withaferin A strongly elicits IkB kinase b hyperphosphorylation, concomitant with potent inhibition of its kinase activity. J Biol Chem 282:4253–4264. doi:10.1074/jbc.M606728200

16.

Pal S, Ghosh S, Bandyopadhyay S et al (2004) Differential expression of 9-O-acetylated sialoglycoconjugates on leukemic blasts: a potential tool for long-term monitoring of children with acute lymphoblastic leukaemia. Int J Cancer 111:270–277. doi:10.1002/ijc.20246

17.

Misra L, Lal P, Sangwan RS et al (2005) Unusually sulfated and oxygenated steroids from Withania somnifera. Phytochemistry 66:2700–2707. doi:10.1016/j.phytochem.2005.10.001

18.

Chaurasiya ND, Uniyal GC, Lal P et al (2008) Analysis of withanolides in root and leaf of Withania somnifera by HPLC with photodiode array and evaporative light scattering detection. Phytochem Anal 66:148–154. doi:10.1002/pca.1029

19.

Dutta A, Bandyopadhyay S, Mandal C et al (2005) Development of a modified MTT assay for screening antimonial resistant field isolates of Indian visceral leishmaniasis. Parasitol Int 54:119–122. doi:10.1016/j.parint.2005.01.001

20.

Dutta A, Mandal D, Mondal NB et al (2007) Racemoside A, a steroidal saponin, from Asparagus racemosus induces programmed cell death in Leishmania donovani promastigotes. J Med Microbiol 56:1196–1204. doi:10.1099/jmm.0.47114-0

21.

Dutta A, Bandyopadhyay S, Mandal C et al (2007) Aloe vera leaf exudate induces a caspase independent cell death in Leishmania donovani promastigotes. J Med Microbiol 56:629–636. doi:10.1099/jmm.0.47039-0

22.

Ghosh S, Bandyopadhyay S, Mukherjee K et al (2007) O-acetylation of sialic acids is required for the survival of lymphoblasts in childhood acute lymphoblastic leukemia (ALL). Glycoconj J 24:17–24. doi:10.1007/s10719-006-9007-y

23.

Lizotte E, Tremblay A, Allen BG et al (2005) Isolation and characterization of subcellular protein fraction from mouse heart. Anal Biochem 345:47–54. doi:10.1016/j.ab.2005.07.001

24.

Pal S, Ghosh S, Mandal CN et al (2004) Purification and characterization of 9-O-acetylated sialoglycoproteins from leukaemic cells and their potential as immunological tool for monitoring childhood acute lymphoblastic leukaemia. Glycobiology 14:859–870. doi:10.1093/glycob/cwh111

25.

Ghosh S, Bandyopadhyay S, Mullick A et al (2005) Interferon gamma promotes survival of lymphoblasts over-expressing 9-O-acetylated sialoglycoconjugates in childhood acute lymphoblastic leukemia (ALL). J Cell Biochem 95:206–216. doi:10.1002/jcb.20382

26.

Lin T, Gu J, Zhang L et al (2002) Targeted expression of green fluorescent protein/tumor necrosis factor-related apoptosis-inducing ligand fusion protein from human telomerase reverse transcriptase promoter elicits antitumor activity without toxic effect on primary human hepatocytes. Cancer Res 62:3620–3625

27.

Freshney NW, Rawlinson L, Guesdon F et al (1994) Interleukin-1 activates a novel protein kinase cascade that results in the phosphorylation of Hsp27. Cell 78:1039–1049. doi:10.1016/0092-8674(94)90278-X

28.

Ichijo H, Nishida E, Irie K et al (1997) Induction of apoptosis by ASK1, a mammalian MAPKKK that activates SAPK/JNK and p38 signaling pathways. Science 275:90–94. doi:10.1126/science.275.5296.90

29.

Lavoie JN, Hickey E, Weber LA et al (1993) Modulation of actin microfilament dynamics and fluid phase pinocytosis by phosphorylation of heat shock protein 27. J Biol Chem 268:24210–24214

30.

Landry J, Lambert H, Zhou M et al (1992) Human HSP27 is phosphorylated at serines 78 and 82 by heat shock and mitogen-activated kinases that recognize the same amino acid motif as S6 kinase II. J Biol Chem 267:794–803

31.

Yang J, Liu X, Bhalla K et al (1997) Prevention of apoptosis by Bcl-2: release of cytochrome c from mitochondria blocked. Science 275:1129–1132. doi:10.1126/science.275.5303.1129

32.

Huang DCS, Adams JM, Cory S (1998) The conserved N-terminal BH4 domain of Bcl-2 homologues is essential for inhibition of apoptosis and interaction with CED-4. EMBO J 17:1029–1039. doi:10.1093/emboj/17.4.1029

33.

Ghatan S, Larner S, Kinoshita Y et al (2000) p38 MAP kinase mediates bax translocation in nitric oxide-induced apoptosis in neurons. J Cell Biol 150:335–348. doi:10.1083/jcb.150.2.335

34.

Desagher S, Osen-Sand A, Nichols A et al (1999) Bid-induced conformational change of Bax is responsible for mitochondrial cytochrome c release during apoptosis. J Cell Biol 144:891–901. doi:10.1083/jcb.144.5.891

35.

Acehan D, Jiang X, Morgan DG et al (2002) Three-dimensional structure of the apoptosome: implications for assembly, procaspase-9 binding, and activation. Mol Cell 9:423–432. doi:10.1016/S1097-2765(02)00442-2
Acknowledgments
Chandan Mandal and Avijit Dutta are Senior Research Fellowship from the University Grant Commission and Indian Council of Medical Research respectively. This work received financial assistance from the Council of Scientific and Industrial Research, I.I.C.B. and Department of Biotechnology, Govt. of India. Suchandra Chowdhury and Susmita Mondal are acknowledged for their help in processing patient samples. The information provided in this report is protected by pending Indian patent application.
Electronic supplementary material
Below is the link to the electronic supplementary material.
About this article
Cite this article
Mandal, C., Dutta, A., Mallick, A. et al. Withaferin A induces apoptosis by activating p38 mitogen-activated protein kinase signaling cascade in leukemic cells of lymphoid and myeloid origin through mitochondrial death cascade. Apoptosis 13, 1450–1464 (2008). https://doi.org/10.1007/s10495-008-0271-0
Keywords
Acute lymphoblastic leukemia

Myeloid leukemia

Withaferin A

Apoptosis

Activation of p38 MAPK

Mitochondrial death cascade

Transcription factors