Abstract
Identifying certain species of Dermacentor ticks in Malaysia is challenging as there is no comprehensive work on their systematics and lack of specific taxonomic keys. In this study, we described and characterized D. steini ticks collected from a forest reserve in the vicinity of the Forest Research Institute of Malaysia using integrated phenotypic and genotypic traits. In total two males and three females of questing D. steini ticks were morphologically identified using specific illustrated taxonomic keys based on their special characters. Further confirmation and characterization of the tick species were then examined using PCR, followed by sequencing partial mitochondrial 16S rDNA gene (mt-rrs). Clustering analysis based on mt-rrs was carried out by constructing neighbor-joining tree topology to clarify the genetic variation of local D. steini. Based on external morphological characterizations, all ticks were successfully identified down to the species as adult D. steini. The molecular traits based on phylogenetic tree provide very strong support for the monophyletic clade of D. steini including high percentages of similarity (97–100%) with available sequences in GenBank. Furthermore, a low intraspecific variation (4%) among the species of D. steini was observed but it was genetically different from other Dermacentor species with high interspecific value (8–15%). These findings produced the first genotypic data of D. steini using 16S rDNA gene which confirmed the presence of this species in Malaysia. Moreover, this study supports the taxonomic status of local D. steini and adds to the knowledge of accurate identification of ticks.
This is a preview of subscription content, log in to check access.
Access options
Buy single article
Instant unlimited access to the full article PDF.
US$ 39.95
Price includes VAT for USA
Subscribe to journal
Immediate online access to all issues from 2019. Subscription will auto renew annually.
US$ 199
This is the net price. Taxes to be calculated in checkout.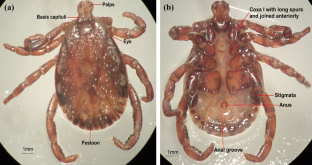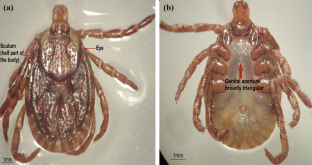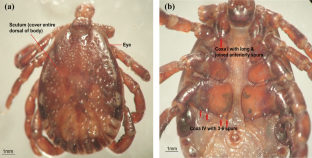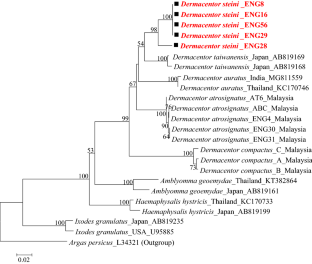 References
Apanaskevich DA (2016a) First description of the nymph and larva of Dermacentor compactus Neumann, 1901 (Acari: Ixodiade), parasites of squirrels (Rodentia: Sciuridae) in Southeast Asia. Syst Parasitol 93:355–365

Apanaskevich DA (2016b) First description of the nymph and larva of Dermacentor raskemensis (Acari: Ixodidae), parasites of pikas and other small mammals in Central Asia. J Med Entomol 50:959–964

Apanaskevich DA, Apanaskevich MA (2015a) Description of New Dermacentor (Acari: Ixodiade) species from Malaysia and Vietnam. J Med Entomol 52:156–162

Apanaskevich DA, Apanaskevich MA (2015b) Description of New Dermacentor (Acari: Ixodiade) species from Thailand and Vietnam. J Med Entomol 52:806–812

Apanaskevich DA, Apanaskevich MA (2016) Description of two new species of Dermacentor Koch, 1844 (Acari: Ixodidae) from Oriental Asia. Syst Parasitol 93(2):159–171

Black WC IV, Piesman J (1994) Phylogeny of hard- and soft-tick taxa (Acari: Ixodida) based on mitochondrial 16S rDNA sequences. Proc Natl Acad Sci USA 91:10034–10038

Chong ST, Kim HC, Lee IY Jr, Kollars TM, Sancho AR, Sames WL, Chae JS, Klein TA (2013) Seasonal distribution of ticks in four habitats near the demilitarized zone, Gyeonggi-do (Province), Republic of Korea. Korean J Parasitol 51:319–325

Coimbra-Dores MJ, Nunes T, Dias D, Rosa F (2016) Rhipicephalus sanguineus (Acari: Ixodidae) species complex: morphometric and ultrastructural analyses. Exp Appl Acarol 70:455–468

Dantas-Torres F, Latrofa MS, Annoscia G, Giannelli A, Parisi A, Otranto D (2013) Morphological and genetic diversity of Rhipicephalus sanguineus sensu lato from the New and Old Worlds. Parasites Vectors 6:213

Estrada-Pena A, Ayllon N, de-la Fuente J (2012) Impact of climate trends on tick-borne pathogen transmission. Front Physiol 3:64

Gherman CM, Mihalca AD, Dumitrache MO, Gyorke A, Oroian I, Sandor M, Cozma V (2012) CO2 flagging—an improved method for the collection of questing ticks. Parasites Vectors 5:125

Guglielmone AA, Robbins RG (2018) Hard ticks (Acari: Ixodida: Ixodidae) parasitizing humans: a global overview, vol 1. Springer, NewYork, p 314

Guzmán-Cornejo C, Robbins RG, Guglielmone AA, Montiel-Parra G, Rivas G, Pérez TM (2016) The Dermacentor (Acari, Ixodida, Ixodidae) of Mexico: hosts, geographical distribution and new records. ZooKeys 569:1–22

Hmoon MM, Htun LL, Wai SS, Thu MJ, Aung ST, Chel HM, Thaw YN, Win SY, Soe NC, Bawm S (2018) Morphological and molecular identification of ticks infested in stray dogs within Nay Pyi Taw Area, Myanmar. S Asian J Life Sci 6:41–45

Ho TM, Krishnansamy M (1990) Ectoparasitic acari and endoparasitic of small mammals in Taman Negara. J Wildl Parks 10:54–61

Jing KJ, Shiang LF, Sieng KC, Bolongon GG, Noor Azleen MK, Bakar SA (2017) Mini review: zoonotic agents from ticks in Malaysia. J Wildl Parks 32:67–77

John M, Raman M, Ryan K (2017) A tiny tick can cause a big health problem. Indian J Ophthalmol 65:1228–1232

Kaufman EL, Stone NE, Scoles GA, Hepp CM, Busch JD, Wagner DM (2018) Range-wide genetic analysis of Dermacentor variabilis and its Francisella-like endosymbionts demonstrates phylogeographic concordance between both taxa. Parasites Vectors 11:306

Khoo JJ, Lim FS, Chen F, Phoon WH, Khor CS, Pike BL, Chang LY, AbuBakar S (2016) Coxiella detection in ticks from wildlife and livestock in Malaysia. Vector Borne Zoonotic Dis. 16:744–751

Khor CS, Hassan H, Mohd-Rahim NF, Chandren JR, Nore SS, Johari J, Loong SK, Abd-Jamil J, Khoo JJ, Lee HY, Pike BL, Ping WL, Lim YAL, Abubakar S (2019) Seroprevalence of Borrelia burgdorferi among the indigenous people (Orang Asli) of Peninsular Malaysia. J Infect Dev Ctries 13(5):449–454

Kisomi MG, Wong LP, Tay ST, Bulgiba A, Zandi K, Kho KL, Koh FX, Ong BL, Jaafar T, Hassan Nizam QN (2016) Factors associated with tick bite preventive practices among farm workers in Malaysia. PLoS ONE 11:e0157987

Klompen JSH, Black WC, Keirans JE, Oliver JH Jr. (1996) Review: evolution of ticks. Annu Rev Entomol 41:141–161

Kohls GM (1957) Tick (Ixodidae) of Borneo and Malaya. Stud Inst Med Res Malaya 28:65–94

Krakowetz CN, Dergousoff SJ, Chilton NB (2010) Genetic variation in the mitochondrial 16S rRNA gene of the American dog tick, Dermacentor variabilis (Acari: Ixodidae). J Vector Ecol 35:163–173

Kumar S, Stecher G, Tamura K (2016) MEGA7: molecular evolutionary genetics analysis version 7.0 for bigger datasets. Mol Biol Evol 33:1870–1874

Li LH, Zhang Y, Wang JZ, Li XS, Yin SQ, Zhu D, Xue JB, Li SG (2018) High genetic diversity in hard ticks from a China-Myanmar border country. Parasites Vectors 11:469

Low VL, Tay ST, Kho KL, Koh FX, Tan TK, Lim YAL, Ong BL, Panchadcharam C, Norm-Rashid Y, Sofian-Azirun M (2015) Molecular characterization of the tick Rhipicephalus microplus in Malaysia: new insight into the cryptic diversity and distinct genetic assemblages throughout the world. Parasites Vectors 8:341

Lv J, Wu S, Zhang Y, Chen Y, Feng C, Yuan X, Jia G, Deng J, Wang C, Wang Q, Mei L, Lin X (2014) Assessment of four DNA segments (COI, 16S rDNA, ITS2, 12S rDNA) for species identification of the Ixodida (Acari: Ixodida). Parasites Vectors 7:93–114

Mariana A, Srinovianti N, Ho TM, Halimaton I, Hatikah A, Shaharudin MH, Rosmaliza I, Wan Ishlah L, Sathananthar KS (2008a) Intra-aural ticks (Acari: Metastigmata: Ixodidae) from human otoacariasis cases in Pahang, Malaysia. Asian Pac J Trop Med 1(3):20–24

Mariana A, Zuraidawati Z, Ho TM, Mohd Kulaimi B, Saleh I, Shukor MN, Shahrul-Anuar MS (2008b) Ticks (Ixodidae) and other ectoparasites in Ulu Muda Forest Reserve, Kedah, Malaysia. Southeast Asian J Trop Med Public Health 39:496–506

Nadchatram M (2008) The beneficial rain forest ecosystem with environmental effects on zoonoses involving ticks and mites (Acari), a Malaysian perspective and review. Trop Biomed 25:1–92

Nava S, Venzal JM, Gonzalez-Acuba D, Martins TF, Guglielmone AA (2017) Ticks of the Southern Cone of America: Diagnosis, distribution and hosts with taxonomy, ecology and sanitary importance. Academic Press, London, p 372

Norris DE, Klompen JS, Keirans JE, Black WC IV (1996) Population genetics of Ixodes scapularis (Acari: Ixodidae) based on mitochondrial 16S and 12S genes. J Med Entomol 33(1):78–89

Norris DE, Klompen JS, Keirans JE, Lane RS, Piesman J, Black WC IV (1997) Taxonomic status of Ixodes neotomae and I. spinipalpis (Acari: Ixodidae) based on mitochondrial DNA evidence. J Med Entomol 34:696–703

Perry KL (2014) Molecular phylogenetic relationships of North American Dermacentor ticks using mitochondrial gene sequences. Electronic Theses & Dissertations, 1089

Petney TN, Keirans JE (1996) Ticks of the genera Boophilus, Dermacentor, Nosomma and Rhipicephalus (Acari: Ixodidae) in Southeast Asia. Trop Biomed 13:73–84

Petney TN, Boulanger N, Saijuntha W, Chitimia-Dobler L, Pfeffer M, Eamudomkarn C, Andrews-Ross H, Ahamad M, Putthasorn N, Muders-Senta V, Petney-David A, Robbin-Richard G (2019) Ticks (Argasidae, Ixodidae) and tick-borne diseases of continental Southeast Asia. Zootaxa 4558(1):1–89

Shabrina MS (1990) Ectoparasites of small mammals trapped at the Ulu Gombak Forests, Selangor Darul Ehsan. J Wildl Parks 9:9–17

Sun Y, Xu RM (2013) The genus Dermacentor and the subgenus Indocentor (Acari: Ixodidae) from China. Orient Insects 47:155–168

Takano A, Fujita H, Kadosaka T, Takahashi M, Yamauchi T, Ishiguro F, Takada N, Yano Y, Oikawa Y, Honda T, Gokuden M, Tsunoda T, Tsurumi M, Ando S, Andoh M, Sato K, Kawabata H (2014) Construction of a DNA database for ticks collected in Japan: application of molecular identification based on the mitochondrial 16S rDNA gene. Med Entomol Zool 65:13–21

Ushijima Y, Oliver JH Jr, Keirans JE, Tsurumi M, Kawabata H, Watanabe H, Fukunaga M (2003) Mitochondrial sequence variation in Carlos capensis (Neumann), a parasite of seabirds, collected on Torishima Island in Japan. J Parasitol 89:196–198

Wassef HY, Hoogstraal H (1983) Dermacentor (Indocentor) compactus (Acari: Ixodoidea: Ixodidae): identity of male and female. J Med Entomol 20:648–652

Wassef HY, Hoogstraal H (1984) Dermacentor (Indocentor) auratus (Acari: Ixodoidea: Ixodidae): identity of male and female. J Med Entomol 21:169–173

Wassef HY, Hoogstraal H (1986) Dermacentor (Indocentor) steini (Acari: Ixodoidea: Ixodidae): Identity of male and female. J Med Entomol 23:532–537

Wassef HY, Hoogstraal H (1988) Dermacentor (Indocentor) steini (Acari: Ixodoidea: Ixodidae): hosts, distribution in the Malay Peninsula, Indonesia, Borneo, Thailand, and Philippines and New Guinea. J Med Entomol 25:315–320
Acknowledgements
The authors would like to thank the Director-General of Health, Malaysia for his permission to publish this article. Our gratitude is also dedicated to the Director-General of Forest Research Institute Malaysia (FRIM) for the approval to conduct fieldwork for the collection of ticks. We wish to thank staff of Acarology Unit, Institute for Medical Research for their assistance in the field. The study was supported by Ministry of Health Grant (NMRR ID: 18-229-40116; 18-031).
Ethics declarations
Conflict of interest
The authors do not have any conflicts of interest to report.
Additional information
Publisher's Note
Springer Nature remains neutral with regard to jurisdictional claims in published maps and institutional affiliations.
About this article
Cite this article
Ernieenor, F.C.L., Apanaskevich, D.A., Ernna, G. et al. Description and characterization of questing hard tick, Dermacentor steini (Acari: Ixodidae) in Malaysia based on phenotypic and genotypic traits. Exp Appl Acarol 80, 137–149 (2020). https://doi.org/10.1007/s10493-019-00439-4
Received:

Accepted:

Published:

Issue Date:
Keywords
Dermacentor steini

Mitochondrial 16S rDNA gene

Genotypic

Malaysia