Abstract
In the southern cone of South America different haplotypes of Borrelia burgdorferi sensu lato (Bbsl) have been detected in Ixodes spp. from Argentina, southern Brazil, Chile, and Uruguay. So far, Lyme borreliosis has not been diagnosed in Uruguay and the medical relevance of the genus Ixodes in South America is uncertain. However, the growing number of new genospecies of Bbsl in the southern cone region and the scarce information about its pathogenicity, reservoirs and vectors, highlights the importance of further studies about spirochetes present in Uruguay and the region. The aim of this study was to determine the presence of Bbsl in Ixodes auritulus ticks collected from birds and vegetation in two localities of southeastern Uruguay. In total 306 I. auritulus were collected from 392 passerine birds sampled and 1110 ticks were collected by flagging in vegetation. Nymphs and females were analyzed for Borrelia spp. by PCR targeting the flagellin (fla) gene and the rrfA-rrlB intergenic spacer region (IGS). The phylogenetic analysis of Borrelia spp. positive samples from passerine birds and vegetation revealed the presence of four fla haplotypes that form a clade within the Bbsl complex. They were closely related to isolates of Borrelia sp. detected in I. auritulus from Argentina and Canada.
This is a preview of subscription content, log in to check access.
Access options
Buy single article
Instant unlimited access to the full article PDF.
US$ 39.95
Price includes VAT for USA
Subscribe to journal
Immediate online access to all issues from 2019. Subscription will auto renew annually.
US$ 199
This is the net price. Taxes to be calculated in checkout.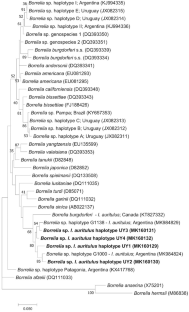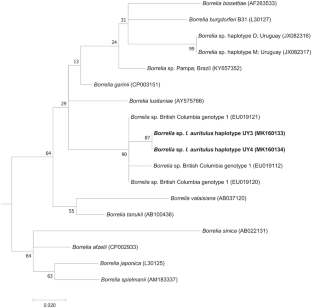 References
Arzua M, Barros-Battesti DM (1999) Parasitism of Ixodes (Multidentatus) auritulus Neumann (Acari: Ixodidae) on birds from the city of Curitiba, State of Parana, Southern Brazil. Mem Inst Oswaldo Cruz 94:597–603

Baranton G, Postic D, Saint Girons I, Boerin P, Piffaretti JC, Assous M, Grimont PAD (1992) Delineation of Borrelia burgdorferi sensu stricto, Borrelia garinii sp. nov., and group VS461 associated with Lyme borreliosis. Int J Syst Bacteriol 42:378–383

Barbieri AM, Venzal JM, Marcili A, Almeida AP, Gonzalez EM, Labruna MB (2013) Borrelia burgdorferi sensu lato infecting ticks of the Ixodes ricinus complex in Uruguay: first report for the Southern Hemisphere. Vector Borne Zoonotic Dis 13:147–153

Barbour AG, Maupin GO, Teltow GJ, Carter CJ, Piesman J (1996) Identification of an uncultivable Borrelia species in the hard tick Amblyomma americanum: possible agent of a Lyme disease-like illness. J Infect Dis 173:403–409

Brazeiro A, Panario D, Soutullo A, Gutierrez O, Segura A, Mai P (2012) Clasificación y delimitación de las eco-regiones de Uruguay. Informe Técnico. Convenio MGAP/PPR—Facultad de Ciencias/Vida Silvestre/Sociedad Zoológica del Uruguay/CIEDUR, 40 pp

Burgdorfer W, Barbour AG, Hayes SF, Benach JL, Grunwaldt E, Davis JP (1982) Lyme disease-a tick-borne spirochetosis? Science 216:1317–1319

Casjens SR, Fraser-Liggett CM, Mongodin EF, Qiu WG, Dunn JJ, Luft BJ, Schutzer SE (2011) Whole genome sequence of an unusual Borrelia burgdorferi sensu lato isolate. J Bacteriol 193:1489–1490

Cicuttin GL, De Salvo MN, Venzal JM, Nava S (2019) Borrelia spp. in ticks and birds from a protected urban area in Buenos Aires city, Argentina. Ticks Tick Borne Dis 10:101282

Clements JF, Schulenberg TS, Iliff MJ, Roberson D, Fredericks TA, Sullivan BL, Wood CL (2016) The eBird/Clements checklist of birds of the world: v2016

Conti-Díaz IA (2001) Enfermedades emergentes y reemergentes en Uruguay. Rev Med Urug 17:180–199

da Cunha Amaral HL, Bergmann FB, dos Santos PR, Kruger RF, Graciolli G (2013) Community of arthropod ectoparasites of two species of Turdus Linnaeus, 1758 (Passeriformes: Turdidae) in southern Rio Grande do Sul, Brazil. Parasitol Res 112:621–628

Dall'Agnol B, Michel T, Weck B, Souza UA, Webster A, Leal BF, Klafke GM, Martins JR, Ott R, Venzal JM, Ferreira CAS, Reck J (2017) Borrelia burgdorferi sensu lato in Ixodes longiscutatus ticks from Brazilian Pampa. Ticks Tick Borne Dis 8:928–932

de Oliveira SV, Faccini-Martínez ÁA, Cerutti Junior C (2018) Lack of serological evidence for Lyme-like borreliosis in Brazil. Travel Med Infect Dis 26:62–63

Derdáková M, Beati L, Pet'ko B, Stanko M, Fish D (2003) Genetic variability within Borrelia burgdorferi sensu lato genospecies established by PCR-single-strand conformation polymorphism analysis of the rrfA-rrlB intergenic spacer in Ixodes ricinus ticks from the Czech Republic. Appl Environ Microbiol 69:509–516

Durden LA, Keirans JE (1996) Nymphs of the genus Ixodes (Acari: Ixodidae) of the United States: taxonomy, identification key, distribution, hosts, and medical/veterinary importance. Monographs. Thomas Say Publ Entomol 16:1–95

González-Acuña D, Venzal JM, Keirans JE, Robbins RG, Ippi S, Guglielmone AA (2005) New host and locality records for the Ixodes auritulus (Acari: Ixodidae) species group, with a review of host relationships and distribution in the neotropical zoogeographic region. Exp Appl Acarol 37:147–156

Guglielmone AA, Beati L, Barros-Battesti DM, Labruna MB, Nava S, Venzal JM, Mangold AJ, Szabo MP, Martins JR, Gonzalez-Acuña D, Estrada-Peña A (2006) Ticks (Ixodidae) on humans in South America. Exp Appl Acarol 40:83–100

Guglielmone AA, Robbins RG, Apanaskevich DA, Petney TN, Estrada-Peña A, Horak I (2014) The hard ticks of the world. Springer, Dordrecht, p 738

Ivanova LB, Tomova A, González-Acuña D, Murua R, Moreno CX, Hernandez C, Cabello J, Cabello C, Daniels TJ, Godfrey HP, Cabello FC (2014) Borrelia chilensis, a new member of the Borrelia burgdorferi sensu lato complex that extends the range of this genospecies in the Southern Hemisphere. Environ Microbiol 16:1069–1080

Keirans JE, Clifford CM (1978) The genus Ixodes in the United States: a scanning electron microscope study and key to the adults. J Med Entomol Suppl 2:1–149

Kleinjan JE, Lane RS (2008) Larval keys to the genera of Ixodidae (Acari) and species of Ixodes (Latreille) ticks established in California. Pan-Pac Entomol 84:121–142

Le Fleche A, Postic D, Girardet K, Peter O, Baranton G (1997) Characterization of Borrelia lusitaniae sp. nov. by 16S ribosomal DNA sequence analysis. Int J Syst Bacteriol 47:921–925

Mantovani E, Costa IP, Gauditano G, Bonoldi VL, Higuchi ML, Yoshinari NH (2007) Description of Lyme disease-like syndrome in Brazil. Is it a new tick borne disease or Lyme disease variation? Braz J Med Biol Res 40:443–456

Margos G, Hojgaard A, Lane RS, Cornet M, Fingerle V, Rudenko N, Ogden N, Aanensen DM, Fish D, Piesman J (2010) Multilocus sequence analysis of Borrelia bissettii strains from North America reveals a new Borrelia species, Borrelia kurtenbachii. Ticks Tick Borne Dis 1:151–158

Margos G, Vollmer SA, Ogden NH, Fish D (2011) Population genetics, taxonomy, phylogeny and evolution of Borrelia burgdorferi sensu lato. Infect Genet Evol 11:1545–1563

Margos G, Wilske B, Sing A, Hizo-Teufel C, Cao WC, Chu C, Scholz H, Straubinger RK, Fingerle V (2013) Borrelia bavariensis sp. nov. is widely distributed in Europe and Asia. Int J Syst Evol Microbiol 63:4284–4288

Margos G, Lane RS, Fedorova N, Koloczek J, Piesman J, Hojgaard A, Sing A, Fingerle V (2016) Borrelia bissettiae sp. nov. and Borrelia californiensis sp. nov. prevail in diverse enzootic transmission cycles. Int J Syst Evol Microbiol 66:1447–1452

Miziara CSMG, Gelmeti Serrano VA, Yoshinari N (2018) Passage of Borrelia burgdorferi through diverse Ixodid hard ticks causes distinct diseases: Lyme borreliosis and Baggio-Yoshinari syndrome. Clinics (Sao Paulo) 73:e394

Morshed MG, Scott JD, Fernando K, Beati L, Mazerolle DF, Geddes G, Durden LA (2005) Migratory songbirds disperse ticks across Canada, and first isolation of the Lyme disease spirochete, Borrelia burgdorferi, from the avian tick, Ixodes auritulus. J Parasitol 91:780–790

Muñoz-Leal S, Lopes MG, Marcili A, Martins TF, González-Acuña D, Labruna MB (2019) Anaplasmataceae, Borrelia and Hepatozoon agents in ticks (Acari: Argasidae, Ixodidae) from Chile. Acta Trop 192:91–103

Narosky T, Yzurieta D (2003) Guía para la identificación de aves de Argentina y Uruguay, 15th edn. Vázquez Massini Editores, Buenos Aires, p 346

Nava S, Barbieri AM, Maya L, Colina R, Mangold AJ, Labruna MB, Venzal JM (2014) Borrelia infection in Ixodes pararicinus ticks (Acari: Ixodidae) from northwestern Argentina. Acta Trop 139:1–4

Nava S, Venzal JM, González-Acuña D, Martins TF, Guglielmone AA (2017) Ticks of the southern cone of America: diagnosis, distribution and hosts with taxonomy, ecology and sanitary importance. Elsevier, Academic Press, London

Ogden NH, Lindsay LR, Hanincová K, Barker IK, Bigras-Poulin M, Charron DF, Heagy A, Francis CM, O'Callaghan CJ, Schwartz I, Thompson RA (2008) Role of migratory birds in introduction and range expansion of Ixodes scapularis ticks and of Borrelia burgdorferi and Anaplasma phagocytophilum in Canada. Appl Environ Microbiol 74:1780–1790

Olmos A (2011) Aves en el Uruguay. 2a. Edición. Tradinco, Industria Gráfica del Libro, Montevideo, Uruguay, pp. 528

Onofrio V, Labruna M, Barros-Battesti D (2006) Comentários e chaves para as espécies do genero Ixodes. In: Barros-Battesti D, Arzua M, Bechara G (eds) Carrapatos de Importancia médico-veterinaria da Regiao Neotropical. Um guía ilustrado para identicacao de especies. ICTTD/Instituto Butantan, Brazil, pp 41–51

Onofrio VC, Ramirez DG, Giovanni DN, Marcili A, Mangold AJ, Venzal JM, Mendonca RZ, Labruna MB, Barros-Battesti DM (2014) Validation of the taxon Ixodes aragaoi Fonseca (Acari: Ixodidae) based on morphological and molecular data. Zootaxa 3860:361–370

Posada D (2008) jModelTest: phylogenetic model averaging. Mol Biol Evol 25:1253–1256

Pritt BS, Respicio-Kingry LB, Sloan LM, Schriefer ME, Replogle AJ, Bjork J, Liu G, Kingry LC, Mead PS, Neitzel DF, Schiffman E, Hoang Johnson DK, Davis JP, Paskewitz SM, Boxrud D, Deedon A, Lee X, Miller TK, Feist MA, Steward CR, Theel ES, Patel R, Irish CL, Petersen JM (2016) Borrelia mayonii sp. nov., a member of the Borrelia burgdorferi sensu lato complex, detected in patients and ticks in the upper midwestern United States. Int J Syst Evol Microbiol 66:4878–4880

Protasio A, Cerizola A, Aldao J, Kanoppa V, Nairac A (1996) Enfermedad de Lyme: neuroborreliosis. Arch Pediatr Urug 67:41–44

Richter D, Spielman A, Komar N, Matuschka FR (2000) Competence of American robins as reservoir hosts for Lyme disease spirochetes. Emerg Infect Dis 6:133–138

Richter D, Postic D, Sertour N, Livey I, Matuschka FR, Baranton G (2006) Delineation of Borrelia burgdorferi sensu lato species by multilocus sequence analysis and confirmation of the delineation of Borrelia spielmanii sp. Int J Syst Evol Microbiol 56:873–881

Rudenko N, Golovchenko M, Belfiore NM, Grubhoffer L, Oliver JH Jr (2014) Divergence of Borrelia burgdorferi sensu lato spirochetes could be driven by the host: diversity of Borrelia strains isolated from ticks feeding on a single bird. Parasit Vectors 7:4

Saracho-Bottero MN, Sebastian PS, Carvalho LA, Claps LG, Mastropaolo M, Mangold AJ, Venzal JM, Nava S (2017) Presence of Borrelia in different populations of Ixodes pararicinus from northwestern Argentina. Ticks Tick Borne Dis 8:488–493

Saracho-Bottero MN, Tarragona EL, Sebastian PS, Venzal JM, Mangold AJ, Guglielmone AA, Nava S (2018) Ticks infesting cattle and humans in the Yungas Biogeographic Province of Argentina, with notes on the presence of tick-borne bacteria. Exp Appl Acarol 74:107–116

Scott JD, Foley JE (2016) Detection of Borrelia americana in the avian coastal tick, Ixodes auritulus (Acari: Ixodidae), collected from a bird captured in Canada. Open J Anim Sci 6:207–216

Scott JD, Lee MK, Fernando K, Durden LA, Jorgensen DR, Mak S, Morshed MG (2010) Detection of Lyme disease spirochete, Borrelia burgdorferi sensu lato, including three novel genotypes in ticks (Acari: Ixodidae) collected from songbirds (Passeriformes) across Canada. J Vector Ecol 35:124–139

Scott JD, Anderson JF, Durden LA (2012) Widespread dispersal of Borrelia burgdorferi-infected ticks collected from songbirds across Canada. J Parasitol 98:49–59

Scott JD, Scott CM, Anderson JF (2014) The establishment of a blacklegged tick population by migratory songbirds in Ontario, Canada. J Vet Sci Med 2:5

Scott JD, Durden LA, Anderson JF (2015) Infection prevalence of Borrelia burgdorferi in ticks collected from songbirds in far-western Canada. Open J Anim Sci 5:232–241

Scott JD, Foley JE, Anderson JF, Clark KL, Durden LA (2017) Detection of Lyme Disease Bacterium, Borrelia burgdorferi sensu lato, in blacklegged ticks collected in the Grand River Valley, Ontario, Canada. Int J Med Sci 14:150–158

Scott JD, Clark KL, Foley JE, Anderson JF, Bierman BC, Durden LA (2018a) Extensive distribution of the Lyme disease bacterium, Borrelia burgdorferi sensu lato, in multiple tick species parasitizing avian and mammalian host across Canada. Healthcare 6:131

Scott JD, Clark KL, Foley JE, Bierman BC, Durden LA (2018b) Far-reaching dispersal of Borrelia burgdorferi sensu lato-infected blacklegged ticks by migratory songbirds in Canada. Healthcare 6:89

Sebastian PS, Bottero MNS, Carvalho L, Mackenstedt U, Lareschi M, Venzal JM, Nava S (2016) Borrelia burgdorferi sensu lato in Ixodes cf. neuquenensis and Ixodes sigelos ticks from the Patagonian region of Argentina. Acta Trop 162:218–221

Stanek G, Reiter M (2011) The expanding Lyme Borrelia complex–clinical significance of genomic species? Clin Microbiol Infect 17:487–493

Steere AC, Strle F, Wormser GP, Hu LT, Branda JA, Hovius JW, Li X, Mead PS (2016) Lyme borreliosis. Nat Rev Dis Primers 2:16090

Tamura K, Stecher G, Peterson D, Filipski A, Kumar S (2013) MEGA6: molecular evolutionary genetics analysis version 6.0. Mol Biol Evol 30:2725–2729

Venzal JM, Estrada-Peña A, Barros-Battesti DM, Onofrio VC, Beldomenico PM (2005a) Ixodes (Ixodes) pararicinus Keirans & Clifford, 1985 (Acari: Ixodidae): description of the immature stages, distribution, hosts and medical/veterinary importance. Syst Parasitol 60:225–234

Venzal JM, Félix ML, Olmos A, Mangold AJ, Guglielmone AA (2005b) A collection of ticks (Ixodidae) from wild birds in Uruguay. Exp Appl Acarol 36:325–331

Wang G, van Dam AP, Schwartz I, Dankert J (1999) Molecular typing of Borrelia burgdorferi sensu lato: taxonomic, epidemiological, and clinical implications. Clin Microbiol 12:633–653

Yoshinari NH, Mantovani E, Bonoldi VL, Marangoni RG, Gauditano G (2010) Brazilian Lyme-like disease or Baggio-Yoshinari syndrome: exotic and emerging Brazilian tick-borne zoonosis. Rev Assoc Med Bras 56:363–369
Acknowledgements
We would like to thank Dr. Gustavo de Souza, Fernando Dutra (Colonia Don Bosco, Laguna Negra, Rocha) and Ing. Agr. Eduardo Méndez, and Park Rangers Alejandro Rodríguez, Andrés de Mello (Reserva Natural Salus, Lavalleja) for their collaboration during the field work.
Funding
We are grateful to Agencia Nacional de Investigación e Innovación (Project ANII FMV-2-2011-1-6555) for the financial support to JMV, RC and LM.
Ethics declarations
Conflict of interest
The authors declare no conflict of interest.
Additional information
Publisher's Note
Springer Nature remains neutral with regard to jurisdictional claims in published maps and institutional affiliations.
About this article
Cite this article
Carvalho, L.A., Maya, L., Armua-Fernandez, M.T. et al. Borrelia burgdorferi sensu lato infecting Ixodes auritulus ticks in Uruguay. Exp Appl Acarol 80, 109–125 (2020) doi:10.1007/s10493-019-00435-8
Received:

Accepted:

Published:

Issue Date:
Keywords
Borrelia burgdorferi sensu lato
Ixodes auritulus

Vegetation

Birds

Uruguay