Abstract
Red deer (Cervus elaphus L.) are very valuable in trophy-hunting but also contribute to the preservation of natural areas. They are affected by many parasites and pathogens, including hard ticks that are not only important parasites themselves but can also act as vectors and/or reservoirs of pathogens. Tick phenology is complex insofar as population dynamics depend on environmental conditions, vegetation, host availability and their own intrinsic characteristic. Ticks were collected monthly from January 2007 to December 2014 from red deer on a natural reserve located in a meso-Mediterranean environment in Central Spain. A total of 8978 specimens of ixodid ticks were recovered with a mean Parasitization Index of 65.06 ticks/deer. Red deer were infected the whole year round with a summer-spring pattern and two secondary peaks in February and October. The main species was Hyalomma lusitanicum Koch followed by Rhipicephalus bursa Canestrini and Fanzago, Rhipicephalus pusillus Gil Collado, Dermacentor marginatus Sulzer and Ixodes ricinus L. Hyalomma lusitanicum has a complex life cycle in which several generations initiate their cycle at different times throughout the year, most probably lasting more than 1 year. We also describe the ability of nymphs to feed on large ungulates even though their habitual host is wild rabbit.
This is a preview of subscription content, log in to check access.
Access options
Buy single article
Instant unlimited access to the full article PDF.
US$ 39.95
Price includes VAT for USA
Subscribe to journal
Immediate online access to all issues from 2019. Subscription will auto renew annually.
US$ 199
This is the net price. Taxes to be calculated in checkout.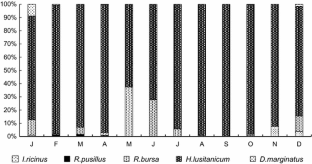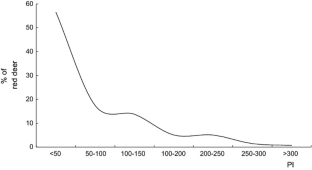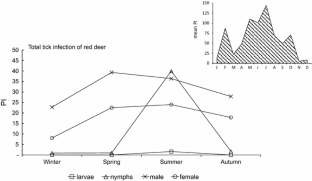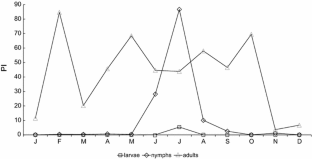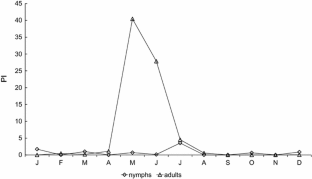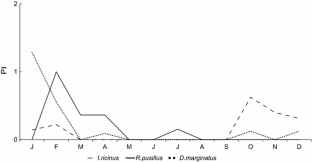 References
AEMET (Agencia Estatal de Meteorología) (2011) Atlas Climático Ibérico. Ed. AEMET, Catalogo general de Publicaciones del Ministerio de Medio Ambiente y Medio rural y Marino. Madrid, España

Ahmed AM, Kheir SM (2003) Life cycle and survival of Hyalomma dromedarii (Acari. Ixodidae) under laboratory conditions. Agric Mar Sci 8:11–14

Ahmed BM, Taha KM, El Hussein AM (2011) Life cycle of Hyalomma anatolicum Koch, 1844 (Acari: Ixodidae) fed on rabbits, sheep and goats. Vet Parasitol 177:353–358

Apanaskevich DA, Santos-Silva MM, Horak IG (2008) The genus Hyalomma Koch, 1844. IV. Redescription of all parasitic stages of H. (Euhyalomma) lusitanicum Koch, 1844 and the adults of H. (E.) franchinii Tonelli Rondelli, 1932 (Acari: Ixodidae) with a first description of its immature stages. Folia Parasitol 55:61–74

Barandika JF, Olmeda AS, Casado-Nistal MA, Hurtado A, Juste RA, Valcárcel F, Anda P, García-Pérez AL (2011) Differences in questing tick species distribution between atlantic and continental climate regions in Spain. J Med Entomol 48:13–19

Barnard DR (1991) Mechanisms of host-tick contact with special reference to Amblyomma americanum (Acari: Ixodidae) in beef cattle forage areas. J Med Entomol 28:557–564

Basco PI, Carballedo AD, Cota S, Olmeda AS, Valcárcel F (2008) Estudio de control biológico de garrapatas en la finca "La Garganta". Rev Complut Cienc Vet 2(2):73–84

Carranza J (1999) Aplicaciones de la etología al manejo de las poblaciones de ciervo del suroeste de la Península Ibérica: producción y conservación. Etología 7:5–18

Carranza J (2011) Ciervo – Cervus elaphus Linnaeus, 1978. In: Salvador A, Cassinello J (eds) Enciclopedia virtual de los vertebrados españoles. Museo Nacional de Ciencias Naturales (Madrid), pp 1–28. http://www.vertebradosibericos.org

Chen Z, Ju Z, Yang J, Zheng H, Liu Z (2009) The life cycle of Hyalomma asiaticum kozlovi, Olenev 1931, (Acari: Ixodidae) under laboratory conditions. Vet Parasitol 160:134–137

Chen Z, Li J, Liu Z, Yang J, Yin H (2012) The life cycle of Hyalomma rufipes (Acari: Ixodidae) under laboratory conditions. Exp Appl Acarol 56:85–92

Cordero del Campillo M, Castañón Ordóñez L, Reguera Feo A (1994) Índice-catálogo de zooparásitos ibéricos, Ed. Universidad de León, León

Cota SC (2015) Control biológico e integrado de la garrapata Hyalomma lusitanicum en explotaciones silvo-agro-cinegéticas de ecosistema meso-mediterráneo. Dissertation, Complutense University of Madrid. http://eprints.ucm.es/29995/

Estrada-Peña A (1994) Las garrapatas en España: introducción. Junta de Castilla y León. ISBN: 8478463135, 9788478463138

Estrada-Peña A (2008) Climate, niche, ticks, and models: what they are and how we should interpret them. Parasitol Res 103:S87–S95

Estrada-Peña A, de la Fuente J (2014) The ecology of ticks and epidemiology of tick-borne viral diseases. Antivir Res 108:104–128

Estrada-Peña A, Palomar AM, Santibañez P, Sánchez N, Habela MA, Portillo A, Romero L, Otero JA (2012) Crimean-Congo hemorrhagic fever virus in ticks, Southwestern Europe, 2010. Emerg Infect Dis 18:179–180

Fawcett DW, Binnington KC, Voigt WP, Mane SD, Schmidt SP, Essenberg RC, Stone BF, Needham GR, Teel PD, Diehl PA, Connat JL, Dotson E, Ducommun J, Aeschlimann A, Brown SJ, Askenase PW, Barnard DR, Rechav Y, Zeederberg ME, Agbede RIS, Kemp DH, Hoyte HMD, Kocan KM (1986) The cell biology of the ixodid tick salivary gland. In: Sauer JR, Hair JA (eds) Morphology, Physiology and Behavioral Biology of Ticks. Oklahoma

García Romero C, Valcárcel F, Corchero JM, Pérez JM, Olmeda AS (2000) Las parasitosis del ciervo en Castilla-La Mancha. Ecología 14:235–249

Gil Collado J, Guillen Lera JL, Zapatero Ramos LM (1979) Claves para la identificación de los Ixodidea españoles (adultos). Rev Iber Parasitol 39:107–118

Gilbert L (2010) Altitudinal patterns of tick and host abundance: a potential role for climate change in regulating tick-borne diseases? Oecologia 162:217–225

Gilbert FF, Dodds DG (1992) The philosophy and practice of wildlife management, 2nd edn. Krieger Publishing Company, Florida

Ginsberg HS, Zhioua E, Mitra S, Fischer J, Buckley PA, Verret F, Underwood HB, Buckley FG (2004) Woodland type and spatial distribution of nymphal Ixodes scapularis (Acari: Ixodidae). Environ Entomol 33:1266–1273

González J, Valcárcel F, Pérez Sánchez JL, Tercero Jaime JM, Olmeda AS (Submitted) Season dynamics of ixodid ticks on wild rabbit (Oryctolagus cuniculus) from South-Central Spain. J Med Entomol

Gortázar C, Herrero J, Villafuerte R, Marco J (2000) Historical examination of the status of large mammals in Aragon, Spain. Mammalia 64:411–422

Gray JS (2008) Ixodes ricinus seasonal activity: implications of global warming indicated by revisiting tick and weather data. Int J Med Microbiol 298(supplement 1):19–24

Gray JS, Dautel H, Estrada-Peña A, Kahl O, Lindgren E (2009) Effects of climate change on ticks and tick-borne diseases in Europe. Interdiscip Perspect Infect Dis 2009:593232. doi:10.1155/2009/593232

Habela M, Rol JA, Anton JM, Pena J, Corchero E, van Ham I, Jongejan F (1999) Epidemiology of Mediterranean theileriosis in Extremadura region, Spain. Parassitologia 41(Suppl 1):47–51

Kiffner C, Lödige C, Alings M, Vor T, Rühe F (2010) Abundance estimation of Ixodes ticks (Acari: Ixodidae) on roe deer (Capreolus capreolus). Exp Appl Acarol 52:73–84

Komplen JS, Black WC 4th, Keirans JE, Oliver JH Jr (1996) Evolution of ticks. Ann Rev Entomol 41:141–161

Kröber T, Guerin PM (2007) In vitro feeding assays for hard ticks. Trends Parasitol 23:445–449

Manilla G (1998) Acari: Ixodida (Fauna d'Italia), ed. Calderini. Bologna

Márquez FJ (1989) Dynamique de la population de Rhpicephalus pusillus Gil Collado, 1938 (Acarina, Ixodidae) en 1986-1987 dans le sud-est de L´Espagne: Modélisation du cycle biologique. Resultados del muestreo anual de 1986. Ann Parasitol Hum Comp 64:374–390

Márquez FJ (1992) Dynamique de la population de Haemaphysalis hispanica (Acarina, Ixodidae) dans le sud-est de L'Espagne. Vie Milieu 42:41–49

Márquez FJ, Guiguen C (1992) Distribution sur L´hôte des ixodides parasites d´Oryctolagus cuniculus (L.) et facteurs qui l´affectent. Acarología 33:141–148

Moshaverinia A, Dini M, Azizzadeh M (2012) Prevalence of ixodid tick infestation of sheep in the Arasbaran region of Iran. J Parasit Dis 36:230–233

Mysterud A, Hatlegjerde IL, Sørensen J (2014) Attachment site selection of life stages of Ixodes ricinus ticks on a main large host in Europe, the red deer (Cervus elaphus). Parasite Vector 7:510

Ogden NH, Hailes RS, Nuttall PA (1998) Interstadial variation in the attachment sites of Ixodes ricinus ticks on sheep. Exp Appl Acarol 22:227–232

Olmeda AS, Caride E, Mateos A, García Romero C, Corchero J, Valcárcel F (2001) Garrapatas y enfermedades transmitidas en ciervo. Ovis 75:37–48

Olmeda AS, González J, Tercero JM, Aguilar A, Valcárcel F (2014) First in vitro feeding of the tick Hyalomma lusitanicum. In: Proceedings of the 13th international congress of parasitology, México. Oral communication 2424

Ouhelli H, Pandey VS (1984) Development of Hyalomma lusitanicum under laboratory conditions. Vet Parasitol 15:57–66

Pal P, Lewis JW (2004) Parasite aggregations in host populations using a reformulated negative binomial model. J Helminthol 78:57–61

Paull SH, Song S, McClure KM, Sackett LC, Kilpatrick AM, Johnson PTJ (2011) From superspreaders to disease hotspots: linking transmission across hosts and space. Front Ecol Environ 10:75–82. doi:10.1890/110111

Pegram R, Perry B (1986) Ecology and phenology of ticks in Zambia: seasonal dynamics on cattle. Exp Appl Acarol 2:25–45

Perkins SE, Cattadori IM, Tagliapietra V, Rizzoli AP, Hudson PJ (2003) Empirical evidence for key hosts in persistence of a tick-borne disease. Int J Parasitol 33:909–917

Randolph SE (2004) Tick ecology: processes and patterns behind the epidemiological risk posed by ixodid ticks as vectors. Parasitology 129:S37–S65

Requena F, Cabrero-Sañudo F, Olmeda-García AS, González J, Valcárcel F (Submitted) Influence of environmental temperature and humidity on free-living stages of Hyalomma lusitanicum (Acari: Ixodidae) in Ciudad Real, Spain. J Med Entomol

Rodríguez JA, Zapatero Ramos LM, Sánchez Covisa A (1981) Valoración estacional de Ixodidae y Siphonaptera de lepóridos de Ciudad Real. Rev Iber Parasitol 41:527–538

Ruiz-Fons F, Fernández-de-Mera IG, Acevedo P, Höfle U, Vicente J, de la Fuente J, Gortázar C (2006) Ixodid ticks parasitizing Iberian red deer (Cervus elaphus hispanicus) and European wild boar (Sus scrofa) from Spain: geographical and temporal distribution. Vet Parasitol 140:133–142

Ruiz-Fons F, Acevedo P, Sobrino R, Vicente J, Fierro Y, Fernández-de-Mera IG (2013) Sex-biased differences in the effects of host individual, host population and environmental traits driving tick parasitism in red deer. Front Cell Infect Microbiol 3:23. doi:10.3389/fcimb.2013.00023

Santos-Silva MM, Beati L, Santos AS, De Sousa R, Núncio MS, Melo P, Santos-Reis M, Fonseca C, Formosinho P, Vilela C, Bacellar F (2011) The hard-tick fauna of mainland Portugal (Acari: Ixodidae): an update on geographical distribution and known associations with hosts and pathogens. Exp Appl Acarol 55:85–121. doi:10.1007/s10493-011-9440-x (epub 2011 Mar 31)

Shaw DJ, Dobson AP (1995) Patterns of macroparasite abundance and aggregation in wildlife populations: a quantitative review. Parasitol 111:S111–S133

Siroky P, Erhart J, Petrzelkova KJ, Kamler M (2011) Life cycle of tortoise tick Hyalomma aegyptium under laboratory conditions. Exp Appl Acarol 54:277–284

Tagliapietra V, Rosà R, Arnoldi D, Cagnacci F, Capelli G, Montarsi F, Hauffe HC, Rizzoli A (2011) Saturation deficit and deer density affect questing activity and local abundance of Ixodes ricinus (Acari, Ixodidae) in Italy. Vet Parasitol 183:114–124

Toledo A (2007) Dinámica de la infección de garrapatas por agentes zoónosicos en la zona centro de la Península Ibérica. Tesis Doctoral. Universidad Complutense de Madrid. http://eprints.ucm.es/29995/1/T36038.pdf

Toledo A, Olmeda AS, Escudero R, Jado I, Valcárcel F, Casado-Nistal MA, Rodríguez-Vargas M, Gil H, Anda P (2009) Tick-borne zoonotic bacteria in ticks collected from central Spain. Am J Trop Med Hyg 81:67–74

Valcárcel F, Pérez JL, Tercero JM, Basco-Basco PI, Cota S, Cutuli MT, Martín-Hernández R, Olmeda AS (2014) Control of host-seeking adults of Hyalomma lusitanicum with oxalic acid under field conditions. IJVMR Vol. 2014. Article ID 871622. doi:10.5171/2014.871622 (the reference seems somewhat strange)

Valcárcel F, González J, Pérez Sánchez JL, Tercero Jaime JM, Olmeda AS (2015) Long-term ecological study of host-seeking adults of Hyalomma lusitanicum (Acari: Ixodidae) in a Meso-Mediterranean climate. J Med Entomol. doi:10.1093/jme/tjv152

Wobeser GA (1994) Investigation and management of disease in wild animals. Plenum Press, New York
Acknowledgments
The authors are especially grateful to his Grace the Duke of Westminster for his support during all the studies. This project was financed by the Villamagna SA and the projects CCG10-UCM/AMB-4936, INCRECYT (European Social Funds) and RTA2014-00080-00-00.
Electronic supplementary material
Below is the link to the electronic supplementary material.
Supplementary material 1 (AVI 19837 kb)
About this article
Cite this article
Valcárcel, F., González, J., Tercero Jaime, J.M. et al. Long term study of ixodid ticks feeding on red deer (Cervus elaphus) in a meso-Mediterranean climate. Exp Appl Acarol 69, 61–72 (2016). https://doi.org/10.1007/s10493-015-0008-z
Received:

Accepted:

Published:

Issue Date:
Keywords
Red deer

Hyalomma lusitanicum
Rhipicephalus bursa
Rhipicephalus pusillus
Dermacentor marginatus
Ixodes ricinus

Seasonal frequency