Abstract
We observed the oviposition behaviour of the soil mite Veigaia cerva (Kramer) (Acari: Veigaiidae) using continuous video-monitoring. Five phases could be recognized. Phase I involved inspection of the substrate. In phase II the female rhythmically moved her gnathosoma and first pair of legs. After an inactive phase III, the soma was raised (IV), and the egg was laid (V). In the actual egg laying three sub-phases could be distinguished: internal egg movement, placing the egg in front of the gnathosoma, and depositing the egg using the chelicerae. The palps and first pair of legs were used to position the egg between the chelicerae. The whole process took on average 333 ± 22 s.
This is a preview of subscription content, log in to check access.
Access options
Buy single article
Instant unlimited access to the full article PDF.
US$ 39.95
Price includes VAT for USA
Subscribe to journal
Immediate online access to all issues from 2019. Subscription will auto renew annually.
US$ 199
This is the net price. Taxes to be calculated in checkout.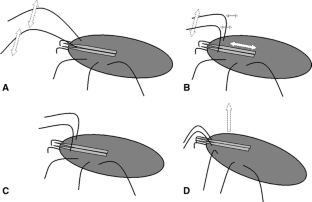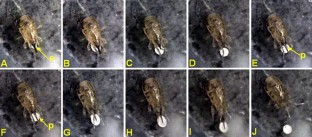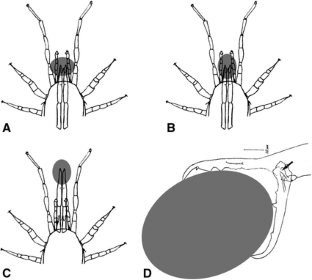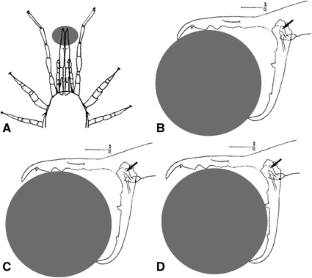 References
Alberti G (2002a) Reproductive systems of gamasid mites (Acari, Anactinotrichida) reconsidered. In: Bernini F, Nannelli R, Nuzzaci G, de Lillo E (eds) Acarid phylogeny and evolution adaptations in mites and ticks. Kluwer Academic Publisher, Dordrecht, pp 125–139

Alberti G (2002b) Ultrastructural investigations of sperm and genital systems in Gamasida (Acari: Anactinotrichida) current state and perspectives for future research. Acarologia 42:107–126

Alberti G (2006) On some fundamental characteristics in acarine morphology. Attidella Accademia Nazionale Italiana di Entomologia 2005, 315–360. R.A. LIII

Alberti G, Coons LB (1999) Acari—mites. In: Harrison FW, Foelix RF (eds) Chelicerate Arthropoda. Wiley, New York, pp 515–1265

Alberti G, Di Palma A, Krantz GW (2004) Preliminary observations of the fine structure of spermatodactyls in males of three species of Gamasida. Phytophaga 14:123–128

Athias-Binche F (1980) Contribution a la connaissance des Uropodides libres (Arachnides: Anactinotriches) de quelques ecosystemes forestiers europeens. Première partie – Morphologie, systématique et biologie. Dissertation, Universite Pierre et Marie Curie, Paris VI, pp 80

Athias-Henriot C (1970) Observations sur la morphologie externe des gamasides. Mises au point terminologiques. Acarologia 12(1):25–27

Bregetova NG (1977) Identification keys for soil inhabiting mites. Mesostigmata. Nauka, Leningrad (in Russian)

Buryn R, Brandl R (1992) Are morphometrics of chelicerae correlated with diet in mesostigmatid mites (Acari)? Exp Appl Acarol 14:67–82

Di Palma A, Gerdeman BS, Alberti G (2008) Fine structure and functional morphology of the spermatodactyl in males of Heterozerconidae (Gamasida). Int J Acarol 34:359–366

Di Palma A, Wegener A, Alberti G (2009) On the ultrastructure and functional morphology of the male chelicerae (gonopods) in Parasitina and Dermanyssina mites (Acari: Gamasida). Arthropod Struct Dev 38:329–338

Edelmann B, Gothe R (2000) The mechanism of oviposition in Argas (Persicargas) walkerae (Acari: Argasidae). Exp Appl Acarol 24:927–940

Evans GO (1992) Principles of acarology. CAB International, Wallingford

Faasch H (1967) Beitrag zur Biologie der einheimischen Uropodiden Uroobovella marginata (C. L. Koch 1839) und Uropoda orbicularis (O. F. Müller 1776) und experimentelle Analyse ihres Phoresieverhaltens. Zool Jahrb Syst Bd 94:521–608

Gothe R, Nadler G (1987) Zur Mechanik der Oviposition bei Rhipicephalus evertsi evertsi NEUMANN, 1897. Berl Muench Tieraerztl Wochenschr 100:109–113

Ignatowicz S (1974) Observations on the biology and development of Hypoaspis aculeifer Canestrini, 1885 (Acarina, Gamasides). Zool Pol 24(1):41–59

Krantz GW, Walter DE (2009) A manual of acarology, 3rd edn. Texas Tech University Press, Lubbock

Marquardt T, Faleńczyk-Koziróg F, Kaczmarek S (2013) Oviposition behaviour of the soil mite Pergamasus brevicornis (Acari: Parasitidae). Exp Appl Acarol

Radinovsky S (1965) The biology and ecology of granary mites of the Pacific Northwest. IV. Various aspects of the reproductive behaviour of Leiodinychus krameri (Acarina: Uropodidae). Ann Entomol Soc Am 58:267–272

Rapp A (1959) Zur Biologie und Ethologie der Käfermilbe Parasitus coleoptratorum L. 1758. Ein Beitrag zum Phoresie-Problem. Zoo Jahrb Syst Öko Geogr 86:303–366

Sieberz J, Gothe R (2000) Modus operandi of oviposition in Dermacentor reticulatus (Acari: Ixodidae). Exp Appl Acarol 24:63–76

Walter DE (1988) Macrocheles schaeferi (Acari: Mesostigmata: Macrochelidae), a new species in the subbadius group from grassland soils in the Central United States. Ann Entomol Soc Am 81(3):386–394

Walter DE, Proctor HC (1999) Mites: ecology, evolution and behaviour. CABI Publishing, Wallingford
Acknowledgments
We thank three anonymous referees for valuable suggestions. Special thanks go to Dr Bruce Halliday, CSIRO Ecosystem Sciences, for his priceless linguistic help.
Electronic supplementary material
Below is the link to the electronic supplementary material.
Supplementary material 1 (MPG 23524 kb)
About this article
Cite this article
Marquardt, T., Faleńczyk-Koziróg, K. & Kaczmarek, S. Oviposition behaviour of the soil mite Veigaia cerva (Acari: Veigaiidae). Exp Appl Acarol 60, 395–402 (2013). https://doi.org/10.1007/s10493-013-9676-8
Received:

Accepted:

Published:

Issue Date:
Keywords
Veigaiidae

Oviposition

Egg laying behaviour