Abstract
Tetranychus urticae (Acari: Tetranychidae) is a phytophagous mite that forms huge colonies. All active members of a colony (immatures and matures, females and males) spin silken threads. These mites construct a common web that protects the colony from external aggression. The silk coverage is well-known to provide advantages to the colony but very little is known about the characteristics of the threads themselves. Here is the first quantification of the diameter of silken threads spun by two different stages (adult females and larvae) and its relationship with body size of the spinning individuals. Moreover, we observed how silk was deposited on the substrate through their two pedipalps. Threads were observed by means of transmission electron and fluorescence microscopy. Silken threads spun by larvae (0.055 ± 0.018 μm) were significantly thinner than threads spun by adult females (0.111 ± 0.038 μm). In the first step of the silk depositing behaviour, the mite attached the thread to the substrate by putting its pedipalps in contact with the surface (adhesion, double silken threads). When walking, silken threads became detached from the substrate and spitted up (silken threads were free). Finally, silken threads adhered to the surface. The presence of single and double threads makes thread diameter highly variable.
This is a preview of subscription content, log in to check access.
Access options
Buy single article
Instant access to the full article PDF.
US$ 39.95
Price includes VAT for USA
Subscribe to journal
Immediate online access to all issues from 2019. Subscription will auto renew annually.
US$ 199
This is the net price. Taxes to be calculated in checkout.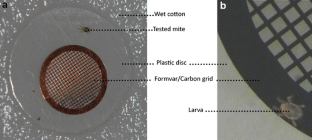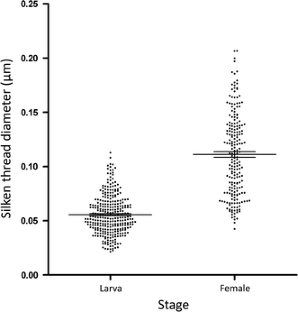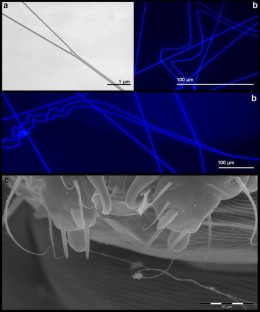 References
Anderson JT, Morse DH (2001) Pick-up lines: cues used by male crab spiders to find reproductive females. Behav Ecol 12:360–366

Bernard A, Krafft B (2002) Silk attraction: base of group cohesion and collective behaviours in social spiders. C R Biol 325:1153–1157

Blauvelt WE (1945) The internal morphology of the common red spider mite (Tetranychus telarius L.). Cornell Univ Agr Expt Sta Mem 270:1–11

Bolland HR, Flechtmann CHW, Gutierrez J (1998) World catalogue of the spider mite family (Acari: Tetranychidae). Brill Academic Publishers, Leiden

Clark RJ, Jackson RR, Waas JR (1999) Draglines and assessment of fighting ability in cannibalistic jumping spiders. J Insect Behav 12:753–766

Clotuche G, Le Goff G, Mailleux AC, Deneubourg JL, Detrain C, Hance T (2009) How to visualize the spider mite silk? Microsc Res Tech 72:659–664

Clotuche G, Mailleux AC, Astudillo Fernandez A, Deneubourg JL, Detrain C, Hance T (2011) The formation of collective silk balls in the spider mite Tetranychus urticae Koch. Plos one 6(4):1–9

Cone WW, Predki S, Klostermeyer EC (1971) Pheromone studies of the two-spotted spider mite. 2. Behavioral response of males to quiescent deutonymphs. J Econ Entomol 64:379–382

Craig CL (1997) Evolution of arthropod silks. Annu Rev Entomol 42:231–267

Cranham JE, Helle W (1985) Pesticide resistance in Tetranychidae. In: Helle W, Sabelis MW (eds) Spider mites, their biology, natural enemies and control, vol 1A. Elsevier, Amsterdam, pp 405–422

Davis DW (1952) Influence of population density on Tetranychus multistis. J Econ Entomol 45:652–654

Denny M (1976) Physical properties of spider's silk and their role in design of orb-webs. J Exp Biol 65:483–506

Engster MS (1976) Studies on silk secretion in the Trichoptera (F. Limnephilidae). Cell Tiss Res 169:77–92

Fitzgerald TD (1993) Trail and arena marking by caterpillars of Archips Cerasivoranus (Lepidoptera: Tortricidae). J Chem Ecol 19(7):1479–1489

Foelix RF (1996) The biology of spiders. Oxford University Press, New York

Garrido MA, Elices M, Viney C, Pérez-Rigueiro J (2002) Active control of spider silk strength: comparison of drag line spun on vertical and horizontal surfaces. Polymer 43:1537–1540

Gerson U (1985) Webbing. In: Helle W, Sabelis MW (eds) Spider mites, their biology, natural enemies and control, vol 1A. Elsevier, Amsterdam, pp 223–233

Gosline JM, Demont ME, Denny MW (1986) The structure and properties of spider silk. Endeavour 10:37–43

Gotte L, Mammi M, Pezzin G (1972) Scanning electron microscope observations on elastin. Conn Tiss Res 1:61–67

Grandjean F (1948) Quelques caractères des Tétranyques. Bull Mus Hist Nat Paris 20:517–524

Gross J, Schmitt FO (1948) The structure of human skin collagen as studied with the electron microscope. J Exp Med 88:555–569

Hazan A, Gerson U, Tahori AS (1974) Spider mite webbing. I. The production of webbing under various environmental conditions. Acarologia 16:68–84

Hazan A, Gerson U, Tahori AS (1975) Spider mite webbing—II. The effect of webbing removal on egg hatchability. Comp Biochem Physiol 51:457–462

Helle W, Sabelis MW (1985) Spider mites: their biology, natural enemies and control, vol 1A. Elsevier, Amsterdam, p 405

Hoy M, Smilanick JM (1981) Non random prey location by the phytoseiid predador Metaseiulis occidentalis: differential responses to several spider mite species. Entomologica experimentalis et applicata 29:241–253

Linke W (1953) Investigation of the biology and epidemiology of the common spider mite, Tetranychus althaeae v. Hanst., with particular consideration of the hop as the host. Pflanzenschutz Nachrichten Bayer 6:181–232

Madsen B, Shao ZZ, Vollrath F (1999) Variability in the mechanical properties of spider silks on three levels: interspecific, intraspecific and intraindividual. Int J Biol Macromol 24:301–306

Menachem L (2006) Handbook of fiber chemistry, 3rd edn. CRC press, New York

Mills LR (1973) Morphology of glands and ducts in the two-spotted spider mite, Tetranychus urticae Koch, 1836. Acarologia 15(2):218–236

Mothes U, Seitz KA (1981) Functional microscopic anatomy of the digestive system of Tetranychus urticae (Acari, Tetranychidae). Acarologia 22:257–270

Penman DR, Cone WW (1972) Behaviour of male two-spotted mites in response to quiescent female deutonymph and to web. Ann Entomol Soc Am 65:1289–1293

Penman DR, Cone WW (1974) Role of web, tactile stimuli and female sex pheromone in attraction of male two-spotted spider mites to quiescent female deutonymphs. Ann Entomol Soc Am 67:179–182

Sabelis MW, Bakker FM (1992) How predatory mites cope with the web of their tetranychid prey: a functional view on dorsal chaetotaxy in the Phytoseiidea. Exp Appl Acarol 16:203–225

Saffre F, Furey R, Krafft B, Deneubourg JL (1999) Collective decision making in social spiders: dragline-mediated amplification process acts as a recruitment mechanism. J Theor Biol 198:507–517

Saito Y (1977) Study of the spinning behaviour of the spider mite (Acarina: Tetranychidae). I. Method for the quantitative evaluation of the mite webbing, and the relationship between webbing and walking. Jpn J Appl Entomol Zool 21:27–34

Saito Y (1979) Study of the spinning behaviour of spider mites. III. Responses of mites to webbing residues and their preferences for particular physical conditions of leaf surfaces (Acarina: Tetranychidae). Jpn J Appl Entomol Zool 23:82–91

Saito Y (2009) Plant mites and sociality. Diversity and evolution. Springer, Tokyo, p 187

Van Leeuwen T, Van Pottelberge S, Tirry L (2005) Comparative acaricide susceptibility and detoxifying enzyme activities in field-collected resistant and susceptible strains of Tetranychus urticae. Pest Manag Sci 61(5):499–507

Van Leeuwen T, Vanholme B, Van Pottelberge S, Van Nieuwenhuyse P (2008) Mitochondrial heteroplasmy and the evolution of insecticide resistance: non-Mendelian inheritance in action. In: Proceedings of the national academy of sciences of the United States of America, vol 105, no 16, pp 5980–5985

Vollrath F (1999) Biology of spider silk. Int J Biol Macromol 24:81–88

Vollrath F, Köhler T (1996) Mechanics of silk produced by loaded spiders. Proc R Soc 263:387–391

Yano S (2008) Collective and solitary behaviors of Twospotted Spider Mite (Acari: Tetranychidae) are induced by trail following. Ann Entomol Soc Am 101(1):247–252
Acknowledgments
We are very grateful to Ferdinand Desneux of the ISV (Institut des sciences de la vie, UCL, Belgium) who gave microscope assistance and to Claude Remacle who allowed us to use the transmission electron microscope. Anne-Marie Faber provided fluorescent microscope assistance. Thanks to Louwrens R. Tiedt who gave us the micrographs of pedipalps. We thank Thomas Van Leeuwen who has supplied the T. urticae strain used in our experiments. We also thank Aina Astudillo Fernandez, Guillaume Le Goff and other members in our laboratory for valuable suggestions. This research was supported by Fonds pour la recherche dans l'Industrie et dans l'Agriculture (F.R.I.A.) of Belgium and by the Fund for Fundamental and Collective Research (FRFC, convention 2.4622.06). This paper is a publication BRC213 of the Biodiversity Research Center (Université catholique de Louvain).
About this article
Cite this article
Clotuche, G., Mailleux, A., Deneubourg, J. et al. The silk road of Tetranychus urticae: is it a single or a double lane?. Exp Appl Acarol 56, 345–354 (2012). https://doi.org/10.1007/s10493-012-9520-6
Received:

Accepted:

Published:

Issue Date:
Keywords
Silken threads

Tetranychus urticae

Spider mite

TEM

Diameter

Larva

Adult female