Abstract
A gene encoding a β-xylosidase (designated as Thxyl43A) was cloned from strain Thermobifida halotolerans YIM 90462T. The open reading frame of this gene encodes 550 amino acid residues. The gene was over-expressed in Escherichia coli and the recombinant protein was purified. The monomeric Thxyl43A protein presented a molecular mass of 61.5 kDa. When p-nitrophenyl-β-d-xylopyranoside was used as the substrate, recombinant Thxyl43A exhibited optimal activity at 55 °C and pH 4.0 to 7.0, being thermostable by maintaining 47% of its activity after 30 h incubation at 55 °C. The recombinant enzyme retained more than 80% residual activity after incubation at pH range of 4.0 to 12.0 for 24 h, respectively, which indicated notable thermostability and pH stability of Thxyl43A. Moreover, Thxyl43A displayed high catalytic activity (> 60%) in presence of 5–35% NaCl (w/v) or 1–20% ionic liquid (w/v) or 1–50 mM xylose. These properties suggest that Thxyl43A has potential for promoting hemicellulose degradation and other industrial applications.
This is a preview of subscription content, log in to check access.
Access options
Buy single article
Instant unlimited access to the full article PDF.
US$ 39.95
Price includes VAT for USA
Subscribe to journal
Immediate online access to all issues from 2019. Subscription will auto renew annually.
US$ 199
This is the net price. Taxes to be calculated in checkout.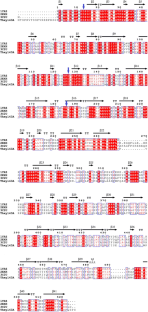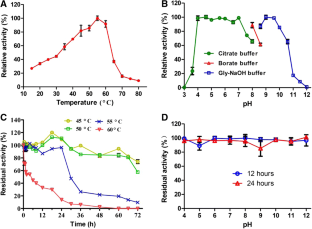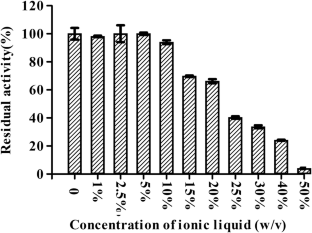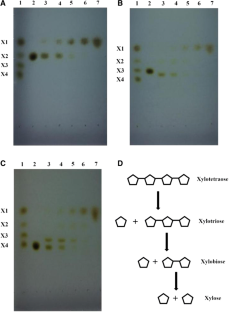 References
Amaike CS, Lynn J, Sibert SJ, Srikrishnan S, Phatale P, Feldman T, Guenther JM, Hiras J, Tran YTA, Singer SW, Adams PD, Sale KL, Simmons BA, Baker SE, Magnuson JK, Gladden JM (2017) Expression of naturally ionic liquid-tolerant thermophilic cellulases in Aspergillus niger. PLoS One 12(12):e0189604

Bankeeree W, Akada R, Lotrakul P, Punnapayak H, Prasongsuk S (2018) Enzymatic hydrolysis of black liquor xylan by a novel xylose-tolerant, thermostable beta-xylosidase from a tropical strain of Aureobasidium pullulans CBS 135684. Appl Biochem Biotechnol 184(3):919–934

Barker IJ, Petersen L, Reilly PJ (2010) Mechanism of xylobiose hydrolysis by GH43 β-xylosidase. J Phys Chem B 114(46):15389–15393

Bhalla A, Bischoff KM, Sani RK (2014) Highly thermostable GH39 β-xylosidase from a Geobacillus sp. strain WSUCF1. BMC Biotechnol 14(1):963

Bradford MM (1976) A rapid and sensitive method for the quantitation of microgram quantities of protein utilizing the principle of protein-dye binding. Anal Biochem 72:248–254

Brunzelle JS, Jordan DB, McCaslin DR, Olczak A, Wawrzak Z (2008) Structure of the two-subsite beta-d-xylosidase from Selenomonas ruminantium in complex with 1,3-bis[tris(hydroxymethyl)methylamino]propane. Arch Biochem Biophys 474(1):157–166

Brüx C, Ben-David A, Shallom-Shezifi D, Leon M, Niefind K, Shoham G, Shoham Y, Schomburg D (2006) The structure of an inverting GH43 beta-xylosidase from Geobacillus stearothermophilus with its substrate reveals the role of the three catalytic residues. J Mol Biol 359(1):97–109

Eisenhuber K, Krennhuber K, Steinmüller V, Kahr H, Jäger A (2013) Comparison of different pretreatment methods for separation hemicellulose from straw during the lignocellulosic bioethanol production. Energy Procedia 40:172–181

Fan Z, Yuan L, Jordan DB, Wagschal K, Heng C, Braker JD (2010) Engineering lower inhibitor affinities in beta-d-xylosidase. Appl Microbiol Biot 86(4):1099–1113

Gouet P, Robert X, Courcelle E (2003) ESPript/ENDscript: extracting and rendering sequence and 3D information from atomic structures of proteins. Nucl Acids Res 31(13):3320–3323

Hao S, Xun L, Gu H, Zhang Y, Huang Y, Wang L, Wang F (2013) Biochemical properties of a novel thermostable and highly xylose-tolerant beta-xylosidase/alpha-arabinosidase from Thermotoga thermarum. Biotechnol Biofuels 6(1):27

Henrissat B (1991) A classification of glycosyl hydrolases based on amino acid sequence similarities. Biochem J 280(Pt 2):309–316

Jordan DB, Wagschal K (2010) Properties and applications of microbial beta-d-xylosidases featuring the catalytically efficient enzyme from Selenomonas ruminantium. Appl Microbiol Biotechnol 86(6):1647–1658

Jordan DB, Wagschal K, Grigorescu AA, Braker JD (2013) Highly active beta-xylosidases of glycoside hydrolase family 43 operating on natural and artificial substrates. Appl Microbiol Biotechnol 97(10):4415–4428

Khandeparker R, Jalal T (2015) Xylanolytic enzyme systems in Arthrobacter sp. MTCC 5214 and Lactobacillus sp. Biotechnol Appl Biochem 62(2):245–254

Kumar S, Ramón D (1996) Purification and regulation of the synthesis of a beta-xylosidase from Aspergillus nidulans. FEMS Microbiol Lett 135(2–3):287–293

Larkin MA, Blackshields G, Brown NP, Chenna R, McGettigan PA, McWilliam H, Valentin F, Wallace IM, Wilm A, Lopez R, Thompson JD, Gibson TJ, Higgins DG (2007) Clustal W and Clustal X version 2.0. Bioinformatics 23(21):2947–2948

Miller GL (1959) Use of dinitrosalicylic acid reagent for determination of reducing sugar. Anal Chem 31:426–428

Mustafa G, Kousar S, Rajoka MI, Jamil A (2016) Molecular cloning and comparative sequence analysis of fungal beta-xylosidases. AMB Express 6(1):30

Piccolo C, Bezzo F (2009) A techno-economic comparison between two technologies for bioethanol production from lignocellulose. Biomass Bioenerg 33(3):478–491

Pikuta EV, Hoover RB, Tang J (2007) Microbial extremophiles at the limits of life. Crit Rev Microbiol 33(3):183

Pontonio E, Mahony J, Di Cagno R, O'Connell Motherway M, Lugli GA, O'Callaghan A, Lugli GA, De Angelis M, Ventura M, Gobbetti M, van Sinderen D (2016) Cloning, expression and characterization of a beta-d-xylosidase from Lactobacillus rossiae DSM 15814T. Microb Cell Fact 15:72

Ravanal MC, Alegría-Arcos M, Gonzalez-Nilo FD, Eyzaguirre J (2013) Penicillium purpurogenum produces two GH family 43 enzymes with beta-xylosidase activity, one monofunctional and the other bifunctional: biochemical and structural analyses explain the difference. Arch Biochem Biophys 540(1–2):117–124

Rohman A, van Oosterwijk N, Puspaningsih NNT, Dijkstra BW (2018) Structural basis of product inhibition by arabinose and xylose of the thermostable GH43 beta-1,4-xylosidase from Geobacillus thermoleovorans IT-08. PLoS One 13(4):e0196358

Saha BC (2003) Purification and properties of an extracellular beta-xylosidase from a newly isolated Fusarium proliferatum. Bioresour Technol 90(1):33–38

Sali A, Blundell TL (1993) Comparative protein modelling by satisfaction of spatial restraints. J Mol Biol 234(3):779–815

Sengupta A, Zabala A, Tan SY, Broadstock A, Suryanarayanan TS, Gopalan V (2017) Characterization of an ionic liquid-tolerant β-xylosidase from a marine-derived fungal endophyte. Biochem Cell Biol 95(5):585–591

Tamura K, Peterson D, Peterson N, Stecher G, Nei M, Kumar S (2011) MEGA5: molecular evolutionary genetics analysis using maximum likelihood, evolutionary distance, and maximum parsimony methods. Mol Biol Evol 28(10):2731–2739

Thompson JD, Gibson TJ, Plewniak F, Jeanmougin F, Higgins DG (1997) The CLUSTAL_X windows interface: flexible strategies for multiple sequence alignment aided by quality analysis tools. Nucl Acids Res 25(24):4876–4882

Viborg AH, Sørensen KI, Gilad O, Steen-Jensen DB, Dilokpimol A, Jacobsen S, Svensson B (2013) Biochemical and kinetic characterisation of a novel xylooligosaccharide-upregulated GH43 beta-d-xylosidase/alpha-l-arabinofuranosidase (BXA43) from the probiotic Bifidobacterium animalis subsp.lactisBB-12. AMB Express 3(1):56

Wagschal K, Heng C, Lee CC, Robertson GH, Orts WJ, Wong DW (2009) Purification and characterization of a glycoside hydrolase family 43 beta-xylosidase from Geobacillus thermoleovorans IT-08. Appl Biochem Biotechnol 155:304–313

Xue Y, Shao W (2004) Expression and characterization of a thermostable beta-xylosidase from the hyperthermophile, Thermotoga maritima. Biotechnol Lett 26(19):1511–1515

Yan QJ, Wang L, Jiang ZQ, Yang SQ, Zhu HF, Li LT (2007) A xylose-tolerant beta-xylosidase from Paecilomyces thermophila: characterization and its co-action with the endogenous xylanase. Bioresour Technol 99(13):5402–5410

Yang LL, Tang SK, Zhang YQ, Zhi XY, Wang D, Xu LH, Li WJ (2008) Thermobifida halotolerans sp. nov., isolated from a salt mine sample, and emended description of the genus Thermobifida. Int J Syst Evol Microbiol 58(Pt 8):1821–1825

Yang X, Shi P, Huang H, Luo H, Wang Y, Zhang W, Yao B (2014) Two xylose-tolerant GH43 bifunctional beta-xylosidase/alpha-arabinosidases and one GH11 xylanase from Humicola insolens and their synergy in the degradation of xylan. Food Chem 148:381–387

Ye Y, Li X, Zhao J (2017) Production and characteristics of a novel xylose- and alkali-tolerant GH 43 beta-xylosidase from Penicillium oxalicum for promoting hemicellulose degradation. Sci Rep 7(1):11600

Yin YR, Zhang F, Hu QW, Xian WD, Hozzein WN, Zhou EM, Ming H, Nie GX, Li WJ (2015) Heterologous expression and characterization of a novel halotolerant, thermostable, and alkali-stable GH6 endoglucanase from Thermobifida halotolerans. Biotechnol Lett 37(4):857–862

Yin YR, Hu QW, Xian WD, Zhang F, Zhou EM, Ming H, Xiao M, Zhi XY, Li WJ (2016) Characterization of a neutral recombinant xylanase from Thermoactinospora rubra YIM 77501T. Antonie Van Leeuwenhoek 110(3):429–436

Zanoelo F, Polizeli M, Terenzi H, Jorge J (2004) Purification and biochemical properties of a thermostable xylose-tolerant beta-d-xylosidase from Scytalidium thermophilum. J Ind Microbiol Biotechnol 31:170–176

Zhang F, Chen JJ, Ren WZ, Nie GX, Ming H, Tang SK, Li WJ (2011) Cloning, expression and characterization of an alkaline thermostable GH9 endoglucanase from Thermobifida halotolerans YIM 90462T. Bioresour Technol 102(21):10143–10146

Zhang F, Chen JJ, Ren WZ, Lin LB, Zhou Y, Zhi XY, Tang SK, Li WJ (2012a) Cloning, expression, and characterization of an alkaline thermostable GH11 xylanase from Thermobifida halotolerans YIM 90462T. J Ind Microbiol Biotechnol 39(8):1109–1116

Zhang F, Hu SN, Chen JJ, Lin LB, Wei YL, Tang SK (2012b) Purification and partial characterisation of a thermostable xylanase from salt-tolerant Thermobifida halotolerans YIM 90462T. Process Biochem 47(2):225–228

Zhang F, Zhang XM, Yin YR, Li WJ (2015) Cloning, expression and characterization of a novel GH5 exo/endoglucanase of Thermobifida halotolerans YIM 90462T by genome mining. J Biosci Bioeng 120(6):644–649

Zhou J, Bao L, Chang L, Zhou Y, Lu H (2011) Biochemical and kinetic characterization of GH43 β-d-xylosidase/α-l-arabinofuranosidase and GH30 α-l-arabinofuranosidase/β-d-xylosidase from rumen metagenome. J Ind Microbiol Biotechnol 39(1):143–152
Acknowledgements
This research was supported by Infrastructure work project of China Ministry of Science and Technology (No. 2015FY110100), Guangzhou Municipal People's Livelihood Science and Technology Plan (No. 201803030030), the Deanship of Scientific Research at Princess Nourah bint Abdulrahman University, through the Research Groups Program Grant No. (RGP-1438-0004) and China Postdoctoral Science Foundation (Grant No. 2017M622861). W-J Li is supported by project funded by Guangdong Province Higher Vocational Colleges & Schools Pearl River Scholar Funded Scheme (2014).
Ethics declarations
Conflict of interest
The authors declare that they have no indirect or direct conflict of interest.
Ethical approval
This article does not contain any studies related to human participants or animals.
Electronic supplementary material
Below is the link to the electronic supplementary material.
About this article
Cite this article
Yin, Y., Xian, W., Han, M. et al. Expression and characterisation of a pH and salt tolerant, thermostable and xylose tolerant recombinant GH43 β-xylosidase from Thermobifida halotolerans YIM 90462T for promoting hemicellulose degradation. Antonie van Leeuwenhoek 112, 339–350 (2019) doi:10.1007/s10482-018-1161-2
Received:

Accepted:

Published:

Issue Date:
Keywords
Thermobifida halotolerans YIM 90462T

β-xylosidase

pH-stability

Thermostability

Salt-tolerance

Xylose-tolerance