Abstract
Candidatus Methylocucumis (Mcu.) oryzae, strain Sn10-6, a Gram-negative, pale pink pigmented, motile, large Type I methanotroph (3–6 µm × 1.5–2 µm) was recently isolated from an Indian rice field. Due to the difficulties in preservation of the strain it could not be deposited and preserved in two recognised culture collections with public access located in two different countries. Hence, Sn10-6 was described as a member of a Candidatus genus and species, 'Ca. Mcu. oryzae'. Subsequent to the publication, the strain has been preserved in the Japan Collection of Microorganisms, Japan (JCM 32869T) in addition to its earlier preservation in the Korean collection for type cultures, KCTC, Korea and in National Centre for Microbial Resources, India. Addition of DMSO as a cryopreserving agent proved to be useful in the preservation of the strain. The deposition of the strain in two recognised culture collections in two different countries and additionally in the home country repository makes the strain eligible to be proposed as the type strain of the type species of a new genus and species with the name Methylocucumis oryzae strain Sn10-6T. In this paper we formally propose the name Mcu. oryzae, with Sn10-6T as the type strain, for the earlier described Ca. Mcu. oryzae. Other characteristics including the digital protologue of the culture (CA00040) remain the same as described earlier for Ca. Mcu. oryzae (Pandit et al. in Antonie Van Leeuwenhoek 111:2473–2484, 2018). Mcu. oryzae Sn10-6T (= MCC 3492 = KCTC 15683 = JCM 32869) represents a new genus and species within the family Methylococcaceae of the class Gammaproteobacteria.
This is a preview of subscription content, log in to check access.
Access options
Buy single article
Instant unlimited access to the full article PDF.
US$ 39.95
Price includes VAT for USA
Subscribe to journal
Immediate online access to all issues from 2019. Subscription will auto renew annually.
US$ 199
This is the net price. Taxes to be calculated in checkout.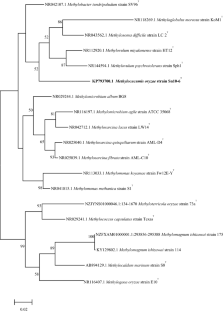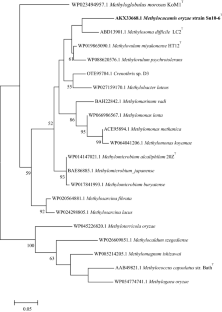 References
Conrad R (2009) The global methane cycle: recent advances in understanding the microbial processes involved. Environ Microbiol Rep 1:285–292

Dedysh SN, Knief C (2018) Diversity and phylogeny of described aerobic methanotrophs. In: Kalyuzhnaya MG, Xing X-H (eds) Methane biocatalysis: paving the way to sustainability. Springer, Berlin

Dubey SK (2005) Microbial ecology of methane emission in rice agroecosystem: a review. Appl Ecol Environ Res 3:1–27

Hanson RS, Hanson TE (1996) Methanotrophic bacteria. Microbiol Mol Biol Rev 60:439–471

Hoefman S, Van Hoorde K, Boon N, Vandamme P, De Vos P, Heylen K (2012) Survival or revival: long-term preservation induces a reversible viable but non-culturable state in methane-oxidizing bacteria. PLoS ONE 7:e34196

Itoh T (2018) JCM, Japan, personal communication

Pandit PS, Rahalkar M, Dhakephalkar P, Ranade DR, Pore S, Arora P, Kapse N (2016) Deciphering community structure of methanotrophs dwelling in rice rhizospheres of an Indian rice field using cultivation and cultivation independent approaches. Microb Ecol 71:634–644

Pandit PS, Hoppert M, Rahalkar MC (2018) Description of 'Candidatus Methylocucumis oryzae', a novel Type I methanotroph with large cells and pale pink colour, isolated from an Indian rice field. Antonie Van Leeuwenhoek 111:2473–2484

Rossello-Mora R, Trujillo ME, Sutcliffe IC (2017) Introducing a digital protologue: a timely move towards a database-driven systematics of archaea and bacteria. Antonie Van Leeuwenhoek 110:455–456

Whittenbury R, Phillips KC, Wilkinson JF (1970) Enrichment, isolation and some properties of methane utilising bacteria. J Gen Microbiol 61:205–218

Yarza P, Yilmaz P, Pruesse E, Glöckner FO, Ludwig W, Schleifer K-H, Whitman WB, Euzéby J, A R, Rosselló-Móra R (2014) Uniting the classification of cultured and uncultured bacteria and archaea using 16S rRNA gene sequences. Nat Rev Microbiol 12:635–645
Acknowledgements
We thank Dr. Takashi Itoh, the curator of Japanese culture collection of microorganisms (JCM) and all his colleagues in JCM for their special efforts in preservation of our strain. We would like to thanks Prof. Bernhard Schink, Chair, Microbial Ecology and Limnology, University of Konstanz, for confirming the correctness of the name of the culture and for helping us with the etymology. MACS Agharkar Research Institute is acknowledged for the funds provided for the strain depositions.
Ethics declarations
Conflicts of interest
The authors declare no conflict of interests.
Additional information
Publisher's Note
Springer Nature remains neutral with regard to jurisdictional claims in published maps and institutional affiliations.
About this article
Cite this article
Pandit, P.S., Rahalkar, M.C. Renaming of 'Candidatus Methylocucumis oryzae' as Methylocucumis oryzae gen. nov., sp. nov., a novel Type I methanotroph isolated from India. Antonie van Leeuwenhoek 112, 955–959 (2019) doi:10.1007/s10482-018-01218-8
Received:

Accepted:

Published:

Issue Date:
Keywords
Methanotrophs

Candidatus, Ca. Methylocucumis oryzae
Methylocucumis oryzae
Mcu

Novel genus

Strain Sn10-6T