Abstract
Although anticipated HIV-related stigma—the expectation that one will experience prejudice and discrimination in the future as a result of others learning his or her HIV positive status—is theorized to be a robust predictor of antiretroviral therapy (ART) non-adherence, the association between anticipated stigma and ART non-adherence has been inconsistent. It may be, however, that anticipated stigma reliably, but indirectly, contributes to poor ART adherence through other psychosocial mechanisms. In the current study, we examine whether anticipated stigma indirectly contributes to treatment non-adherence through increased medication concerns. In a cross-sectional study, 585 people living with HIV in Atlanta and Macon, Georgia completed measures of anticipated HIV-related stigma, HIV-medication concerns, and HIV-treatment adherence. A latent variable mediation analysis revealed that anticipated stigma was positively associated with increased medication concerns, which consequently contributed to treatment non-adherence. Results reveal a psychosocial mechanism by which anticipated stigma contributes to ART non-adherence.
This is a preview of subscription content, log in to check access.
Access options
Buy single article
Instant unlimited access to the full article PDF.
US$ 39.95
Price includes VAT for USA
Subscribe to journal
Immediate online access to all issues from 2019. Subscription will auto renew annually.
US$ 99
This is the net price. Taxes to be calculated in checkout.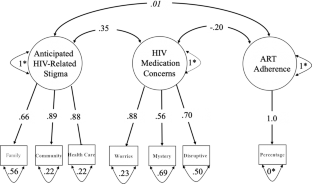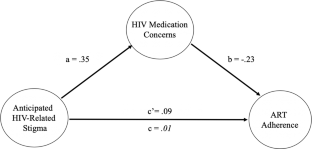 References
1.

Samji H, Cescon A, Hogg RS, et al. Closing the gap: increases in life expectancy among treated HIV-positive individuals in the United States and Canada. PLoS ONE. 2013;8(12):e81355.

2.

Antiretroviral Therapy Cohort Collaboration. Life expectancy of individuals on combination antiretroviral therapy in high-income countries: a collaborative analysis of 14 cohort studies. Lancet. 2008;372(9635):293–9.

3.

Crepaz N, Tang T, Marks G, Mugavero MJ, Espinoza L, Hall HI. Durable viral suppression and transmission risk potential among persons with diagnosed HIV infection: United States, 2012–2013. Clin Infect Dis. 2016;63(7):976–83.

4.

Shubber Z, Mills EJ, Nachega JB, et al. Patient-reported barriers to adherence to antiretroviral therapy: a systematic review and meta-analysis. PLoS Med. 2016;13(11):e1002183.

5.

Katz IT, Ryu AE, Onuegbu AG, et al. Impact of HIV-related stigma on treatment adherence: systematic review and meta-synthesis. J Int AIDS Soc. 2013;16:18640.

6.

Earnshaw VA, Chaudoir SR. From conceptualizing to measuring HIV stigma: a review of HIV stigma mechanism measures. AIDS Behav. 2009;13(6):1160.

7.

Earnshaw VA, Smith LR, Chaudoir SR, Amico KR, Copenhaver MM. HIV stigma mechanisms and well-being among PLWH: a test of the HIV stigma framework. AIDS Behav. 2013;17(5):1785–95.

8.

Sweeney SM, Vanable PA. The association of HIV-related stigma to HIV medication adherence: a systematic review and synthesis of the literature. AIDS Behav. 2016;20(1):29–50.

9.

Nachega JB, Stein DM, Lehman DA, et al. Adherence to antiretroviral therapy in HIV-infected adults in Soweto, South Africa. AIDS Res Hum Retroviruses. 2004;20(10):1053–6.

10.

Watt MH, Maman S, Golin CE, et al. Factors associated with self-reported adherence to antiretroviral therapy in a Tanzanian setting. AIDS Care. 2010;22(3):381–9.

11.

Okoror TA, Falade CO, Olorunlana A, Walker EM, Okareh OT. Exploring the cultural context of HIV stigma on antiretroviral therapy adherence among people living with HIV/AIDS in southwest Nigeria. AIDS Patient Care STDs. 2013;27(1):55–64.

12.

Horne R, Weinman J, Hankins M. The beliefs about medicines questionnaire: the development and evaluation of a new method for assessing the cognitive representation of medication. Psychol Health. 1999;14(1):1–24.

13.

Horne R, Weinman J. Patients' beliefs about prescribed medicines and their role in adherence to treatment in chronic physical illness. J Psychosom Res. 1999;47(6):555–67.

14.

Horne R, Chapman SC, Parham R, Freemantle N, Forbes A, Cooper V. Understanding patients' adherence-related beliefs about medicines prescribed for long-term conditions: a meta-analytic review of the Necessity-Concerns Framework. PLoS ONE. 2013;8(12):e80633.

15.

Horne R, Cooper V, Gellaitry G, Date HL, Fisher M. Patients' perceptions of highly active antiretroviral therapy in relation to treatment uptake and adherence: the utility of the necessity-concerns framework. J Acquir Immune Defic Syndr. 2007;45(3):334–41.

16.

Kalichman S, Kalichman MO, Cherry C. Medication beliefs and structural barriers to treatment adherence among people living with HIV infection. Psychol Health. 2016;31(4):383–95.

17.

Kalichman SC, Eaton L, Kalichman MO, Cherry C. Medication beliefs mediate the association between medical mistrust and antiretroviral adherence among African Americans living with HIV/AIDS. J Health Psychol. 2017;22(3):269–79.

18.

Turan B, Budhwani H, Fazeli PL, et al. How does stigma affect people living with HIV? The mediating roles of internalized and anticipated HIV stigma in the effects of perceived community stigma on health and psychosocial outcomes. AIDS Behav. 2017;21(1):283–91.

19.

Rintamaki LS, Davis TC, Skripkauskas S, Bennett CL, Wolf MS. Social stigma concerns and HIV medication adherence. AIDS Patient Care STDs. 2006;20(5):359–68.

20.

Bogart LM, Cowgill BO, Kennedy D, et al. HIV-related stigma among people with HIV and their families: a qualitative analysis. AIDS Behav. 2008;12(2):244–54.

21.

Rao D, Kekwaletswe TC, Hosek S, Martinez J, Rodriguez F. Stigma and social barriers to medication adherence with urban youth living with HIV. AIDS Care. 2007;19(1):28–33.

22.

Georgia Department of Public Health. o. P. HIV surveillance summary Georgia. https://dph.georgia.gov/georgias-hivaids-epidemiology-surveillance-section (2013). Accessed 1 May 2018.

23.

Giordano TP, Guzman D, Clark R, Charlebois ED, Bangsberg DR. Measuring adherence to antiretroviral therapy in a diverse population using a visual analogue scale. HIV Clin Trials. 2004;5(2):74–9.

24.

Finitsis DJ, Pellowski JA, Johnson BT. Text message intervention designs to promote adherence to antiretroviral therapy (ART): a meta-analysis of randomized controlled trials. PLoS ONE. 2014;9(2):e88166.

25.

Haberer JE, Kiwanuka J, Nansera D, Ragland K, Mellins C, Bangsberg DR. Multiple measures reveal antiretroviral adherence successes and challenges in HIV-infected Ugandan children. PLoS ONE. 2012;7(5):e36737.

26.

Kalichman S, Katner H, Banas E, Kalichman M. Population density and AIDS-related stigma in large-urban, small-urban, and rural communities of the southeastern USA. Prev Sci. 2017;18(5):517–25.

27.

Little TD, Rhemtulla M, Gibson K, Schoemann AM. Why the items versus parcels controversy needn't be one. Psychol Methods. 2013;18(3):285–300.

28.

Schreiber JB, Nora A, Stage FK, Barlow EA, King J. Reporting structural equation modeling and confirmatory factor analysis results: a review. J Educ Res. 2006;99(6):323–38.

29.

Shrout PE, Bolger N. Mediation in experimental and nonexperimental studies: new procedures and recommendations. Psychol Methods. 2002;7(4):422–45.

30.

Rosseel Y. Lavaan: an R package for structural equation modeling and more. Version 0.5–12 (BETA). J Stat Softw. 2012;48(2):1–36.
Ethics declarations
Conflict of interest
Peter Vanable at Syracuse University served as the Action Editor on this paper. The Editor, Seth Kalichman, was uninvolved in the review and editorial decisions due to conflict of interest.
Ethical Approval
All procedures performed in studies involving human participants were in accordance with the ethical standards of the institutional and/or national research committee and with the 1964 Helsinki declaration and its later amendments or comparable ethical standards.
Informed Consent
Informed consent was obtained from all individual participants included in the study.
Additional information
Publisher's Note
Springer Nature remains neutral with regard to jurisdictional claims in published maps and institutional affiliations.
About this article
Cite this article
Camacho, G., Kalichman, S. & Katner, H. Anticipated HIV-Related Stigma and HIV Treatment Adherence: The Indirect Effect of Medication Concerns. AIDS Behav 24, 185–191 (2020). https://doi.org/10.1007/s10461-019-02644-z
Keywords
HIV/AIDS

Anticipated HIV-related stigma

Medication concerns

Adherence

Structural equation modeling