Re-thinking Linkage to Care in the Era of Universal Test and Treat: Insights from Implementation and Behavioral Science for Achieving the Second 90
Abstract
To successfully link to care, persons living with HIV must negotiate a complex series of processes from HIV diagnosis through initial engagement with HIV care systems and providers. Despite the complexity involved, linkage to care is often oversimplified and portrayed as a single referral step. In this article, we offer a new conceptual framework for linkage to care, tailored to the current universal test and treat era that presents linkage to care as its own nuanced pathway within the larger HIV care cascade. Conceptualizing linkage to care in this way may help better identify and specify processes posing a barrier to linkage, and allow for the development of targeted implementation and behavioral science-based approaches to address them. Such approaches are likely to be most relevant to programmatic and clinical settings with limited resources and high HIV burden.
Keywords
HIV 
Linkage to care 
Test and treat 
90-90-90 
Implementation science 
Resumen
Para vincularse a la atención médica con éxito, las personas que viven con VIH tienen que negociar una serie de pasos complicados desde el diagnóstico del VIH hasta las interacciones primeras con los sistemas y proveedores de cuidado y tratamiento del VIH. A pesar de la complejidad involucrada, muchas veces el vínculo con la atención médica es demasiado simplificado y se considera como un solo paso de remisión. En este artículo, ofrecemos una nueva definición operativa de la vinculación con la atención médica, adaptada a la era actual de prueba y tratamiento universal que establece la vinculación a la atención médica como su propio camino matizado dentro de la cascada más amplia del tratamiento de VIH. Conceptualizando la vinculación a la atención médica de esta manera puede ayudar a identificar y especificar mejor los procesos que dificulten la vinculación a la atención médica, y permitir el desarrollo de estrategias dirigidas y basadas en la ciencia de implementación y de compartamiento para abordar esos procesos obstructivos. Es probable que estas estrategias sean más relevantes para contextos programáticos y clínicos con recursos limitados y una alta prevalencia de VIH.
Introduction
Global calls to realize the UNAIDS 90-90-90 targets have been transformative, mobilizing governments and the international community to ensure: (1) 90% of people living with HIV (PLHIV) know their HIV status; (2) 90% of PLHIV who know their status start and sustain antiretroviral therapy (ART); and (3) 90% of PLHIV on ART achieve viral suppression. At the heart of these targets is a global effort to "treat all" PLHIV irrespective of CD4 count or clinical stage, a strategy known as universal test and treat (UTT). When implemented at scale, UTT can promote universal access to ART and lead to profound individual and public health benefits [1, 2, 3, 4, 5, 6]. As a result, UTT has been codified in countless country treatment guidelines since WHO endorsement in 2015 [7, 8], and is currently being implemented in many clinical and programmatic settings globally in pursuit of the first and second 90s.
Despite this global progress, efforts to achieve the second 90 have been hampered by persistent challenges with linkage to care (LTC), the pathway from HIV diagnosis to initial engagement with HIV care and treatment. In 2017, 41% of all PLHIV globally, and 21% of those aware of their HIV status were not receiving ART [9]. Recent pragmatic trials from sub-Saharan Africa highlight the extent of the LTC problem in those countries most heavily burdened by HIV. Two cluster randomized trials of treatment as prevention (ANRS 12249 [TasP] and HPTN 071 [PopART]) reported only 42–48% of adults linking to care after testing HIV-positive despite receiving a variety of linkage support services [10, 11]. Other work—mostly from before the UTT era—has identified important barriers and facilitators to LTC in low and middle-income countries (LMICs) [12, 13, 14, 15], and provided behavioral models to conceptualize HIV care utilization and LTC [16, 17, 18]. What appears less explored and, thereby, incompletely understood, are the processes integral to LTC in settings implementing UTT. In this paper, we present a conceptual framework that articulates the individual processes comprising LTC, and the service delivery approaches and health-seeking behaviors needed to successfully achieve LTC in the UTT era. Our goal is to provide a clear and operationally relevant description of these processes to support the implementation of evidence-based approaches to improve LTC, with particular focus on clinical and programmatic settings in LMICs highly burdened by HIV/AIDS.
A New Approach to Framing Linkage to Care
Successful LTC should reflect more than the first visit to the ART clinic, the first ART prescription [19], or a simple handoff between HIV testing and treatment providers. Instead, a programmatically meaningful definition of "full" LTC should include, at a minimum, that a newly HIV-diagnosed individual has received health communication regarding the HIV test result with post-test counseling, has registered for care, has been evaluated for ART, has received ART education (from a clinician or counselor), and has been dispensed and initiated ART. In our framework, we also include a return follow-up visit—after the initial ART dispensation—as a step in the LTC definition. This is to provide some assessment of linkage beyond a single (and potentially fleeting) encounter with the health care system. Notably, reports of patients who collect ART for the first time but never return for follow up range from 15% to over 30% across a range of settings [20, 21, 22], calling into question whether these patients were ever truly linked to care. Including a follow-up contact with the health care system—either in the facility or the community—enhances the assessment of linkage as being fully connected or linked into care versus having simply passed by an ART prescriber, but not having committed to continuing care or taking medications.
Another important consideration for a programmatically useful LTC definition is the time interval from testing HIV-positive to initiating ART care and attending follow-up. In routine practice, this time can range from minutes, to days, to weeks, or even months. A variety of time intervals have been used in the literature and for programmatic reporting, mostly focused on time from testing to one of the following steps: enrollment, first clinical evaluation, ART initiation, or baseline laboratory testing [23, 24]. Historically, the time interval used (e.g., 30, 60, or 90 days) has reflected programmatic needs resulting from routine data collection activities, funder reporting requirements, limited program resources, or other pragmatic considerations. Emerging data suggest that applying 1 month as a "deadline" for establishing LTC may be a programmatically useful time point to predict future viral suppression [24] and to identify "unlinked" individuals who may benefit from more intensive LTC services [25]. For example, in Uganda, 53% of newly HIV-diagnosed patients linked to care by 1 month—defined as registering for ART at a facility—with that figure increasing only slightly to 56% by 3 months post-diagnosis [21]. After 1 month, the incremental likelihood of patients linking to care increased only marginally [24]. Passively waiting beyond a few weeks, let alone 1 month, for a newly diagnosed HIV-positive individual to link to care may undermine a program's ability to successfully identify, and then trace, find, and engage, individuals who have not yet achieved LTC.
In the time from testing HIV-positive, to being dispensed and initiating ART, to the first follow-up visit, there are multiple steps that should occur. We summarize these steps as part of a pragmatic operational definition of LTC, which frames LTC as its own pathway within the larger HIV cascade (Fig. 
1
). The steps include appropriately educating or counseling a patient, facilitating transfer to the care and treatment department, investigating for co-morbid infections and assessing safety of the planned ART regimen during clinical evaluation, initiating ART and dispensing other medications, providing early support, and completing a first follow-up visit. Ideally, the LTC pathway should take no more than a few weeks to complete all steps, including same-day or rapid ART initiation (within 7 days of diagnosis) in line with WHO guidelines [
26
], and a first return visit. The LTC pathway is informed by the social ecological model [
27
,
28
] and the conceptual model of implementation research [
29
,
30
], and thus reflects a complex set of processes, each involving dynamic interplay among multiple health system-, facility-, and patient behavior-level factors (Table 
1
) [
12
].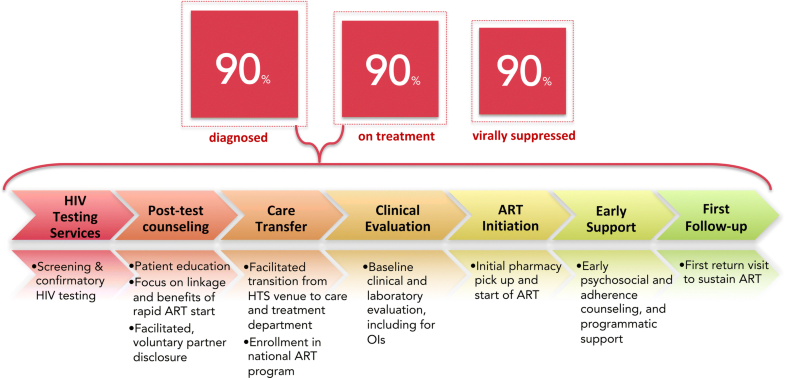 Table 1
Barriers and health system-, service delivery-, and patient behavioral factors influencing linkage to care
Linkage to care pathway step & relevance

Factors

System-level

Health service delivery

Patient behavioral

Barriers

HIV testing services

Counseling and testing services necessary to accurately and safely establish an HIV diagnosis

Setting (facility, venue, community, home, etc.); maintaining test kit supply chain

Access; provider attitude toward clients; provider incentives; quality assurance and control mechanisms

Motivation for testing; believing and acting upon test results

Access; test kit quality control; ensuring confidentiality and privacy; preventing inadvertent disclosure

Post-test counseling

Educating patient about HIV/AIDS and implications of the diagnosis for the patient, their partner(s), and their family; emphasizing benefits and availability of ART; discussing importance of LTC

Adequate training, support, and remuneration for counselors

Counseling technique, focus, and content

Engagement and trust in counselor

Adequate counseling space; effective counselor supervision and training

Care transfer

Robust, facilitated transition between testing and treatment departments, ultimately culminating in registration in the national HIV program and meeting treatment provider

Complexity of navigation to care registration

Patient-centered processes; facilitation of transfer/patient accompaniment

Perception of value of HIV care; perception of costs of attending care

Patient perceptions of time and value of HIV care; patient readiness to accept treatment and initiate ART

Clinical evaluation

Initial medical review, including comprehensive history and physical exam, laboratory evaluation, investigation for co-morbid infections and assessment of safety of planned ART regimen

Number of steps or visits required; adequate infrastructure and human resources for health

Integrity of laboratory testing and processes for returning results

Patient capacity (mediated by burden of illness)

Added burden from multiple clinical encounters which may require enduring long queues; clinic space; lab infrastructure; limited human resources and provider training

ART initiation

Patient ART readiness assessment and first ART dispensing

ART supply chain and logistics

Complexity of dispensing ART

Consideration of the relevance of ART and potential side effects

Patient "not ready" to start ART; internal and external stigma

Early support

Psychosocial counseling, often focused on adherence and "positive living," and other support to lower barriers to care engagement, including voluntary facilitated partner disclosure

Patient-centered support versus health system-centered

Availability of peer supporters, support groups, and counselors; identifying individuals who do not return for support; Adherence counseling technique, focus, and content

Overcoming concerns of disclosure and stigma to engage in available support services

Patient not identifying value; unavailable or insufficiently resourced support services; weak connections between facility- and community-level services

First follow-up

Return visit with the treatment provider to confirm and support taking ART and continuing HIV care

Goals and timing of follow-up

Availability of health workers; capacity of facility for additional patient visits

Value of follow-up to patient

Establishing systems for scheduling early follow-up and reminding patients
Monitoring and Measuring Linkage to Care
A universal operational definition for LTC responsive to the UTT era is urgently needed to allow comparison of LTC outcomes over time within and across programs. We propose a programmatic definition for "full" LTC that presents the proportion of newly diagnosed HIV-positive individuals who successfully register in the national treatment program, undergo baseline clinical and laboratory evaluation, collect a first ART prescription, initiate ART, and return for a first follow-up visit—all within a well-specified time frame (e.g., no more than 2 to 4 weeks from HIV diagnosis). Such a definition may be applied at an individual level to identify patients who have not achieved full LTC or at a program level to prompt corrective action when a program's LTC "rate" fails to meet a pre-specified target. To be most effective, LTC data must be tracked for individual patients as they progress through each step in the LTC pathway, with a particular focus on ART initiation [19], so providers and program managers can identify areas of attrition and develop ways to address them. The use of a paper-based linkage register that captures every new HIV diagnosis within a facility's catchment area and documents patient HTS, ART, and laboratory identifying numbers from disparate data sources in one data recording tool may be a low-cost approach for improving individual-level LTC reporting. Newer strategies to link diverse HIV program data, such as biometrics and SIM chip- or barcode-enabled patient cards encoding a national health identifier, merit further evaluation and scale up [68]. Using such individually linked health information across data platforms is the most promising strategy to provide true patient-level descriptions of LTC. Critically, these linked data need to identify in as real-time as possible: (1) patients who have not fully linked and may benefit from a specific enhanced LTC strategy; and (2) clinic-level trends to guide quality improvement activities. Implementing partners and funding agencies should move away from reporting uncoupled cross-sectional estimates of LTC (e.g., total number of PLHIV newly initiating ART divided by the total number of new HIV diagnoses in a reporting period), which do not track individual patients along the LTC pathway and may overestimate rates of successful linkage. Instead, employing longitudinal information, programs should adopt sequential time-defined patient-level "cohort" reporting, which can be used to assess LTC changes over time and to monitor LTC in populations who may be less likely to achieve full LTC (e.g., adolescents) [69]. Where universal national health identifiers are not available, cohort-based reporting within a geographic area (e.g., district or province) may be assisted by electronic health record data capture at all service entry points along the LTC pathway [70] and the use of probabilistic patient matching algorithms to identify silent transfers, "side door" LTC pathway entry [47], and minimize duplicate patient records [71].
Conclusion
Successful LTC requires a patient to navigate a series of processes, from testing HIV positive through post-test counseling, care transfer, clinical evaluation, ART initiation, and initial follow-up. Identifying the process that is the greatest barrier to successful LTC—at health system, service delivery, or patient behavior levels—is a critical first step. Once identified, the barrier can be specified, characterized, and measured to spark program improvement. With this clear understanding in hand, targeted and context appropriate health system strategies or patient-level interventions can be designed to address the deficient process or processes within the LTC pathway. Critical examination of LTC as its own pathway will help to illuminate how and where intervention are, and are not, working and enable the design of new implementation strategies to achieve the second 90.
Notes
Compliance with Ethical Standards
Conflict of interest
The authors declare that they have no conflict of interest.
Research Involving Human Participants
This commentary did not involve any contact or procedures involving human participants.
Copyright information
© The Author(s) 2019
corrected publication 2019
Open AccessThis article is distributed under the terms of the Creative Commons Attribution 4.0 International License (http://creativecommons.org/licenses/by/4.0/), which permits unrestricted use, distribution, and reproduction in any medium, provided you give appropriate credit to the original author(s) and the source, provide a link to the Creative Commons license, and indicate if changes were made.