Abstract
Engagement in prevention services is crucial to reducing HIV risk among female entertainment and sex workers (FESW), and SMARTgirl is the national social marketing HIV prevention program for Cambodian women engaged in sex and entertainment work. Informed by the Behavioral Model of Vulnerable Populations, three multivariate logistic regression analyses examined correlates of three indices of engagement along the SMARTgirl HIV prevention continuum: (1) receipt of outreach services (past 3 months); (2) being registered as a SMARTgirl member; and (3) SMARTgirl club attendance (past year). Among the 1077 FESW enrolled in nine Cambodian provinces, women working in a brothel or freelance (adjusted odds ratio [aOR] 2.48; 95% CI 1.44–4.26) and those exchanging sex for drugs during the past 3 months (aOR 0.45; 95% CI 0.25–0.81) had significantly lower odds of contact with a SMARTgirl outreach worker. Women who reported having more than ten sexual partners in the past 3 months (aOR 0.54; 95% CI 0.32–0.89) and those who reported binge alcohol use (aOR 0.53; 95% CI 0.29–0.98) had significantly lower odds of being registered as SMARTgirl members. Exchanging sex for drugs was also associated with increased odds of attending a SMARTgirl club (aOR 2.03; 95% CI 1.04–3.98). Novel methods to deliver HIV prevention services are warranted to more effectively reach FESW who exchange sex for drugs, engage in binge alcohol use, report a greater number of sexual partners, and those not working in established work venues.
This is a preview of subscription content, log in to check access.
Access options
Buy single article
Instant access to the full article PDF.
US$ 39.95
Price includes VAT for USA
Subscribe to journal
Immediate online access to all issues from 2019. Subscription will auto renew annually.
US$ 99
This is the net price. Taxes to be calculated in checkout.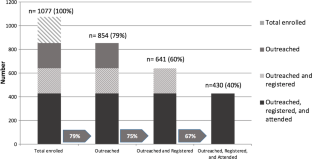 References
1.

Baral S, Beyrer C, Muessig K, et al. Burden of HIV among female sex workers in low-income and middle-income countries: a systematic review and meta-analysis. Lancet Infect Dis. 2012;12(7):538–49.

2.

UNAIDS. Joint United Nations Programme on HIV/AIDS. Global report UNAIDS report on the global AIDS epidemic 2013. Geneva: UNAIDS; 2013.

3.

Couture MC, Sansothy N, Sapphon V, et al. Young women engaged in sex work in Phnom Penh, Cambodia, have high incidence of HIV and sexually transmitted infections, and amphetamine-type stimulant use: new challenges to HIV prevention and risk. Sex Transm Dis. 2011;38(1):33.

4.

Couture MC, Evans JL, San Sothy N, et al. Correlates of amphetamine-type stimulant use and associations with HIV-related risks among young women engaged in sex work in Phnom Penh, Cambodia. Drug Alcohol Depend. 2012;120(1–3):119–26.

5.

Maher L, Dixon TC, Phlong P, Mooney-Somers J, Stein ES, Page K. Conflicting rights: how the prohibition of human trafficking and sexual exploitation infringes the right to health of female sex workers in Phnom Penh, Cambodia. BMC Int Health Hum Rights. 2015;17(1):102–13.

6.

Maher L, Mooney-Somers J, Phlong P, et al. Selling sex in unsafe spaces: sex work risk environments in Phnom Penh, Cambodia. Harm Reduct J. 2011;8(1):30.

7.

Page K, Stein E, Sansothy N, et al. Sex work and HIV in Cambodia: trajectories of risk and disease in two cohorts of high-risk young women in Phnom Penh, Cambodia. BMJ Open. 2013;3(9):e003095.

8.

Singer M. AIDS and the health crisis of the US urban poor; the perspective of critical medical anthropology. Soc Sci Med. 1994;39(7):931–48.

9.

Tsai AC, Mendenhall E, Trostle JA, Kawachi I. Co-occurring epidemics, syndemics, and population health. Lancet. 2017;389(10072):978–82.

10.

Draughon-Moret JE, Carrico AW, Evans JL, et al. The impact of violence on sex risk and drug use behaviors among women engaged in sex work in Phnom Penh, Cambodia. Drug Alcohol Depend. 2016;1(161):171–7.

11.

FHI. SMARTgirl Program to Reduce Risk and Inspire Behavior Change. 2011. http://www.fhiorg/en/CountryProfiles/Cambodia/res_SMARTgirlhtm.

12.

Page K, Carrico AW, Stein E, et al. Cluster randomized stepped-wedge trial of a multi-level HIV prevention intervention to decrease amphetamine-type stimulants and sexual risk in Cambodian female entertainment and sex workers. Drug Alcohol Depend. 2019;196:21–30.

13.

Page K, Stein ES, Carrico AW, et al. Protocol of a cluster randomised stepped-wedge trial of behavioural interventions targeting amphetamine-type stimulant use and sexual risk among female entertainment and sex workers in Cambodia. BMJ Open. 2016;6(5):e010854.

14.

Andersen RM. Revisiting the behavioral model and access to medical care: does it matter? J Health Soc Behav. 1995. https://doi.org/10.2307/2137284.

15.

Gelberg L, Andersen RM, Leake BD. The Behavioral Model for Vulnerable Populations: application to medical care use and outcomes for homeless people. Health Serv Res. 2000;34(6):1273.

16.

Lazarus L, Chettiar J, Deering K, Nabess R, Shannon K. Risky health environments: women sex workers' struggles to find safe, secure and non-exploitative housing in Canada's poorest postal code. Soc Sci Med. 2011;73(11):1600–7.

17.

Furukawa TA, Kessler RC, Slade T, Andrews G. The performance of the K6 and K10 screening scales for psychological distress in the Australian National Survey of Mental Health and Well-Being. Psychol Med. 2003;33(2):357–62.

18.

Aubé-Maurice J, Clément M, Bradley J, Lowndes CM, Gurav K, Alary M. Gender relations and risks of HIV transmission in South India: the discourse of female sex workers' clients. Cult Health Sex. 2012;14(6):629–44.

19.

Ministry of Health (MOH). Annual health statistics report. 2012. http://www.hiscambodia.org/public/fileupload/Annual_Statistic_2012.pdf. Accessed 2 April 2018.

20.

Morisky DE, Stein JA, Chiao C, Ksobiech K, Malow R. Impact of a social influence intervention on condom use and sexually transmitted infections among establishment-based female sex workers in the Philippines: a multilevel analysis. Health Psychol. 2006;25(5):595.

21.

Maher L, Phlong P, Mooney-Somers J, et al. Amphetamine-type stimulant use and HIV/STI risk behaviour among young female sex workers in Phnom Penh, Cambodia. Int J Drug Policy. 2011;22(3):203–9.

22.

Chersich MF, Bosire W, King'ola N, Temmerman M, Luchters S. Effects of hazardous and harmful alcohol use on HIV incidence and sexual behaviour: a cohort study of Kenyan female sex workers. Global Health. 2014;10(1):22.

23.

Hoffman IF, Latkin CA, Kukhareva PV, et al. A peer-educator network HIV prevention intervention among injection drug users: results of a randomized controlled trial in St. Petersburg, Russia. AIDS Behav. 2013;17(7):2510–20.

24.

Latkin CA, Sherman S, Knowlton A. HIV prevention among drug users: outcome of a network-oriented peer outreach intervention. Health Psychol. 2003;22(4):332.

25.

Latkin CA, Donnell D, Metzger D, Sherman S, Aramrattna A, Davis-Vogel A, Quan VM, Gandham S, Vongchak T, Perdue T, Celentano DD. The efficacy of a network intervention to reduce HIV risk behaviors among drug users and risk partners in Chiang Mai, Thailand and Philadelphia, USA. Soc Sci Med. 2009;68(4):740–8.

26.

Tobin KE, Kuramoto SJ, Davey-Rothwell MA, Latkin CA. The STEP into Action study: a peer-based, personal risk network-focused HIV prevention intervention with injection drug users in Baltimore, Maryland. Addiction. 2011;106(2):366–75.

27.

Jones EE, Sigall H. The bogus pipeline: a new paradigm for measuring affect and attitude. Psychol Bull. 1971;76(5):349.
Acknowledgments
This study is funded by the US National Institutes of Health (NIH) National Institute on Drug Abuse (Grant No. 1R01 DA033672; Page & Stein, PIs). We would like to thank our research collaborators in Cambodia as well as the women who participated in the SMARTgirl program.
Ethics declarations
Conflict of interest
All authors of the present manuscript declare that they have no conflict of interest.
Research Involving Human Participants and/or Animals
All procedures performed in studies involving human participants were in accordance with the ethical standards of the institutional and/or national research committee(s) and with the 1964 Helsinki declaration and its later amendments or comparable ethical standards.
Informed Consent
Informed consent was obtained from all individual participants included in the study.
Additional information
Publisher's Note
Springer Nature remains neutral with regard to jurisdictional claims in published maps and institutional affiliations.
About this article
Cite this article
Lee, J., Page, K., Stein, E. et al. Who's that SMARTgirl? Reaching Cambodian Female Entertainment and Sex Workers with HIV Prevention Services. AIDS Behav 24, 738–745 (2020). https://doi.org/10.1007/s10461-019-02532-6
Keywords
Amphetamine-type stimulants

HIV prevention

Sex work