Abstract
Although antiretroviral therapy (ART) is vital to people living with HIV (PLWH) by suppressing the virus and in turn preventing onward HIV transmission and reducing AIDS-related morbidity and mortality, the rates of optimal ART adherence continuously remain low. Disclosure of HIV status is considered to be a critical predictor of ART adherence. However, few studies have explored the mechanisms underlying the association between disclosure and medication adherence. The current study aims to examine the mediating role of social support and self-efficacy underlying the relationship between HIV disclosure to family members and ART adherence. PLWH in China provided data on HIV disclosure, ART adherence, perceived social support on medication adherence, adherence self-efficacy, and social-demographic information. The path analyses revealed that disclosure to family members had significant indirect effects on adherence via social support and self-efficacy. Our findings suggested that HIV disclosure might positively affect ART adherence through two psychosocial pathways: social support and self-efficacy. Future intervention to improve medication adherence among PLWH should consider targeting these two factors.
This is a preview of subscription content, log in to check access.
Access options
Buy single article
Instant unlimited access to the full article PDF.
US$ 39.95
Price includes VAT for USA
Subscribe to journal
Immediate online access to all issues from 2019. Subscription will auto renew annually.
US$ 99
This is the net price. Taxes to be calculated in checkout.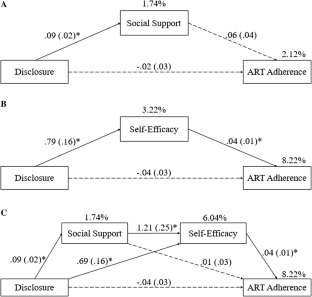 References
1.

The United Nations Joint Programme on HIV/AIDS. UNAIDS data 2017. http://www.unaids.org/sites/default/files/media_asset/unaids-data-2018_en.pdf. Accessed 2018.

2.

Maile R, Roger L, Sterne JAC, Sonia HD, Robins JM, Caroline S, et al. The effect of combined antiretroviral therapy on the overall mortality of HIV-infected individuals. AIDS. 2010;24(1):123–37.

3.

Paterson DL, Swindells S, Mohr J, Brester M, Vergis EN, Squier C, et al. Adherence to protease inhibitor therapy and outcomes in patients with HIV infection. Ann Intern Med. 2000;133(1):21–30.

4.

Vernazza PL, Eron JJ, Fiscus SA, Cohen MS. Sexual transmission of HIV: infectiousness and prevention. AIDS. 1999;13(2):155–66.

5.

Wood E, Hogg RS, Yip B, Harrigan PR, O'Shaughnessy MV, Montaner JS. Is there a baseline CD4 cell count that precludes a survival response to modern antiretroviral therapy? AIDS. 2003;17(5):711–20.

6.

Arage G, Tessema GA, Kassa H. Adherence to antiretroviral therapy and its associated factors among children at South Wollo Zone Hospitals, Northeast Ethiopia: a cross-sectional study. BMC Public Health. 2014;14:365.

7.

Biressaw S, Abegaz WE, Abebe M, Taye WA, Belay M. Adherence to antiretroviral therapy and associated factors among HIV infected children in Ethiopia: unannounced home-based pill count versus caregivers' report. BMC Pediatr. 2013;13:132.

8.

Cluver LD, Hodes RJ, Toska E, Kidia KK, Orkin FM, Sherr L, et al. 'HIV is like a tsotsi. ARVs are your guns': associations between HIV-disclosure and adherence to antiretroviral treatment among adolescents in South Africa. AIDS. 2015;29(Suppl 1):57–65.

9.

Massad LS, Evans CT, Wilson TE, Golub ET, Goparaju L, Howard A, et al. Intermediate highly active antiretroviral therapy adherence thresholds and empirical models for the development of drug resistance mutations. J Acquir Immune Defic Syndr. 2008;47(3):397–402.

10.

Brown JL, Littlewood RA, Vanable PA. Social-cognitive correlates of antiretroviral therapy adherence among HIV-infected individuals receiving infectious disease care in a medium-sized northeastern US city. AIDS Care. 2013;25(9):1149–58.

11.

Cederfjall C, Langius-Eklof A, Lidman K, Wredling R. Self-reported adherence to antiretroviral treatment and degree of sense of coherence in a group of HIV-infected patients. AIDS Patient Care STDS. 2002;16(12):609–16.

12.

Godin G, Gagne C, Naccache H. Validation of a self-reported questionnaire assessing adherence to antiretroviral medication. AIDS Patient Care STDS. 2003;17(7):325–32.

13.

Fogartya L, Rotera D, Larsona S, Burkea J, Gillespieb J, Levy R. Patient adherence to HIV medication regimens: a review of published and abstract reports. Patient Educ Couns. 2002;46:93–108.

14.

Chaudoir SR, Fisher JD, Simoni JM. Understanding HIV disclosure: a review and application of the disclosure processes model. Soc Sci Med. 2011;72(10):1618–29.

15.

Qiao S, Li X, Stanton B. Disclosure of parental HIV infection to children: a systematic review of global literature. AIDS Behav. 2013;17(1):369–89.

16.

Stirratt MJ, Remien RH, Smith A, Copeland OQ, Dolezal C, Krieger D, et al. The role of HIV serostatus disclosure in antiretroviral medication adherence. AIDS Behav. 2006;10(5):483–93.

17.

Spire B, Carrieri P, Sopha P, Protopopescu C, Prak N, Quillet C, et al. Adherence to antiretroviral therapy in patients enrolled in a comprehensive care program in Cambodia: a 24 month follow-up assessment. Antivir Ther. 2008;13(5):697–703.

18.

Serovich JM, Craft SM, Yoon HJ. Women's HIV disclosure to immediate family. AIDS Patient Care STDS. 2007;21(12):970–80.

19.

Ko NY, Lee HC, Hsu ST, Wang WL, Huang MC, Ko WC. Differences in HIV disclosure by modes of transmission in Taiwanese families. AIDS Care. 2007;19(6):791–8.

20.

Sowell RL, Seals BF, Phillips KD, Julious CH. Disclosure of HIV infection: how do women decide to tell? Health Educ Res. 2003;18(1):32–44.

21.

Mellins CA, Kang E, Leu CS, Havens JF, Chesney MA. Longitudinal study of mental health and psychosocial predictors of medical treatment adherence in mothers living with HIV disease. AIDS Patient Care STDS. 2003;17(8):407–16.

22.

Wouters E, van Loon F, van Rensburg D, Meulemans H. Community support and disclosure of HIV serostatus to family members by public-sector antiretroviral treatment patients in the Free State Province of South Africa. AIDS Patient Care STDS. 2009;23(5):357–64.

23.

Malcolm SE, Ng JJ, Rosen RK, Stone VE. An examination of HIV/AIDS patients who have excellent adherence to HAART. AIDS Care Psychol Socio-Med Aspects AIDS/HIV. 2003;15(2):251–61.

24.

Qiao S, Li X, Stanton B. Theoretical models of parental HIV disclosure: a critical review. AIDS Care. 2013;25(3):326–36.

25.

Klitzman RL, Kirshenbaum SB, Dodge B, Remien RH, Ehrhardt AA, Johnson MO, et al. Intricacies and inter-relationships between HIV disclosure and HAART: a qualitative study. AIDS Care. 2004;16(5):628–40.

26.

Kalichman SC, DiMarco M, Austin J, Luke W, DiFonzo K. Stress, social support, and HIV-status disclosure to family and friends among HIV-positive men and women. J Behav Med. 2003;26(4):315–32.

27.

Vyavaharkar M, Moneyham L, Corwin S, Tavakoli A, Saunders R, Annang L. Hiv-disclosure, social support, and depression among HIV-infected African American women living in the rural southeastern United States. AIDS Educ Prev. 2011;23(1):78–90.

28.

Zea MC, Reisen CA, Poppen PJ, Bianchi FT, Echeverry JJ. Disclosure of HIV status and psychological well-being among Latino gay and bisexual men. AIDS Behav. 2005;9(1):15–26.

29.

Qiao S, Li X, Zhou Y, Shen Z, Tang Z, Stanton B. Factors influencing the decision-making of parental HIV disclosure: a socio-ecological approach. AIDS. 2015;29(Suppl 1):S25–34.

30.

Lin X, Chi P, Zhang L, Zhang Y, Fang X, Qiao S, et al. Disclosure of HIV serostatus and sexual orientation among HIV-positive men who have sex with men in China. Community Ment Health J. 2016;52(4):457–65.

31.

Qiao S, Li X, Zhou Y, Shen Z, Tang Z. Interpersonal factors associated with HIV partner disclosure among HIV-infected people in China. AIDS Care. 2016;28(Suppl 1):37–43.

32.

Catz SL, Kelly JA, Bogart LM, Benotsch EG, McAuliffe TL. Patterns, correlates, and barriers to medication adherence among persons prescribed new treatments for HIV disease. Health Psychol. 2000;19(2):124–33.

33.

Gonzalez JS, Penedo FJ, Antoni MH, Duran RE, McPherson-Baker S, Ironson G, et al. Social support, positive states of mind, and HIV treatment adherence in men and women living with HIV/AIDS. Health Psychol. 2004;23(4):413–8.

34.

Huynh AK, Kinsler JJ, Cunningham WE, Sayles JN. The role of mental health in mediating the relationship between social support and optimal ART adherence. AIDS Care. 2013;25(9):1179–84.

35.

Woodward EN, Pantalone DW. The role of social support and negative affect in medication adherence for HIV-infected men who have sex with men. J Assoc Nurses AIDS Care. 2012;23(5):388–96.

36.

Waddell EN, Messeri PA. Social support, disclosure, and use of antiretroviral therapy. AIDS Behav. 2006;10(3):263–72.

37.

Darbes LA, Lewis MA. HIV-specific social support predicts less sexual risk behavior in gay male couples. Health Psychol. 2005;24(6):617–22.

38.

Lehavot K, Huh D, Walters KL, King KM, Andrasik MP, Simoni JM. Buffering effects of general and medication-specific social support on the association between substance use and HIV medication adherence. AIDS Patient Care STDS. 2011;25(3):181–9.

39.

Bandura A. Social foundations of thought and action: a social cognitive theory. Upper Saddle River: Prentice-Hall; 1987. p. 169–71.

40.

Bandura A. Social cognitive theory and exercise of control over HIV infection. New York: Springer; 1994. p. 25–59.

41.

Brown MJ, Serovich JM, Kimberly JA, Umasabor-Bubu O. Disclosure and self-efficacy among HIV-positive men who have sex with men: a comparison between older and younger adults. AIDS Patient Care STDS. 2015;29(11):625–33.

42.

Kalichman SC, Nachimson D. Self-efficacy and disclosure of HIV-positive serostatus to sex partners. Health Psychol. 1999;18(3):281–7.

43.

Machtinger EL, Lavin SM, Hilliard S, Jones R, Haberer JE, Capito K, et al. An expressive therapy group disclosure intervention for women living with HIV improves social support, self-efficacy, and the safety and quality of relationships: a qualitative analysis. J Assoc Nurses AIDS Care. 2015;26(2):187–98.

44.

Archiopoli A, Ginossar T, Wilcox B, Avila M, Hill R, Oetzel J. Factors of interpersonal communication and behavioral health on medication self-efficacy and medication adherence. AIDS Care. 2016;28(12):1607–14.

45.

Colbert AM, Sereika SM, Erlen JA. Functional health literacy, medication-taking self-efficacy and adherence to antiretroviral therapy. J Adv Nurs. 2013;69(2):295–304.

46.

Zhang L, Li X, Lin Z, Jacques-Tiura AJ, Xu J, Zhou Y, et al. Side effects, adherence self-efficacy, and adherence to antiretroviral treatment: a mediation analysis in a Chinese sample. AIDS Care. 2016;28(7):919–26.

47.

Bandura A. Self-efficacy: the exercise of control. J Cogn Psychother 2005;13(2):75–8.

48.

Diiorio C, McCarty F, Depadilla L, Resnicow K, Holstad MM, Yeager K, et al. Adherence to antiretroviral medication regimens: a test of a psychosocial model. AIDS Behav. 2009;13(1):10–22.

49.

Cha E, Erlen JA, Kim KH, Sereika SM, Caruthers D. Mediating roles of medication-taking self-efficacy and depressive symptoms on self-reported medication adherence in persons with HIV: a questionnaire survey. Int J Nurs Stud. 2008;45(8):1175–84.

50.

Tomfohr LM, Pung MA, Dimsdale JE. Mediators of the relationship between race and allostatic load in African and White Americans. Health Psychol. 2016;35(4):322–32.

51.

Hayes AF. Introduction to mediation, moderation and conditional process analysis: a regression-based approach. New York: Guilford; 2013.

52.

Zhou G, Li X, Qiao S, Shen Z, Zhou Y. Influence of side effects on ART adherence among PLWH in China: the moderator role of ART-related knowledge. AIDS Behav. 2018;22(3):961–70.

53.

Ministry of Health of the People's Republic of China. 2012 China AIDS Response Progress Report. http://ghdx.healthdata.org/record/china-aids-response-progress-report-2012. Accessed 2012.

54.

Kohout FJ, Berkman LF, Evans DA, Cornoni-Huntley J. Two shorter forms of the CES-D (Center for Epidemiological Studies Depression) depression symptoms index. J Aging Health. 1993;5(2):179–93.

55.

Berger BE, Ferrans CE, Lashley FR. Measuring stigma in people with HIV: psychometric assessment of the HIV stigma scale. Res Nurs Health. 2001;24(6):518–29.

56.

Lipira L, Williams EC, Huh D, Kemp CG, Nevin PE, Greene P, et al. HIV-related stigma and viral suppression among African-American women: exploring the mediating roles of depression and ART nonadherence. AIDS Behav. 2018. https://doi.org/10.1007/s10461-018-2301-4.

57.

National Bureau of Statistics of China. China Statistical Yearbook. http://www.stats.gov.cn/tjsj/ndsj/2013/indexch.htm. Accessed 2013.

58.

Hays RB, McKusick L, Pollack L, Hilliard R, Hoff C, Coates TJ. Disclosing HIV seropositivity to significant others. AIDS. 1993;7(3):425–31.

59.

Katz IT, Ryu AE, Onuegbu AG, Psaros C, Weiser SD, Bangsberg DR, et al. Impact of HIV-related stigma on treatment adherence: systematic review and meta-synthesis. J Int AIDS Soc. 2013;16(3 Suppl 2):18640.

60.

Clum GA, Czaplicki L, Andrinopoulos K, Muessig K, Hamvas L, Ellen JM, et al. Strategies and outcomes of HIV status disclosure in HIV-positive young women with abuse histories. AIDS Patient Care STDS. 2013;27(3):191–200.

61.

Gielen AC, McDonnell KA, Burke JG, O'Campo P. Women's lives after an HIV-positive diagnosis: disclosure and violence. Matern Child Health J. 2000;4(2):111–20.

62.

Comer LK, Henker B, Kemeny M, Wyatt G. Illness disclosure and mental health among women with HIV/AIDS. J Commun Appl Soc Psychol. 2000;10(6):449–64.

63.

Li X, de Wit J, Qiao S, Sherr L. HIV disclosure to children in low-and middle-income countries: towards effective interventions. AIDS. 2015;29(Suppl 1):S1–5.

64.

Ortiz CE. Disclosing concerns of Latinas living with HIV/AIDS. J Transcult Nurs. 2005;16(3):210–7.

65.

Simoni JM, Kurth AE, Pearson CR, Pantalone DW, Merrill JO, Frick PA. Self-report measures of antiretroviral therapy adherence: a review with recommendations for HIV research and clinical management. AIDS Behav. 2006;10(3):227–45.

66.

Simoni JM, Pantalone DW, Plummer MD, Huang B. A randomized controlled trial of a peer support intervention targeting antiretroviral medication adherence and depressive symptomatology in HIV-positive men and women. Health Psychol. 2007;26(4):488–95.

67.

McCallum EB, Peterson ZD. Investigating the impact of inquiry mode on self-reported sexual behavior: theoretical considerations and review of the literature. J Sex Res. 2012;49(2–3):212–26.

68.

Richman WL, Weisband S, Kiesler S, Drasgow F. A meta-analytic study of social desirability distortion in computer administered questionnaires, traditional questionnaires, and interviews. J Appl Psychol. 1999;84(5):754–75.

69.

Levine AJ, Hinkin CH, Marion S, Keuning A, Castellon SA, Lam MM, et al. Adherence to antiretroviral medications in HIV: differences in data collected via self-report and electronic monitoring. Health Psychol. 2006;25(3):329–35.

70.

Pearson CR, Simoni JM, Hoff P, Kurth AE, Martin DP. Assessing antiretroviral adherence via electronic drug monitoring and self-report: an examination of key methodological issues. AIDS Behav. 2007;11(2):161–73.

71.

MacDonell KK, Jacques-Tiura AJ, Naar S, Fernandez MI, Team ATNP. Predictors of self-reported adherence to antiretroviral medication in a multisite study of ethnic and racial minority HIV-positive youth. J Pediatr Psychol. 2016;41(4):419–28.

72.

Elwell K. Facilitators and barriers to treatment adherence within PMTCT programs in Malawi. AIDS Care. 2016;28(8):971–5.

73.

Dalmida SG, McCoy K, Koenig HG, Miller A, Holstad MM, Thomas T, et al. Examination of the role of religious and psychosocial factors in HIV medication adherence rates. J Relig Health. 2017;56(6):2144–61.

74.

Langebeek N, Gisolf EH, Reiss P, Vervoort SC, Hafsteinsdottir TB, Richter C, et al. Predictors and correlates of adherence to combination antiretroviral therapy (ART) for chronic HIV infection: a meta-analysis. BMC Med. 2014;12:142.

75.

Cockerham L, Scherzer R, Zolopa A, Rimland D, Lewis CE, Bacchetti P, et al. Association of HIV infection, demographic and cardiovascular risk factors with all-cause mortality in the recent HAART era. J Acquir Immune Defic Syndr. 2010;53(1):102–6.

76.

Yildiz Sevgi D, Gunduz A, Altuntas Aydin O, Mete B, Sargin F, Kumbasar Karaosmanoglu H, et al. Adherence to antiretroviral therapy in Turkey: results from the ACTHIV-IST Study Group. AIDS Res Hum Retroviruses. 2017;33(12):1192–8.

77.

Daskalopoulou M, Lampe FC, Sherr L, Phillips AN, Johnson MA, Gilson R, et al. Non-disclosure of HIV status and associations with psychological factors, ART non-adherence, and viral load non-suppression among people living with HIV in the UK. AIDS Behav. 2017;21(1):184–95.
Acknowledgements
The authors want to thank other team members at University of South Carolina and Guangxi CDC for their efforts in instrument development and data collection and data management.
Funding
The study was supported by National Institutes of Health (NIH) [Grant Nos. R01HD074221, R01AA018090 and R21AI122919] and National Nature Science Foundation of China (NSFC) [Grant No. 71673146]. The content is solely the responsibility of the authors and does not necessarily represent the official views of the NIH or NSFC.
Ethics declarations
Conflict of interest
Authors declare no of conflict of interest.
Ethical Approval
The study protocol received review and approval from the Institutional Review Boards at Guangxi CDC in China and Wayne State University in the United States.
Informed Consent
Informed consent was obtained from all participants included in the study.
Additional information
Publisher's Note
Springer Nature remains neutral with regard to jurisdictional claims in published maps and institutional affiliations.
About this article
Cite this article
Mi, T., Li, X., Zhou, G. et al. HIV Disclosure to Family Members and Medication Adherence: Role of Social Support and Self-efficacy. AIDS Behav 24, 45–54 (2020) doi:10.1007/s10461-019-02456-1
Keywords
HIV/AIDS

Disclosure

ART

Social support

Self-efficacy