Uganda's HIV Prevention Success: The Role of Sexual Behavior Change and the National Response
There has been considerable interest in understanding what may have led to Uganda's dramatic decline in HIV prevalence, one of the world's earliest and most compelling AIDS prevention successes. Survey and other data suggest that a decline in multi-partner sexual behavior is the behavioral change most likely associated with HIV decline. It appears that behavior change programs, particularly involving extensive promotion of "zero grazing" (faithfulness and partner reduction), largely developed by the Ugandan government and local NGOs including faith-based, women's, people-living-with-AIDS and other community-based groups, contributed to the early declines in casual/multiple sexual partnerships and HIV incidence and, along with other factors including condom use, to the subsequent sharp decline in HIV prevalence. Yet the debate over "what happened in Uganda" continues, often involving divisive abstinence-versus-condoms rhetoric, which appears more related to the culture wars in the USA than to African social reality.
KEY WORDS:
HIV-AIDS prevention 
Africa 
behavior change 
ABC 
partner reduction 
multi-sectoral response.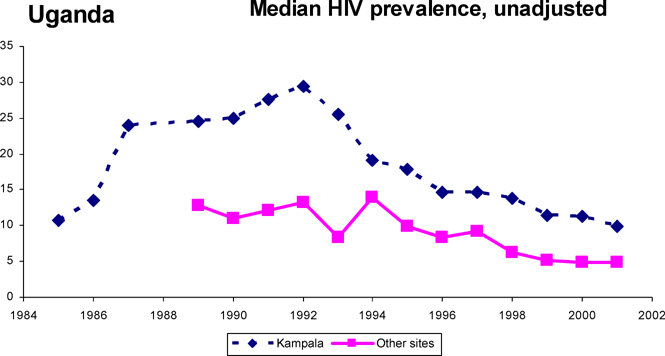 INTRODUCTION
Much debate over HIV prevention has arisen in recent years. While both international and locally-based AIDS organizations continue to seek funds to scale up prevention efforts, researchers and policymakers have debated the meaning of Uganda's unprecedented HIV prevalence decline. One school of thought, including Stoneburner and Low-Beer (2004), Shelton et al. (2004), Hearst and Chen (2004), Green (2003), Wilson (2004), Epstein (2004, 2005b), and Cohen (2004), conclude that a decrease in casual/multiple sexual partner behavior, rather than mainly condom use or increases in mortality, was primarily responsible for Uganda's success. Others have argued in favor of the more prevailing prevention approach that has centered on condom promotion and HIV testing as well as an array of broader structural factors, such as poverty, gender violence and conflict (Fenton, 2004; Halperin and Allen, 2000; Singh et al., 2003; Wawer et al., 2005; Shelton et al., 2005).
It is important to note that the behavior change-based analysis of the Uganda prevention success, much of it now published in leading scientific journals, has not argued that such broader factors, as well as condom use, were unimportant; rather, the argument has focused more on the relative impact of the different "ABC" factors (Abstinence, Being faithful and Condom use), especially in more generalized epidemics driven mainly by heterosexual transmission. Moreover, it is worth noting that most of the critics of the partner reduction-focused analysis likewise do not take extreme positions (i.e., condoms only, with no role for partner reduction), although it appears that some of these critics have, perhaps inadvertently, helped to re-polarize what has come to be called the ABC debate – a discourse which has often centered on divisive arguments between "A" versus "C" (Epstein, 2004, 2005b; Halperin et al., 2004; Shelton et al., 2004; Shelton, 2005; Wilson; 2004, Cohen, 2004).
HIV PREVALENCE DECLINE IN UGANDA
Uganda is considered by UNAIDS (2004) and others to be one of the world's earliest and most compelling national success stories in combating the spread of HIV. This paper attempts to understand, based on the available evidence, what may have happened to bring about a decline in HIV prevalence (and more to the point, HIV incidence) in Uganda, not only epidemiologically but, at least as importantly, programattically as well. The east African country has experienced a dramatic decline in prevalence during the past decade, especially among younger age cohorts. According to Ministry of Health and other data (Okware et al., 2001), prevalence among pregnant women attending antenatal clinics has declined consistently since the early 1990s at nearly all of the country's sentinel sites (see Fig. 1). Similarly large—and even earlier—declines have been observed among military recruits, blood donors and other population-level cohorts (Low-Beer, 2002; Stoneburner and Low-Beer, 2004). Although it is true that there have been some exaggerated estimates of prevalence decline, as noted even by the skeptic Parkhurst (2002), this does not detract from Uganda's genuine prevention success.
While there is not much data available regarding trends in HIV incidence it also appears to have fallen significantly. In one rural site, Masaka, seroincidence fell from 7.6 per thousand per year in 1990 to 3.2 per thousand per year by 1998 (Mbulaiteye et al., 2002). As with prevalence, the decline was especially pronounced among younger women. At most Ugandan antenatal clinic sites, seroprevalence among 15–19-year-old pregnant women, somewhat of a rough proxy for HIV incidence, tended to decrease significantly from the early 1990s, when these data were first collected, until the mid to late 1990s and it has remained low since then (although there has been an increase recently, for the first time in a decade). Population-based data from Masaka suggests that prevalence among all young women (ie, not only sexually active/pregnant females) ages 15–19 began declining by the end of the 1980s (Mbulaiteye et al., 2002).
Based on such trends and the fact that national seroprevalence among pregnant women (of all ages) peaked in 1992 and furthermore that epidemiological analysis and modeling suggests there would have been a lag of several years between the initiation of behavior change/incidence decline (especially among men) and the subsequent prevalence decline (in pregnant women) (Shelton et al., 2006), it is most probable that HIV incidence in Uganda peaked sometime during the late 1980s (Low-Beer, 2002; Stoneburner and Low-Beer, 2004; Shelton et al., 2004). Regarding HIV prevalence, the U.S. Census Bureau/Joint United Nations Programme on HIV/AIDS (UNAIDS 2004) estimates that national HIV prevalence for all adults peaked at around 15% in the early 1990s and fell to about 4% by 2003 (although a 2004 population-based survey found approximately 7% adult prevalence; Measure DHS 2005). This degree of national prevalence decline is unique worldwide and has been the subject of curiosity and controversy since the late-1990s and more recently has come under even more intense scientific scrutiny (Allen and Heald, 2004; Green, 2003; Parkhurst, 2002; Stoneburner and Low-Beer, 2004; Wawer et al., 2005).
Observed consistently over time and across many different geographic and demographic populations, Uganda's falling HIV prevalence is unlikely to be due merely to measurement bias or only to a "natural die-off syndrome," but at least in large part to a number of behavioral changes that have been identified in various population-based surveys as well as qualitative studies. While some have postulated that the prevalence decline was primarily a result of so many people succumbing to the disease that the rate of new infections was simply outweighed by the numbers of AIDS deaths (e.g., Wawer et al., 2005), a number of other African regions have experienced nearly as old—and at least as severe—epidemics as Uganda's, yet prevalence has yet to decline substantially at the population level. Moreover, the large decline in prevalence among younger age cohorts in Uganda cannot be explained by AIDS mortality, as very few people under age 20 die of AIDS.
TRENDS IN DECLINING CASUAL/MULTIPLE SEXUAL PARTNERSHIPS
Given that HIV seroincidence probably peaked sometime in the late 1980s, it is important to compare data on sexual behavior from that period to subsequent findings from the 1990s. It is not particularly useful to compare mainly between the 1995 and 2000 Demographic and Health (DHS) surveys, as some analysts have proposed (e.g. Singh et al., 2002), since much of Uganda's prevention "miracle" appears to have occurred in the late 1980s and probably into the early 1990s. Thus, some of the widely publicized conclusions of a recent study in Rakai district, focusing on HIV surveillance and behavioral trends after 1994 (Wawer et al., 2005), although of interest in explaining some more recent trends, are of little help in understanding the main historical HIV decline in Uganda (see Bessinger et al., 2003; Shelton, 2005; Mosley, 2005; footnote on Wawer et al. study in Epstein, 2005a).
Unfortunately, little HIV-related data was collected in the 1988/9 DHS survey (and no males were then surveyed). The WHO's Global Program on AIDS (GPA) surveys from 1988/9 and 1995, although not fully nationally representative (Bessinger
et al.
,
2003
), nonetheless did sample large numbers of people in the most HIV affected parts of the country. In the GPA surveys, the proportion of single males ages 15–24 reporting premarital sex decreased from 60% in 1989 to 23% in 1995. There were similarly large declines in the number of respondents in the GPA surveys reporting casual sex in the previous year, from 35 to 15% among men and from 16 to 6% among women. Furthermore–and this appears particularly critical given the epidemiological importance of multiple partnership/sexual networking dynamics (Bernstein
et al.
,
1998
; Halperin and Epstein,
2004
; Shelton
et al.
,
2004
; Wilson,
2004
; Auvert
et al.
, 2000), the proportion of males reporting three or more non-regular partners fell even more dramatically between 1989 and 1995 (Fig.
2
). The particular significance of partner reduction trends in Uganda will be explored below.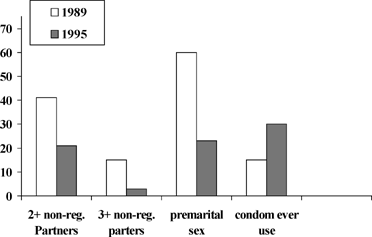 KEY ELEMENTS OF THE NATIONAL RESPONSE
The relationships between the various behavior change interventions that were implemented in Uganda and the ensuing decline in HIV prevalence are complex and not yet completely understood. However, changes in age of sexual debut, casual and commercial sex trends, partner reduction and condom use all appear to have played key roles in the continuing declines. Although it is believed that HIV knowledge, risk perception and risk avoidance/risk reduction options can ultimately lead to reduced HIV incidence, there is a complex set of epidemiological, socio-cultural, political and other elements that likely affected the course of the epidemic in Uganda. Many of these elements appear to be absent or less evident in those African countries that have not yet experienced significant national prevalence declines, such as South Africa, Botswana and Malawi (Allen and Heald, 2004; Bessinger et al., 2003; Cohen, 2004; Epstein, 2004; Green, 2003; Hearst and Chen, 2004; Stoneburner and Low-Beer, 2004). These key elements are summarized in roughly chronological order below:
LOWER LEVELS OF MULTIPLE PARTNERSHIPS AND REDUCED SEXUAL NETWORKS IN UGANDA COMPARED TO MANY OTHER AFRICAN COUNTRIES
By the mid-1990s, in general Ugandans had considerably fewer non-regular sexual partners across all age groups. Population-level sexual behavior, including the proportion of people reporting more than one partner, were comparable in Kenya (1998), Zambia (1996) and Malawi (1996), for example, to levels reported in Uganda back in 1988–1989 (Stoneburner and Low-Beer, 2004). In comparison with men in these countries, Ugandan males in 1995 were less likely to have ever had sex (in the 15–19-year-old range), more likely to be married and to keep sex within the marriage and much less likely to have multiple partners, particularly if never married. Strikingly, the proportion of men reporting three or more non-regular partners in the previous year fell from 15 to 3% between the 1989 and 1995 GPA surveys. The latter figure was identical in both that GPA survey and the 1995 Uganda DHS (Bessinger et al., 2003). This apparently radical shift in behavior (even if the exact magnitude of change is uncertain due to sample size limitations, etc.) suggests a rather dramatic shift in behavioral trends within the important "core transmitter" population of men with multiple sexual partners (Bernstein et al., 1998; Epstein, 2004; Shelton et al., 2004; Auvert et al., 2000).
Such reported behavioral changes are consistent with the dominant AIDS prevention messages of Uganda's early response (i.e., 1986–1991), specifically: "stick to one partner," and the ubiquitous "love faithfully" and "zero-grazing" admonitions readily understood even by the many illiterate residents of this largely rural nation. Such changes also seem related to the aforementioned more open personal communication networks for acquiring AIDS knowledge, which have been argued to more effectively personalize risk and thereby result in greater levels of behavior change (Allen and Heald 2004; Low-Beer et al., 2000). Comparing DHS survey data with that from other African countries, Ugandans are considerably more likely to receive AIDS information through friendships and other personal networks than through mass media or other sources and are significantly more likely to know of a friend or relative with AIDS (Stoneburner and Low-Beer, 2004).
CONCLUSION: A "SOCIAL VACCINE" FOR AFRICA?
Many of the elements of Uganda's response, such as high-level political support, decentralized planning and multi-sectoral organization, do not affect HIV infection rates directly. Rather, sexual behavior itself must change in order for seroincidence to change. The "ABC" factors are what can be termed proximate determinants of sexually transmitted HIV infection, i.e, means of avoiding or reducing the risk of infection. One lesson from Uganda seems to be: address the ABC factors through multiple interventions and do this through the means exemplified (and often pioneered) by Uganda: empowering women, mobilizing PLWAs and involving them in prevention, fighting stigma, involving faith-based organizations and the like. Another important element may have been the deliberate policy of fear arousal in order to combat denial, dramatize that AIDS is real and provoke Ugandans to feel at personal risk of HIV infection, unless they were willing to change behavior. The first director of TASO recounted, "Most of these initial campaigns adopted a 'fear approach' to HIV prevention, based on the theme: "Beware of AIDS. AIDS kills" (Kaleeba et al., 2000: 12). Members of the AIDS Control Programme involved in the early days of the ACP likewise recounted, "At first, we focused on instilling fear in the population…", after which options for avoidance of risk were promoted, starting with "avoidance of sexual contacts" (Okware et al., 2001: 1114). In short, the strategy was to instill fear of the consequences of AIDS, engendering a perception of personal vulnerability to HIV infection, while at the same time clearly providing ways to avoid the feared outcome (Kirby, 2003; Green and Witte, 2006; Wilson, 2004) as well as working vigorously to reduce HIV-related stigma (Halperin, 2006).
According to modeling by Stoneburner and Low-Beer (2004), behavior change, particularly partner reduction, since the late 1980s in Uganda appears to have had a similar impact as a potential medical vaccine of 80% efficacy. The historical and socio-cultural context, the various interventions and other factors are complex and may have been somewhat unique to Uganda and it is not clear to what extent this success can be replicated elsewhere in Africa (not to mention in very different, more concentrated epidemics such as those in Asia or Latin America). However, it makes epidemiological sense to address all three ABC behaviors rather than to promote only one or two components of "ABC." A great deal of resources have gone into primarily biomedical-based interventions (i.e., VCT, STI treatment, condoms) in South Africa, Botswana and other southern African countries, yet without apparent impact on national HIV infection rates (Allen and Heald, 2004; Epstein, 2004; Green, 2003; Hearst and Chen, 2004; Wilson, 2004).
In conclusion, the data from Uganda would suggest that pervasive, fundamental changes in sexual behavior can take place, perhaps contrary to previous expectations about the feasibility of such change. And epidemiological analysis, including modeling studies, suggests that significant reductions in numbers of partners would have significant impact on reducing HIV infection rates at the population level (Auvert and Ferry, 2002; Bernstein et al., 1998; Robinson et al., 1995; Auvert et al., 2000). As the Zimbabwean researcher David Wilson argued in the British Medical Journal, "Partner reduction is good epidemiology, not good ideology" (Wilson, 2004: 849). There will always be a need for condom promotion to individuals and groups, especially (though not only) to those at highest risk, and, indeed, Uganda more recently has also achieved relatively high levels of condom use with just such populations.
While we may never fully know "what really happened in Uganda," the available evidence, bolstered by more recent and similarly encouraging findings from places such as Kenya (Kenya DHS, 2003; Green, 2003), Addis Ababa (Mekonnen et al., 2003; Shelton et al., 2004) Zambia (Agha, 2002; Bessinger et al., 2003; Fylkesnes et al., 2001; Shelton et al., 2004), and Zimbabwe (HAYES and Weiss, 2006), suggests that a comprehensive, behavior change-based strategy, ideally involving high-level political commitment and a diverse spectrum of community-based participation, may be the most effective prevention approach. A "consensus statement" published for the 2004 World AIDS Day in The Lancet (Halperin et al., 2004), which was endorsed by some 150 global AIDS professionals, including representatives of five UN agencies, WHO, World Bank, etc., as well as President Museveni of Uganda and various religious leaders including Archbishop Desmond Tutu, proposed that mutual faithfulness with an uninfected partner should be the primary behavioral approach promoted for sexually active adults in generalized epidemics. This appears to represent a fairly marked departure from many previous prevention approaches, which have tended to promote more biomedical strategies as the first line of defense for sexually active adults in all types of epidemics. A recent study of over 3,000 men who have sex with men in 6 US cities found, in multi-variate analysis using time-dependent covariates, that the primary independent risk factor for HIV seroconversion was greater numbers of sexual partners (Buchbinder et al., 2005). The authors suggested addressing this and other risk factors, including male circumcision, in prevention efforts.
Meanwhile, a paper presented in February 2005 at the 12th Conference on Retroviruses and Opportunistic Infections (Wawer et al., 2005) seemed to perhaps challenge the main tenets of both the Lancet consensus statement and the present paper. As mentioned earlier, the authors (one of whom, Ron Gray, signed the Lancet statement) concluded that mortality and condom use were mainly responsible for the HIV prevalence declines in the Rakai district between 1994 and 2003. Whatever the authors' intent with this presentation, much of the world press was quick to jump to the conclusion that the "ABC model" of AIDS prevention had now been invalidated. Representative headlines that appeared within days of this conference presentation included: "Uganda's HIV success has more to do with condoms than abstinence" (The Advocate, CA—February 25, 2005); "Uganda: Condoms Outshine Abstinence in Aids Battle" (AllAfrica.com, Africa—February 24, 2005); "Uganda's Decline in HIV/AIDS Prevalence Attributed to Increased Condom Use" (Medical News Today, UK—February 26, 2005); "HIV study downplays abstinence in Uganda" (Newsday, NY—February 25, 2005). There was similar coverage as well as editorials in the New York Times, Washington Post and elsewhere. These reactions appear to mainly reflect the "culture wars" in the United States and Europe between partisans of abstinence vs. those of condoms, omitting the factor that was so crucial in Uganda's HIV decline: partner reduction and fidelity, or what in Uganda was widely termed "zero grazing" (Epstein, 2004, 2005b; Hearst and Chen, 2004; Shelton et al., 2004; Shelton, 2005; Wilson, 2004).
The authors of the Rakai study report that because after 1994 there were higher levels of condom use and lower levels of monogamy and abstinence, therefore condom use (and mortality rates) ought to account for the continuing HIV prevalence decline. However, analysis of the period 1994–2003 is too late to meaningfully explain the large decline in incidence in Uganda (see Epstein, 2005a; Mosley, 2005; Shelton, 2005) and in fact HIV prevalence in Rakai trading centers was considerably higher in 1990 (Wawer et al., 1997). In an earlier study in Rakai by some of the same authors as the new study, only 4.4% of the population reported consistent condom use while 16.5% reported inconsistent use during the prior year (Ahmed et al., 2001) and HIV incidence among inconsistent users was similar to that among non-users (with STI incidence being significantly higher among the inconsistent users). During the pre-1994 period when HIV incidence fell the most in Rakai, there were higher levels of "A" and (especially) "B" behaviors and relatively very little condom use. After 1994, people in Rakai appear to have moved increasingly toward condom use and away from partner fidelity and abstinence as primary HIV prevention strategies, according to the new Rakai study (Wawer et al., 2005).
Whatever the reason for this shift in prevention strategies, HIV seroincidence may have risen a little in Rakai in recent years, suggesting that Uganda's earlier strategy of emphasizing fidelity and partner reduction may have been the crucial type of behavioral change and intervention responsible for Uganda's historical HIV prevalence decline (Hearst and Chen, 2004; Shelton et al., 2004; Stoneburner and Low-Beer, 2004; Epstein, 2004; Cohen, 2004). It is unfortunate that even the British Medical Journal referred to Uganda's pre-1994 interventions as an "abstinence program" (Roehr, 2005). This only helps to perpetuate the confusion and allow Uganda's achievement to become lost in the polemics of abstinence-versus-condoms raging in the north American "culture wars."
In fact, such polemics may continue and even increase in intensity if HIV prevalence rates were to increase in Uganda, since competing interpretations would be invoked to explain such a rise. The 2004 Ugandan HIV/AIDS Sero-Behavioral Survey (UHSBS), which included a population-based serologic survey along with standard behavioral questions similar to those contained in the DHS surveys, found an estimated 7% adult HIV prevalence rate (Measure DHS, 2005). This surprised some analysts, who had been expecting the population-based rate to be at or below 4–5%, if for no other reason than similar population-based serosurveys in Africa have generally yielded lower rates than estimates based upon sentinel surveillance data from antenatal clinics (Halperin and Post, 2004).
Although this curiously somewhat different result in Uganda may be due to unexplained methodological or other factors, the 7% prevalence finding may also suggest the possibility that HIV incidence has risen a little in recent years, consistent with some other data, such as (mostly relatively small) increases in prevalence among young antenatal clients at some ANC sites in recent years. In comparing behavioral data between the 2000 Uganda DHS and the 2004 UHSBS (Measure DHS, 2005: 13–15), the level of multiple sexual partnerships appears to have increased somewhat (consistent with the Rakai data; Wawer et al., 2005), while condom use has remained fairly steady (and age of sexual debut may have continued to increase a bit). Since declines in casual and multiple partner sex appear to have been particularly important in explaining Uganda's historic HIV prevalence decline, any rise in this measure would be troubling and calls for further quantitative and qualitative investigation.
AUTHOR'S CONTRIBUTIONS
Green has been investigating the Uganda behavioral data since 1993, and various main aspects of this paper result from his work; in addition, he drafted the original outline for the paper, composed several sections, and was considerably involved in the editing/revision process. Halperin originally conceptualized the paper, wrote most of the sections, and was responsible for most of the editing and revision. Nantulya, who contributed to the early development of the prevention strategy in his native Uganda, assisted in the initial conceptualization and with other aspects of the paper. Hogle composed the first draft by synthesizing the main research contributions of the other authors and of some other key researchers on this topic.
Notes
ACKNOWLEDGMENTS
The authors acknowledge Paul Delay, Helen Epstein, Doug Kirby, Jim Shelton, Jeff Spieler, David Stanton, Rand Stoneburner, John Stover and three anonymous reviewers for their helpful comments and input
Copyright information
© Springer Science+Business Media, Inc. 2006