Abstract
Shade tolerant spices such as Aframomum angustifolium and Piper capense are found as indigenous wild species in the Sheka, Kaffa and Bench Maji forests in Ethiopia. The farmers in Bench Maji, Kaffa and Sheka zones are engaged in harvesting and production of non-timber forest products including forest wild and semi-wild coffee, forest honey, wild forest spices and bamboo. The aim of the study was to identify trees used as shade or support for spices and their characteristics in the study area. Five potential districts were purposively selected based on the availability of shade loving spice resources. A total of 130 farmer households and 10 investors those who work on spice related activities were randomly selected from the five districts. Farmers' households and investors were interviewed with semi-structured questionnaires. Observation, key informant interview and focused group discussions were also used with an interdisciplinary team. Descriptive and inferential statistics were used to analyze the data. Results of the study indicates that averagely households has 2.54 ha land for cultivating different agricultural crops including spices. Most of the shade species for spice production (82.3%) were indigenous tree species retained on home gardens and also some of the tree species planted by farmers are native to the area. In general, Millettia ferruginea and Albidia gumminifera were frequently used shade trees for spices production over other tree species. Grevillea robusta and Erythria brucei were used as support tree species.
This is a preview of subscription content, log in to check access.
Access options
Buy single article
Instant access to the full article PDF.
US$ 39.95
Price includes VAT for USA
Subscribe to journal
Immediate online access to all issues from 2019. Subscription will auto renew annually.
US$ 199
This is the net price. Taxes to be calculated in checkout.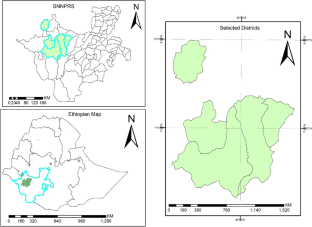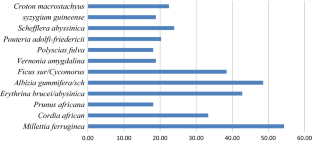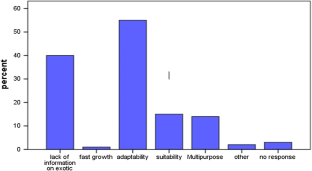 References
Abebe Y, Fisseha I, Olsson M (2001) Contribution of indigenous trees to soil properties: the case of scattered trees of Cordia Africana Lam in croplands of western Oromia. Ethiop J Nat Resour 3(2):245–270

Aerts R (2011) Semi-forest coffee cultivation and the conservation of Ethiopian Afromontane rainforest fragments. For Ecol Manag 261(6):1034–1041

Albertin A, Nair PKR (2004) Farmers' perspectives on the role of shade trees in coffee production systems: an assessment from the Nicoya Peninsula, Costa Rica. Hum Ecol 32:443–463

Alemu M (2015) Effect of tree shade on coffee crop production. J Sustain Dev. https://doi.org/10.5539/jsd.v8n9p66

Alemu B, Animut G, Tolera A (2013) Millettia ferruginea. An endemic legume tree as forage for ruminants in southern and northwestern Ethiopia. Livest Res Rural Dev 25:44

Anonymous (1984) Directory of cardamom planters of Sikkim, Cardamom Board, Ministry of Commerce, Government of India. Banerji Road, Ernakulam, Cochin

Azene B, Tengnäs B, Ensermu K, Sebsibe D, Patrick M (2007) Useful trees and shrubs of Ethiopia identification, propagation and management for 17 agroclimatic zones. RELMA in ICRAF Project World Agroforestry Centre, East Africa Region, Nairobi

Beer J, Muschler R, Kass D, Somarriba E (1998) Shade management in coffee and cacao plantations. Agrofor Syst 38:134–164

Bellow JG, Nair PKR (2003) Comparing common methods for assessing understory light availability in shade-perennial agroforestry systems. Agric For Meteorol 114:197–211

Borget M (1993) Spice plants. Macmillan, London

Cerdan CR, Rebolledo MC, Soto G, Rapidel B, Sinclair FL (2012) Local knowledge of impacts of tree cover on ecosystem services in smallholder coffeeproduction systems. Agric Syst 110:119–130

Edossa E (1998) Spices research achievements and experiences. Institute of Agricultural Research, Addis Ababa

Edwards S (2010) Ethiopian environment review. Forum for Environment, Addis Ababa

Endrias G, Asfaw K (2011) Production, processing and marketing of ginger in Southern Ethiopia. J Hortic For 3(7):207–213

Ermias M, Zeleke E, Demel T (2014) Non-timber forest products and household incomes in Bonga forest area, southwestern Ethiopia. J For Res 25(1):215–223

Fantahun LT (1995) Spices crops processing: constraints and possibilities. Addis Ababa Univresity, Addis Ababa

Friis I (1986) The vegetation of Ethiopia. In: Acta University, UPS Symbolae Botanicae Upsalienses, vol 2, pp 31–47. www.researchgate.net/publication/260050853

Gachena D (2015) Analysis of factors determining the supply of Ethiopian cardamom spice (Aframomum corrorima): a case from Bench Maji zone of SNNPR, Ethiopia. Eur J Bus Manag 7(1):56–63

Girma H, Habtewold K, Haimanot M (2016) Spices research achievements, challenges and future prospects in Ethiopia. Acad Res J Agric Sci Res 4(1):9–17

Govindappa M, Elavarasan K (2014) Shade cum fruit yielding avocado under coffee ecosystem. Int Lett Nat Sci 22:61–66

Hedberg I, Edwards S, Friis I, Sebsebe D (1995) Flora of Ethiopia and Eritrea, vol. 7. Addis Ababa; Ethiopia, Uppsala; Sweden: The National Herbarium, Biology Department, Science Faculty, Addis AI: IIBA University, Ethiopia and The Department Systematic Botany, Uppsala University, Sweden

Hegde VH (2012) An economic overview of ginger production in Ethiopia. Int J Sci Res 3(12):2319–7064

Isreal Z, Tana T, Wogi L, Mohammed A (2018) Soil morphology, physico-chemical properties and classification of typical soils of Abelo area Masha District South Western Ethiopia. Adv Crop Sci Technol 6(2):341–350. https://doi.org/10.4172/2329-8863.1000341

Ketema T, Admasu A, Kelem G, Teshome A, Abera T, Assefa Y, Kebede T, Abera Z, Teffera S (2017) Guide to the use of weather and climate information (WCI) for agricultural practices over selected districts of SNNP and Tigray National Regional States, Ethiopia. Addis Ababa: National Meteorological Agency. http://www.Ethiomet.gov.et. Accessed 22 Aug 2018

Kitessa H (2016) Shade tree selection and management practices by farmers in traditional coffee production systems in Jimma Zone, Southwest Ethiopia. Ethiop J Educ Sci 11(2):91–105

Kristoffer H, Tola G, Lowe B, Peter H, Debissa L, Sileshi N, Ulrika S, Feyera S (2014) Nature, people and agriculture in southwestern Ethiopia. Stockholm University, Sweden

Muleta D, Assefa F, Nemomissa S, Granhall U (2011) Socioeconomic benefits of shade trees in coffee production systems in Bonga and Yayuhurumu districts, southwestern Ethiopia: farmers' perceptions. Ethiop J Educ Sci 7:39–56

Purseglove J, Brown E, Green C, Robins S (1981) Spices, vol. 2. London

Reyes T, Quiroz R, Luukkanen O, Mendiburu F (2009) Spice crops agroforestry systems in the East Usambara Mountains, Tanzania: growth analysis. Agrofor Syst 76:513–523

Staver C, Guharay F, Monterroso D, Muschler RG (2001) Designing pest-suppressive multistrata perennial crop systems. Shade-grown coffee in Central America. Agrofor Syst 53:151–170

Tadesse G (2013) Biodiversity and livelihood in southwestern Ethiopia: forest loss and prospects for conservation in shade coffee agroecosystem. Ph.D. dissertation, University of California Santa Cruz, p 168

Tadesse W, Mbogga M (2004) Conservation of genetic resources non-timber forest products in Ethiopia. In: Proceedings of the first national workshop on non-timber forest products in Ethiopia. Addis Ababa, pp 1–134

Yitbarek T, Beyene S, Kibret K (2016) Characterization and classification of soils of Abobo area, western Ethiopia. Appl Environ Soil Sci. https://doi.org/10.1155/2016/4708235
Acknowledgements
We would like to acknowledge Forestry Research Center and Teppi National Spice Research Center for funding the research project and also providing some materials and technical support. We extend our thanks to all Agricultural Development Staff members of zones and districts levels for their contribution to the work.
Additional information
Publisher's Note
Springer Nature remains neutral with regard to jurisdictional claims in published maps and institutional affiliations.
Electronic supplementary material
Below is the link to the electronic supplementary material.
About this article
Cite this article
Furo, G., Manaye, A. & Negasa, A. Identification of spice shade and support tree species, south western Ethiopia. Agroforest Syst 94, 95–102 (2020). https://doi.org/10.1007/s10457-019-00372-w
Received:

Accepted:

Published:

Issue Date:
Keywords
Shade trees

Support tree

Aframomum angustifolium
Piper capense