Abstract
Vascular development is believed to occur first by vasculogenesis followed by angiogenesis. Though angiogenesis is the formation of new vessels, we found that vascular density actually decreases during this second stage. The onset of the decrease coincided with the entry of erythroblasts into circulation. We therefore measured the level of shear stress at various developmental stages and found that it was inversely proportional to vascular density. To investigate whether shear stress was inhibitory to angiogenesis, we altered shear stress levels either by preventing erythroblasts from entering circulation ("low" shear stress) or by injection of a starch solution to increase the blood plasma viscosity ("high" shear stress). By time-lapse microscopy, we show that reverse intussusception (merging of two vessels) is inversely proportional to the level of shear stress. We also found that angiogenesis (both sprouting and splitting) was inversely proportional to shear stress levels. These effects were specific to the arterial or venous plexus however, such that the effect on reverse intussusception was present only in the arterial plexus and the effect on sprouting only in the venous plexus. We cultured embryos under altered shear stress in the presence of either DAPT, a Notch inhibitor, or DMH1, an inhibitor of the bone morphogenetic protein (BMP) pathway. DAPT treatment phenocopied the inhibition of erythroblast circulation ("low" shear stress) and the effect of DAPT treatment could be partially rescued by injection of starch. Inhibition of the BMP signaling prevented the reduction in vascular density that was observed when starch was injected to increase shear stress levels.
This is a preview of subscription content, log in to check access.
Access options
Buy single article
Instant unlimited access to the full article PDF.
US$ 39.95
Price includes VAT for USA
Subscribe to journal
Immediate online access to all issues from 2019. Subscription will auto renew annually.
US$ 99
This is the net price. Taxes to be calculated in checkout.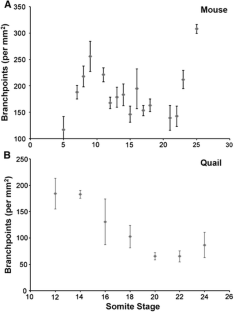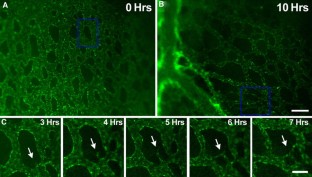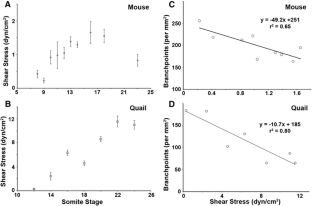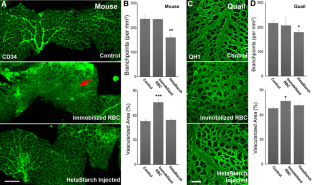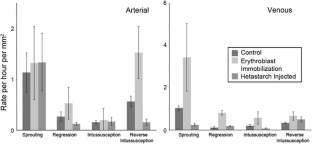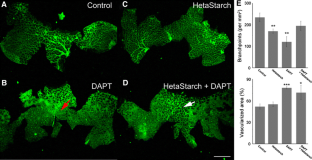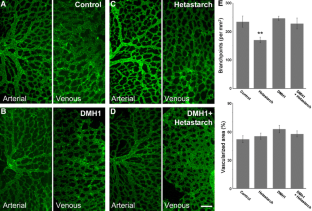 Abbreviations
AF488:

Alexa-Fluor 488

AcLDL:

Acetylated low density lipoprotein

Alk2/3:

Activin receptor-like kinase 2/3

BMP:

Bone morphogenetic protein

CAM:

Chorio-allantoic membrane

DAPT:

Notch inhibitor

N-[N-(3,5-Difluorophenacetyl)-l-alanyl]-S-phenylglycine t-butyl ester

DMEM/F-12:

Dulbecco's modified eagle medium/nutrient mixture F-12

DMH1:

R-Smad inhibitor

4-[6-(4-Isopropoxyphenyl)pyrazolo[1,5-a]pyrimidin-3-yl]quinoline, 4-[6-[4-(1-Methylethoxy)phenyl]pyrazolo[1,5-a]pyrimidin-3-yl]-quinoline

HEPES:

4-(2-Hydroxyethyl)-1-piperazineethanesulfonic acid

HUAEC:

Human umbilical artery endothelial cell

HUVEC:

Human umbilical vein endothelial cell

μPIV:

Micro particle image velocimetry

VEGF:

Vascular endothelial growth factor
References
1.

Chapman WB (1918) The effect of the heart-beat upon the development of the vascular system in the chick. Am J Anat 23:175–203

2.

Huang C, Sheikh F, Hollander M, Cai C, Becker D, Chu PH, Evans S, Chen J (2003) Embryonic atrial function is essential for mouse embryogenesis, cardiac morphogenesis and angiogenesis. Development 130(24):6111–6119

3.

Lucitti JL, Jones EA, Huang C, Chen J, Fraser SE, Dickinson ME (2007) Vascular remodeling of the mouse yolk sac requires hemodynamic force. Development 134(18):3317–3326

4.

Ziche M, Morbidelli L, Choudhuri R, Zhang HT, Donnini S, Granger HJ, Bicknell R (1997) Nitric oxide synthase lies downstream from vascular endothelial growth factor-induced but not basic fibroblast growth factor-induced angiogenesis. J Clin Invest 99(11):2625–2634. doi:10.1172/JCI119451

5.

Brown MD, Hudlicka O (2003) Modulation of physiological angiogenesis in skeletal muscle by mechanical forces: involvement of VEGF and metalloproteinases. Angiogenesis 6(1):1–14

6.

Carrow RE, Brown RE, Van Huss WD (1967) Fiber sizes and capillary to fiber ratios in skeletal muscle of exercised rats. Anat Rec 159(1):33–39. doi:10.1002/ar.1091590106

7.

Song JW, Munn LL (2011) Fluid forces control endothelial sprouting. Proc Natl Acad Sci USA 108(37):15342–15347. doi:10.1073/pnas.1105316108

8.

Djonov V, Schmid M, Tschanz SA, Burri PH (2000) Intussusceptive angiogenesis: its role in embryonic vascular network formation. Circ Res 86(3):286–292

9.

Lee GS, Filipovic N, Miele LF, Lin M, Simpson DC, Giney B, Konerding MA, Tsuda A, Mentzer SJ (2010) Blood flow shapes intravascular pillar geometry in the chick chorioallantoic membrane. J Angiogenes Res 2:11. doi:10.1186/2040-2384-2-11

10.

Styp-Rekowska B, Hlushchuk R, Pries AR, Djonov V (2011) Intussusceptive angiogenesis: pillars against the blood flow. Acta Physiol (Oxf) 202(3):213–223. doi:10.1111/j.1748-1716.2011.02321.x

11.

Resnick N, Yahav H, Shay-Salit A, Shushy M, Schubert S, Zilberman LCM, Wofovitz E (2002) Fluid shear stress and the vascular endothelium: for better and for worse. Prog Biophys Mol Biol 81(3):177–199

12.

Buschmann I, Pries A, Styp-Rekowska B, Hillmeister P, Loufrani L, Henrion D, Shi Y, Duelsner A, Hoefer I, Gatzke N, Wang HT, Lehmann K, Ulm L, Ritter Z, Hauff P, Hlushchuk R, Djonov V, van Veen T, Le Noble F (2010) Pulsatile shear and Gja5 modulate arterial identity and remodeling events during flow-driven arteriogenesis. Development 137(13):2187–2196. doi:10.1242/Dev.045351

13.

Wiley DM, Kim JD, Hao J, Hong CC, Bautch VL, Jin SW (2011) Distinct signalling pathways regulate sprouting angiogenesis from the dorsal aorta and the axial vein. Nat Cell Biol 13(6):686–692. doi:10.1038/ncb2232

14.

Jones EA, Crotty D, Kulesa PM, Waters CW, Baron MH, Fraser SE, Dickinson ME (2002) Dynamic in vivo imaging of postimplantation mammalian embryos using whole embryo culture. Genesis 34(4):228–235

15.

Jones EA, Yuan L, Breant C, Watts RJ, Eichmann A (2008) Separating genetic and hemodynamic defects in neuropilin 1 knockout embryos. Development 135(14):2479–2488

16.

Kulesa PM, Fraser SE (2000) In ovo time-lapse analysis of chick hindbrain neural crest cell migration shows cell interactions during migration to the branchial arches. Development 127(6):1161–1172

17.

Al-Roubaie S, Hughes JH, Filla MB, Lansford R, Lehoux S, Jones EAV (2012) Time-lapse microscopy of macrophages during embryonic vascular development. Dev Dyn 241(9):1423–1431

18.

Jones EA, Baron MH, Fraser SE, Dickinson ME (2004) Measuring hemodynamic changes during mammalian development. Am J Physiol Heart Circ Physiol 287(4):H1561–H1569

19.

Phoon CK, Aristizabal O, Turnbull DH (2002) Spatial velocity profile in mouse embryonic aorta and Doppler-derived volumetric flow: a preliminary model. Am J Physiol Heart Circ Physiol 283(3):H908–H916

20.

Al-Roubaie S, Jahnsen ED, Mohammed M, Henderson-Toth C, Jones EA (2011) Rheology of embryonic avian blood. Am J Physiol Heart Circ Physiol 301(6):H2473–H2481. doi:10.1152/ajpheart.00475.2011

21.

McGrath KE, Koniski AD, Malik J, Palis J (2003) Circulation is established in a stepwise pattern in the mammalian embryo. Blood 101(5):1669–1676

22.

Hirota A, Fujii S, Kamino K (1979) Optical monitoring of spontaneous electrical activity of 8-somite embryonic chick heart. Jpn J Physiol 29(5):635–639

23.

Clark ER (1918) Studies on the growth of blood-vessels in the tail of the frog larva—by observation and experiment on the living animal. Am J Anat 23(1):37–88

24.

Jones EA, le Noble F, Eichmann A (2006) What determines blood vessel structure? Genetic prespecification vs. hemodynamics. Physiology 21:388–395

25.

Djonov VG, Kurz H, Burri PH (2002) Optimality in the developing vascular system: branching remodeling by means of intussusception as an efficient adaptation mechanism. Dev Dyn 224(4):391–402

26.

Hao J, Ho JN, Lewis JA, Karim KA, Daniels RN, Gentry PR, Hopkins CR, Lindsley CW, Hong CC (2010) In vivo structure-activity relationship study of dorsomorphin analogues identifies selective VEGF and BMP inhibitors. ACS Chem Biol 5(2):245–253. doi:10.1021/cb9002865

27.

Jin ZG, Ueba H, Tanimoto T, Lungu AO, Frame MD, Berk BC (2003) Ligand-independent activation of vascular endothelial growth factor receptor 2 by fluid shear stress regulates activation of endothelial nitric oxide synthase. Circ Res 93(4):354–363. doi:10.1161/01.RES.0000089257.94002.96

28.

David L, Feige JJ, Bailly S (2009) Emerging role of bone morphogenetic proteins in angiogenesis. Cytokine Growth Factor Rev 20(3):203–212. doi:10.1016/j.cytogfr.2009.05.001

29.

Poelma C, Vennemann P, Lindken R, Westerweel J (2008) In vivo blood flow and wall shear stress measurements in the vitelline network. Exp Fluids 45(4):703–713. doi:10.1007/s00348-008-0476-6

30.

Larina IV, Sudheendran N, Ghosn M, Jiang J, Cable A, Larin KV, Dickinson ME (2008) Live imaging of blood flow in mammalian embryos using Doppler swept-source optical coherence tomography. J Biomed Opt 13(6):060506. doi:10.1117/1.3046716

31.

Fahraeus R, Lindqvist T (1931) The viscosity of blood in narrow capillary tubes. Am J Physiol 99:563–568

32.

Poelma C, Van der Heiden K, Hierck BP, Poelmann RE, Westerweel J (2010) Measurements of the wall shear stress distribution in the outflow tract of an embryonic chicken heart. J R Soc Interface 7(42):91–103. doi:10.1098/rsif.2009.0063

33.

Davis A, Izatt J, Rothenberg F (2009) Quantitative measurement of blood flow dynamics in embryonic vasculature using spectral Doppler velocimetry. Anat Rec (Hoboken) 292(3):311–319. doi:10.1002/ar.20808

34.

Lee JY, Ji HS, Lee SJ (2007) Micro-PIV measurements of blood flow in extraembryonic blood vessels of chicken embryos. Physiol Meas 28(10):1149–1162. doi:10.1088/0967-3334/28/10/002

35.

Lee JY, Lee SJ (2010) Hemodynamics of the omphalo-mesenteric arteries in stage 18 chicken embryos and "flow-structure" relations for the microcirculation. Microvasc Res 80(3):402–411. doi:10.1016/j.mvr.2010.08.003
Acknowledgments
This work was supported by grants from the Natural Science and Engineering Research Council's Discovery Program (342134), the Fonds de recherche du Québec—Nature et technologies' Nouveau Chercheur Program (131373) and the Canadian Foundation for Innovation. The Eugenie Lamothe Fellowship supported GCP and EDJ.
Electronic supplementary material
Below is the link to the electronic supplementary material.
Movie 1 – Time-lapse of Vascular Remodeling in Avian Embryos. Chicken embryos were followed by ex ovo time-lapse microscopy. Eggs were incubated until the embryo reached 12–14 somites. Embryos were then injected with AF488-AcLDL, which labels endothelial cells and macrophages. The embryos were transferred to a petri dish in which a Teflon covered window was made into the lid (see Methods). Embryos were transferred to a heated fluorescent microscope and an image was taken every 6 minutes for 10 hours using a 5x objective lens. The movies are played at 8 frames per second. The arrows highlight the presence of sprouting angiogenesis (red arrow) and reverse intussusception (yellow arrow). Scale bar: 200 μm. (AVI 11790 kb)
Movie 2 – Time-lapse of Vascular Remodeling Under Low Shear Stress in Avian Embryos. Eggs were incubated until the embryo reached 12–14 somites and then injected with AF488-AcLDL, which labels endothelial cells and macrophages. The erythroblasts at the caudal end of the yolk sac were prevented from entering circulation by injection of Acrylimide/APS followed by injection of TEMED (See Methods). This reduced the effective hematocrit of the blood flow. The embryos were then transferred to a petri dish in which a Teflon covered window was made into the lid (see Methods). An image was taken every 10 minutes for 10 hours using a 10x objective lens. The movies are played at 8 frames per second. Under low shear stress, significant amounts of reverse intussusception are present (white, yellow and red arrows). Scale bar: 100 μm. (AVI 3516 kb)
About this article
Cite this article
Chouinard-Pelletier, G., Jahnsen, E.D. & Jones, E.A.V. Increased shear stress inhibits angiogenesis in veins and not arteries during vascular development. Angiogenesis 16, 71–83 (2013). https://doi.org/10.1007/s10456-012-9300-2
Received:

Accepted:

Published:

Issue Date:
Keywords
Vascular development

Angiogenesis

Shear stress

Vascular remodeling

Particle image velocimetry