Abstract
Massage therapy has a long history and has been widely believed effective in restoring tissue function, relieving pain and stress, and promoting overall well-being. However, the application of massage-like actions and the efficacy of massage are largely based on anecdotal experiences that are difficult to define and measure. This leads to a somewhat limited evidence-based interface of massage therapy with modern medicine. In this study, we introduce a mechatronic device that delivers highly reproducible massage-like mechanical loads to the hind limbs of small animals (rats and rabbits), where various massage-like actions are quantified by the loading parameters (magnitude, frequency and duration) of the compressive and transverse forces on the subject tissues. The effect of massage is measured by the difference in passive viscoelastic properties of the subject tissues before and after mechanical loading, both obtained by the same device. Results show that this device is useful in identifying the loading parameters that are most conducive to a change in tissue mechanical properties, and can determine the range of loading parameters that result in sustained changes in tissue mechanical properties and function. This device presents the first step in our effort for quantifying the application of massage-like actions used clinically and measurement of their efficacy that can readily be combined with various quantitative measures (e.g., active mechanical properties and physiological assays) for determining the therapeutic and mechanistic effects of massage therapies.
This is a preview of subscription content, log in to check access.
Access options
Buy single article
Instant unlimited access to the full article PDF.
US$ 39.95
Price includes VAT for USA
Subscribe to journal
Immediate online access to all issues from 2019. Subscription will auto renew annually.
US$ 199
This is the net price. Taxes to be calculated in checkout.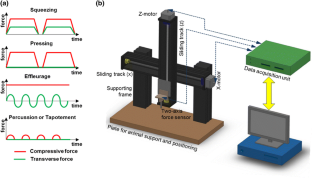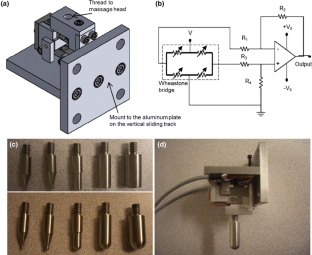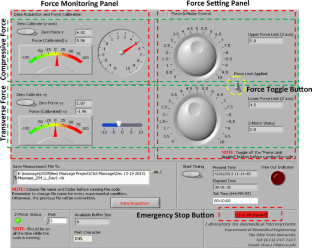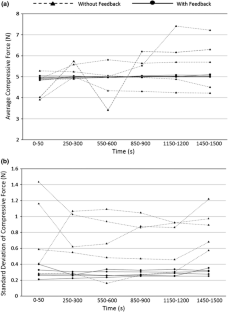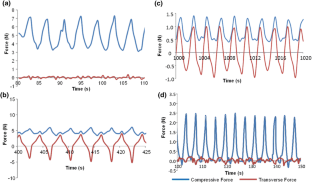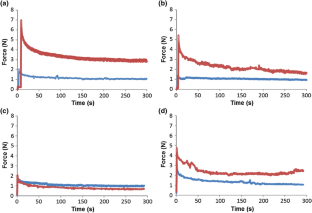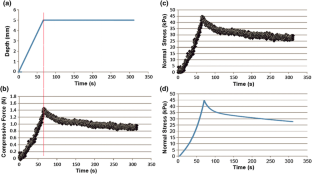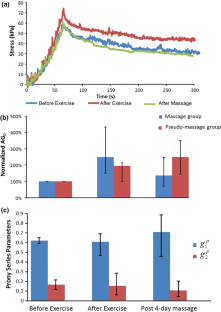 References:
1.

Aourell, M., M. Skoog, and J. Carleson. Effects of Swedish massage on blood pressure. Complement Ther. Clin. Pract. 11(4):242–246, 2005.

2.

Ariji, Y., A. Katsumata, N. Ogi, M. Izumi, S. Sakuma, Y. Iida, Y. Hiraiwa, K. Kurita, C. Igarashi, K. Kobayashi, H. Ishii, A. Takanishi, and E. Ariji. An oral rehabilitation robot for massaging the masseter and temporal muscles: a preliminary report. Oral Radiol. 25(1):53–59, 2009.

3.

Ayas, S., B. Leblebici, S. Sozay, M. Bayramoglu, and E. A. Niron. The effect of abdominal massage on bowel function in patients with spinal cord injury. Am. J. Phys. Med. Rehabil. 85(12):951–955, 2006.

4.

Beard, G., and E. Wood. Massage: Principles and Techniques. Philadelphia, PA: Saunders, 1964.

5.

Best, T. M., R. Hunter, A. Wilcox, and F. Haq. Effectiveness of sports massage for recovery of skeletal muscle from strenuous exercise. Clin. J. Sport Med. 18(5):446–460, 2008.

6.

Billhult, A., C. Lindholm, R. Gunnarsson, and E. Stener-Victorin. The effect of massage on immune function and stress in women with breast cancer—a randomized controlled trial. Auton Neurosci. 150(1–2):111–115, 2009.

7.

Brunton, T. L., and F. W. Tunnicliffe. On the effects of the kneading of muscles upon the circulation, local and general. J Physiol. 17(5):364–377, 1894.

8.

Buckle, J., A. Newberg, N. Wintering, E. Hutton, C. Lido, and J. T. Farrar. Measurement of regional cerebral blood flow associated with the M technique-light massage therapy: a case series and longitudinal study using SPECT. J. Altern. Complement. Med. 14(8):903–910, 2008.

9.

Butterfield, T., Y. Zhao, S. Agarwal, F. Haq, and T. Best. Cyclic compressive loading facilitates recovery after eccentric exercise. Med. Sci. Sports Exerc. 40(7):1289–1296, 2008.

10.

Calvert, R. N. The Greek and Roman Baths. Massage Magazine. 2005.

11.

Calvert, R. N. The History of Massage : An Illustrated Survey from Around the World. Rochester, VT: Healing Arts Press, 2002.

12.

Christopoulou-Aletra, H., and N. Papavramidou. Methods used by the hippocratic physicians for weight reduction. World J. Surg. 28(5):513–517, 2004.

13.

Chunco, R. The effects of massage on pain, stiffness, and fatigue levels associated with ankylosing spondylitis: a case study. Int J Ther Massage Bodywork. 4(1):12–17, 2011.

14.

Clarkson, P. M., and S. P. Sayers. Etiology of exercise-induced muscle damage. Can. J. Appl. Physiol. 24(3):234–248, 1999.

15.

Diego, M. A., T. Field, M. Hernandez-Reif, K. Shaw, L. Friedman, and G. Ironson. HIV adolescents show improved immune function following massage therapy. Int. J. Neurosci. 106(1–2):35–45, 2001.

16.

Durkin, J. L., A. Harvey, R. L. Hughson, and J. P. Callaghan. The effects of lumbar massage on muscle fatigue, muscle oxygenation, low back discomfort, and driver performance during prolonged driving. Ergonomics 49(1):28–44, 2006.

17.

Field, T. M. Massage therapy effects. Am. Psychol. 53(12):1270–1281, 1998.

18.

Guzzetta, A., S. Baldini, A. Bancale, L. Baroncelli, F. Ciucci, P. Ghirri, E. Putignano, A. Sale, A. Viegi, N. Berardi, A. Boldrini, G. Cioni, and L. Maffei. Massage accelerates brain development and the maturation of visual function. J. Neurosci. 29(18):6042–6051, 2009.

19.

Haas, C., T. M. Best, Q. Wang, T. A. Butterfield, and Y. Zhao. In vivo passive mechanical properties of skeletal muscle improve with massage-like loading following eccentric exercise. J. Biomech. 45(15):2630–2636, 2012.

20.

Haas, C., T. A. Butterfield, Y. Zhao, X. Zhang, D. Jarjoura, and T. M. Best. Dose-dependency of massage-like compressive loading on recovery of active muscle properties following eccentric exercise: rabbit study with clinical relevance. Br. J. Sports Med. 47(2):83–88, 2013.

21.

Haas, C., T. A. Butterfield, S. Abshire, Y. Zhao, X. Zhang, D. Jarjoura, and T. M. Best. Massage timing affects postexercise muscle recovery and inflammation in a rabbit model. Med. Sci. Sports Exerc. 45(6):1105–1112, 2012.

22.

Hemmings, B., M. Smith, J. Graydon, and R. Dyson. Effects of massage on physiological restoration, perceived recovery, and repeated sports performance. Br. J. Sports Med. 34(2):109–114, 2000; discussion 115.

23.

Hinds, T., I. McEwan, J. Perkes, E. Dawson, D. Ball, and K. George. Effects of massage on limb and skin blood flow after quadriceps exercise. Med. Sci. Sports Exerc. 36(8):1308–1313, 2004.

24.

Hippocrates, A. F. The Genuine Works of Hippocrates. New York: W. Wood and Company, 1886.

25.

Holst, S., I. Lund, M. Petersson, and K. Uvnas-Moberg. Massage-like stroking influences plasma levels of gastrointestinal hormones, including insulin, and increases weight gain in male rats. Auton Neurosci. 120(1–2):73–79, 2005.

26.

Ironson, G., T. Field, F. Scafidi, M. Hashimoto, M. Kumar, A. Kumar, A. Price, A. Goncalves, I. Burman, C. Tetenman, R. Patarca, and M. A. Fletcher. Massage therapy is associated with enhancement of the immune system's cytotoxic capacity. Int. J. Neurosci. 84(1–4):205–217, 1996.

27.

Keverne, E. B., N. D. Martensz, and B. Tuite. Beta-endorphin concentrations in cerebrospinal fluid of monkeys are influenced by grooming relationships. Psychoneuroendocrinology. 14(1–2):155–161, 1989.

28.

Loerakker, S., A. Stekelenburg, G. J. Strijkers, J. J. M. Rijpkema, F. P. T. Baaijens, D. L. Bader, K. Nicolay, and C. W. J. Oomens. Temporal effects of mechanical loading on deformation-induced damage in skeletal muscle tissue. Ann. Biomed. Eng. 38(8):2577–2587, 2010.

29.

Macgregor, R., R. Campbell, M. H. Gladden, N. Tennant, and D. Young. Effects of massage on the mechanical behaviour of muscles in adolescents with spastic diplegia: a pilot study. Dev. Med. Child Neurol. 49(3):187–191, 2007.

30.

Marti-Ibanez, F. The epic of medicine. Rev. Cubana Med. 1:99–116, 1962 contd.

31.

Massage and Bodywork. Greek Medicine 2010; http://www.greekmedicine.net/therapies/Massage_and_Bodywork.html.

32.

Moraska, A., C. Chandler, A. Edmiston-Schaetzel, G. Franklin, E. L. Calenda, and B. Enebo. Comparison of a targeted and general massage protocol on strength, function, and symptoms associated with carpal tunnel syndrome: a randomized pilot study. J. Altern. Complement. Med. 14(3):259–267, 2008.

33.

Ouchi, Y., T. Kanno, H. Okada, E. Yoshikawa, T. Shinke, S. Nagasawa, K. Minoda, and H. Doi. Changes in cerebral blood flow under the prone condition with and without massage. Neurosci Lett. 407(2):131–135, 2006.

34.

Shoemaker, J. K., P. M. Tiidus, and R. Mader. Failure of manual massage to alter limb blood flow: measures by Doppler ultrasound. Med. Sci. Sports Exerc. 29(5):610–614, 1997.

35.

So, C. S., J. V. Sarath, R. A. Giolli, and S. Gollapudi. The effect of thermal massage on human T-Lymphocyte and natural killer cell function. Internet J. Altern. Med. 6(1), 2008. doi:10.5580/317/.

36.

Tiidus, P. M. Massage and ultrasound as therapeutic modalities in exercise-induced muscle damage. Can. J. Appl. Physiol. 24(3):267–278, 1999.

37.

Veith, I. Huang Ti nei ching su wên. The Yellow Emperor's classic of internal medicine. New ed. Berkeley: University of California Press, 1966.

38.

Weerapong, P., P. A. Hume, and G. S. Kolt. The mechanisms of massage and effects on performance, muscle recovery and injury prevention. Sports Med. 35(3):235–256, 2005.

39.

Wilburn, O., P. Wilburn, and S. G. Rockson. A pilot, prospective evaluation of a novel alternative for maintenance therapy of breast cancer-associated lymphedema [ISRCTN76522412]. BMC Cancer. 6:84, 2006.

40.

Wiltshire, E. V., V. Poitras, M. Pak, T. Hong, J. Rayner, and M. E. Tschakovsky. Massage impairs postexercise muscle blood flow and "lactic acid" removal. Med. Sci. Sports Exerc. 42(6):1062–1071, 2010.

43.

Zeng, H., T. Butterfield, S. Agarwal, F. Haq, T. Best, and Y. Zhao. An engineering approach for quantitative analysis of the lengthwise strokes in massage therapies. J. Med. Devices Trans. ASME 2(4):041003, 2008.

44.

Zesiewicz, T. A., and M. L. Evatt. Potential influences of complementary therapy on motor and non-motor complications in Parkinson's disease. CNS Drugs. 23(10):817–835, 2009.
Acknowledgments
Research reported in the publication was supported by Department of Biomedical Engineering at the Ohio State University and the National Center for Complementary and Alternative Medicine of the National Institutes of Health under Award Number RO1AT004922. The content is solely the responsibility of the authors and does not necessarily represent the official views of the National Institutes of Health.
Additional information
Associate Editor Catherine Disselhorst-Klug oversaw the review of this article.
Electronic supplementary material
Below is the link to the electronic supplementary material.
Supplementary material (WMV 12,070 kb)
Supplementary material (WMV 16,167 kb)
About this article
Cite this article
Wang, Q., Zeng, H., Best, T.M. et al. A Mechatronic System for Quantitative Application and Assessment of Massage-Like Actions in Small Animals. Ann Biomed Eng 42, 36–49 (2014) doi:10.1007/s10439-013-0886-3
Received:

Accepted:

Published:

Issue Date:
Keywords
Medical devices

Massage therapy

Mechanics

Viscoelasticity