Abstract
Identification of contours belonging to the same cell is a crucial step in the analysis of confocal stacks and other image sets in which cell outlines are visible, and it is central to the making of 3D cell reconstructions. When the cells are close packed, the contour grouping problem is more complex than that found in medical imaging, for example, because there are multiple regions of interest, the regions are not separable from each other by an identifiable background and regions cannot be distinguished by intensity differences. Here, we present an algorithm that uses three primary metrics—overlap of contour areas in adjacent images, co-linearity of the centroids of these areas across three images in a stack, and cell taper—to assign cells to groups. Decreasing thresholds are used to successively assign contours whose membership is less obvious. In a final step, remaining contours are assigned to existing groups by setting all thresholds to zero and groups having strong hour-glass shapes are partitioned. When applied to synthetic data from isotropic model aggregates, a curved model epithelium in which the long axes of the cells lie at all possible angles to the transection plane, and a confocal image stack, algorithm assignments were between 97 and 100% accurate in sets having at least four contours per cell. The algorithm is not particularly sensitive to the thresholds used, and a single set of parameters was used for all of the tests. The algorithm, which could be extended to time-lapse data, solves a key problem in the translation of image data into cell information.
This is a preview of subscription content, log in to check access.
Access options
Buy single article
Instant unlimited access to the full article PDF.
US$ 39.95
Price includes VAT for USA
Subscribe to journal
Immediate online access to all issues from 2019. Subscription will auto renew annually.
US$ 199
This is the net price. Taxes to be calculated in checkout.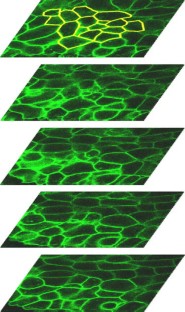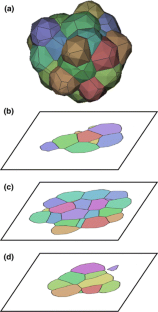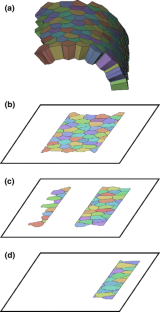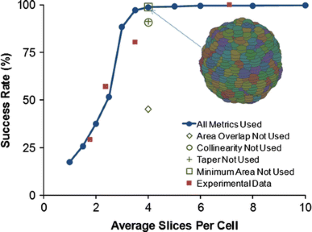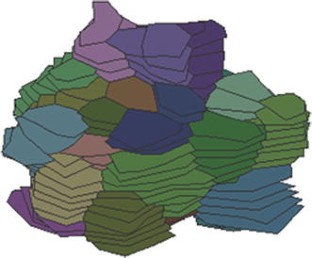 References
1.

Brodland, G. W., and H. H. Chen. The mechanics of cell sorting and envelopment. J. BioMech. 33:845–851, 2000.

2.

Brodland, G. W., J. Yang, and J. Sweny. Cellular interfacial and surface tensions determined from aggregate compression tests using a finite element model. HFSP J. 3:273–281, 2009.

3.

Chen, H. H., and G. W. Brodland. Cell-level finite element studies of viscous cells in planar aggregates. J. BioMech. Eng. 122:394–401, 2000.

4.

Holekamp, T. F., D. Turaga, and T. E. Holy. Fast three-dimensional fluorescence imaging of activity in neural populations by objective-coupled planar illumination microscopy. Neuron 57:661–672, 2008.

5.

Huisken, J., and D. Y. Stainier. Selective plane illumination microscopy techniques in developmental biology. Development 136:1963–1975, 2009.

6.

Hutson, M. S., J. Veldhuis, X. Ma, H. E. Lynch, P. G. Cranston, and G. W. Brodland. Combining laser microsurgery and finite element modeling to assess cell-level epithelial mechanics. Biophys. J. 97:3075–3085, 2009.

7.

Jain, A. K., M. N. Murty, and P. J. Flynn. Data clustering: a review. ACM Comput. Surv. 31:264–323, 1999.

8.

Levman, J., T. Leung, P. Causer, D. Plewes, and A. L. Martel. Classification of dynamic contrast-enhanced magnetic resonance breast lesions by support vector machines. IEEE Trans. Med. Imaging 27:688–696, 2008.

9.

Li, J., I. D. Greener, S. Inada, V. P. Nikolski, M. Yamamoto, J. C. Hancox, H. Zhang, R. Billeter, I. R. Efimov, H. Dobrzynski, and M. R. Boyett. Computer three-dimensional reconstruction of the atrioventricular node. Circ. Res. 102:975–985, 2008.

10.

Milligan, G. W., and M. C. Cooper. Methodology review: clustering methods. Appl. Psychol. Meas. 11:329–354, 1987.

11.

Riehle, T. J., W. T. Mahle, W. J. Parks, D. Sallee, III, and D. A. Fyfe. Real-time three-dimensional echocardiographic acquisition and quantification of left ventricular indices in children and young adults with congenital heart disease: comparison with magnetic resonance imaging. J. Am. Soc. Echocardiogr. 21:78–83, 2008.

12.

Veldhuis, J. H., G. W. Brodland, C. J. Wiebe, and G. J. Bootsma. Multiview robotic microscope reveals the in-plane kinematics of amphibian neurulation. Ann. Biomed. Eng. 33:821–828, 2005.

13.

Yang, J., and G. W. Brodland. Estimating interfacial tension from the shape histories of cells in compressed aggregates: a computational study. Ann. Biomed. Eng. 37(5):1019–1027, 2009.
Acknowledgments
This work was supported by a Natural Sciences and Engineering Research Council of Canada (NSERC) Discovery Grant to GWB and Deutsche Forschungsgemeinschaft, European Community (ZF-Cancer), and Max Planck Society grants to C.P.H. We thank the fish and imaging facilities of the Max Planck Institute of Molecular Cell Biology and Genetics for their support. Animals were cared for in accordance with the German Animal Welfare Act guidelines.
Additional information
Associate Editor Daniel Elson oversaw the review of this article.
Electronic supplementary material
Below is the link to the electronic supplementary material.
Zebrafish tissue—raw data. This movie shows the raw data from which the images in Fig. 1 were selected and from which the reconstruction in Fig. 6 was made. Although only information from the green channel (cell membranes) was used in this study, the red channel (nuclei) is also shown (AVI 1184 kb)
Full dataset for the curved epithelium. The raw images shown here are for the 7.5-contours-per-cell case. Note how the shapes of the contours depends on the angle between the long axis of the cell and the cutting plane and how the spatial relationship between successive contours changes with this angle (AVI 1450 kb)
Zebrafish tissue—outlined cells. The cell outlines visible in Movie 1 were traced to produce this movie (AVI 98 kb)
Zebrafish tissue—reconstructed. This movie shows the reconstruction generated by the grouping algorithm based on the outlines shown in Movie 6 (AVI 552 kb)
Zebrafish tissue—raw data. This movie shows the raw data from which the images in Fig. 1 were selected and from which the reconstruction in Fig. 6 was made. Although only information from the green channel (cell membranes) was used in this study, the red channel (nuclei) is also shown (AVI 1184 kb)
Full dataset for the 37-cell aggregate. This movie shows the 21 sections to which the grouping algorithm was applied. Selected frames from this set are shown in Fig. 2, and this set corresponds to the last two columns of Table 1, the case where there are 6.3 contours per cell on average (AVI 1136 kb)
Full dataset for the 218-cell aggregate. Here, are shown all 40 sections from an 218-cell aggregate having largest-to-smallest cells in a ratio of 8:1 and 4 contours per cell on average (AVI 2708 kb)
Full dataset for a 516-cell aggregate. This movie shows the 30 sections from a 516-cell aggregate (Fig. 5) having largest-to-smallest cells in a ratio of 3:1 and 4 contours per cell on average (AVI 2058 kb)
Full dataset for the curved epithelium. The raw images shown here are for the 7.5-contours-per-cell case. Note how the shapes of the contours depends on the angle between the long axis of the cell and the cutting plane and how the spatial relationship between successive contours changes with this angle (AVI 1450 kb)
Zebrafish tissue—outlined cells. The cell outlines visible in Movie 1 were traced to produce this movie (AVI 98 kb)
Zebrafish tissue—reconstructed. This movie shows the reconstruction generated by the grouping algorithm based on the outlines shown in Movie 6 (AVI 552 kb)
About this article
Cite this article
Leung, T.K.S., Veldhuis, J.H., Krens, S.F.G. et al. Identifying Same-Cell Contours in Image Stacks: A Key Step in Making 3D Reconstructions. Ann Biomed Eng 39, 698–705 (2011) doi:10.1007/s10439-010-0198-9
Received:

Accepted:

Published:

Issue Date:
Keywords
Cell reconstruction

Contour grouping

3D reconstructions

Confocal imaging

Time-lapse imaging