Abstract
We present a novel method to produce shape-controlled particles based on synergistic effect of geometry confinement, double emulsion template, and polymerization quenching. Based on the established method, a series of crescent and multi-pod particles can be produced easily and regulated flexibly.
This is a preview of subscription content, log in to check access.
Access options
Buy single article
Instant unlimited access to the full article PDF.
US$ 39.95
Price includes VAT for USA
Subscribe to journal
Immediate online access to all issues from 2019. Subscription will auto renew annually.
US$ 99
This is the net price. Taxes to be calculated in checkout.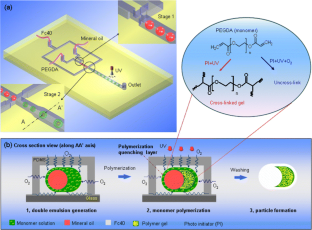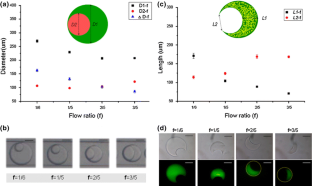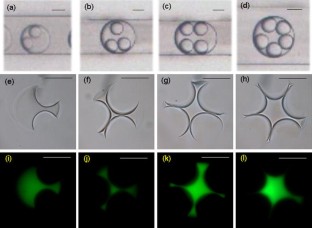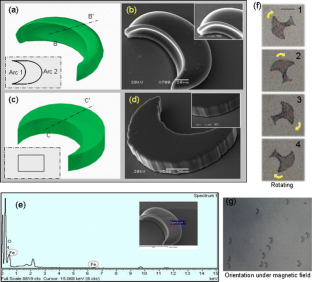 References
Badaire S, Cottin-Bizonne C, Woody JW, Yang A, Stroock AD (2007) Shape selectivity in the assembly of lithographically designed colloidal. J Am Chem Soc 129:40–41

Bukasov R, Shumaker-Parry JS (2007) Highly tunable infrared extinction. Nano Lett 7(5):1113–1118

Champion JA, Katare YK, Mitragotri S (2007a) From the cover: making polymeric micro- and nanoparticles of complex shapes. Proc Natl Acad Sci 104(29):11901–11904

Champion J, Katare Y, Mitragotri S (2007b) Particle shape: a new design parameter for micro- and nanoscale drug delivery carriers. J Controlled Release 121(1–2):3–9

Chen C-H, Abate AR, Lee D, Terentjev EM, Weitz DA (2009a) Microfluidic assembly of magnetic hydrogel particles with uniformly anisotropic structure. Adv Mater 21(31):3201–3204

Chen C-H, Shah RK, Abate AR, Weitz DA (2009b) Janus particles templated from double emulsion droplets generated using microfluidics. Langmuir 25(8):4320–4323

Choi C-H, Lee J, Yoon K, Tripathi A, Stone HA, Weitz DA, Lee C-S (2010) Surface-tension-induced synthesis of complex particles using confined polymeric fluids. Angew Chem Int Ed 49(42):7748–7752

Decker C, Jenkins AD (1985) Kinetic approach of O2 inhibition in ultraviolet- and laser-induced polymerizations. Macromolecules 18:1241–1244

Dendukuri D, Doyle PS (2009) The synthesis and assembly of polymeric microparticles using microfluidics. Adv Mater 21(41):4071–4086

Dendukuri D, Tsoi K, Hatton TA, Doyle PS (2005) Controlled synthesis of nonspherical microparticles. Langmuir 21:2113–2116

Dendukuri D, Panda P, Haghgooie R, Kim JM, Hatton TA, Doyle PS (2008) Modeling of oxygen-inhibited free radical photopolymerization in a PDMS microfluidic device. Macromolecules 41:8547–8556

Donev A (2004) Improving the density of jammed disordered packings using ellipsoids. Science 303(5660):990–993

Hu S, Ren X, Bachman M, Sims CE, Li GP, Allbritton NL (2004) Surface-directed, graft polymerization within. Anal Chem 76:1865–1870

Hwang DK, Dendukuri D, Doyle PS (2008) Microfluidic-based synthesis of non-spherical magnetic hydrogel microparticles. Lab Chip 8(10):1640–1647

Hwang DK, Oakey J, Toner M, Arthur JA, Anseth KS, Lee S, Zeiger A, Vliet KJV, Doyle PS (2009) Stop-flow lithography for the production of shape-evolving degradable microgel particles. J Am Chem Soc 131:4499–4504

Jiang P (2001) A lost-wax approach to monodisperse colloids and their crystals. Science 291(5503):453–457

Kegel WK (2000) Direct observation of dynamical heterogeneities in colloidal hard-sphere suspensions. Science 287(5451):290–293

Kim JW, Larsen RJ, Weitz DA (2007) Uniform nonspherical colloidal particles with tunable shapes. Adv Mater 19(15):2005–2009

Lee D, Weitz DA (2009) Nonspherical colloidosomes with multiple compartments from double emulsions. Small 5(17):1932–1935

Lowe KC, Davey MR, Power JB (1998) Perfluorochemicals—their applications and benefits to cell culture. Trends Biotechnol 16:272–277

Lu Y, Liu GL, Kim J, Mejia YX, Lee LP (2005) Nanophotonic crescent moon structures. Nano Lett 5(1):119–124

Marcikic I, de Riedmatten H, Tittel W, Zbinden H, Gisin N (2003) Long-distance teleportation of qubits at telecommunication wavelengths. Nature 421(6922):509–513

Nie Z, Xu S, Seo M, Lewis PC, Kumacheva E (2005) Polymer particles with various shapes and morphologies. J Am Chem Soc 127:8058–8063

Nisisako T, Torii T (2007) Formation of biphasic Janus droplets in a microfabricated channel for the synthesis of shape-controlled polymer microparticles. Adv Mater 19(11):1489–1493

Okubo M, Fujibayashi T, Terada A (2005) Synthesis of micron-sized, monodisperse polymer particles of disc-like and polyhedral shapes by seeded dispersion polymerization. Colloid Polym Sci 283(7):793–798

Pannacci N, Bruus H, Bartolo D, Etchart I, Lockhart T, Hennequin Y, Willaime H, Tabeling P (2008) Equilibrium and nonequilibrium states in microfluidic double emulsions. Phys Rev Lett 101(16):164502-1–164502-4

Rajabian M, Dubois C, Grmela M (2005) Suspensions of semiflexible fibers in polymeric fluids: rheology and thermodynamics. Rheol Acta 44(5):521–535

Rolland JP, Maynor BW, Euliss LE, Exner AE, Denison GM, DeSimone JM (2005) Direct fabrication and harvesting of monodisperse. J Am Chem Soc 127:10096–10100

Sozzani P, Bracco S, Comotti A, Simonutti R, Valsesia P, Sakamoto Y, Terasaki O (2006) Complete shape retention in the transformation of silica to polymer micro-objects. Nat Mater 5(7):545–551

van Blaaderen A (2006) Colloids get complex. Nature 439(2):545–546

Wang B, Shum HC, Weitz DA (2009) Fabrication of monodisperse toroidal particles by polymer solidification in microfluidics. ChemPhysChem 10(4):641–645

Weitz DA (2004) PHYSICS: packing in the spheres. Science 303(5660):968–969

Wurm F, Kilbinger AFM (2009) Polymeric Janus particles. Angew Chem Int Ed 48(45):8412–8421

Xu S, Nie Z, Seo M, Lewis P, Kumacheva E, Stone HA, Garstecki P, Weibel DB, Gitlin I, Whitesides GM (2005) Generation of monodisperse particles by using microfluidics: control over size, shape, and composition. Angew Chem Int Ed 44(5):724–728

Yang S-M, Kim S-H, Lim J-M, Yi G-R (2008) Synthesis and assembly of structured colloidal particles. J Mater Chem 18(19):2177–2190

Yin Y, Xia Y (2001) Self-assembly of monodispersed spherical. Adv Mater 13(4):267–271
Acknowledgments
This research was supported by NSFC of China (Nos. 20635030 and 90713014), 973 program, (Nos. 2007CB714505 and 2007CB714507), Knowledge Innovation Program of CAS (KJCX2-YW-H18) and Instrument Research and Development Program of the Chinese Academy of Sciences (YZ200908).
Electronic supplementary material
Below is the link to the electronic supplementary material.
Supplementary material 2 (MPG 1300 kb)
Supplementary material 3 (MPG 240 kb)
Supplementary material 4 (MPG 1092 kb)
About this article
Cite this article
Zhang, Q., Lin, B. & Qin, J. Synthesis of shape-controlled particles based on synergistic effect of geometry confinement, double emulsion template, and polymerization quenching. Microfluid Nanofluid 12, 33–39 (2012) doi:10.1007/s10404-011-0846-x
Received:

Accepted:

Published:

Issue Date:
Keywords
Microfluidic

Double emulsion

Particles synthesis