Abstract
A new experimental setup for flow rate measurement of gases through microsystems is presented. Its principle is based on two complementary techniques, called droplet tracking method and constant-volume method. Experimental data on helium and argon isothermal flows through rectangular microchannels are presented and compared with computational results based on a continuum model with second-order boundary conditions and on the linearized kinetic BGK equation. A very good agreement is found between theory and experiment for both gases, assuming purely diffuse accommodation at the walls. Also, some experimental data for a binary mixture of monatomic gases are presented and compared with kinetic theory based on the McCormack model.
This is a preview of subscription content, log in to check access.
Access options
Buy single article
Instant access to the full article PDF.
US$ 39.95
Price includes VAT for USA
Subscribe to journal
Immediate online access to all issues from 2019. Subscription will auto renew annually.
US$ 99
This is the net price. Taxes to be calculated in checkout.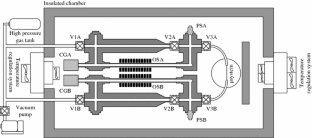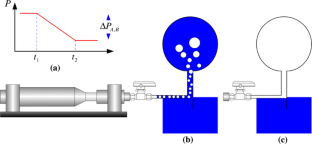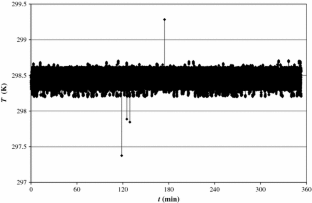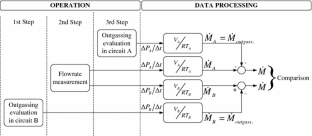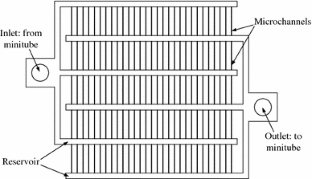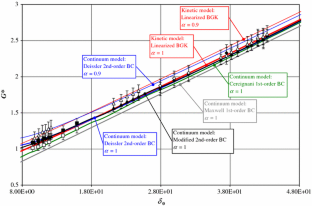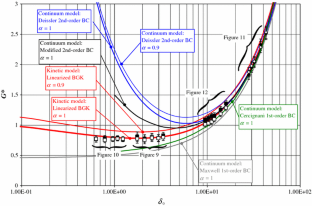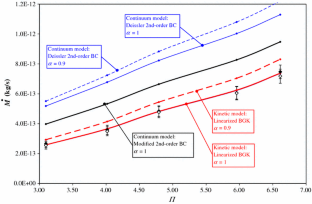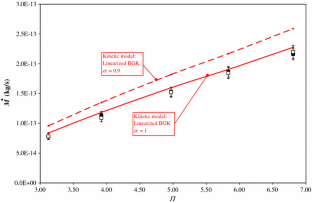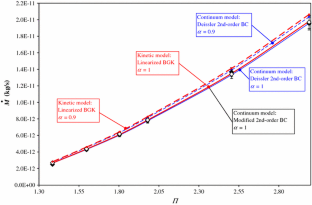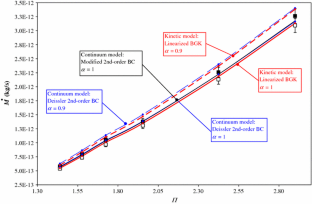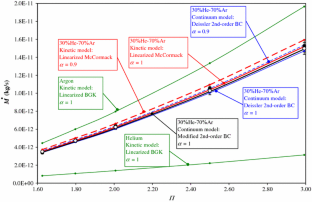 References
Arkilic EB, Breuer KS et al (2001) Mass flow and tangential momentum accommodation in silicon micromachined channels. J Fluid Mech 437:29–43

Aubert C, Colin S (2001) High-order boundary conditions for gaseous flows in rectangular microchannels. Microscale Thermophys Eng 5(1):41–54

Bergoglio M, Calcatelli A et al (1995) Gas flow rate measurements for leak calibration. Vacuum 46(8–10):763–765

Cercignani C, Daneri A (1963) Flow of a rarefied gas between two parallel plates. J Appl Phys 34(12):3509–3513

Cercignani C, Illner R et al (1994) The mathematical theory of dilute gases. Springer, New York

Chapman S, Cowling TG (1952) The mathematical theory of non-uniform gases. University Press, Cambridge

Colin S (2005) Rarefaction and compressibility effects on steady and transient gas flows in microchannels. Microfluid Nanofluid 1(3):268–279

Colin S, Lalonde P et al (2004) Validation of a second-order slip flow model in rectangular microchannels. Heat Transf Eng 25(3):23–30

Deissler RG (1964) An analysis of second-order slip flow and temperature-jump boundary conditions for rarefied gases. Int J Heat Mass Transf 7:681–694

Ewart T (2007) Etude des écoulements gazeux isothermes en microconduit: du régime hydrodynamique au proche régime moléculaire libre. PhD Thesis Report, Ecole Polytechnique Universitaire de Marseille, France

Ewart T, Perrier P et al (2006) Mass flow rate measurements in gas micro flows. Exp Fluids 41(3):487–498

Ewart T, Perrier P et al (2007) Mass flow rate measurements in a microchannel, from hydrodynamic to near free molecular regimes. J Fluid Mech 584:337–356

Hadjiconstantinou NG (2003) Comment on Cercignani's second-order slip coefficient. Phys Fluids 15(8):2352–2354

Harley JC, Huang Y et al (1995) Gas flow in micro-channels. J Fluid Mech 284:257–274

Jousten K, Menzer H et al (2002) A new fully automated gas flowmeter at the PTB for flow rates between 10–13 mol/s and 10–6 mol/s. Metrologia 39(6):519–529

Kandlikar SG, Garimella S et al (2006) Heat transfer and fluid flow in minichannels and microchannels. Elsevier, Oxford

Lalonde P (2001) Etude expérimentale d'écoulements gazeux dans les microsystèmes à fluides. PhD Thesis Report, Institut National des Sciences Appliquées de Toulouse, France

Maurer J, Tabeling P et al (2003) Second-order slip laws in microchannels for helium and nitrogen. Phys Fluids 15(9):2613–2621

Maxwell JC (1879) On stresses in rarefied gases arising from inequalities of temperature. Philos Trans R Soc Lond 170:231–256

McCulloh KE, Tilford CR et al (1987) Low-range flowmeters for use with vacuum and leak standards. J Vac Sci Technol A 5(3):376–381

Naris S, Valougeorgis D (2008) Rarefied gas flow in a triangular duct based on a boundary fitted lattice. Eur J Mech B Fluids 27(6):810–822

Naris S, Valougeorgis D et al (2005) Flow of gaseous mixtures through rectangular microchannels driven by pressure, temperature, and concentration gradients. Phys Fluids 17(10): 100607:1–12

Pong K-C, Ho C-M et al (1994) Non-linear pressure distribution in uniform microchannels. In: Bandyopadhyay PR, Breuer KS, Blechinger CJ (Eds). Application of microfabrication to fluid mechanics. ASME, New York, FED-197: 51–56

Sharipov F (1999) Rarefied gas flow through a long rectangular channel. J Vac Sci Technol A 17(5):3062–3066

Sharipov F, Seleznev V (1998) Data on internal rarefied gas flows. J Phys Chem Ref Data 27(3):657–706

Valougeorgis D, Naris S (2003) Acceleration schemes of the discrete velocity method: gaseous flows in rectangular microchannels. SIAM J Sci Comput 25(2):534–552

Varoutis S, Naris S et al (2009) "Computational and experimental study of gas flows through long channels of various cross sections in the whole range of the Knudsen number. J Vac Sci Technol A 27(1):89–100

Zohar Y, Lee SYK et al (2002) Subsonic gas flow in a straight and uniform microchannel. J Fluid Mech 472:125–151
Acknowledgments
The support of the European Community under grant PITN-GA-2008-215504, 'Gas flows in Micro Electro Mechanical Systems', and the support of EGIDE under grant PHC-15080QE, 'Ecoulements types de mélanges gazeux dans les nano et microsystèmes à vocation biologique" are gratefully acknowledged.
About this article
Cite this article
Pitakarnnop, J., Varoutis, S., Valougeorgis, D. et al. A novel experimental setup for gas microflows. Microfluid Nanofluid 8, 57–72 (2010). https://doi.org/10.1007/s10404-009-0447-0
Received:

Accepted:

Published:

Issue Date:
Keywords
Microfluidics

Rarefied gas flow

Experimental setup

Micro flow rate measurement

Discrete velocity method

Slip flow

Transition flow