Abstract
The ductus arteriosus is a fetal vascular connection between the main pulmonary artery and aorta that diverts blood away from the pulmonary bed. Left and right ductus arteriosi emerge from embryological aortic arches. In normal embryologic cardiac development, both right aortic and ductal arches regress and the left ones persist. Persistent right ductus arteriosus (rDA) is one of the congenital anomalies of the ductal arch. In this paper, we report three cases of persistent right ductus arteriosus with right aortic arch.
This is a preview of subscription content, log in to check access.
Access options
Buy single article
Instant unlimited access to the full article PDF.
US$ 39.95
Price includes VAT for USA
Subscribe to journal
Immediate online access to all issues from 2019. Subscription will auto renew annually.
US$ 99
This is the net price. Taxes to be calculated in checkout.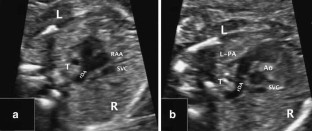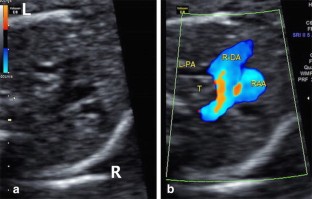 References
1.

Moller JH, Hoffman JIE. Pediatric cardiovascular medicine. Oxford: Blackwell publishing; 2012. p. 344–5.

2.

Hastreiter AR, D'Cruz IA, Cantez T, et al. Right-sided aorta. I. Occurrence of right aortic arch in various types of congenital heart disease. II. Right aortic arch, right descending aorta, and associated anomalies. Br Heart J. 1966;28:722–39.

3.

Miranda JO, Callaghan N, Miller O, et al. Right aortic arch diagnosed antenatally: associations and outcome in 98 fetuses. Heart. 2014;100:54–9.

4.

Patel CR, Lane JR, Spector ML, et al. Fetal echocardiographic diagnosis of vascular rings. J Ultrasound Med. 2006;25:251–7.

5.

Galindo A, Nieto O, Nieto MT, et al. Prenatal diagnosis of right aortic arch: associated findings, pregnancy outcome, and clinical significance of vascular rings. Prenat Diagn. 2009;29:975–81.

6.

Seao HK, Je HG, Kang IS, et al. Prenatal double aortic arch presenting with a right aortic arch and an anomalous artery arising from the ascending aorta Int. J Cardiovasc İmaging. 2010;26:165–8.

7.

Holden AM, del Río Hurtado D, Bialostosky Krichevsky L. Persistent right ductus arteriosus and right type I aortic arch. Report of a case. Archivos del Instituto de Cardiología de México. 1982;52:55–7.

8.

Akiyama K, Hasegawa T, Kitamura S, et al. Right-sided patent ductus arteriosus with a right aortic arch and right descending aorta. Kyobu Geka. 1992;45:442–5.

9.

Iliescu DG, Comanescu AC, Tudorache S, et al. Right aortic arch with patent right ductus arteriosus and normal heart. Ultrasound Obstet Gynecol. 2012;40:15–6.

10.

Bronshtein M, Zimmer EZ, Blazer S, et al. Right ductus arteriosus: facts and theory. Eur J Obstet Gynecol Reprod Biol. 2011;159:282–8.

11.

Gul A, Gungorduk K, Yildirim G, et al. Prenatal sonographic features of persistent right ductus arteriosis with a left aortic. Arch J Obstet Gynaecol. 2013;33:86–7.

12.

Montana E, Khoury MJ, Cragan JD, et al. Trends and outcomes after prenatal diagnosis of congenital cardiac malformations by fetal echocardiography in a well defined birth population, Atlanta Georgia, 1990–1994. J Am Coll Cardiol. 1996;28:1805–9.

13.

Gardiner H, Chaoui R. The fetal three-vessel and tracheal view revisited. Semin Fetal Neonatal Med. 2013;18:261–8.

14.

Yagel S, Arbel R, Anteby EY, et al. The three vessels and trachea view (3VT) in fetal cardiac scanning. Ultrasound Obstet Gynecol. 2002;20:340–5.

15.

Puder KS, Sherer DM, Ross RD, et al. Prenatal ultrasonographic diagnosis of ductus arteriosus aneurysm with spontaneous neonatal closure. Ultrasound Obstet Gynecol. 1995;5:342–5.

16.

Weichert J, Hartge DR, Axt-Fliedner R. The fetal ductus arteriosus and its abnormalities: a review. Congenit Heart Dis. 2010;5:398–408.

17.

Van Hare GF, Townsend SF, Hardy K, et al. Interrupted aortic arch with a right descending aorta and right ductus arteriosus, causing severe right bronchial compression. Pediatr Cardiol. 1988;9:171–4.

18.

Traxer O, de Lagausie P, Kron C, et al. Left aortic arch–right descending aorta–right ductus arteriosus (encircling aortic arch). A rare malformation of the aortic arches. Arch Pediatr. 1998;5:409–13.
Ethics declarations
Conflict of interest
The authors have no conflict of interest.
Ethical consideration
Additional informed consent was obtained from all patients for which identifying information is included in this article.
Electronic supplementary material
Below is the link to the electronic supplementary material.
Video clip of rDA with RAA: At pulmonary bifurcation level, axial section shows the rDA emerging from the pulmonary bifurcation and joining the descending aorta. Trachea, left pulmonary artery, right aortic arch, and superior vena cava are also seen. (MP4 3825 kb)
About this article
Cite this article
Ekiz, A., Gul, A., Uludogan, M. et al. Prenatal diagnosis and postnatal outcome of persistent right ductus arteriosus: a report of three cases. J Med Ultrasonics 42, 571–574 (2015). https://doi.org/10.1007/s10396-015-0644-2
Received:

Accepted:

Published:

Issue Date:
Keywords
Prenatal diagnosis

Right ductus arteriosus

Right aortic arch

Perinatal outcome