Abstract
Global wildlife trade is financially lucrative, frequently illegal and increases the risk for zoonotic disease transmission. This paper presents the first interdisciplinary study of Vietnam's illegal wild bird trade focussing on those aspects which may contribute to the transmission of diseases such as Highly Pathogenic Avian Influenza (HPAI) H5N1. Comparing January 2009 data with that of May 2007, we found a five-fold increase to 9,117 birds on sale in Hanoi. Ninety-five percent of Hanoian bird vendors appear unaware of trade regulations and across Vietnam vendors buy birds sourced outside of their province. Approximately 25% of the species common to Vietnam's bird trade are known to be HPAI H5N1 susceptible. The anthropogenic movement of birds within the trade chain and the range of HPAI-susceptible species, often traded alongside poultry, increase the risk Vietnam's bird trade presents for the transmission of pathogens such as HPAI H5N1. These results will assist in the control and monitoring of emerging zoonotic diseases and conservation of Southeast Asia's avifauna.
This is a preview of subscription content, log in to check access.
Access options
Buy single article
Instant unlimited access to the full article PDF.
US$ 39.95
Price includes VAT for USA
Subscribe to journal
Immediate online access to all issues from 2019. Subscription will auto renew annually.
US$ 99
This is the net price. Taxes to be calculated in checkout.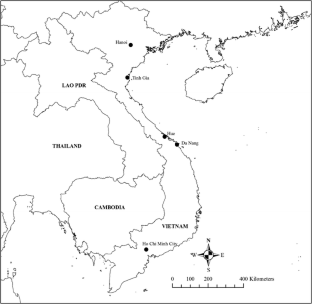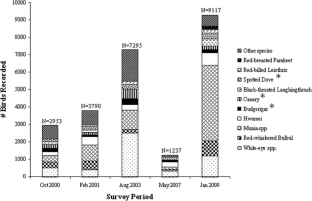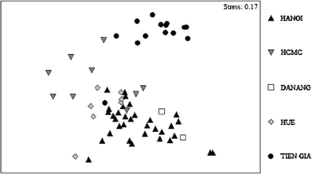 References
Beissinger SR (2001) Trade of live wild birds: potentials, principles and practices of sustainable use. In: Conservation of Exploited Species, Reynolds JD, Mace GM, Redford K H, Robinson JG (editors), Cambridge: Cambridge University Press, pp 182–202

BirdLife International (2008) State of the world's birds: indicators for our changing world. BirdLife International, Cambridge, UK. Available: http://www.biodiversityinfo.org/sowb/default.php?r=sowbhome. Accessed August 25, 2009

Bridges C, Lim W, Hu-Primmer J, Sims L, Fukuda K, Mak K, et al. (2002) Risk of influenza A (H5N1) infection among poultry workers, Hong Kong, 1997-1998. Journal of Infectious Diseases 185:1005-1010

Brooks-Moizer F, Roberton SI, Edmunds K, Bell D (2008) Avian Influenza H5N1 and the wild bird trade in Hanoi, Vietnam. Ecology and Society 14(1):28. http://www.ecologyandsociety.org/vol14/iss1/art28/ (online)

Clarke KR, Gorley RN (2006) PRIMER v6: User Manual/Tutorial. PRIMER-E, Plymouth

Cooney R, Jepson P (2006) The international wild bird trade: what's wrong with blanket bans? Oryx 40(1):18-23; DOI: 10.1017/S0030605306000056

Daszak P, Cunningham AA, Hyatt AD (2000) Emerging infectious diseases of wildlife—threats to biodiversity and human health. Science 287(5452):443–449 (DOI: 10.1126/science.287.5452.443)

Dinh PN, Long HT, Tien NTK, Hien NT, Mai LTQ, Phong LH, et al. (2006)Risk factors for human infection with avian influenza A H5N1, Vietnam, 2004. Emerging Infectious Diseases 12:1841–7

Drury R (2009) Identifying and understanding consumers of wild animal products in Hanoi, Vietnam: implications for conservation management. PhD thesis, University College London, UK

Fèvre EM, Bronsvoort BMdC, Hamilton KA, Cleaveland S (2006) Animal movements and the spread of infectious diseases. Trends in Microbiology 14(3):125-131

Franklin ER (2005) Bird collecting in Bach Ma National Park and its buffer zone, Hue Province, Viet Nam. Unpublished MSc thesis, University of Hawaii

General Statistics Office of Vietnam (2008) Population and population in 2008 by density. Available: http://www.gso.gov.vn/default_en.aspx?tabid=467andidmid=3andItemID=8653. Accessed April 15, 2010

Iñigo-Elias EE, Ramos MA (1991) The psittacine trade in Mexico. In: Neotropical Wildlife Use and Conservation, Robinson JG, Redford KH (editors), Chicago: University of Chicago Press, pp 380–392

IUCN (2010) IUCN Red List of ThreateNED Species. Version 2010.4. Available: http://www.iucnredlist.org. Accessed October 27, 2010

Jepson P, Ladle RJ (2005) Bird-keeping in Indonesia: conservation impacts and the potential for substitution-based conservation responses. Oryx 39:442-448

Karesh WB, Cook RA, Bennett EL, Newcomb J (2005) Wildlife trade and global disease emergence. Emerging Infectious Diseases 11(7):1000-1002

Kou Z, Li Y, Yin Z, Guo S, Wang M, Gao X (2009) The survey of H5N1 flu virus in wild birds in 14 Provinces of China from 2004 to 2007. PLoS ONE 4(9):e6929 (DOI: 10.1371/journal.pone.0006926)

Mahood S, Dang NC, Tran VH (2008) The illegal wildlife trade network around Bac Huong Hoa Nature Reserve, Quang Tri Province, Vietnam. BirdLife International Vietnam Programme, Hanoi. Avaliable:http://birdlifeindochina.org/birdlife/report_pdfs/bhhbiodiv.pdf. Accessed November 11, 2010

Morris S (2001) Bird Trade in Hanoi. Bulletin of the Oriental Bird Club 33:34-35

Mounts A, Kwong H, Izurieta H, Ho Y, Au T, Lee M., et al. (1999) Case-control study of risk factors for avian influenza A (H5N1) disease, Hong Kong, 1997. Journal of Infectious Diseases 180:505-508

Nash SV (1994) Sold for a song: the trade in Southeast Asian Non-CITES Birds. TRAFFIC International, Cambridge, UK. Available:www.traffic.org/species-reports/traffic_species_birds5.pdf. Accessed August 21, 2010

Nguyen C, Trai LT, Phillipps K (2005) Birds of Vietnam. IUCN World Conservation Union, World Bank and Birdlife International Hanoi.

Olsen B, Munster VJ, Wallensten A, Waldenstrom J, Osterhaus ADME, Fouchier RAM (2006) Global patterns of influenza A virus in wild birds. Science 312(5772):384-388 (DOI: 10.1126/science.1122438)

Perkins LEL, Swayne DE (2001) Pathobiology of A/Chicken/Hong Kong/220/97 (H5N1) Avian Influenza Virus in Seven Gallinaceous Species. Veterinary Pathology 38:149–164

Perkins LEL, Swayne DE (2003) Varied pathogenicity of a Hong Kong-origin H5N1 avian influenza virus in four passerine species and budgerigars. Veterinary Pathology 40:14–24 (DOI:10.1354/vp.40-1-14)

Promed-Mail (2005) Avian Influenza, Eurasia (22): H5N1. Archive number 20051021.3075, published 21/10/2005

Promed-Mail (2007a) Avian influenza, poultry vs migratory birds (06). Archive number 20070108.0082, published 08/01/07. Available: http://www.promedmail.org/pls/otn/f?p=2400:1202:4131792015440753::NO::F2400_P1202_CHECK_DISPLAY,F2400_P1202_PUB_MAIL_ID:X,35780

Promed-Mail (2007) Avian influenza (43): China (Hong Kong), Viet Nam. Archive number 200702227.0699, published 27/02/2007

Promed-Mail (2007b) Avian influenza (46): Pakistan, Kuwait, Malaysia. Archive number 20070304.0762, published 04/03/07. Available: http://www.promedmail.org/pls/otn/f?p=2400:1202:4131792015440753::NO::F2400_P1202_CHECK_DISPLAY,F2400_P1202_PUB_MAIL_ID:X,36543

Promed-Mail (2008) Avian influenza (80): China (Hong Kong, Guandong), UK. Archive number 20080617.1900, published 17/06/08. Available: http://www.promedmail.org/pls/otn/f?p=2400:1202:4183322134862957::NO::F2400_P1202_CHECK_DISPLAY,F2400_P1202_PUB_MAIL_ID:X,72855

Roberton SI (2004) An Assessment of the Threats to the Biodiversity of Phong Nha-Ke Bang National Park, Quang Binh Province, Vietnam. Fauna and Flora International, Vietnam Program, Hanoi

Robson C (2005) New Holland Field Guide to the Birds of SE Asia, London: New Holland Publishers

Siengsanan-Lamont J (2010) Epidemiology study and risk assessments of highly pathogenic avian influenza H5N1 in free flying birds in Thailand. Unpublished thesis, Murdoch University, Western Australia

Siengsanan-Lamont J, Robertson I, Blacksell SD, Ellis T, Fenwick S, Saengchoowong S et al (2010) Virological and molecular epidemiological investigations into the role of wild birds in the epidemiology of influenza A/H5N1 in central Thailand. Veterinary Microbiology (DOI:10.1016/j.vetmic.2010.09.028)

Sims L, Dung DH (2009) Vaccination of poultry in Vietnam against H5N1 highly pathogenic avian influenza. Report to the Australian Government Department of Agriculture, Fisheries and Forestry. Available: http://www.aitoolkit.org/site/DefaultSite/filesystem/documents/CASE%20STUDY_07-09-09%20final.pdf [accessed May 25, 2010]

Smith GLD, Fan XH, Wang J, Li KS, Qin K, Zhang JX et al. (2006) Emergence and predominance of an H5N1 influenza variant in China. PNAS 103:16936–16941

Thorson A, Petzold M, Chuc, NTK, Ekdahl K (2006) Is exposure to sick or dead poultry associated with flulike illness?: a population-based study from a rural area in Vietnam with outbreaks of highly pathogenic avian influenza. Archives of Internal Medicine 166(1):119–123 (DOI: 10.1001/archinte.166.1.119)

TRAFFIC (2008) Wildlife trade: what is it? Available:http://www.traffic.org/trade/. Accessed March 10, 2008

Wang M, Di B, Zhou DH, Zheng BJ, Jing H, Lin YP et al. (2006) Food markets with live birds as source of avian influenza. Emerging Infectious Diseases 12(11):1773-1775

Warne S, Tran PL (2002) Vietnam. In: Carew-Reid J (ed) Biodiversity Planning. in Asia Gland. Switzerland and Cambridge, UKIUCN
Acknowledgments
The authors thank the Economic and Social Research Council (ESRC), the Natural Environment Research Council (NERC) and Newquay Zoo Environmental Park for financial support. KE was funded by ESRC/NERC studentship ES/F009925/1. We also thank the Centre for Natural Resources and Environmental Studies in Hanoi for providing logistical support.
Appendices
Appendix 1
See Table 2.
Appendix 2: An example of the questions asked to ornamental bird vendors during a survey of Vietnam's ornamental bird trade in 2009
Market Interviews
Interview date: Market: Shop #:
Interviewee age: Gender:
Questions
1.

How long have you been selling live birds?

2.

Which are the five most popular species? Does this change throughout the year?

3.

Why are these species preferred?

4.

Which species are the most profitable? Is this always the same?

5.

What are the main reasons why people buy birds?

6.

Is there a large supply of birds for you to buy for your shop?

7.

Do you breed any birds yourself?

8.

Where do the birds you sell come from? Are they from close to the city or another province?

9.

Are the birds you sell captive-bred (farmed) or wild-caught?

10.

Is selling birds your household's primary source of income?

11.

How is the trade in birds now compared to other years?

12.

When there is little demand for birds, how do you replace the lost income?

13.

Have you ever had to stop selling birds? Why?

14.

Are there any shops which used to sell birds but no longer do? Do you know why they stopped selling birds? What do they now sell?

15.

Have there been any confiscations of birds from this market? Who by? What did they confiscate? When? Why?

16.

Have the health department bought any of your birds?

17.

How has your business been affected by bird flu?

18.

How long did bird flu affect your business?

19.

Do you perceive yourself to be at risk from bird flu?

20.

Do you take any precautions to prevent the transmission of bird flu to yourself or your birds?

21.

Are there any regulations regarding the birds which you can sell? Are any species restricted/prohibited to sell?

22.

Were there any laws introduced to try and control bird flu?

23.

Do any of your customers buy birds to take overseas?
About this article
Cite this article
Edmunds, K., Roberton, S.I., Few, R. et al. Investigating Vietnam's Ornamental Bird Trade: Implications for Transmission of Zoonoses. EcoHealth 8, 63–75 (2011). https://doi.org/10.1007/s10393-011-0691-0
Received:

Revised:

Accepted:

Published:

Issue Date:
Keywords
bird trade

wildlife trade

Vietnam

H5N1

zoonotic disease