Abstract
Purpose
Patients in the early stage of retinitis pigmentosa (RP) suffer from night blindness and, therefore, have mobility problems at night. To assist such patients with walking in the dark, we developed a wearable visual aid utilizing a see-through display upon which assistive images from a high-sensitivity video camera are superimposed. We evaluated the efficacy of our new visual aid for RP patients.
Methods
The device is equipped with a camera with a minimum illuminance of 0.08 lux and a view angle of 53° × 40°. The experiment was conducted in a room with dimmed light (illuminance level 0.2–1.2 lux). Eight subjects with RP were instructed to arrive at a goal 16 m away from the starting point, both with and without the device, passing through four 1.5-m-wide gates consisting of pairs of black square carpet pieces, white poles, red and white traffic cones and cardboard boxes with and without the device in a darkened room. Three gates, except for the boxes, which were nearest the goal, were randomly arranged along the x-axis at each trial. The number of trial failures and the time required to walk the course were assessed as outcomes.
Results
Seven of the 8 subjects could walk with the aid of the device without any failure. With the device, the number of trial failures significantly decreased in number (p < 0.05) in all subjects.
Conclusions
This device enabled the subjects to see objects that could not be recognized by the unaided eye. Our visual aid effectively assisted RP patients with night blindness.
This is a preview of subscription content, log in to check access.
Access options
Buy single article
Instant unlimited access to the full article PDF.
US$ 39.95
Price includes VAT for USA
Subscribe to journal
Immediate online access to all issues from 2019. Subscription will auto renew annually.
US$ 99
This is the net price. Taxes to be calculated in checkout.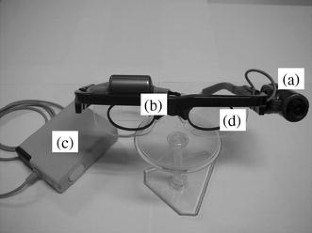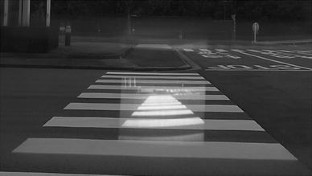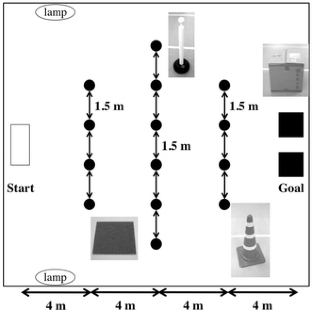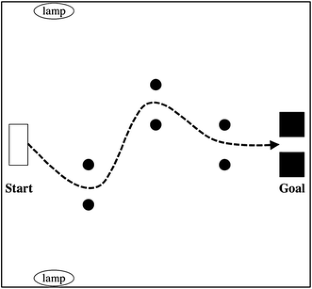 References
1.

Dryja TP, McGee TL, Reichel E, Hahn LB, Cowley GS, Yandell DW, et al. A point mutation of the rhodopsin gene in one form of retinitis pigmentosa. Nature. 1990;343:364–6.

2.

Kajiwara K, Hahn LB, Mukai S, Travis GH, Berson EL, Dryja TP. Mutations in the human retinal degeneration slow gene in autosomal dominant retinitis pigmentosa. Nature. 1991;354:480–3.

3.

Cotran PR, Bruns GA, Berson EL, Dryja TP. Genetic analysis of patients with retinitis pigmentosa using a cloned cDNA probe for the human gamma subunit of cyclic GMP phosphodiesterase. Exp Eye Res. 1991;53:557–64.

4.

Pruett RC. Retinitis pigmentosa: clinical observations and correlations. Trans Am Ophthalmol Soc. 1983;81:693–735.

5.

Berson EL. Retinitis pigmentosa. The Friedenwald lecture. Invest Ophthalmol Vis Sci. 1993;34:1659–76.

6.

Grover S, Fishman GA, Anderson RJ, Alexander KR, Derlacki DJ. Rate of visual field loss in retinitis pigmentosa. Ophthalmology. 1997;104:460–5.

7.

Berson EL, Mehaffey L 3rd, Rabin AR. A night vision device as an aid for patients with retinitis pigmentosa. Arch Ophthalmol. 1973;90:112–6.

8.

Berson EL, Mehaffey L 3rd, Rabin AR. A night vision pocketscope for patients with retinitis pigmentosa. Design considerations. Arch Ophthalmol. 1974;91:495–500.

9.

Morrissette DL, Marmor MF, Goodrich GL. An evaluation of night vision mobility aids. Ophthalmology. 1983;90:1226–30.

10.

Friedburg C, Serey L, Sharpe LT, Trauzettel-Klosinski S, Zrenner E. Evaluation of the night vision spectacles on patients with impaired night vision. Graefes Arch Clin Exp Ophthalmol. 1999;237:125–36.

11.

Spandau UH, Wechsler S, Blankenagel A. Testing night vision goggles in a dark outside environment. Optom Vis Sci. 2002;79:39–45.

12.

Bowers AR, Luo G, Rensing NM, Peli E. Evaluation of a prototype minified augmented-view device for patients with impaired night vision. Ophthalmic Physiol Opt. 2004;24:296–312.

13.

Hartong DT, Jorritsma FF, Neve JJ, Melis-Dankers BJ, Kooijman AC. Improved mobility and independence of night-blind people using night-vision goggles. Invest Ophthalmol Vis Sci. 2004;45:1725–31.

14.

Hartong DT, Kooijman AC. Night-vision goggles for night-blind subjects: subjective evaluation after 2 years of use. Ophthalmic Physiol Opt. 2006;26:490–6.
Acknowledgments
This work was supported in part by a grant from the Association for Technical Aids in Japan (2008).
Conflicts of interest
Y. Ikeda, None; E. Suzuki, Employee (Tokai Optical); T. Kuramata, Employee (Tokai Optical); T. Kozaki, Employee (Tokai Optical); T. Koyama, Employee (Tokai Optical); Y. Kato, Employee (Tokai Optical); Y. Murakami, None; H. Enaida, None; T. Ishibashi, None.
Electronic supplementary material
Below is the link to the electronic supplementary material.
Supplementary material 1 Supplementary Video 1. The walking test without the device (Subject No. 6). The subject (No. 6) walked toward the goal without the device. She stumbled over the first piece of black carpet. She could see the white poles and walk between them; however, she could not see the red and white traffic cones or cardboard boxes. It took her 26 s to arrive at the goal. (MPG 2,882 kb)
Supplementary material 2 Supplementary Video 2. The walking test with the device (Subject No. 6). The same subject (No. 6) walking with the device. She could see all the gates and successfully walk toward the goal. The entire trip took 23 s. (MPG 2,506 kb)
About this article
Cite this article
Ikeda, Y., Suzuki, E., Kuramata, T. et al. Development and evaluation of a visual aid using see-through display for patients with retinitis pigmentosa. Jpn J Ophthalmol 59, 43–47 (2015) doi:10.1007/s10384-014-0354-0
Received:

Accepted:

Published:

Issue Date:
Keywords
See-through display

Visual aids

Night blindness

Retinitis pigmentosa