Abstract
The study investigated the role of boring polychaetes in the bioerosion of a submerged Roman mosaic floor in the Underwater Archaeological Park of Baiae (Naples, Italy). Three boring species, Dodecaceria concharum, Polydora ciliata, and Pseudopolydora antennata, were found. The initial colonization phases of boring polychaetes were investigated on experimental limestone panels placed underwater in the same marine area. The results showed that the ecological succession was characterized by a first stage of colonization with abundant spionids and a second stage with a boring mature community dominated by D. concharum. The study of silicone casts of the bored traces allowed confirmation that the ichnospecies belonging to the ichnogeneraMaeandropolydora could be attributed to the action of spionid worms, whereas D. concharum is able to produce tongue- and ribbon-shaped borings (ichnogenus Caulostrepsis), and variously contorted galleries (ichnogenus Maeandropolydora) by settling inside borings produced by other polychaetes and increasing the complexity of the gallery system by modifying them. The study of the epilithic polychaete community highlighted that the site is characterized by a low hydrodynamism. Therefore, the most suitable in situ preservation interventions would be the covering of the mosaics with sand layers or geotextiles.
This is a preview of subscription content, log in to check access.
Access options
Buy single article
Instant access to the full article PDF.
US$ 39.95
Price includes VAT for USA
Subscribe to journal
Immediate online access to all issues from 2019. Subscription will auto renew annually.
US$ 99
This is the net price. Taxes to be calculated in checkout.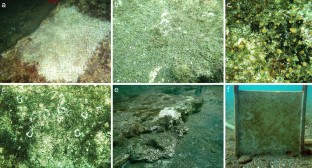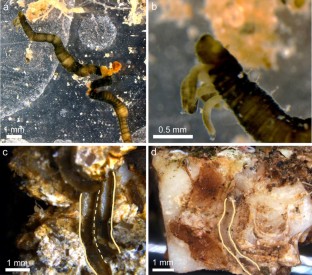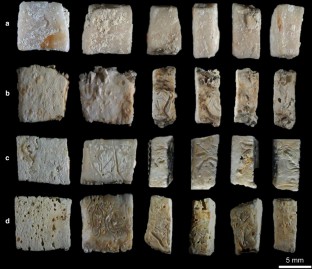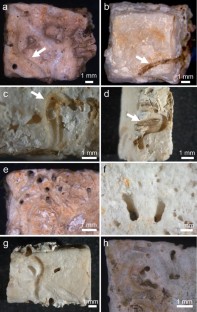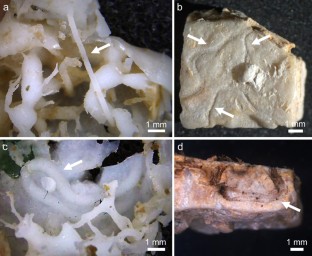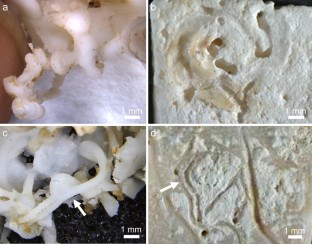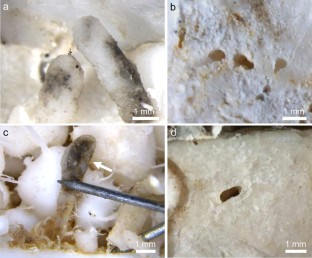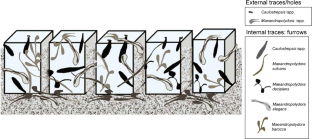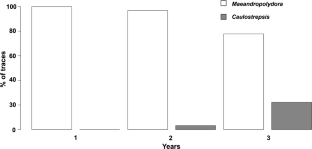 References
Aitken AE, Risk MJ (1988) Biotic interactions revealed by macroborings in arctic bivalve molluscs. Lethaia 21:250–339

Antonelli F, Perasso CS, Ricci S, Petriaggi BD (2015a) Impact of the sipunculan Aspidosiphon muelleri Diesing, 1851 on calcareous underwater cultural heritage. Int Biodeterior Biodegrad 100:133–139. https://doi.org/10.1016/j.ibiod.2015.02.025

Antonelli F, Ricci S, Sacco Perasso C et al (2015b) Utilizzo di fronde artificiali per la protezione in situ di siti archeologici sommersi: studio dell'efficacia e della colonizzazione biologica. In: II Convegno tematico biologia e biotecnologie per i beni culturali. "Biologia e Archeobiologia: dalla Conoscenza alla Conservazione Preventiva." Palermo

Blake JA (1969) Systematics and ecology of shell-boring polychaetes from New England. Am Zool 9:813–820

Blake JA (1973) Polydora and related genera as borers in mollusk shells and other calcareous substrates. Veliger 15:235–249

Bonifazi A, Ventura D, Gravina MF et al (2017) Unusual algal turfs associated with the Rhodophyta Phyllophora crispa: benthic assemblages along a depth gradient in the central Mediterranean Sea. Estuar Coast Shelf Sci 185:77–93

Bromley RG (2004) A stratigraphy of marine bioerosion. Geol Soc Lond Spec Publ 228:455–479

Bromley RG, D'Alessandro A (1983) Bioerosion in the Pleistocene of southern Italy: ichnogenera Caulostrepsis andMaeandropolydora. Riv Ital di Paleontol e Stritigrafia 89:283–309

Bromley R, D'Alessandro A (1987) Bioerosion of the Plio-Pleistocene transgression of southern Italy. Riv Ital di Paleontol e Stratigr 93:379–442

Camidge K (2009) HMS Colossus, an experimental site stabilization. Conserv Manag Archaeol Sites 11:161–188. https://doi.org/10.1179/175355210X12670102063742

Casoli E, Ricci S, Belluscio A et al (2015) Settlement and colonization of epi-endobenthic communities on calcareous substrata in an underwater archaeological site. Mar Ecol 36:1060–1074. https://doi.org/10.1111/maec.12201

Clarke JM (1908) The beginnings of dependent life. N Y State Mus Bull 121:146–169

Costa de Almeida JA (2007) Icnofósseis de macrobioerosão na Bacia da Paraíba (Cretáceo Superior Paleógeno), nordeste do Brasil

Curci J (2006) The reburial of waterlogged archaeological wood in wet environments. Tech Briefs Hist Archaeol 1:21–25

Davidde B (2004) Methods and strategies for the conservation and museum display in situ of underwater cultural heritage. Archaeol Maritima Mediterr 1:137–150

Davidde B, Bartolini M, Poggi D, Ricci S (2010) Marine bioerosion of stone artefacts preserved in the Museo Archeologico dei Campi Flegrei in the Castle of Baia (Naples). Archaeol Maritima Mediterr 7:1000–1041

Diez ME, Radashevsky VI, Orensanz JM, Cremonte F (2011) Spionid polychaetes (Annelida: Spionidae) boring into shells of molluscs of commercial interest in northern Patagonia, Argentina. Ital J Zool 78:497–504. https://doi.org/10.1080/11250003.2011.572565

Dorsett DA (1961) The behaviour of Polydora ciliata (Johnst.). Tube-building and burrowing. J Mar Biol Assoc U K 41:577–590

Evans JW (1969) Borers in the shell of the sea scallop, Placopecten magellnnicus. Am Zool 9:775–782

Fischer R, Pernet B, Reitner J (2000) Organomineralization of cirratulid annelid tubes-fossil and recent examples. Facies 42:35–49. https://doi.org/10.1007/BF02562565

Giangrande A (1988) Polychaete zonation and its relation to algal distribution down a vertical cliff in the western Mediterranean (Italy): a structural analysis. J Exp Mar Biol Ecol 120:263–276

Giangrande A, Gravina MF (2015) Brackish-water polychaetes, good descriptors of environmental changes in space and time. Transitional Waters Bull 9:42–55

Giangrande A, Licciano M, Musco L (2005) Polychaetes as environmental indicators revisited. Mar Pollut Bull 50:1153–1162

Giangrande A, Licciano M, Schirosi R et al (2014) Chemical and structural defensive external strategies in six sabellid worms (Annelida). Mar Ecol 35:36–45. https://doi.org/10.1111/maec.12053

Gibson PH (1977) Reproduction in the cirratulid polychaetesDodecaceria concharum and D. pulchra. J Zool 182:89–102. https://doi.org/10.1111/j.1469-7998.1977.tb04143.x

Gibson PH (2017) A search for trace fossils of the burrowing cirratulid polychaetes Dodecaceria fimbriata and D. concharum. Ichnos 24:83–90

Gravina MF, Ardizzone GD, Belluscio A et al (1989) Polychaetes of an artificial reef in the central Mediterranean Sea. Estuar Coast Shelf Sci 28:161–172

Gravina MF, Lezzi M, Bonifazi A, Giangrande A (2015) The genusNereis L., 1758 (Polychaeta, Nereididae): state of the art for identification of Mediterranean species. Atti della Soc Toscana di Sci Nat Mem Ser B 122:147–164

Gregory DJ (1999) Re-burial of timbers in the marine environment. Marit Archaeol Newsl Rosk Den 12:25–29

Gregory DJ, Manders M (2015) Best practices for locating, surveying, assessing, monitoring and preserving underwater archaeological sites. SASMAP Guideline Manual 2

Gregory DJ, Ringgaard R, Dencker J (2008) From a grain of sand a mountain appears: sediment transport and entrapment to facilitate the in situ stabilisation of exposed wreck sites. Marit Archaeol Newsl Den 23:15–23

Heumüller M (2012) Erosion and archaeological heritage protection in Lake Constance and Lake Zurich: the Interreg IV Project 'Erosion und Denkmalschutz am Bodensee und Zürichsee'. Conserv Manag Archaeol Sites 14:48–59. https://doi.org/10.1179/1350503312Z.0000000005

Hutchings PA (1986) Biological destruction of coral reefs. Coral Reefs 4:239–252. https://doi.org/10.1007/BF00298083

Hutchings PA (2008) Role of polychaetes in bioerosion of coral substrates. In: Wisshak M, Tapanila L (eds) Current developments in bioerosion. Springer, Berlin, pp 249–264

Lewis DB (1968) Feeding and tube-building in the Fabriciinae (Annelida, Polychaeta). Proc Linn Soc Lond 179:37–49

Manders M (2011) Guidelines for protection of submerged wooden cultural heritage, including cost–benefit analysis. WreckProtect Project, Amersfoort

Martin EA (1933) Polymorphism and methods of asexual reproduction in the annelid, Dodecaceria, of Vineyard Sound. Biol Bull 65:99–105

Martinell J, Domènech R (2009) Commensalism in the fossil record: eunicid polychaete bioerosion on Pliocene solitary corals. Acta Palaeontol Pol 54:143–154. https://doi.org/10.4202/app.2009.0115

McDiarmid H, Day R, Wilson R (2004) The ecology of polychaetes that infest abalone shells in Victoria, Australia. J Shellfish Res 23:1179–1188

Palma P, Parham B (2009) Swash Channel Wreck: project report for environmental scoping study for in situ stabilization of the site. Unpublished Report English Heritage Bournmouth University

Passaro S, Barra M, Saggiomo R et al (2013) Multi-resolution morpho-bathymetric survey results at the Pozzuoli-Baia underwater archaeological site (Naples, Italy). J Archaeol Sci 40:1268–1278

Pomey P (1998) Remarques sur la conservation in situ du bois de quelques épaves antiques de Méditerranée. In: Proceedings of the 7th ICOM-CC working group on wet organic archaeological materials conference, Grenoble, France, Actes de la 7ème conférence du groupe de travail Matériaux archéologiques organiques humides de l'ICOM-CC. Grenoble, pp 53–57

Ricci S, Pietrini A, Bartolini M, Sacco Perasso C (2013) Role of the microboring marine organisms in the deterioration of archaeological submerged lapideous artifacts (Baia, Naples, Italy). Int Biodeterior Biodegrad 82:199–206

Ricci S, Sacco Perasso C, Antonelli F, Davidde Petriaggi B (2015) Marine bivalves colonizing Roman artefacts recovered in the Gulf of Pozzuoli and in the Blue Grotto in Capri (Naples, Italy): boring and nestling species. Int Biodeterior Biodegrad 98:89–100. https://doi.org/10.1016/j.ibiod.2014.12.001

Richards V (2011) In situ preservation—application of a process-based approach to the management of underwater cultural heritage. In: Proceedings of the Asia-Pacific regional conference on underwater cultural heritage (8–12 November 2011, Manila, Filipinas). Asian Academy for Heritage Management, Manila, pp 769–785

Richards V, Godfrey I, Blanchette R et al (2009) In situ monitoring and stabilisation of the James Matthews shipwreck site. In: ICOM group on wet organic archaeological materials conference. Rijksdienst voor Archeologie, Cultuurlandschap en Monumenten, pp 113–159

Sato-Okoshi W, Okoshi K (1997) Survey of the genera Polydora, Boccardiella and Boccardia (Polychaeta, Spionidae) in Barkley Sound (Vancouver Island, Canada), with special reference to boring activity. Bull Mar Sci 60:482–493

Simonini R, Massamba N'Siala G, Grandi V, Prevedelli D (2009) Distribution of the genus Ophryotrocha (Polychaeta) in Italy: new reports and comments on the biogeography of Mediterranean species. Vie Milieu 59:79–88

Stabili L, Schirosi R, Licciano M, Giangrande A (2009) The mucus ofSabella spallanzanii (Annelida, Polychaeta): its involvement in chemical defence and fertilization success. J Exp Mar Biol Ecol 374:144–149

Stewart J, Murdock LD, Wadell P (1995) Reburial of the Red Bay wreck as a form of preservation and protection of the historic resource. In: Vandiver PB, Druzik JR, Madrid JLG et al (eds) Materials issues in art and archaeology IV. Materials Research Society, Pennsylvania, pp 791–805

Steyne H (2009) Cegrass, sand and marine habitats: a sustainable future for the William Salthouse. In: Richards V, McKinnon J (eds) In situ conservation of cultural heritage: public, professionals and preservation. Past Foundation, Columbus, pp 40–49

Voigt E (1965) Über parasitische Polychaeten in Kreide-Austern sowie einige andere in Muschelschalen bohrende Würmer. Paläontol Z 39:193–211. https://doi.org/10.1007/BF02990164

Voigt E (1971) Fremdskulpturen an Steinkernen von Polychaeten-Bohrgängen aus der Maastrichter Tuffkreide. Paläontol Z 45:144–153. https://doi.org/10.1007/BF02989572

Voigt E (1975) Tunnelbaue rezenter und fossiler phoronidea. Paläontol Z 49:135–167. https://doi.org/10.1007/BF02988072

Wisshak M (2006) High-latitude bioerosion: the Kosterfjord experiment. Springer, Berlin, p 202

Wisshak M, Tapanila L (eds) (2008) Current developments in bioerosion. Springer, Berlin, p 499
Acknowledgements
We are grateful to Dr. Barbara Davidde Petriaggi, ISCR Director of the Underwater Archaeological Operation Unit and of the Department of Archaeology (NIAS—Nucleo per gli Interventi di Archaeologia Subacquea), for supporting our research. We thank architect Filomena Lucci, Dr. Marco Ciabattoni (ISCR) and Mr. Gian Franco Priori (ISCR) for diving assistance and underwater photographic documentation. We would like to thank the reviewers and Max Wisshak, Guest Editor of Facies Special Issue Bioerosion: an interdisciplinary approach, for their precious comments and suggestions. We would also like to thank Miss Anna Rodgers for her careful review of the English form.
Additional information
This article is part of a Topical Collection in Facies on Bioerosion: An interdisciplinary approach, guest edited by Ricci, Uchman, and Wisshak.
About this article
Cite this article
Gravina, M.F., Antonelli, F., Sacco Perasso, C. et al. The role of polychaetes in bioerosion of submerged mosaic floors in the Underwater Archaeological Park of Baiae (Naples, Italy). Facies 65, 19 (2019). https://doi.org/10.1007/s10347-019-0563-6
Received:

Accepted:

Published:
Keywords
Underwater Cultural Heritage

Caulostrepsis
Maeandropolydora
Dodecaceria
Polydora
Pseudopolydora